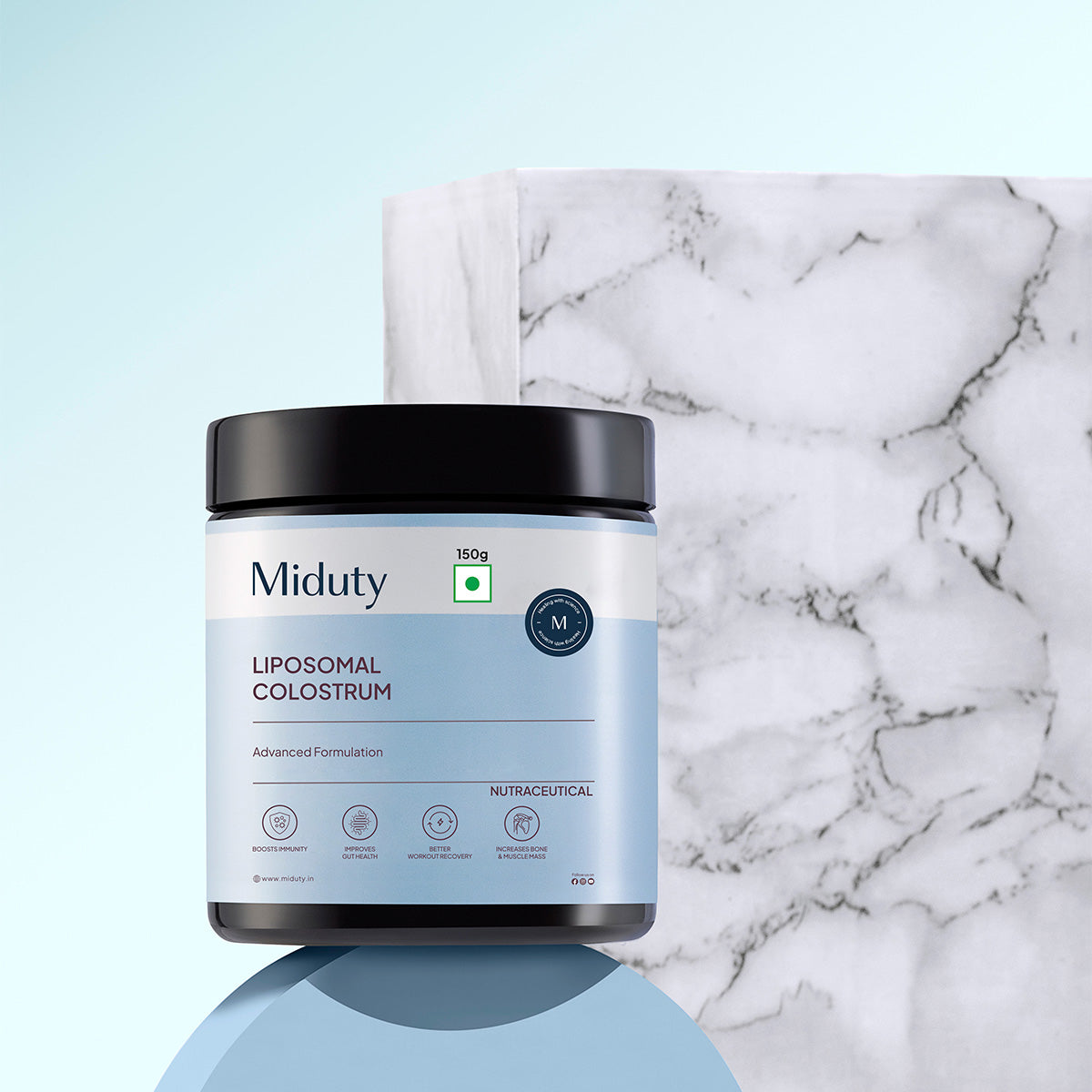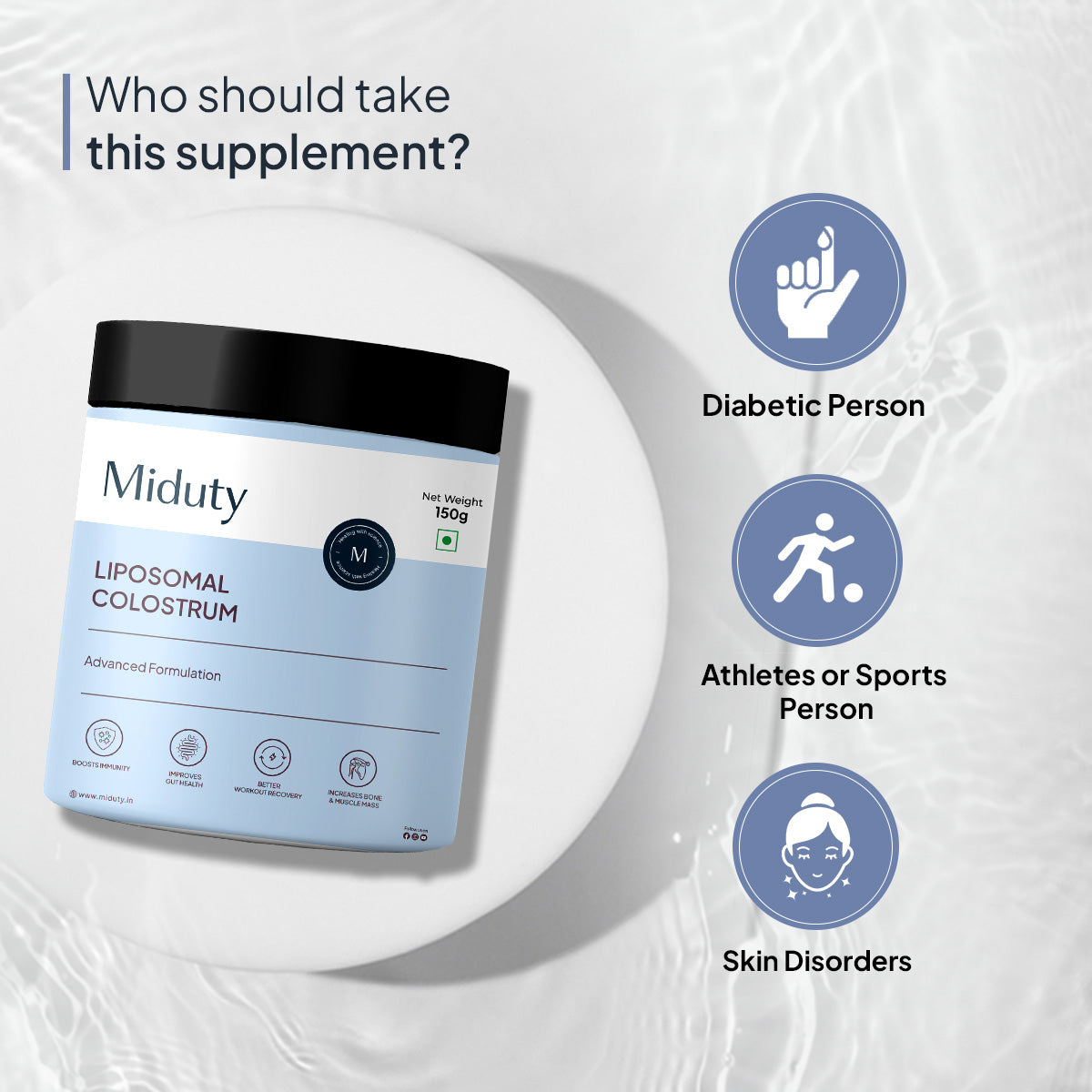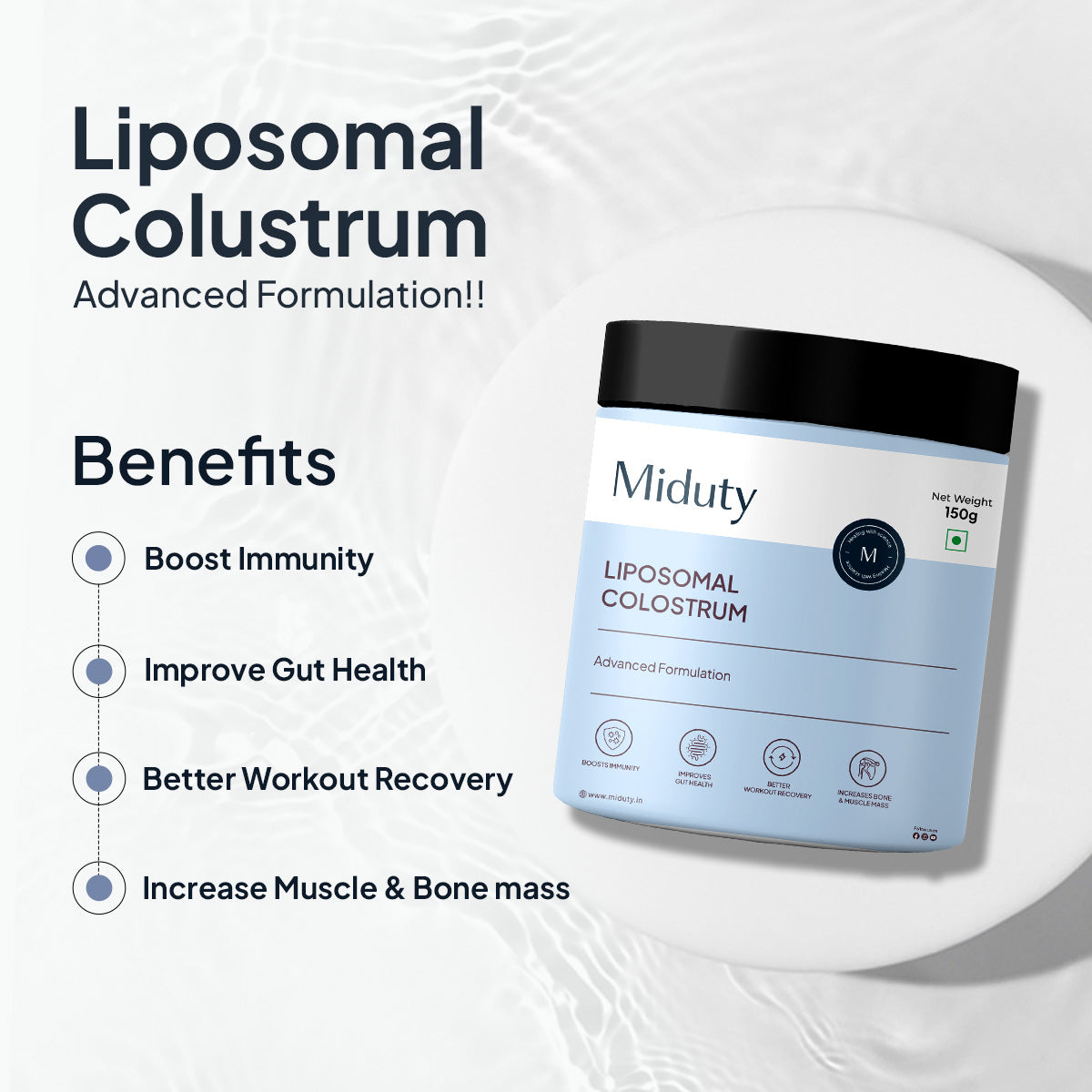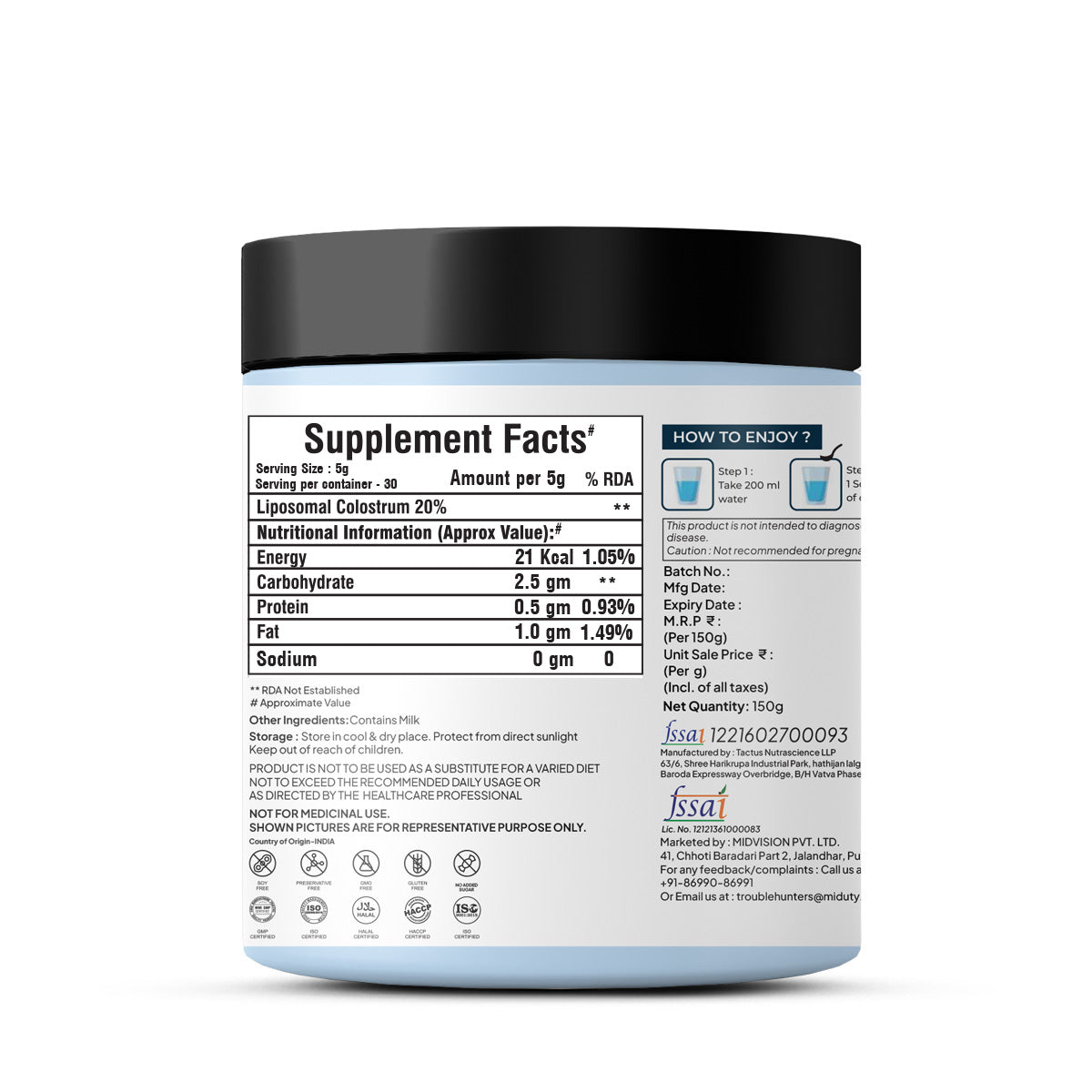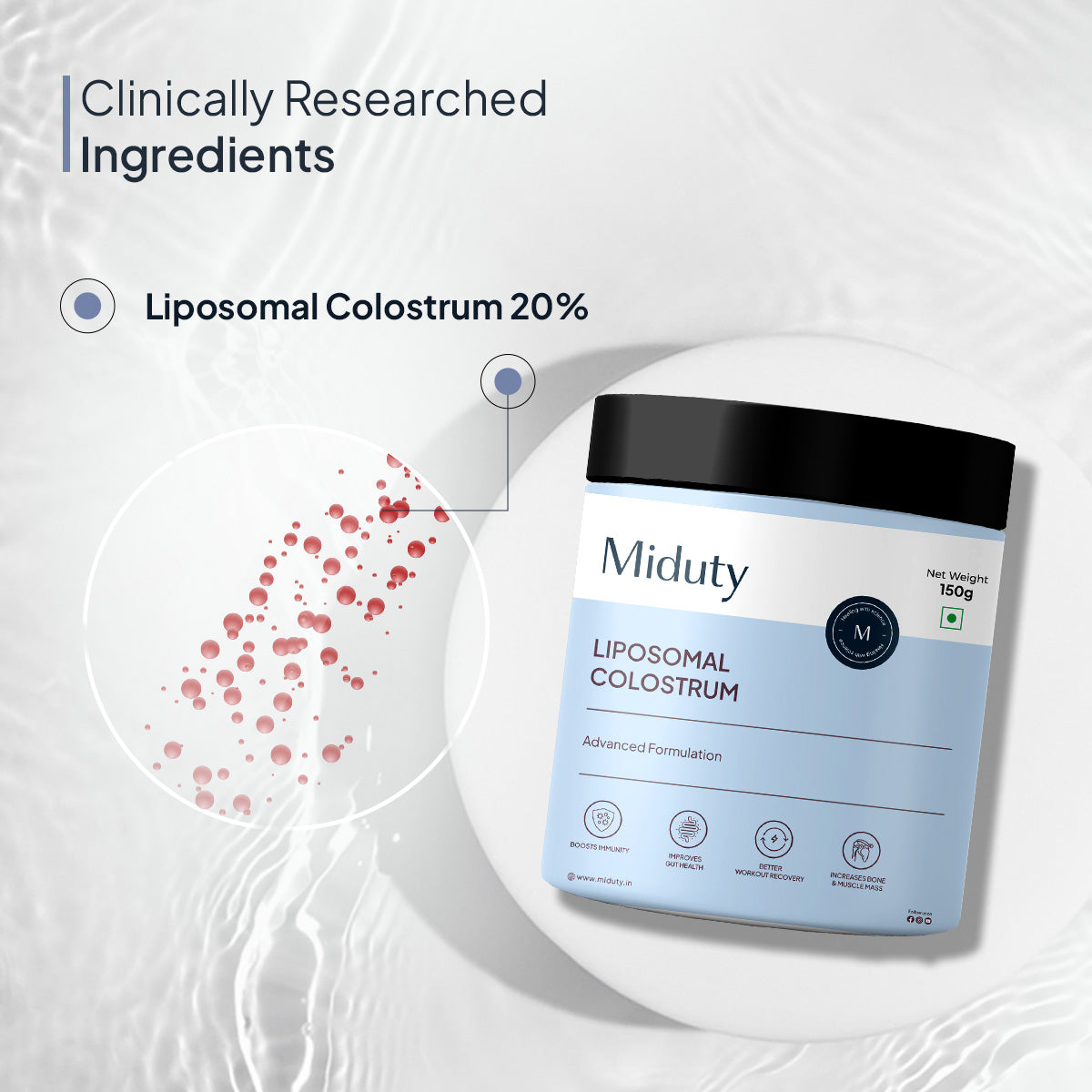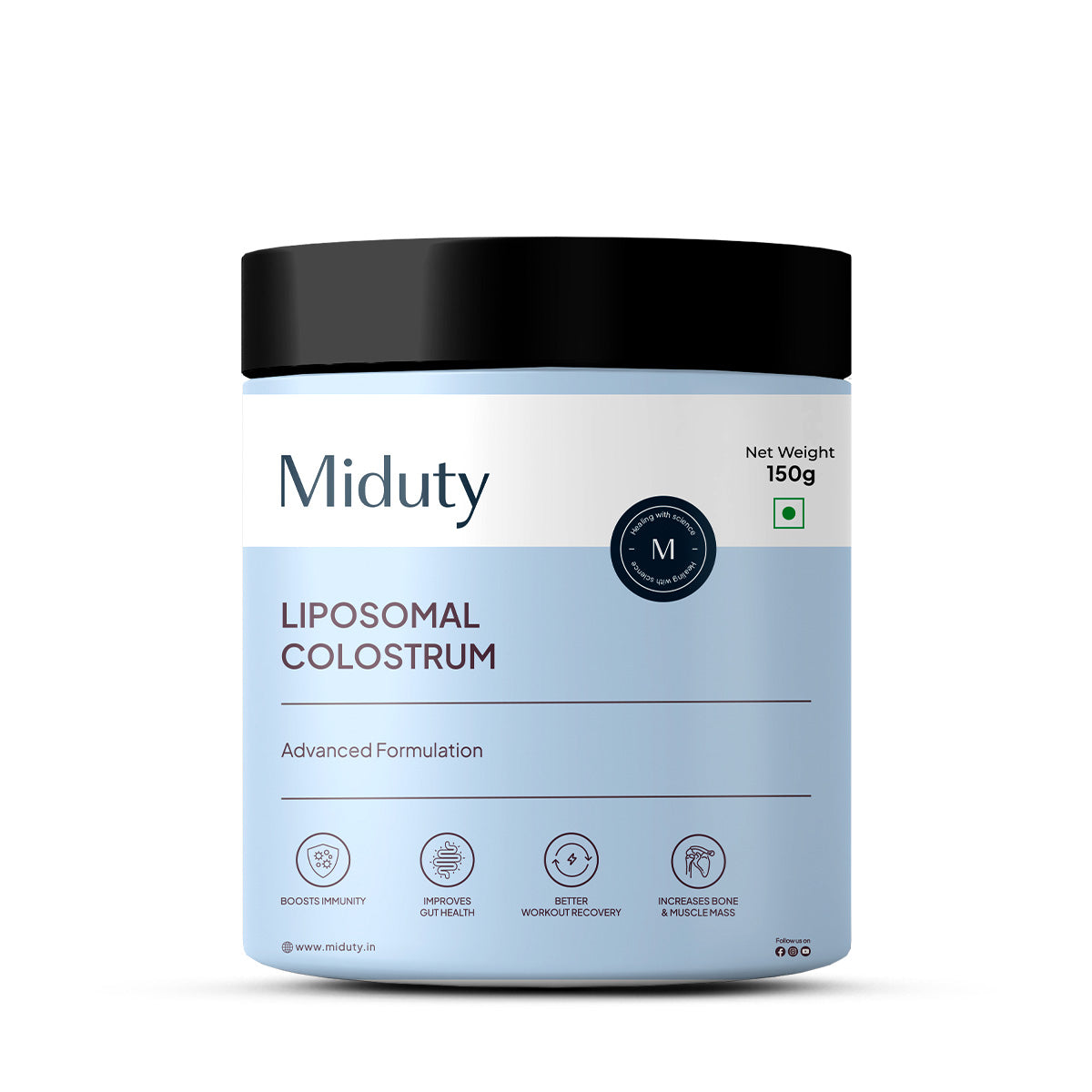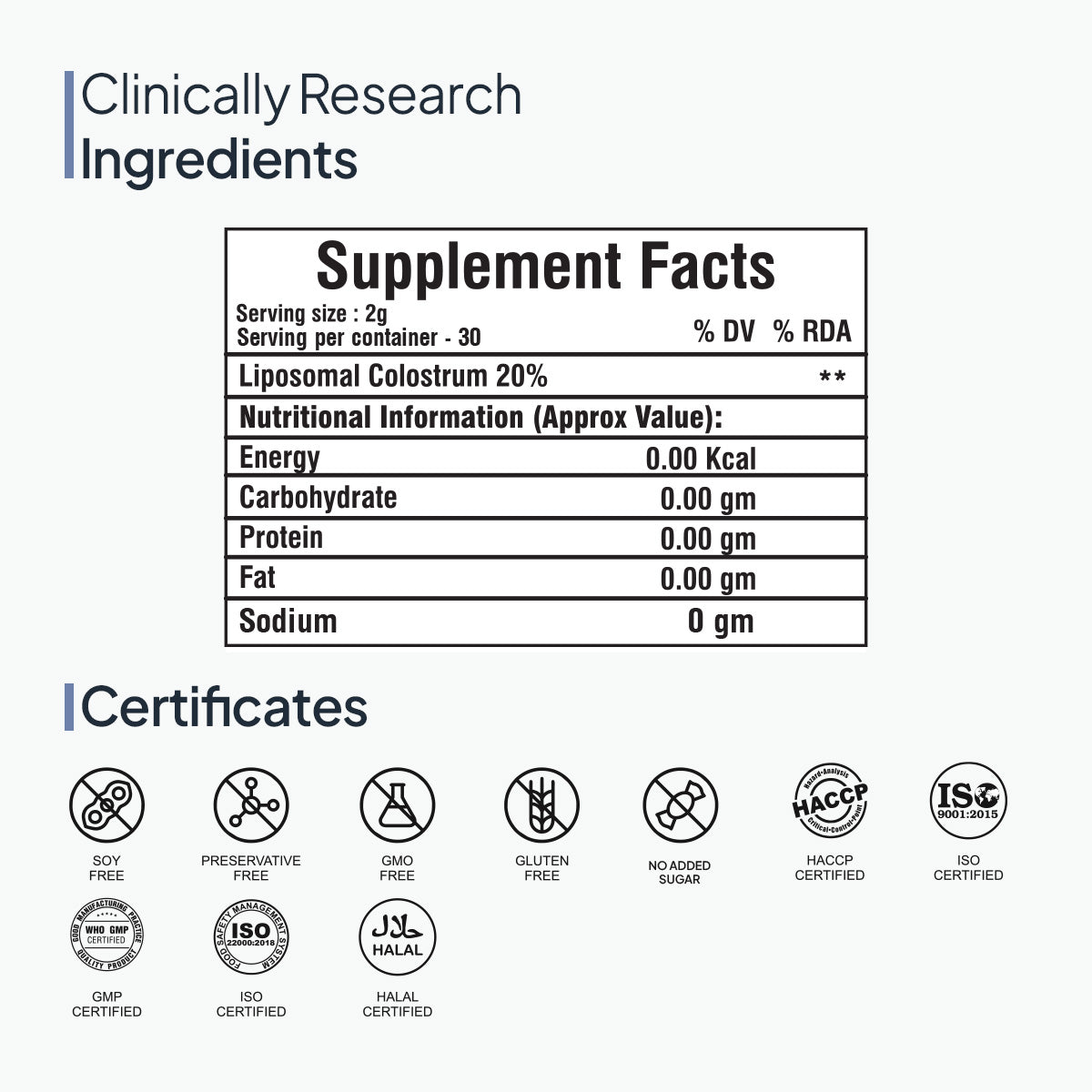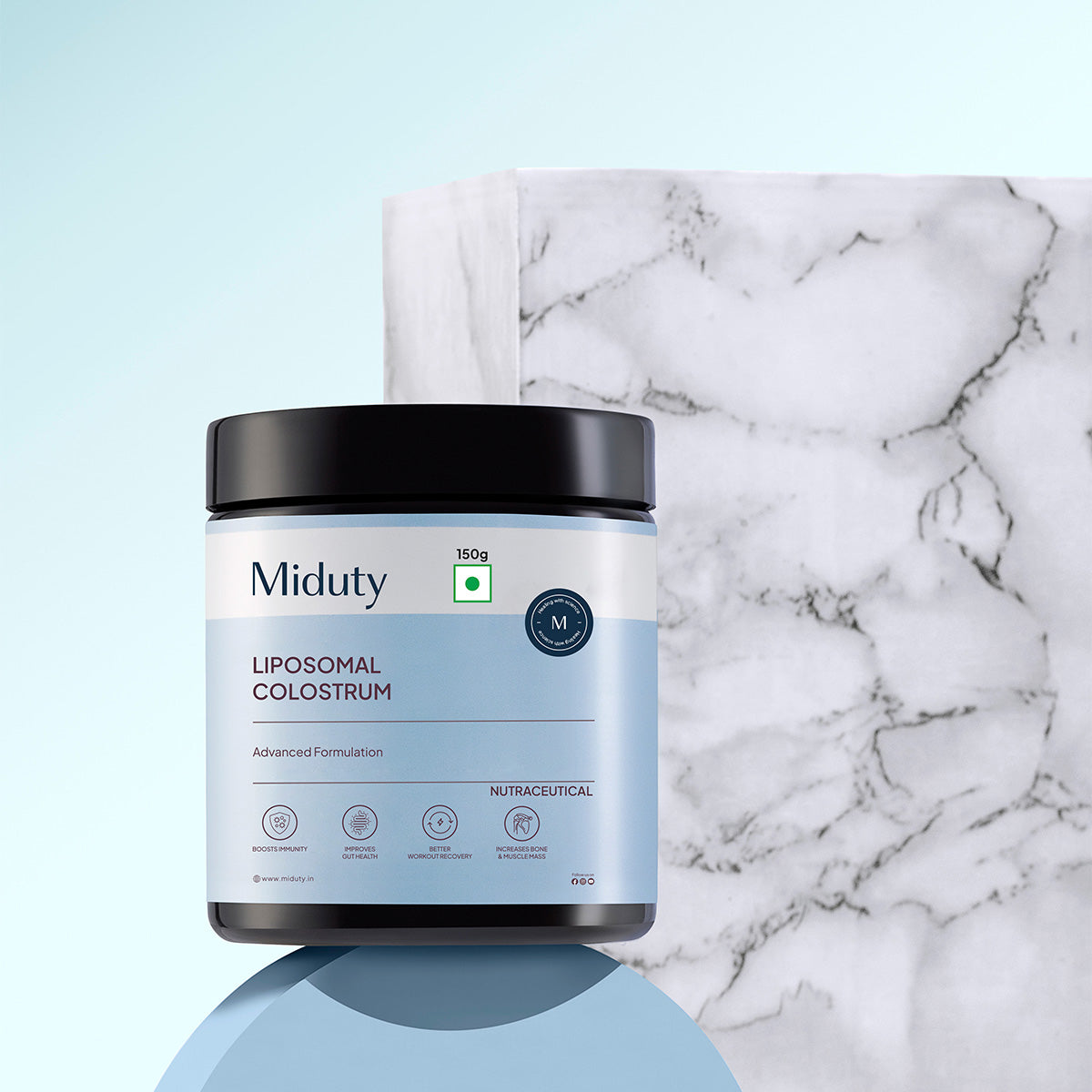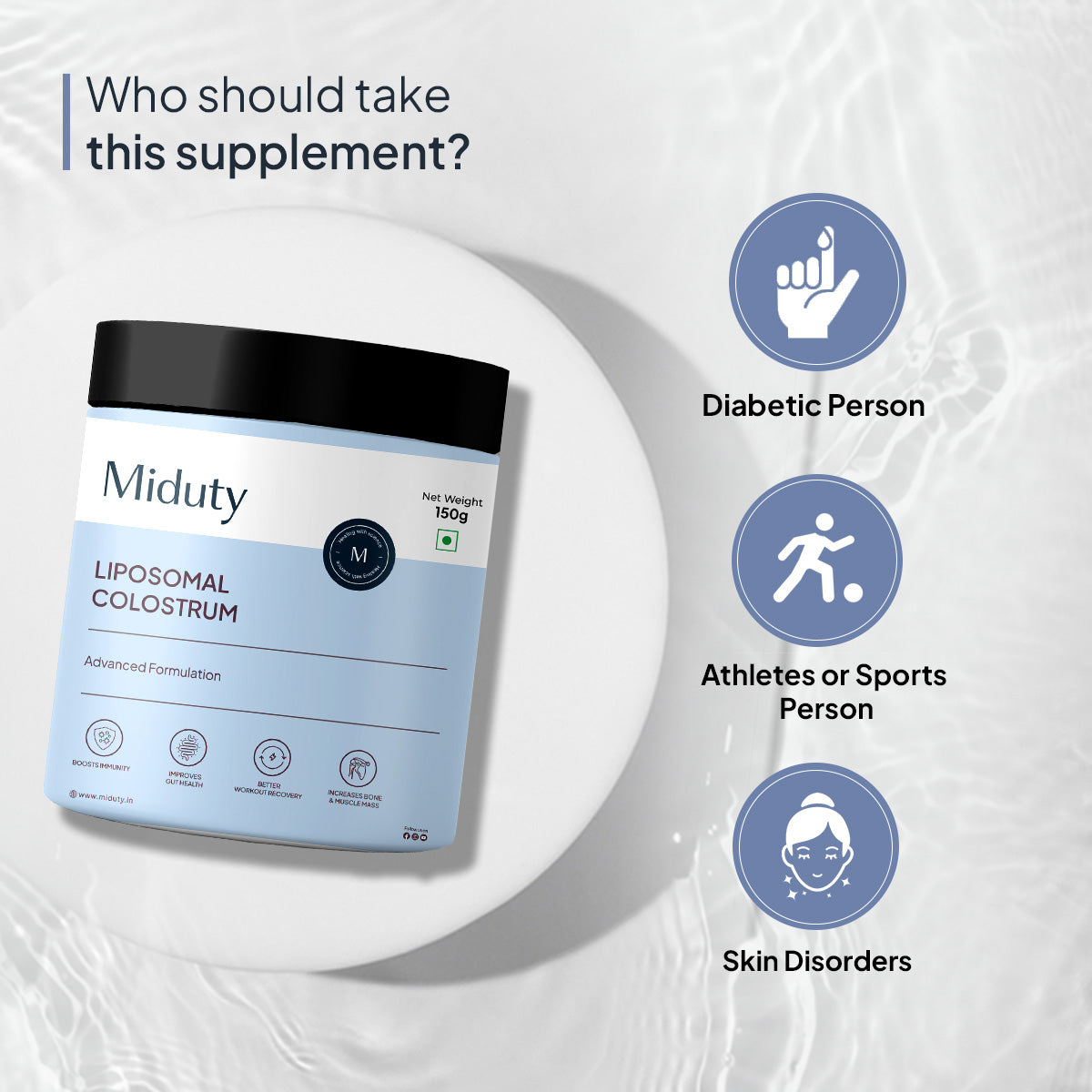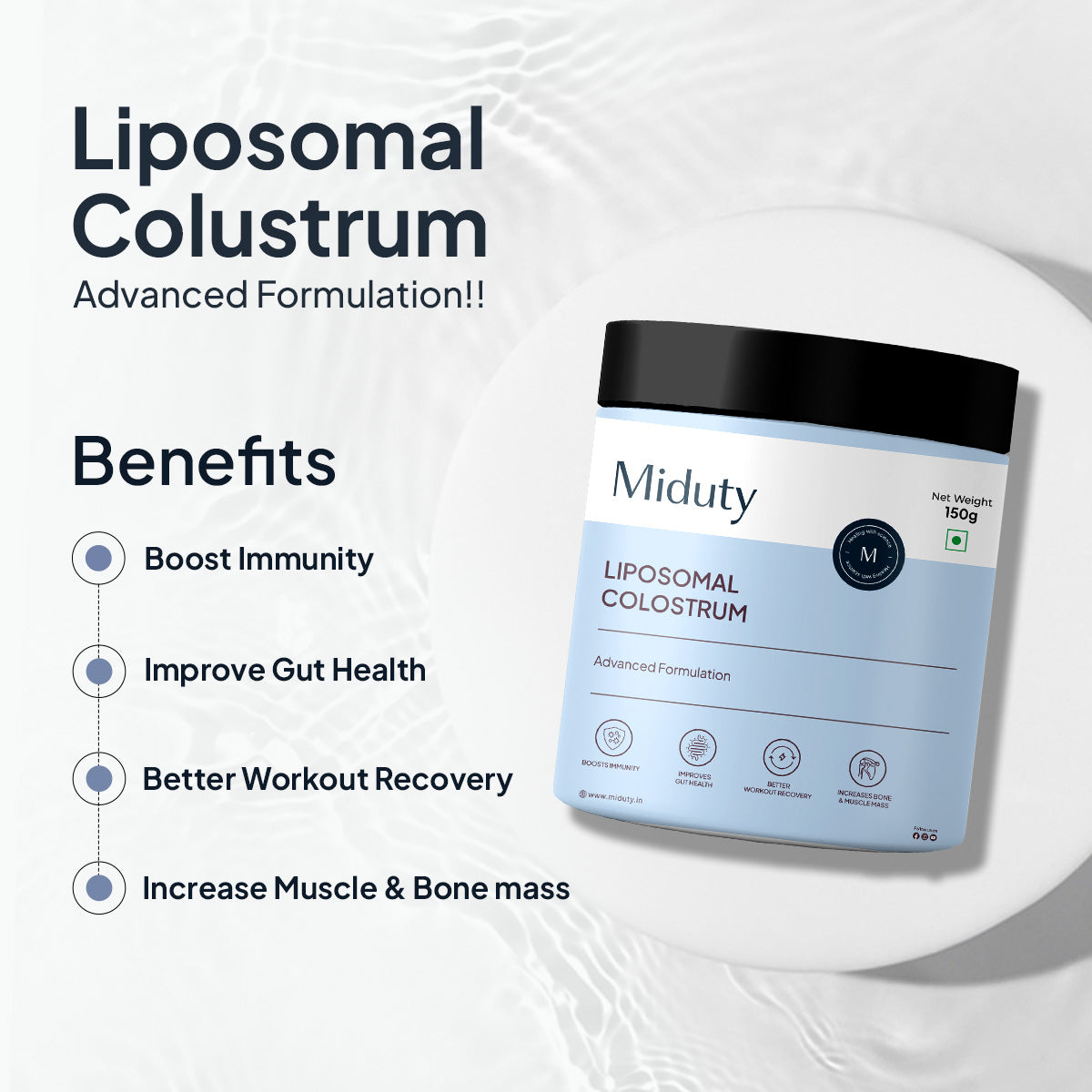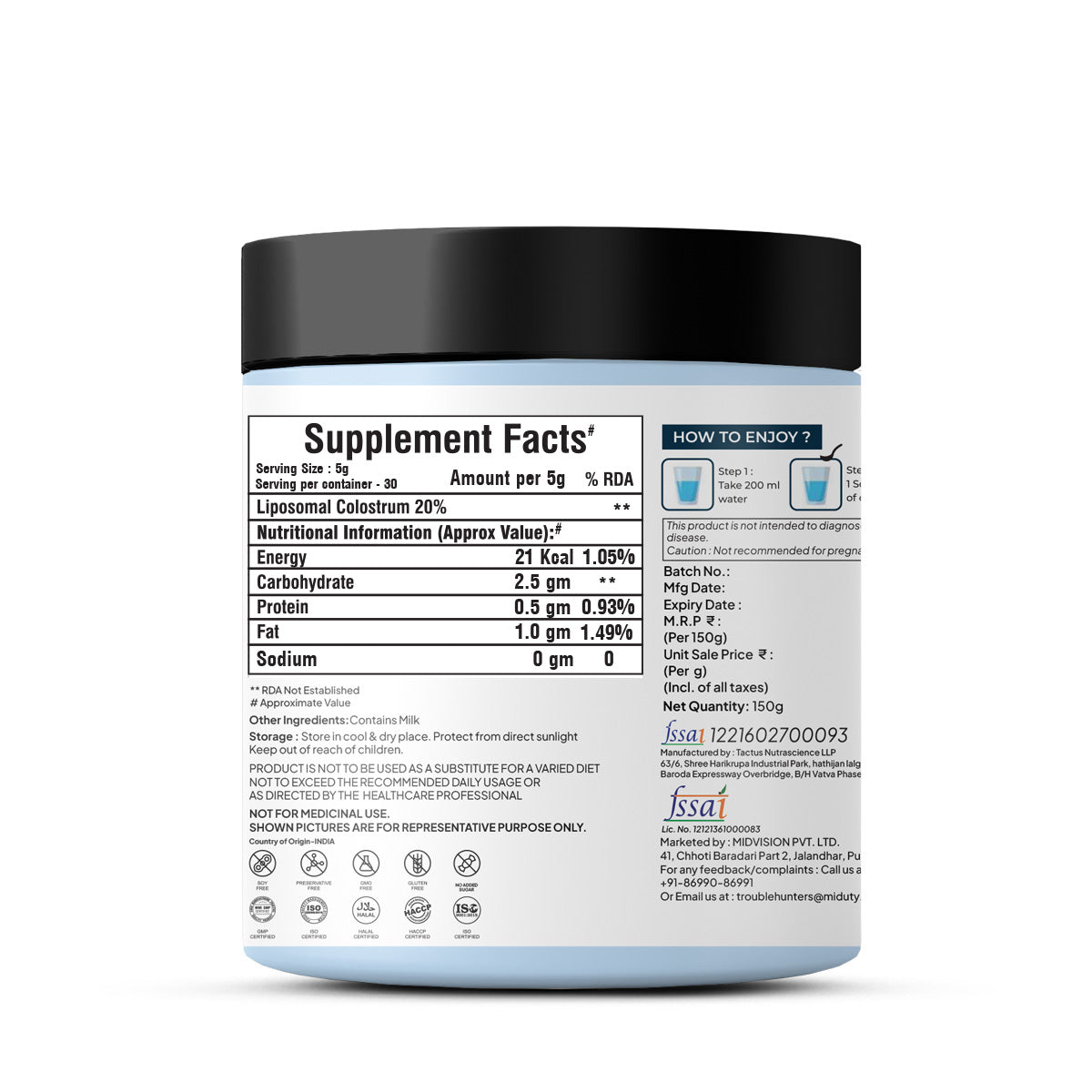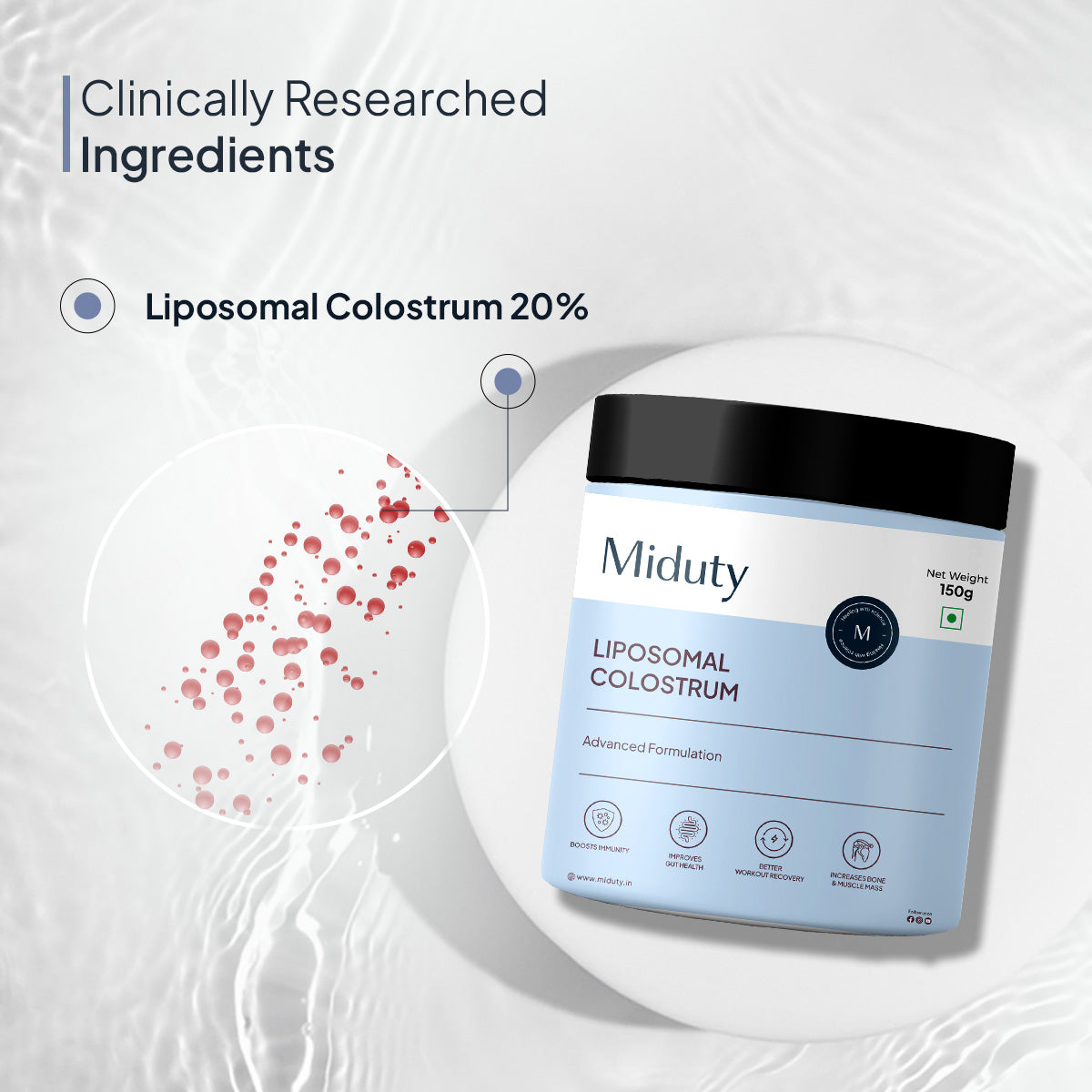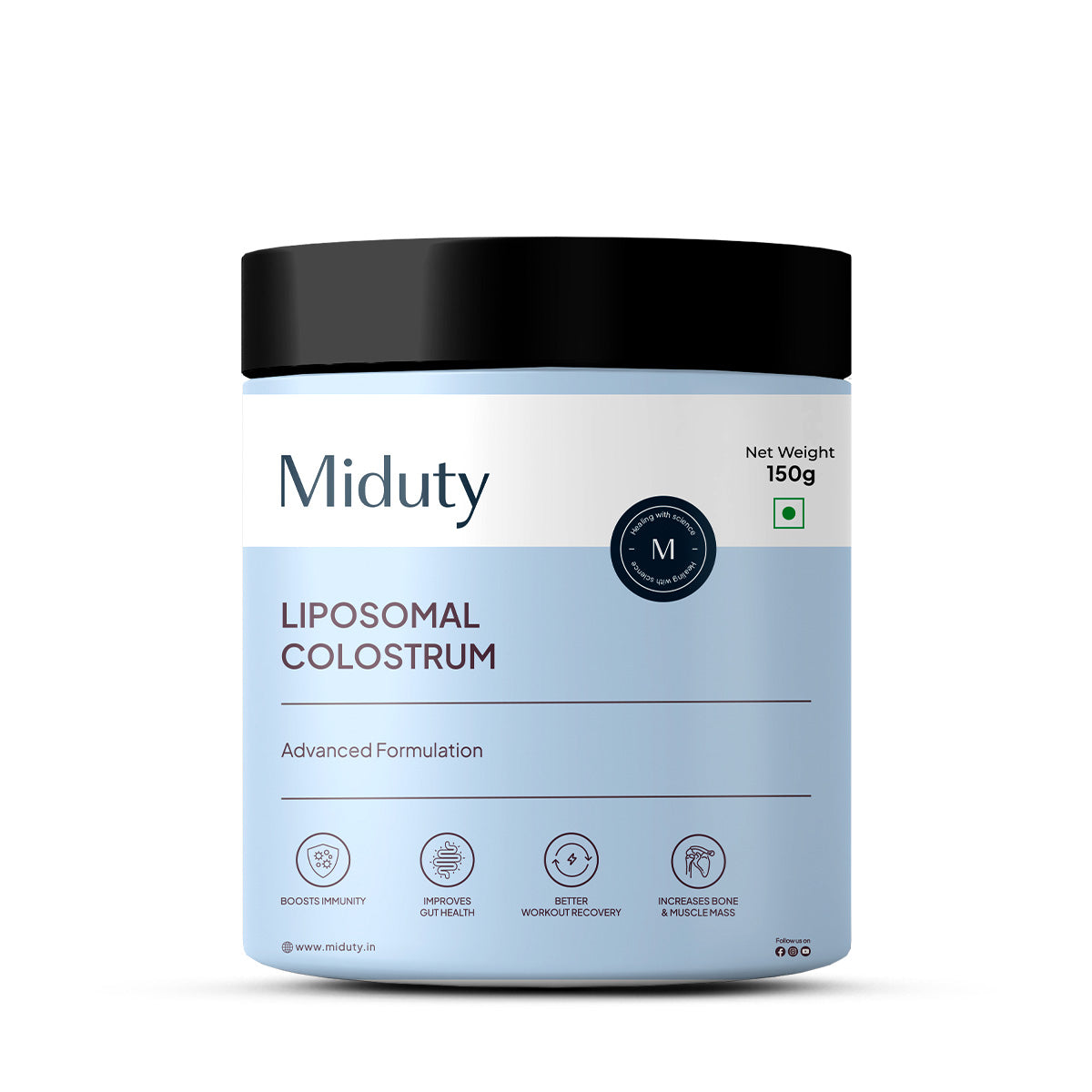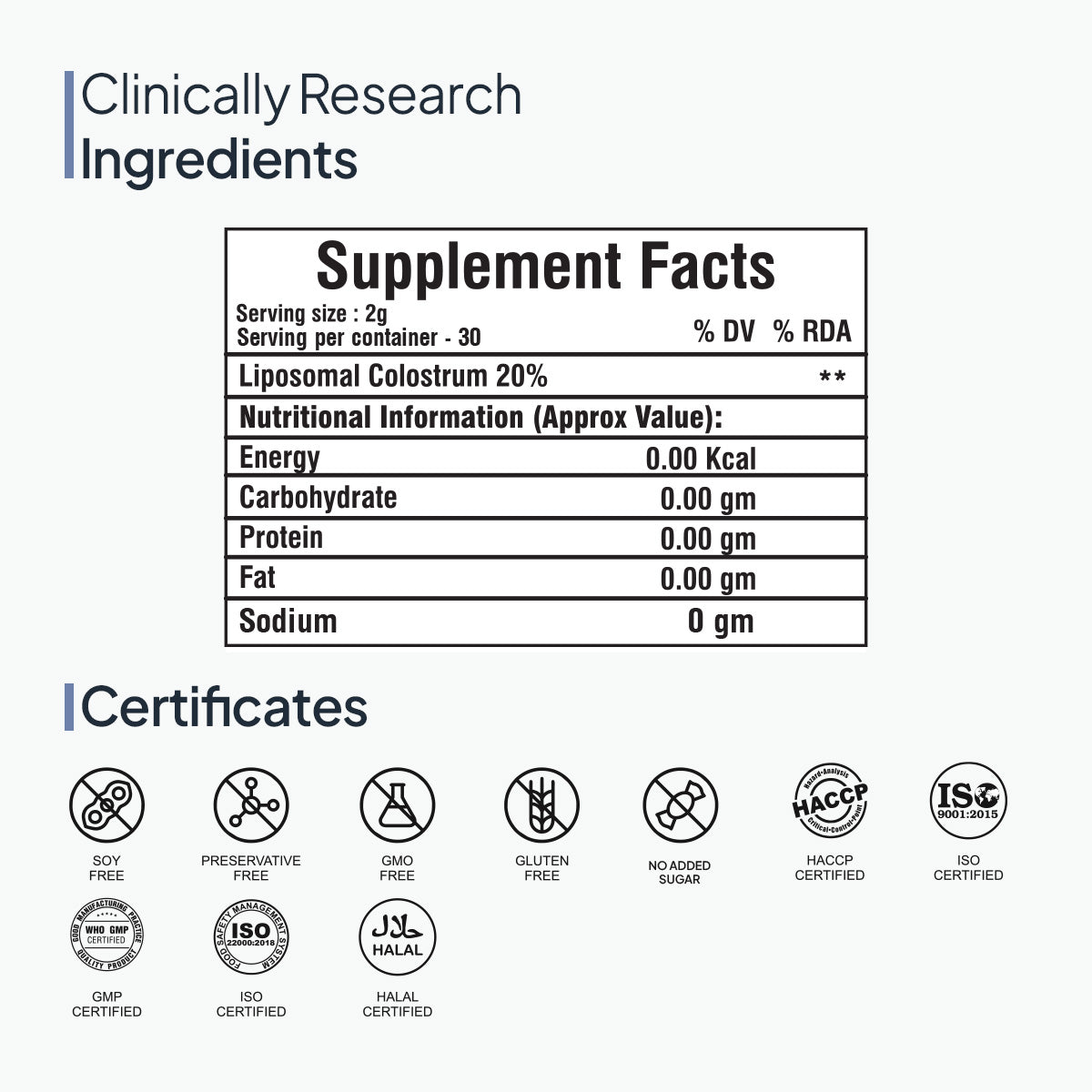 Gut Health
Immunity
Kids Health
Liposomal Colostrum
Liposomal Colostrum
Have you heard about Nature's "first food"? It's Colostrum.

Colostrum, the first type of milk produced by the mammary glands at the end of pregnancy and in the first few days after delivery, is well-known to many mothers. It contains every component that a newborn needs to flourish in his first few days of life.

Despite the fact that all mammals generate colostrum, cow colostrum is typically used to make supplements. We call this dietary supplement bovine colostrum.

Miduty's Liposomal Colostrum Powder improves gut health, boosts immunity, and increases muscle mass and strength. Liposomal Colostrum Supplement antibody levels can be 100 times higher than in regular cow's milk.
Description
Colostrum is a milky fluid that comes from the udder of cows the first few days after giving birth before true milk appears. This fluid contains proteins called antibodies.
Antibody levels in colostrum can be 100 times higher than those in regular cow's milk.
Liposomal Colostrum is one of the best supplements that can be taken by adults and children that are no longer nursing to help with Immune health. This is because it is high in immunoglobulin G (IgG), which is an antibody that yields systemic immunity.
If you are looking for something to boost immunity, improve gut health, improve bone and muscle mass, or have the desire to have a good source of workout recovery, Miduty's Liposomal Colostrum can prove to be a wise choice.
Miduty's Liposomal Colostrum contains high levels of fat-soluble and water-soluble vitamins that are essential for human health. This supplement is potent enough to provide different forms of Vitamin A, Vitamin E, Vitamin K, Vitamin D, Vitamin C, and B vitamins. It is also a good source of calcium and phosphorus.
Moreover, colostrum, which contains a high percentage of fat and fatty acids, plays a role as a signaling molecule and contributes to the regulation of lipogenesis in the liver.
Colostrum offers a defense against enteropathy brought on by NSAIDs. Colostrum may be used to manage the potential negative effects of NSAIDs, according to growing and reliable evidence. [1]
Consistent intake of Miduty's Liposomal Colostrum improves upper body strength, muscle thickness, lean tissue mass, and cognitive function. Colostrum also has a promising therapeutic role in treating Gastrointestinal tract infections and inflammatory bowel disease. [2]
Lactoferrin obtained from colostrum can boost osteoblast proliferation and osteoblast release of certain growth factors, two processes involved in bone formation. [3]
It's time now! Don't hold yourself back; go get this richness to your home and have a positive impact on your health.
How do I take them?
Dosage-

Every day, take 5 gm of colostrum powder with water.

Please note-

You can start with a pinch of this powder for kids under 3 yrs - 5 yrs age.

Quick info-

Do not consume it if you have lactose intolerance.
What's it for?
- For Immunity
- Exercising People
- People Having Weak Bones
- People with Any Digestion Related Problems
Why is Miduty's Liposomal Colostrum Superior?
Miduty is the first company to manufacture the liposomal form of colostrum, which is more bioavailable and can cross stomach acid without deteriorating.


Colostrum can have 100 times more antibodies than typical cow's milk does.


Miduty Colostrum has a Liposomal form of colostrum, which makes it 16 times more powerful than its normal form and helps enhance immunity and keep the gut healthy.


This colostrum comes from cows that consume only grass, not those that are given synthetic growth hormones. Hence, this supplement is fully vegetarian.


Colostrum supplementation may enhance upper body strength, muscle thickness, lean tissue mass, and cognitive performance, according to human research investigations.

[4]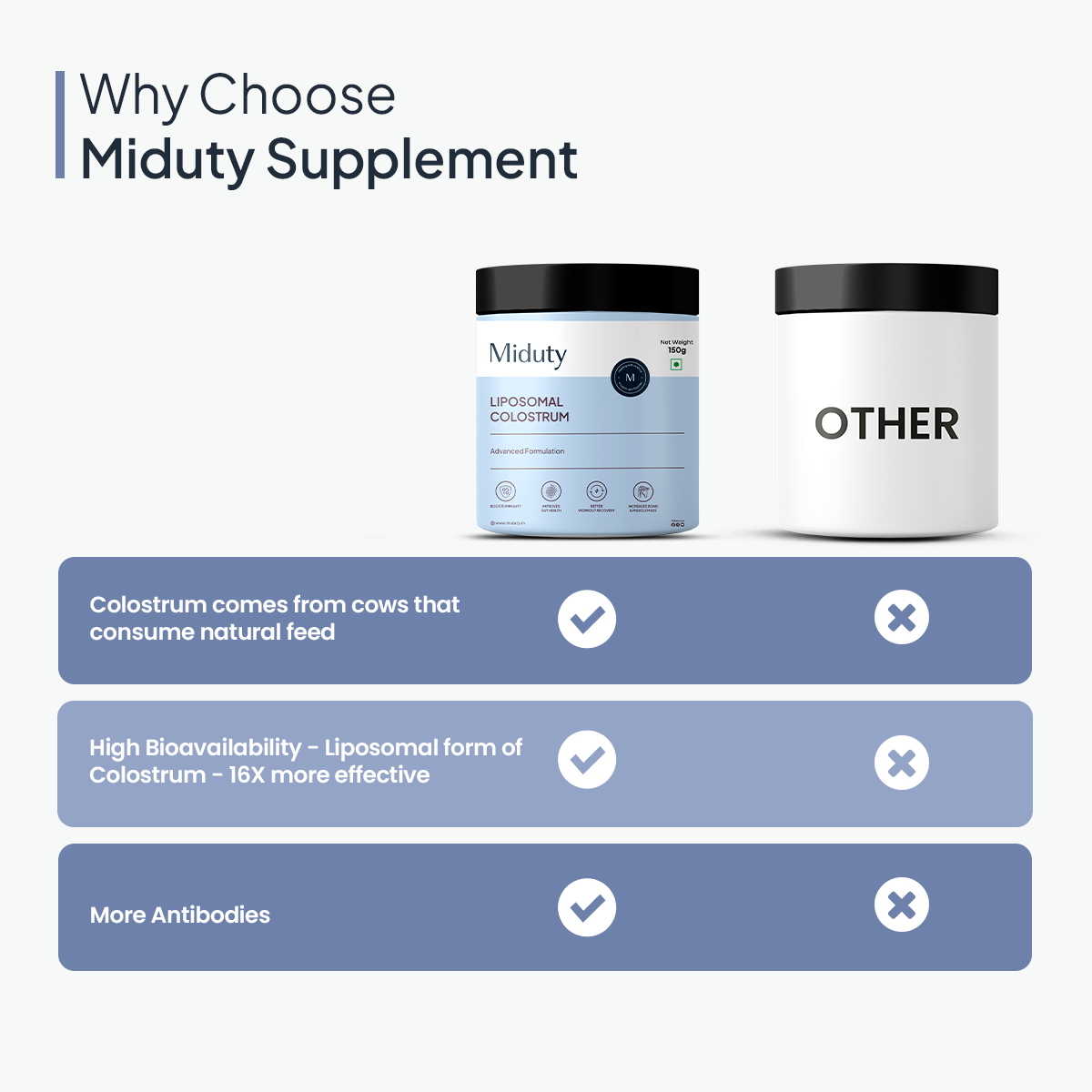 What's Inside? (Ingredients)
FAQs
Is this dietary supplement vegetarian or not?
This supplement is 100% vegetarian.
My infant's immunity is low since I was unable to feed her properly. What do I need to do?
Who can use this product?
All age groups can consume this product, and mothers who are unable to produce milk should give it to their children.
Since birth, I've had digestive problems. What should I do?
Start consuming our liposomal colostrum along with Leaky gut for building the gut lining.
Does this product work for me because my muscles are extremely weak after the injury?
Yes, as it increases muscle protein, it helps in muscle repair along with Build Joint Back. People who lift weights should consume it as well.
Are Palak Notes and Miduty same brands?
Yes, the brand's Palak Notes and Miduty are the same.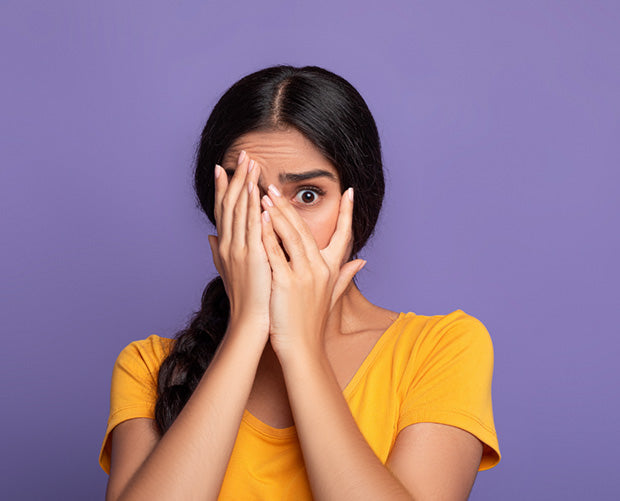 Unknown Facts
It assists in the repair of ligaments and muscles.

Bovine colostrum is a powerful tool for boosting muscle growth and recovery because of its high concentration of growth factors like insulin-like growth factor I and antioxidants.

It promotes digestive health.

Colostrum from early breast milk aids in calming and protecting a baby's developing, leaky, and sensitive gut. Bovine colostrum may provide the gut lining with significant protection in adulthood. In fact, lactoferrin promotes intestine cell growth to help in the healing of a damaged gut.

Immune support

By giving the infant maternal antibodies that it can utilize to coordinate a defense if the body comes into contact with a foreign cell, colostrum enhances passive immunity. In addition, it has built-in antiviral, antifungal, and antibacterial properties.
PALAK NOTES IS NOW MIDUTY
New Era! Continued Dedication!
Pain that went untreated gave rise to the brand Palak Notes. Pre-COVID, we began to evolve, and over the past three years (and counting), we have dedicated our entire selves to learning about the pain and health issues that society suffers. We had a modest beginning, but today we have a large family. 
So, in order to adapt to these changes over time, we have decided to create a new brand identity that reflects our team and potential customers. We are now known as MIDUTY. Our vision for the current era is presented and projected through this new identity.