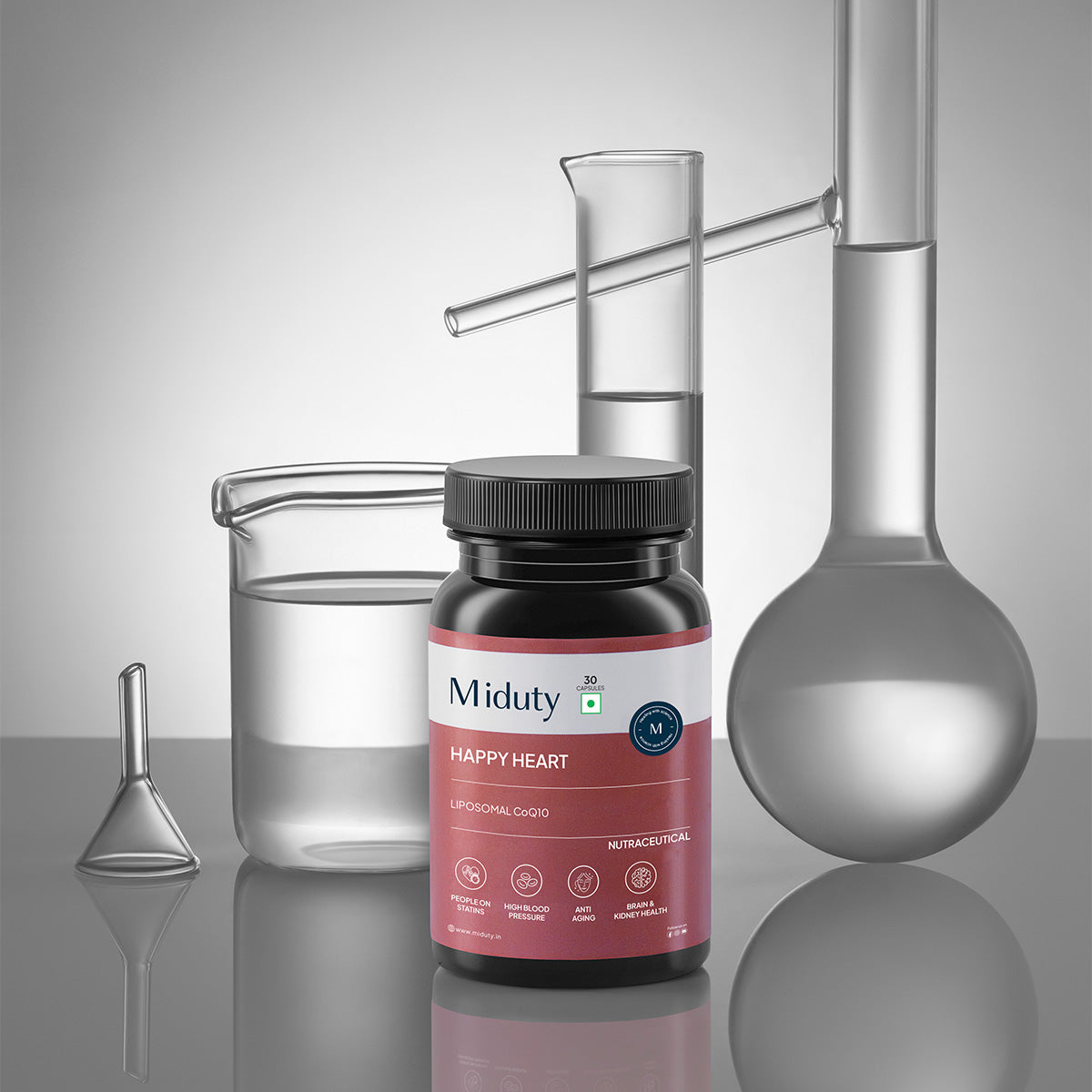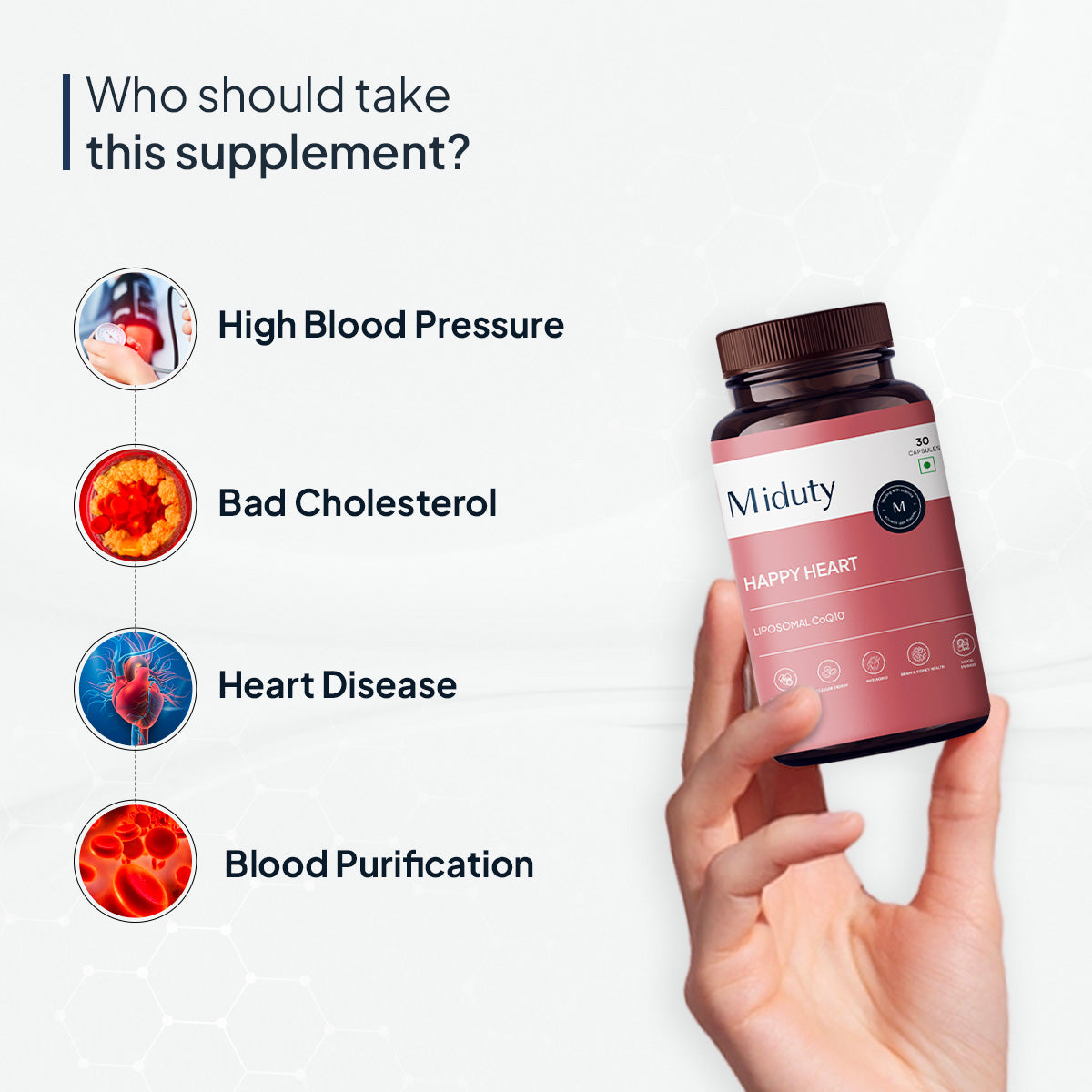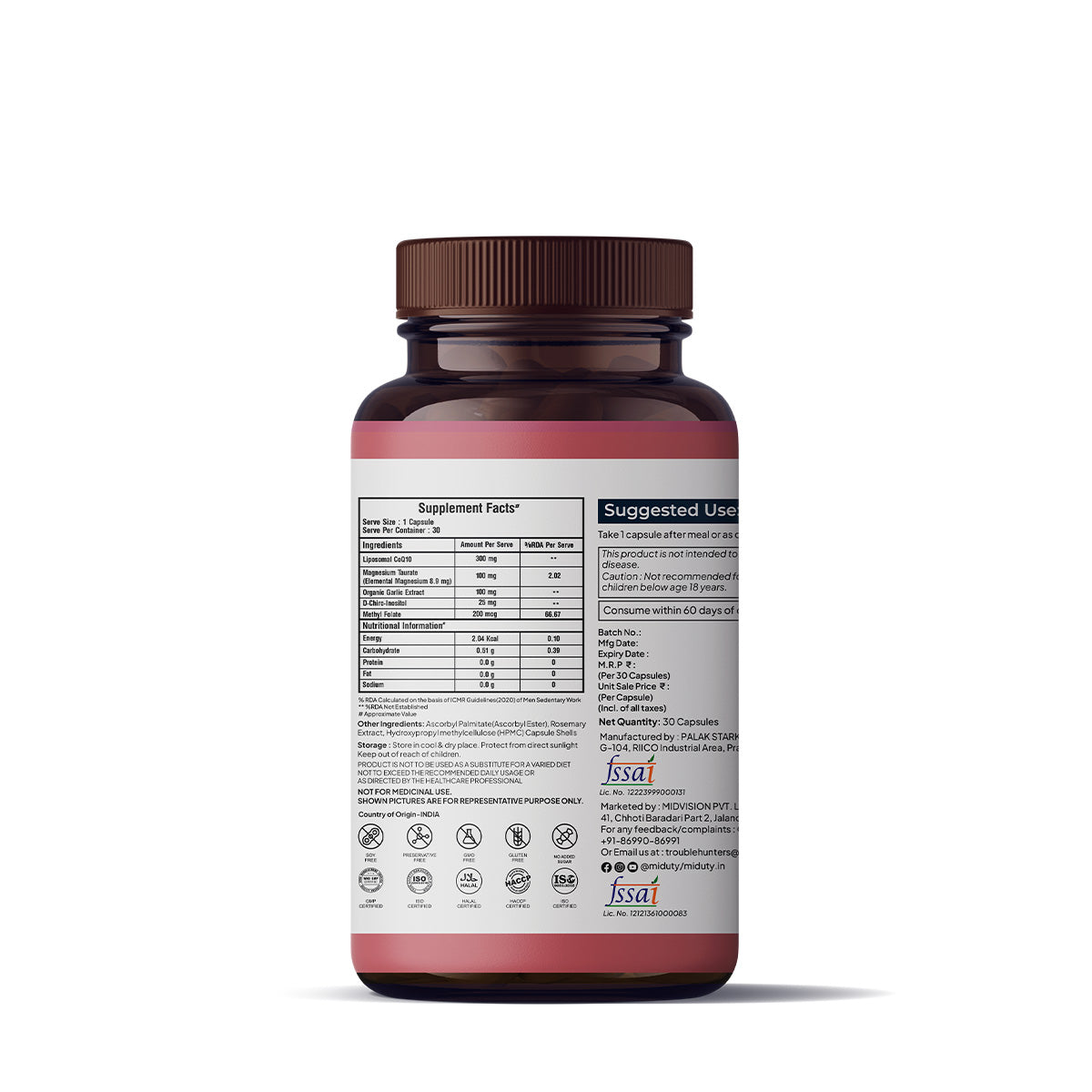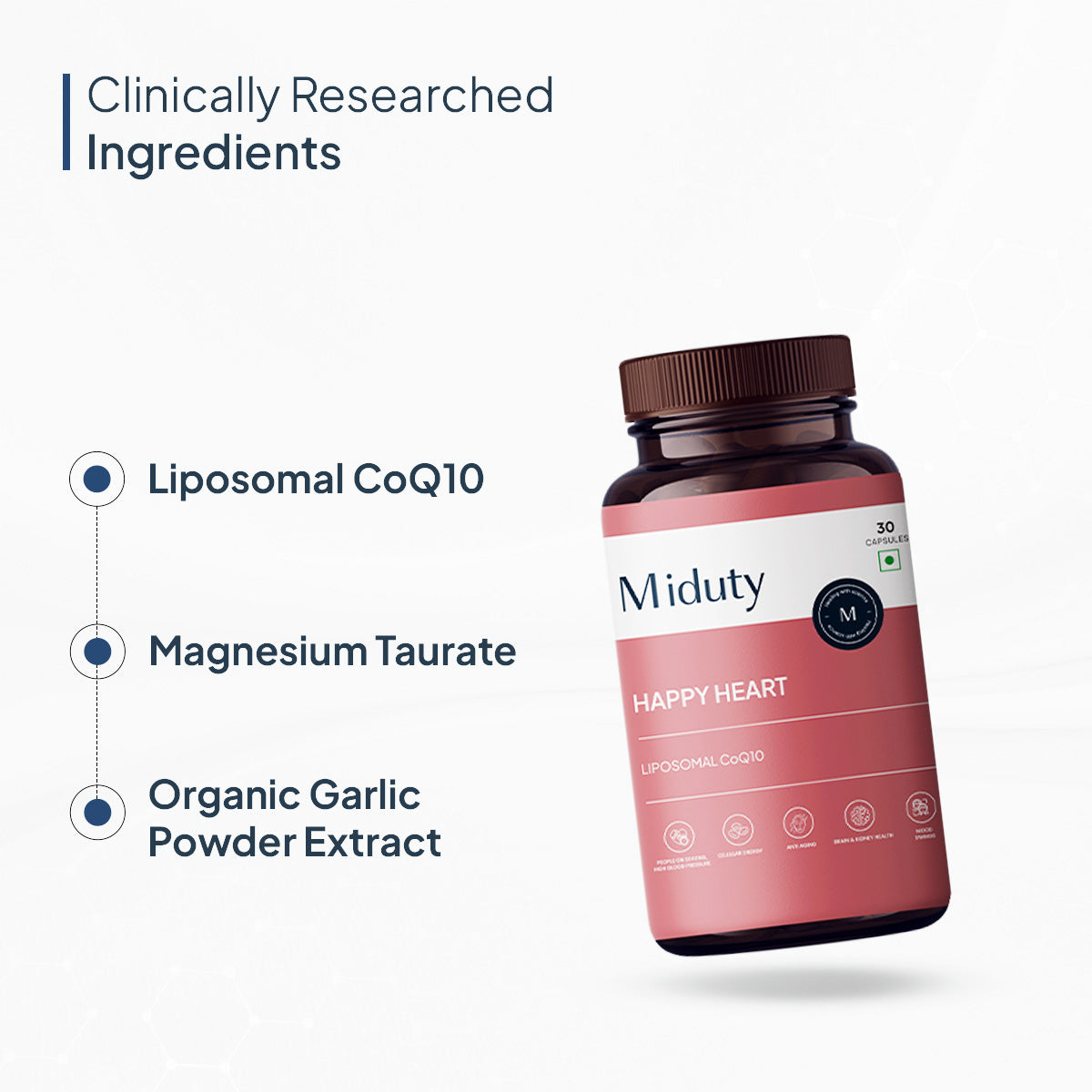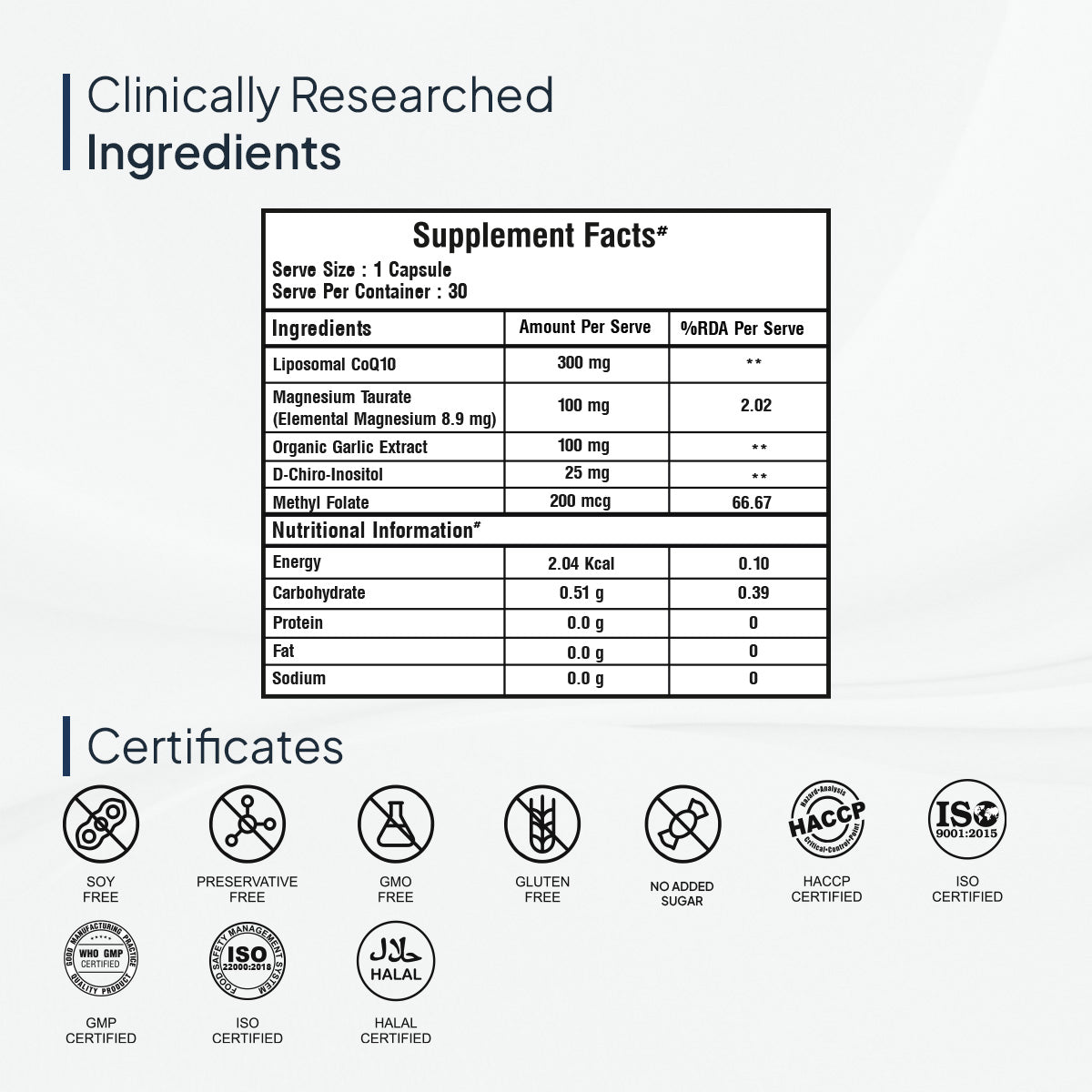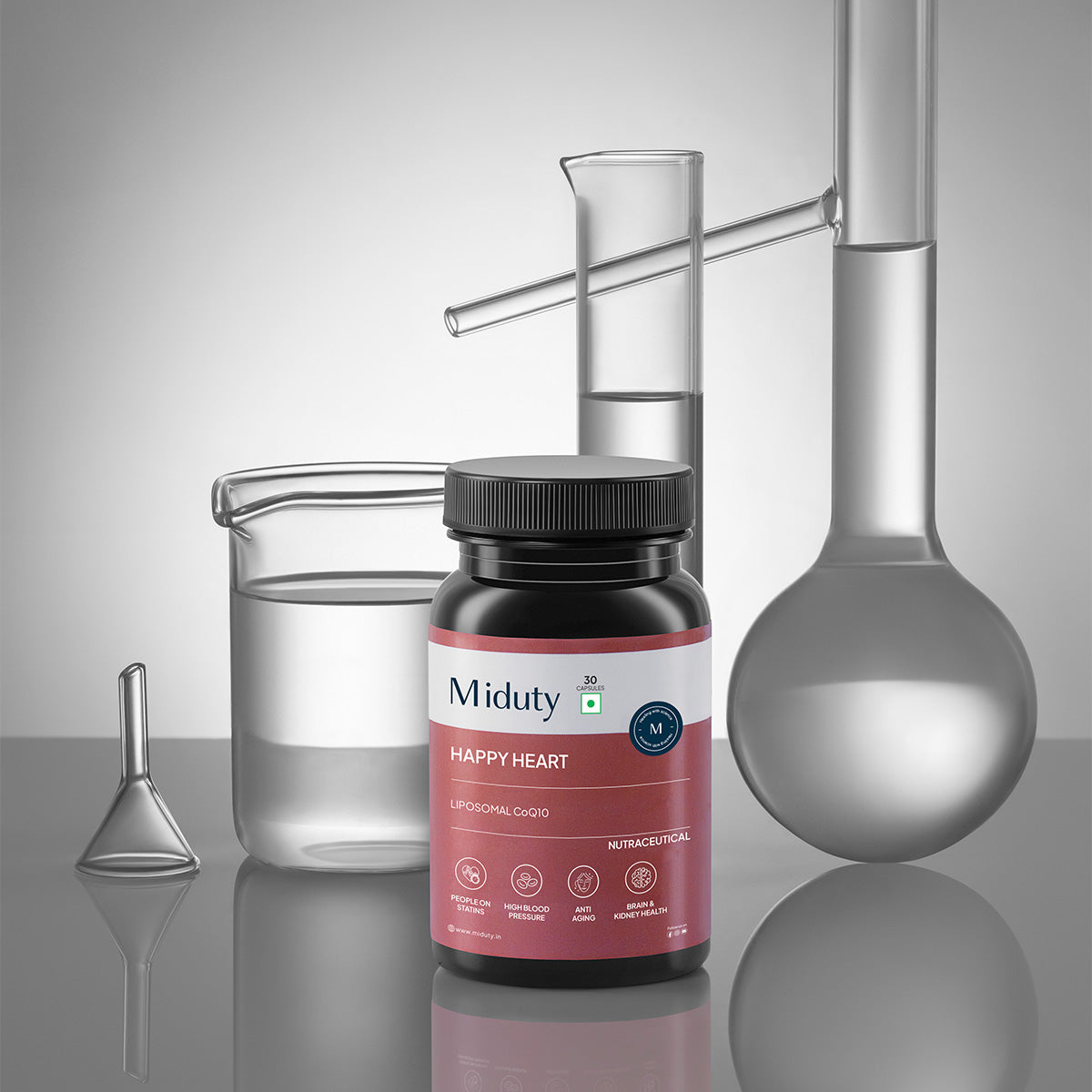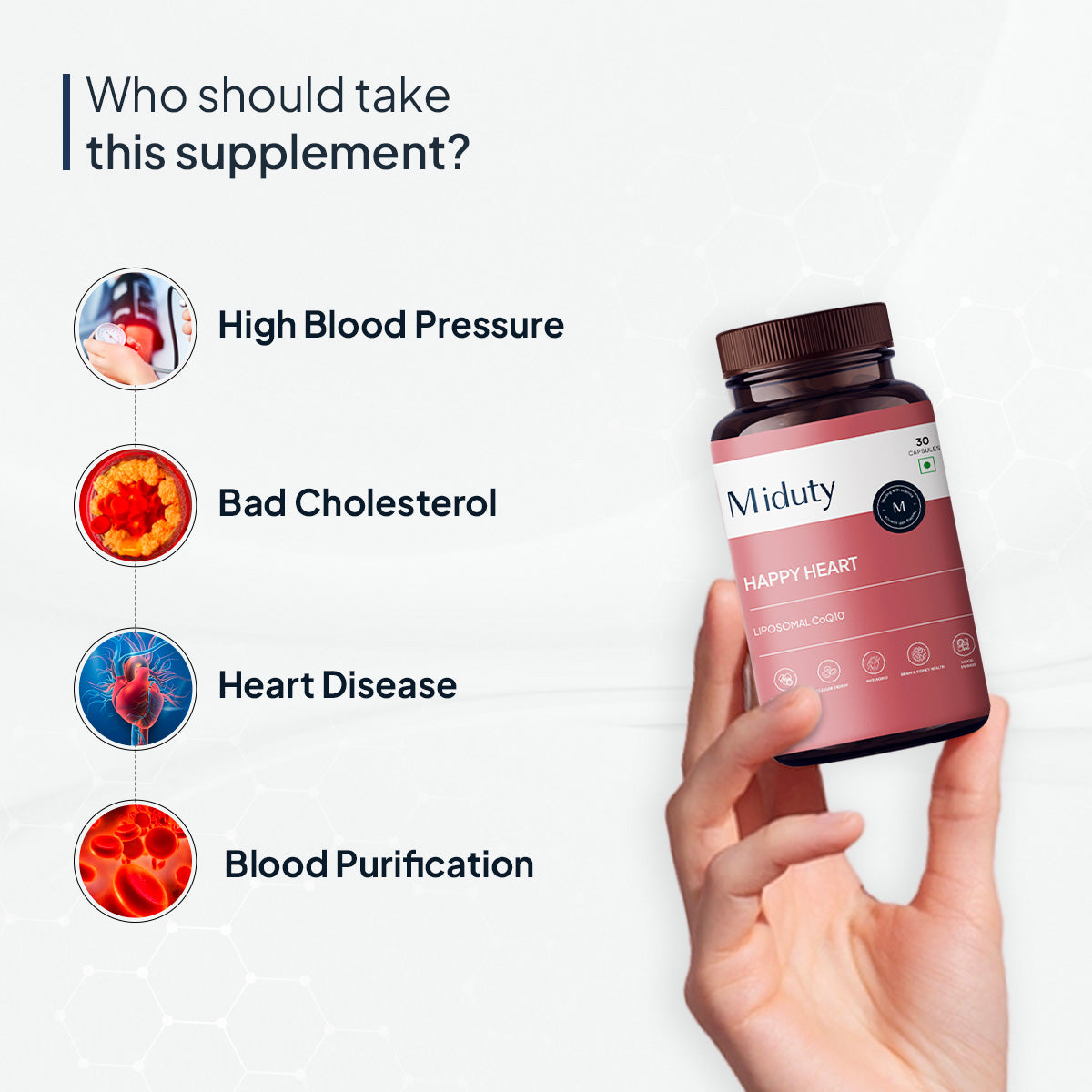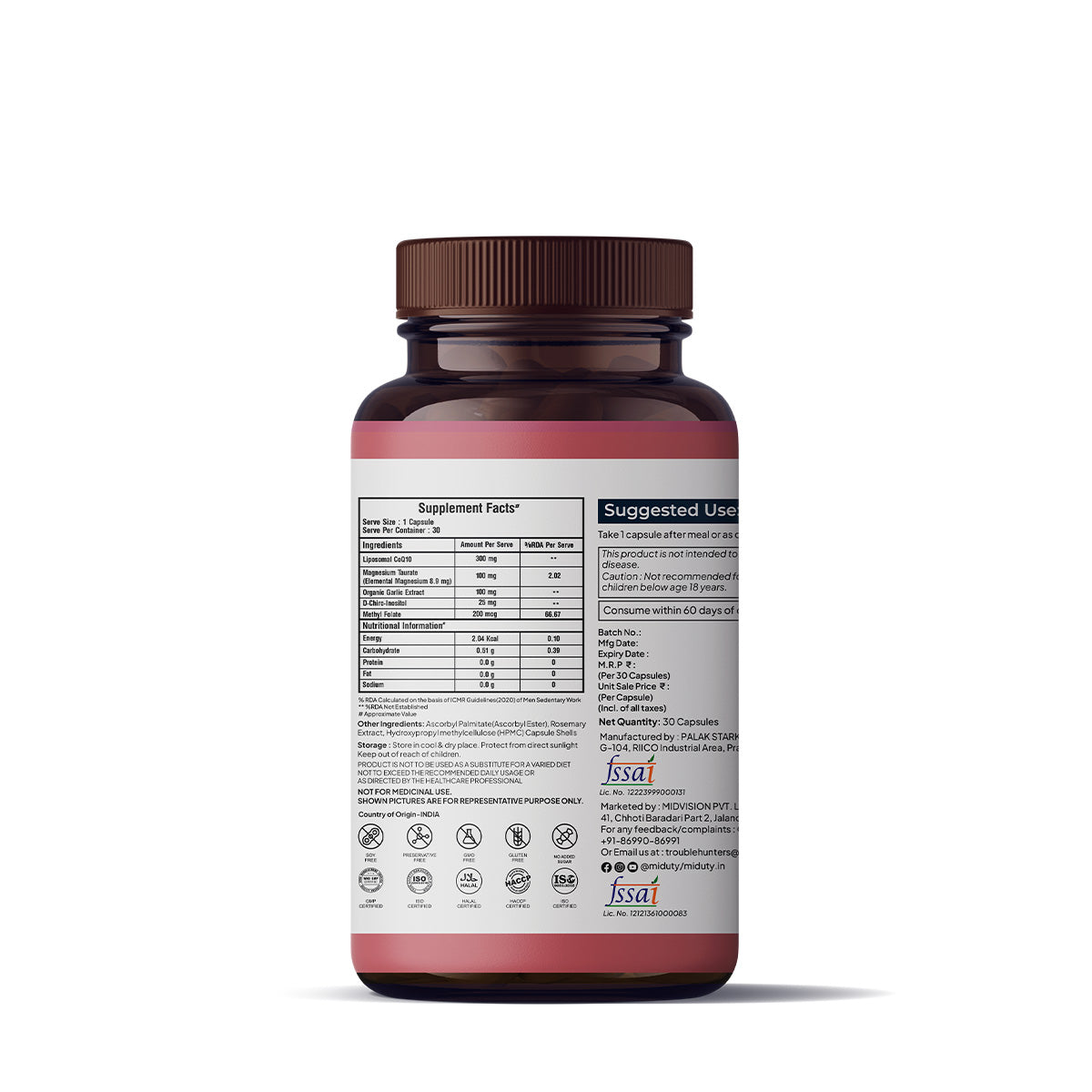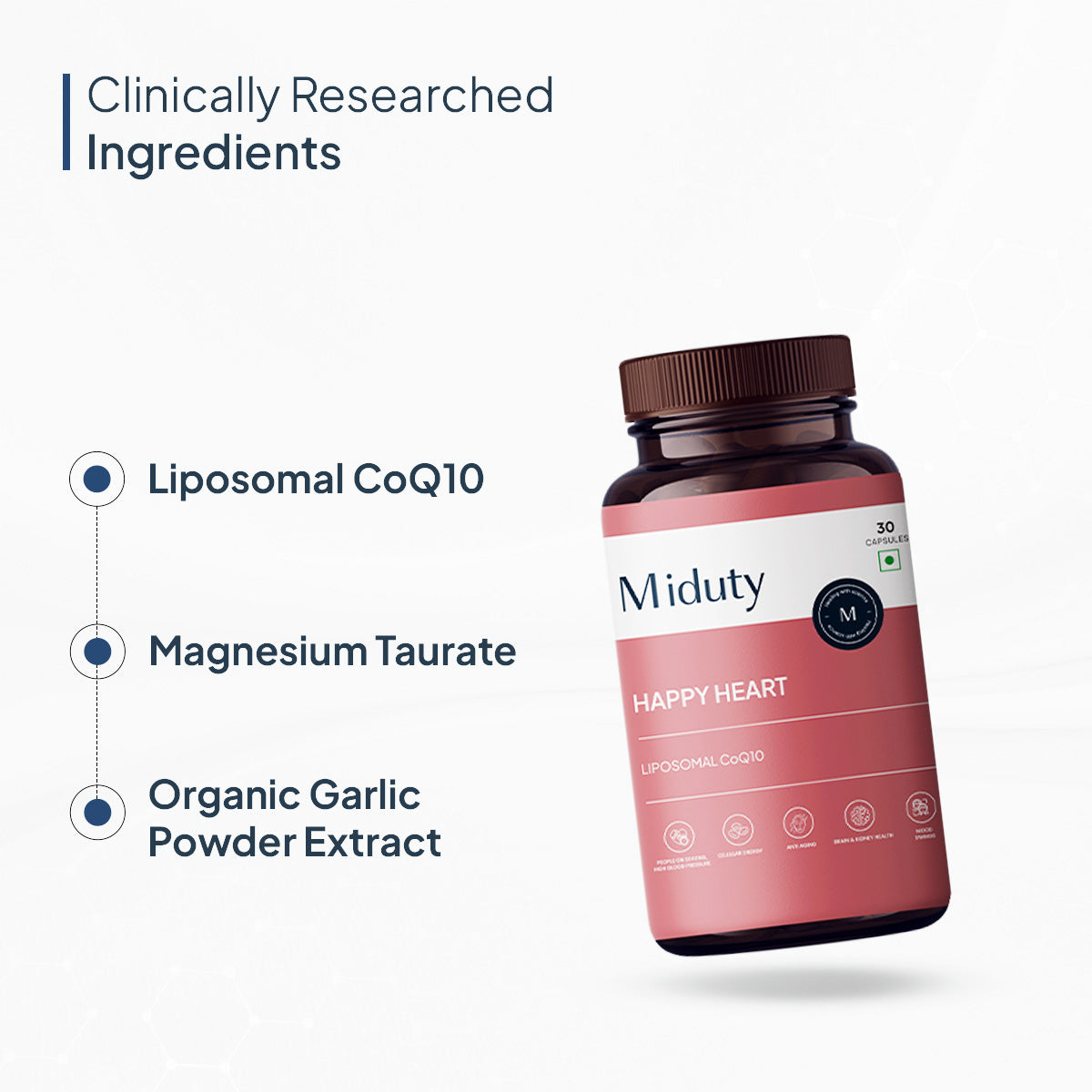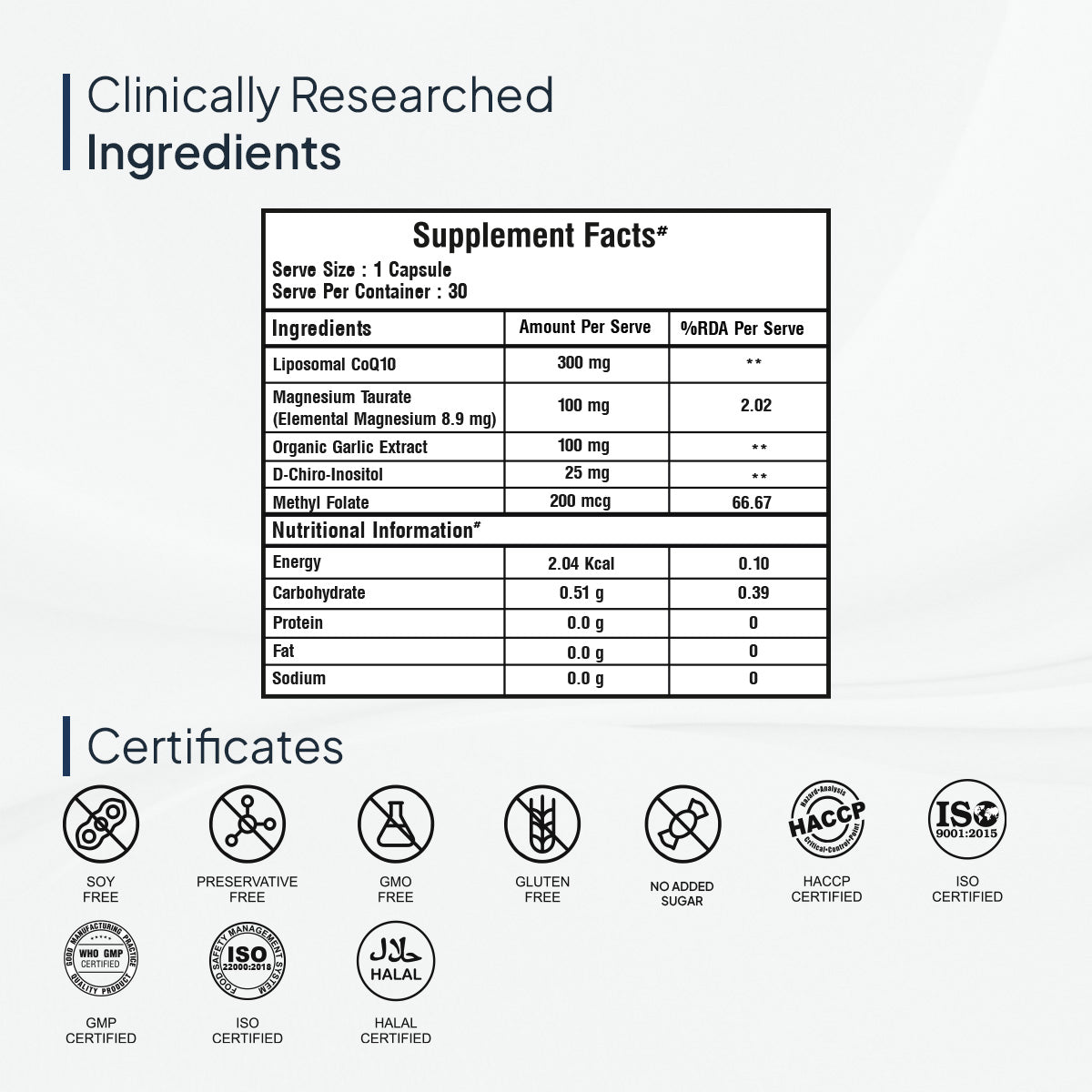 cart
Happy Heart
Heart Health
High BP
Liposomal CoQ10
Happy Heart - Liposomal CoQ10
If you are a person clutched with heart disease, have bad cholesterol levels, facing high blood pressure, or are looking for something fruitful for the purification of the blood, Miduty's Happy Heart Supplement has your back.
Do you ever wonder if there are any antioxidants for maintaining heart and kidney health and to slow aging? Definitely, It's CoQ10, the production of which declines with age.
Miduty introduces the most powerful form of CoQ10 in its Liposomal form which is present in Miduty's Happy Heart. This is beneficial to people who take medications for high blood pressure and cholesterol since their bodies' synthesis of CoQ10 decreases.
Description
Miduty's Happy Heart Supplement contains Liposomal CoQ10 in combination with Magnesium taurate, and D-chiro inositol that tends to improve CoQ10 levels in cell membranes and mitochondria provides multiple health benefits in aging, genetic factors, and people on statin medication, and improves muscle disorders, and neurodegenerative diseases.

Methyl Folate present in Happy Heart Supplement is known to provide support to Cardiac and brain health. It also prevents Alzheimer's disease and dementia by decreasing Homocysteine levels.
CoQ10 supplements help in the prevention of hypertension and dyslipidemia. [1] 
Happy Heart infused with Organic garlic powder extract is effective to reduce serum cholesterol, LDL-cholesterol level, and serum triglyceride. As garlic acts on liver enzymes for cholesterol metabolism. LDL-Cholesterol lowering action of garlic also prevents atherosclerosis.
Liposomal CoQ10 can substitute the reduced levels of Coenzyme Q10. [2]

Liposomal CoQ10 supplementation has the ability to cross the blood-brain barrier. This can reduce the risk of CoQ10 deficiency and normalizes brain activity. CoQ10 being a powerful Antioxidant can increase the absorption of the other essential nutrients, thus it also helps to recycle Vitamin C and Vitamin E, maximizing their potential.
For the adequate production of cellular energy, Happy Heart facilitates ATP production by making CoQ10 actively participate in the electron transport chain in the mitochondria.
How do I take them?
Dosage-

Take 1 Capsule after your meals or as directed by the healthcare professional.

Please Note-

Avoid it if you are on blood thinner medications.

Quick info-

Even if you don't have any heart-related issues, you can still consume it due to its antioxidant properties.
What's it for?
- Controls High Blood pressure
- For Blood purification
- For People with bad cholesterol
- For people with Heart Disease
Why is Miduty's Happy Heart - Liposomal CoQ10 Superior?
Miduty is the first brand to launch a Liposomal form of Coenzyme Q10 (CoQ10) which is present in Miduty's Happy Heart supplement. The liposomal form of CoQ10 is 16 times more powerful than any other form of CoQ10 available in the market.

Even a healthy diet may not be sufficient to obtain the daily necessary doses of COQ10 because it is present in little amounts in most of food.

This gap can be bridged by taking a daily high-quality CoQ10 supplement in capsule form (which facilitates quicker bloodstream absorption). Miduty Liposomal CoQ10 supplementation can better and easily be absorbed by the body and can reduce the risk of CoQ10 deficiency that normalizes brain activity.
What's Inside? (Ingredients)
FAQs
I am not on any bp or cholesterol medication nor do I have major heart issues like an enlarged heart or heart failure. Do I still need this product?
Yes, it is an exclusive antioxidant to slow down the aging of organs since it is rarely found in natural sources.
Is this Supplement Vegetarian or Non-Vegetarian?
Happy Heart is 100% vegetarian as it contains Liposomal CoQ10, magnesium taurate, organic garlic powder extract, D-Chiro-Inositol, and methyl folate.
Is it safe for elderly people to have coq10?
Yes, their body is having the lowest energy level and their body is aging at a fast pace so they need to protect their organs with this antioxidant coq10.
What is the right way to have a Happy Heart?
Take 1 Capsule after your meals
Will it help to lower cholesterol?
This will minimize the adverse effects of your statin medication. Cholest off is recommended to be used together with it to lower cholesterol levels.
Are Palak Notes and Miduty same brands?
Yes, the brands Palak Notes and Miduty are the same.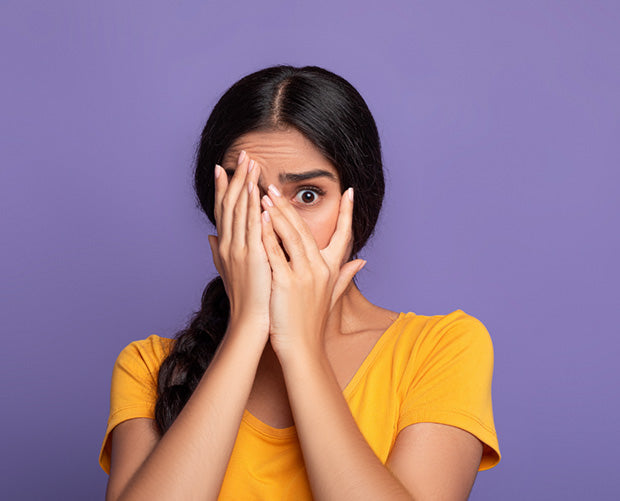 Unknown Facts
Coq10 is produced naturally by the body with the highest levels in the heart, liver, kidneys, and pancreas. Its production slows down if you are taking BP medication. The name of the substance, coenzyme Q10, may not sound very natural, yet it is an essential component that functions as an antioxidant in the body.
Cholesterol Lowering effect

What is known is that taking CoQ10 supplements may be beneficial for people who take statins and have high cholesterol. That is a result of its effects on decreasing cholesterol.

Lower side effects of Statins

It may also reduce the chance of side effects from statins including fatigue. Statins are used to diminish a liver enzyme that not only lowers cholesterol production but also reduces the natural generation of CoQ10.

Maintenance of Natural Energy

CoQ10 contributes to "energy metabolism Synthesis of ATP," which is the process by which food energy (carbohydrates and fats) is transformed into adenosine triphosphate, the type of energy that is used by our cells (ATP).
PALAK NOTES IS NOW MIDUTY
New Era! Continued Dedication!
Pain that went untreated gave rise to the brand Palak Notes. Pre-COVID, we began to evolve, and over the past three years (and counting), we have dedicated our entire selves to learning about the pain and health issues that society suffers. We had a modest beginning, but today we have a large family. 
So, in order to adapt to these changes over time, we have decided to create a new brand identity that reflects our team and potential customers. We are now known as MIDUTY. Our vision for the current era is presented and projected through this new identity.