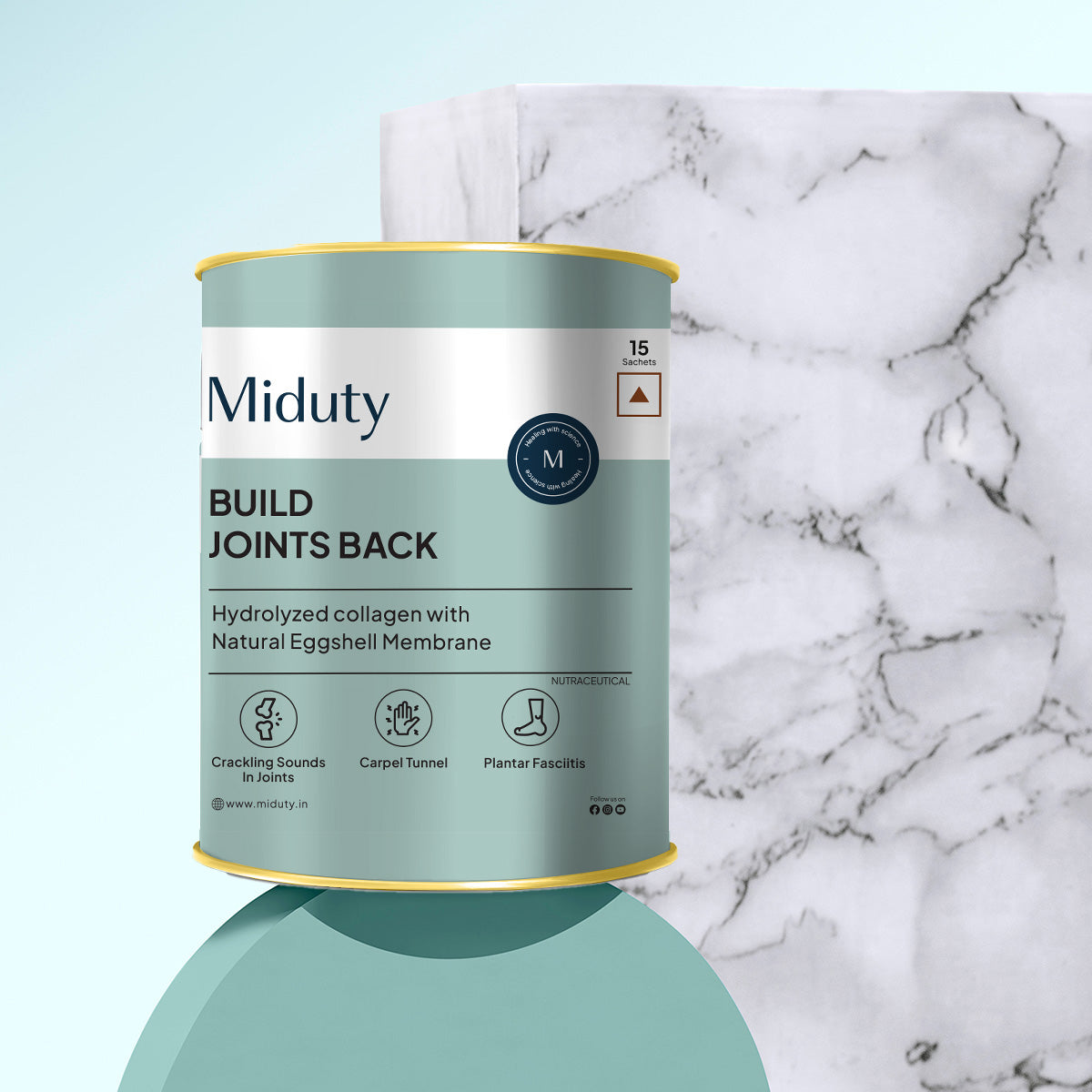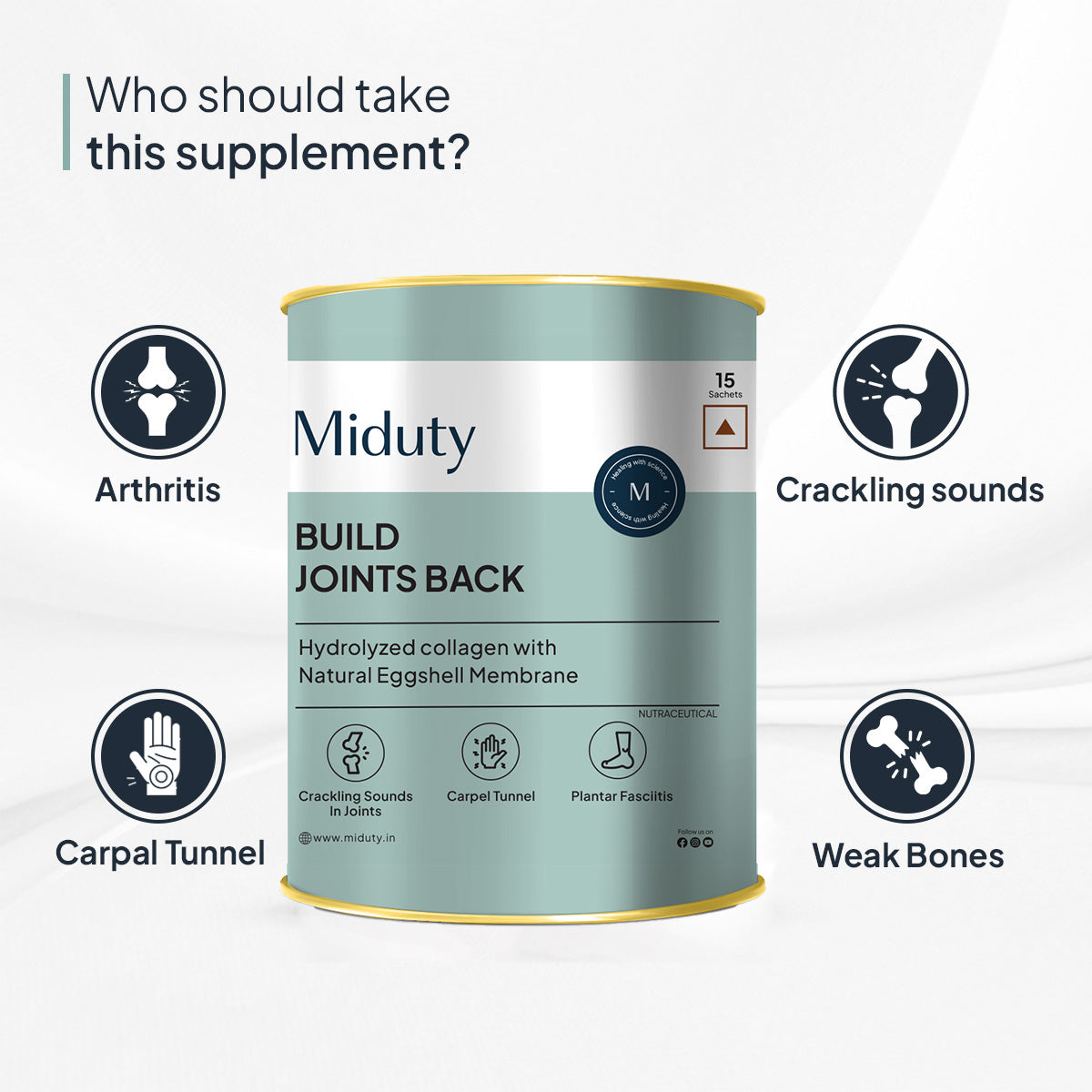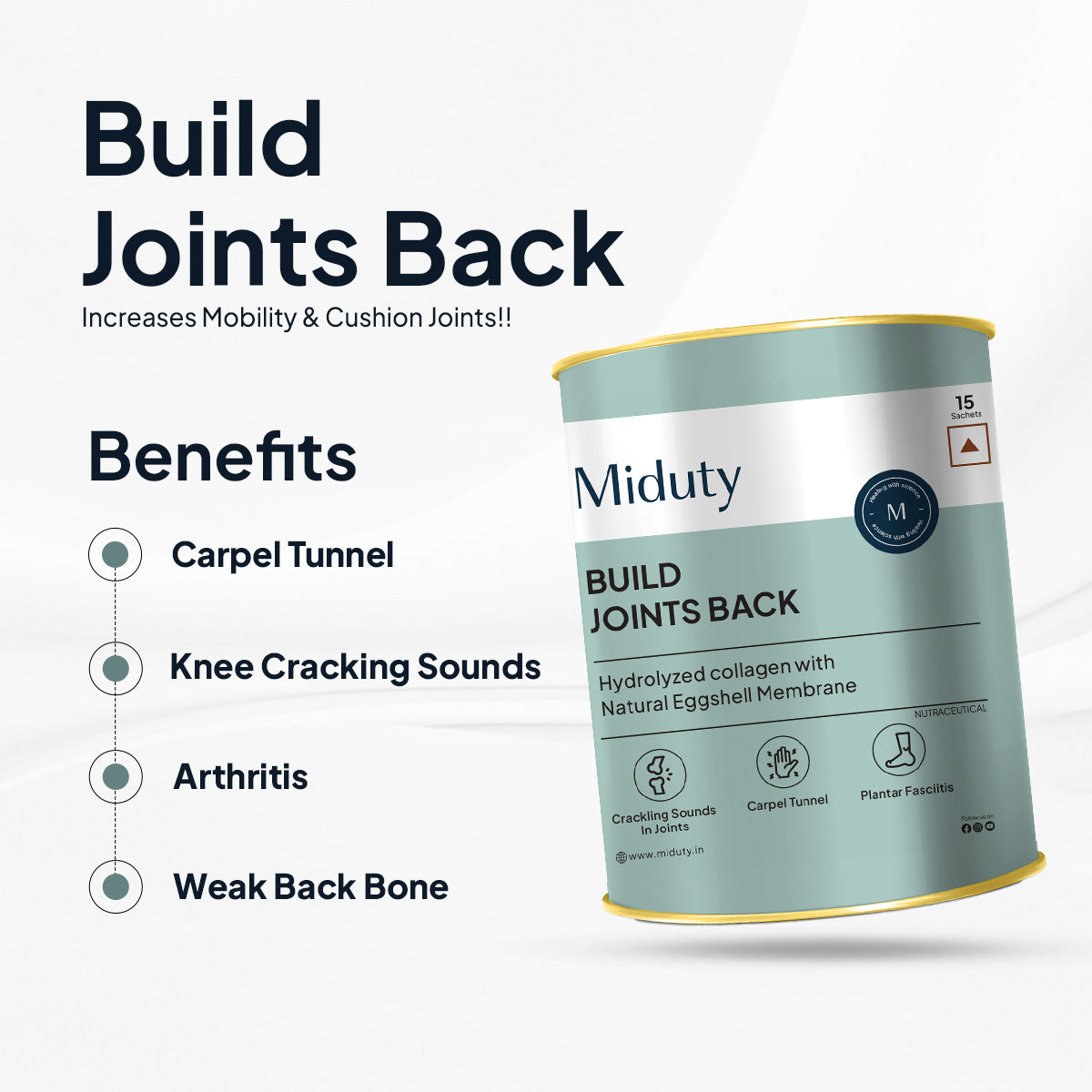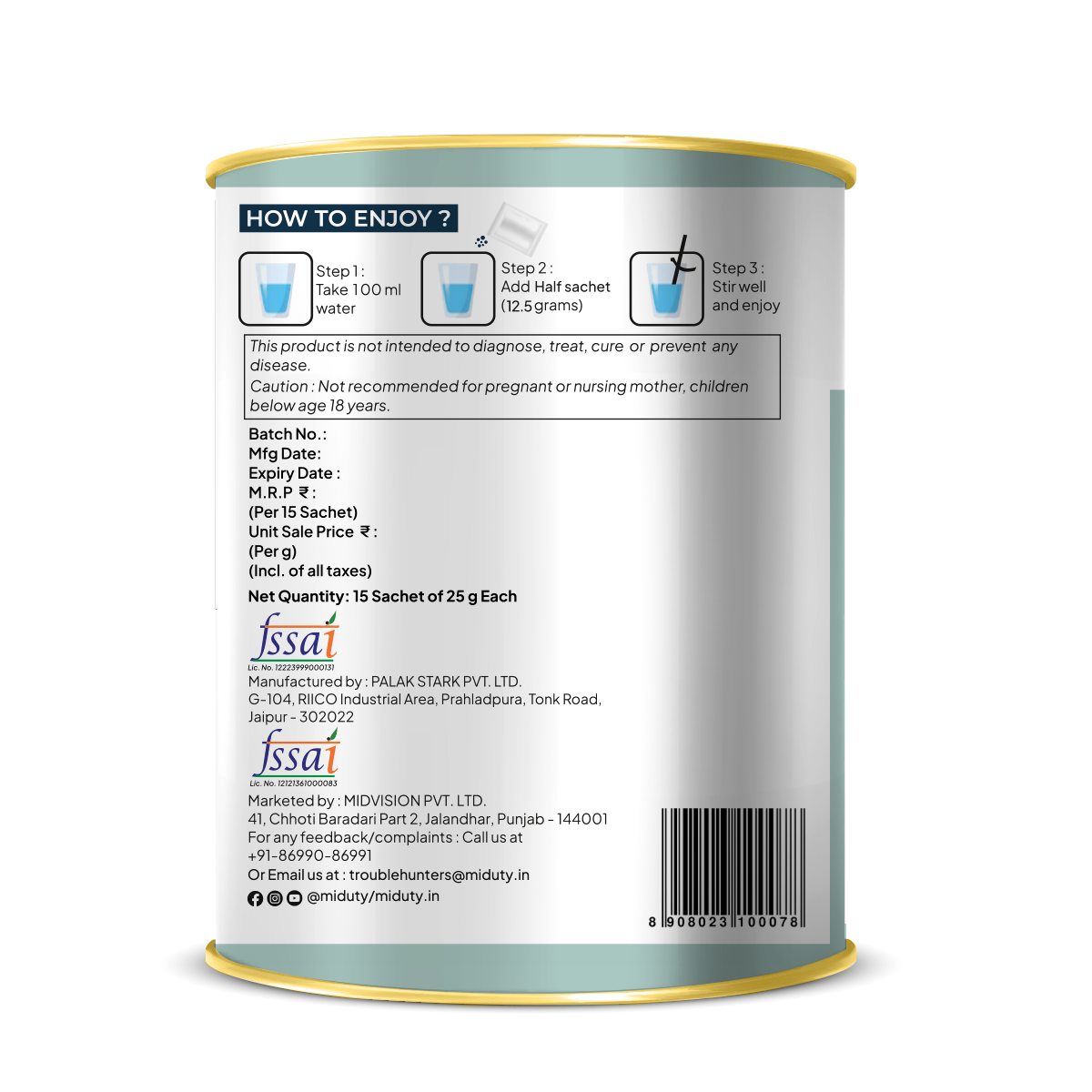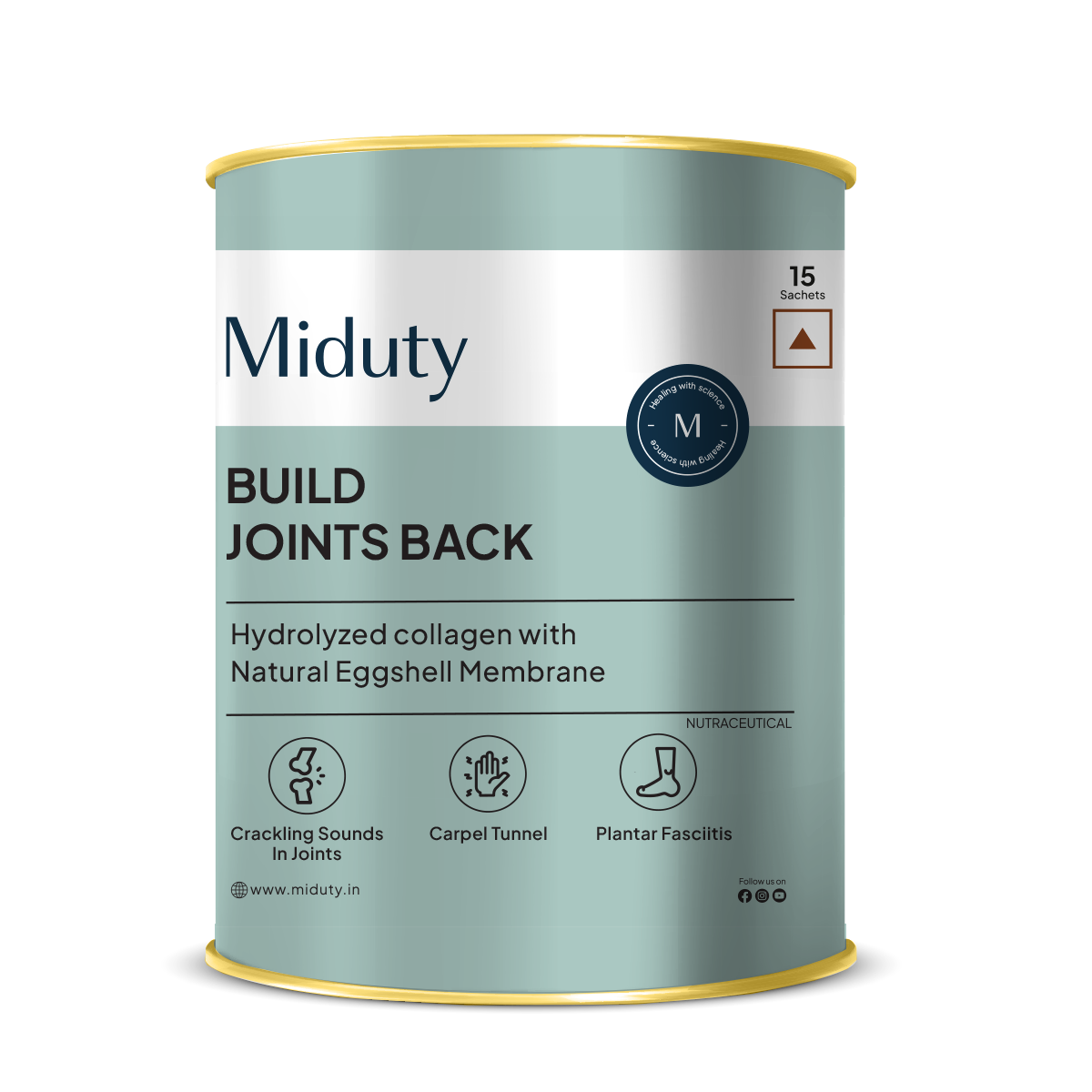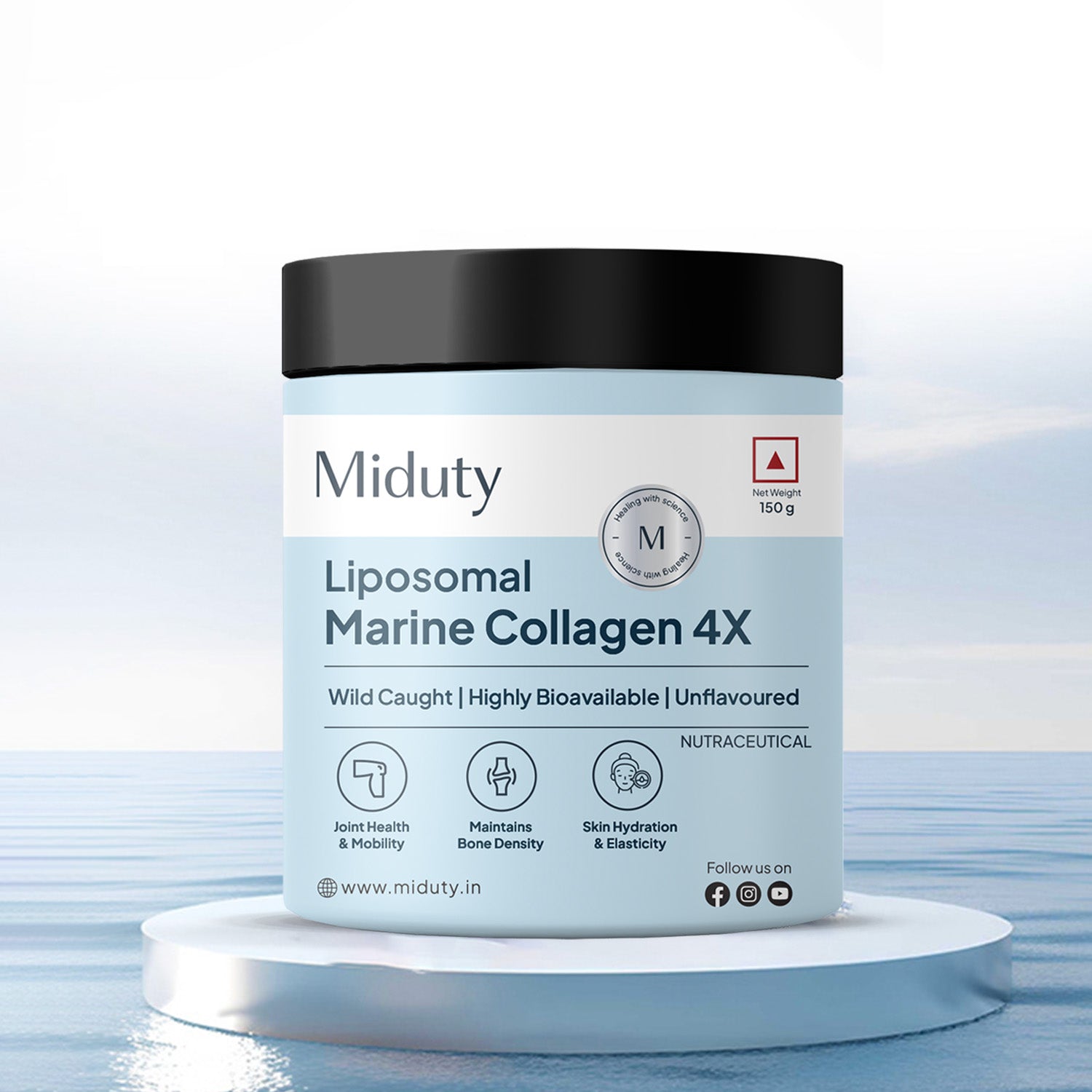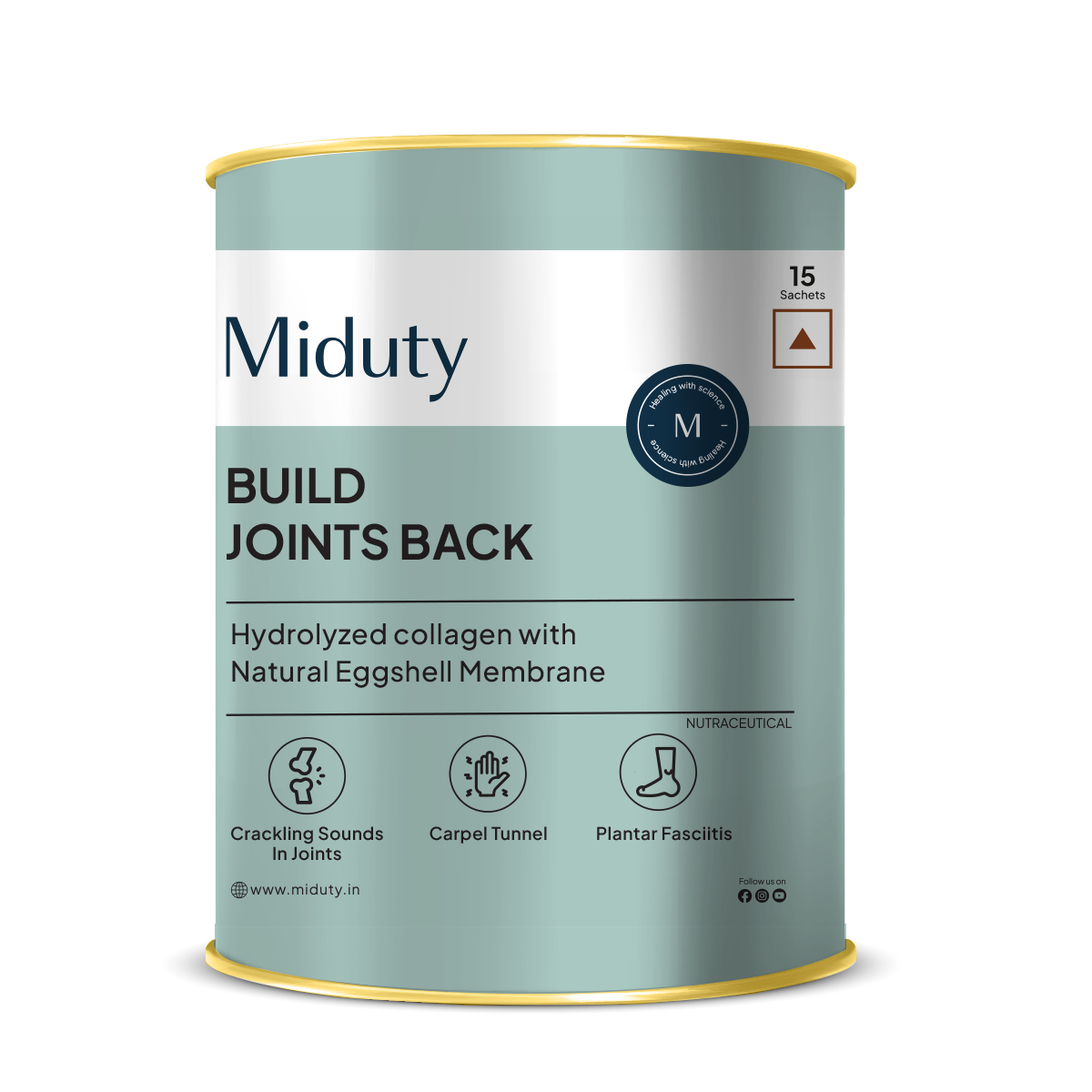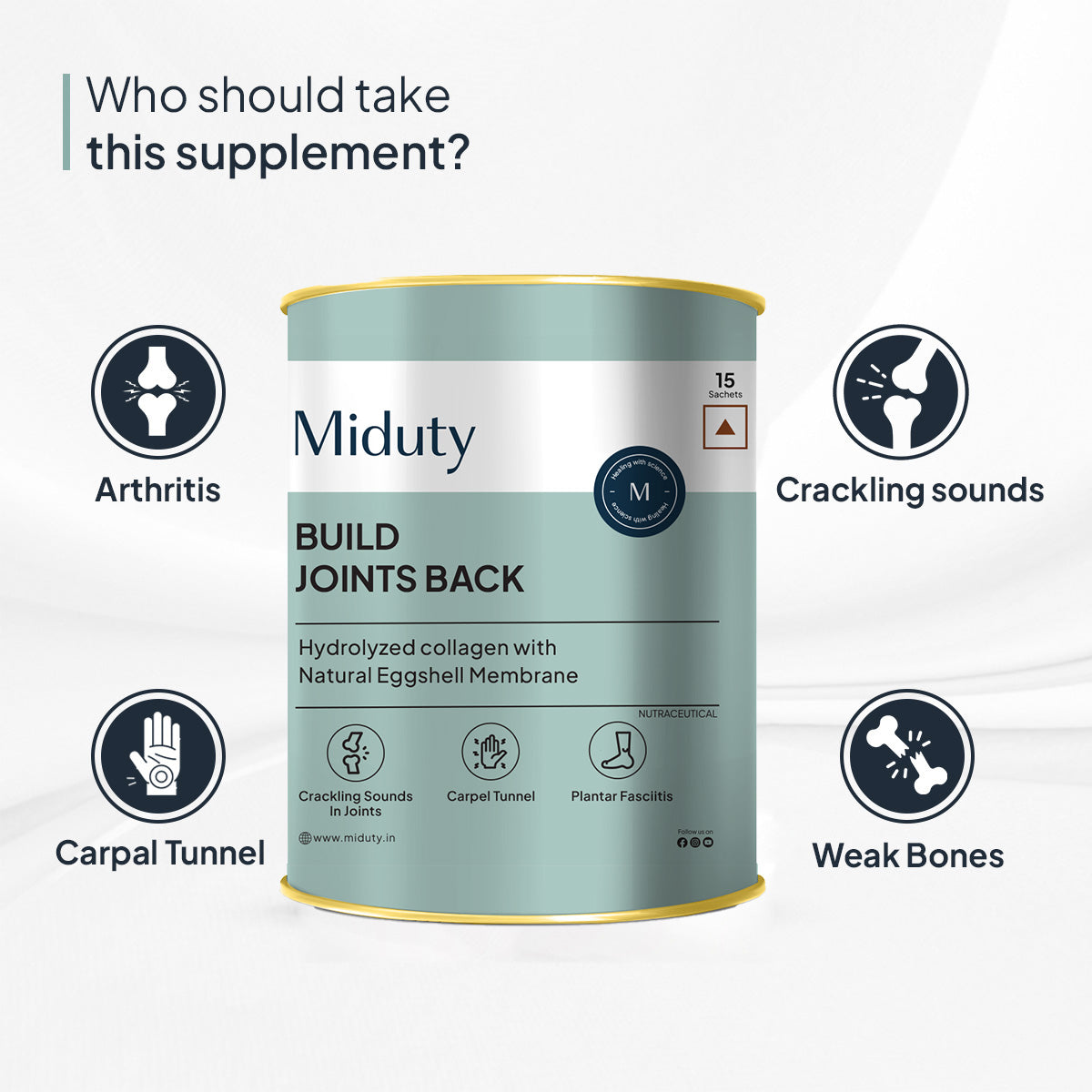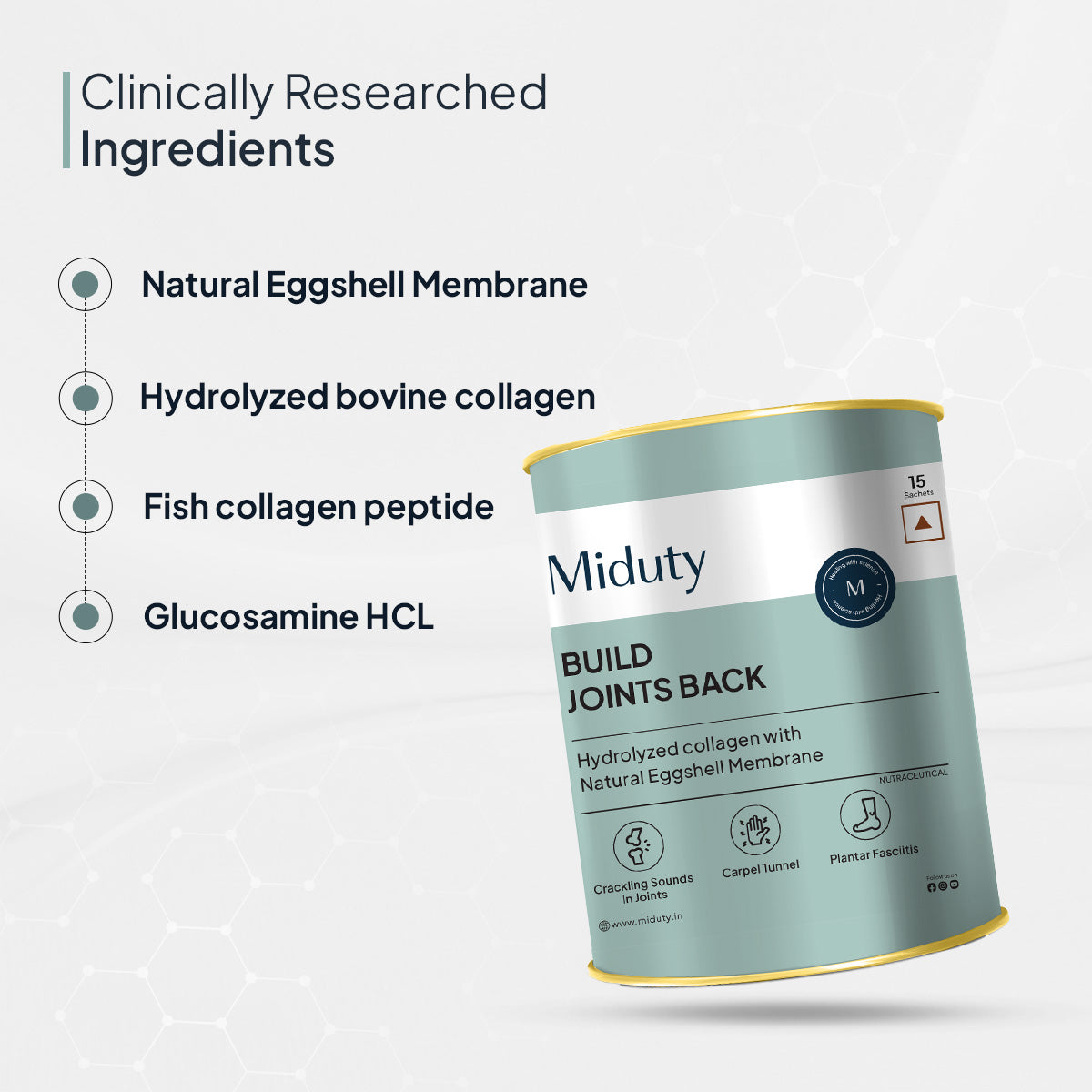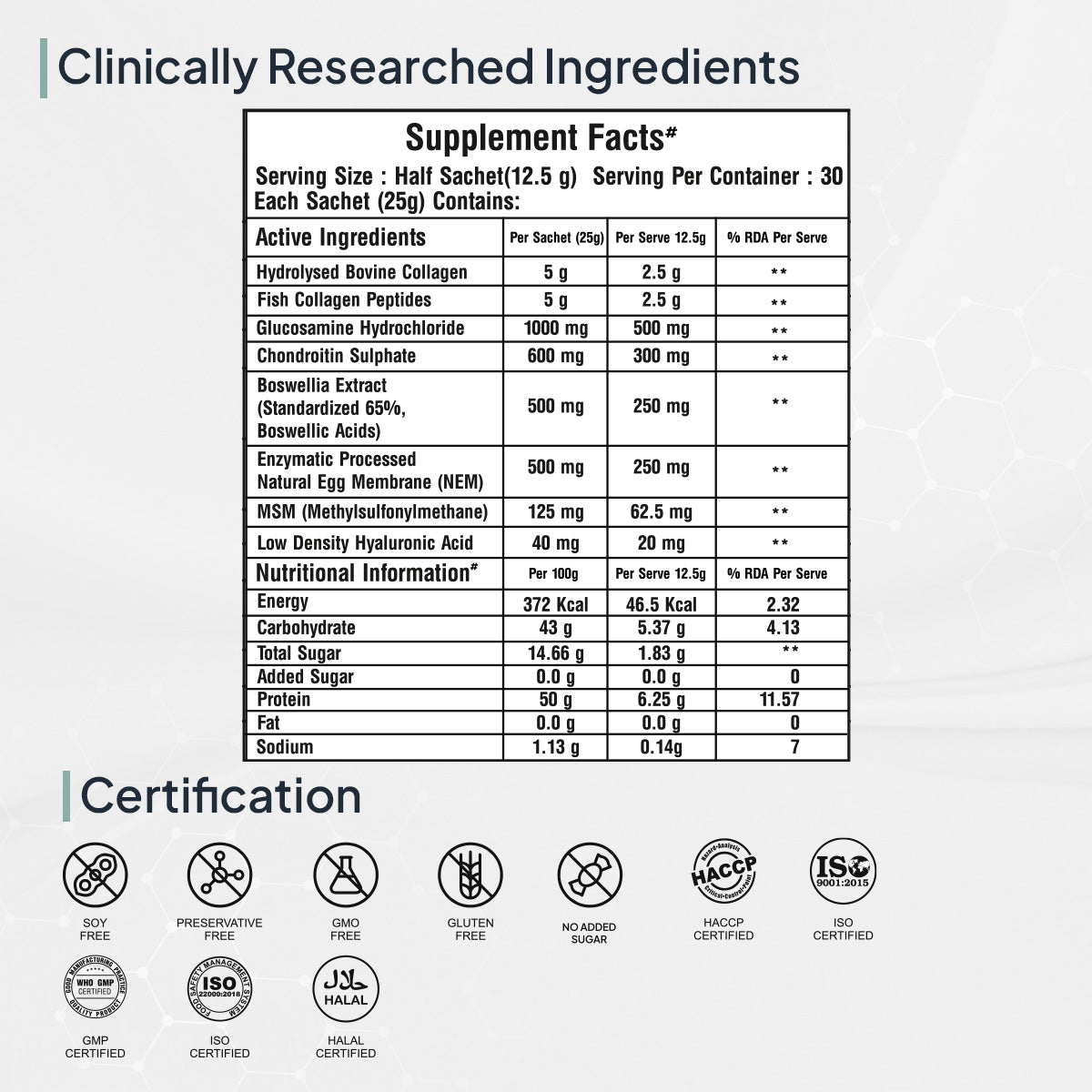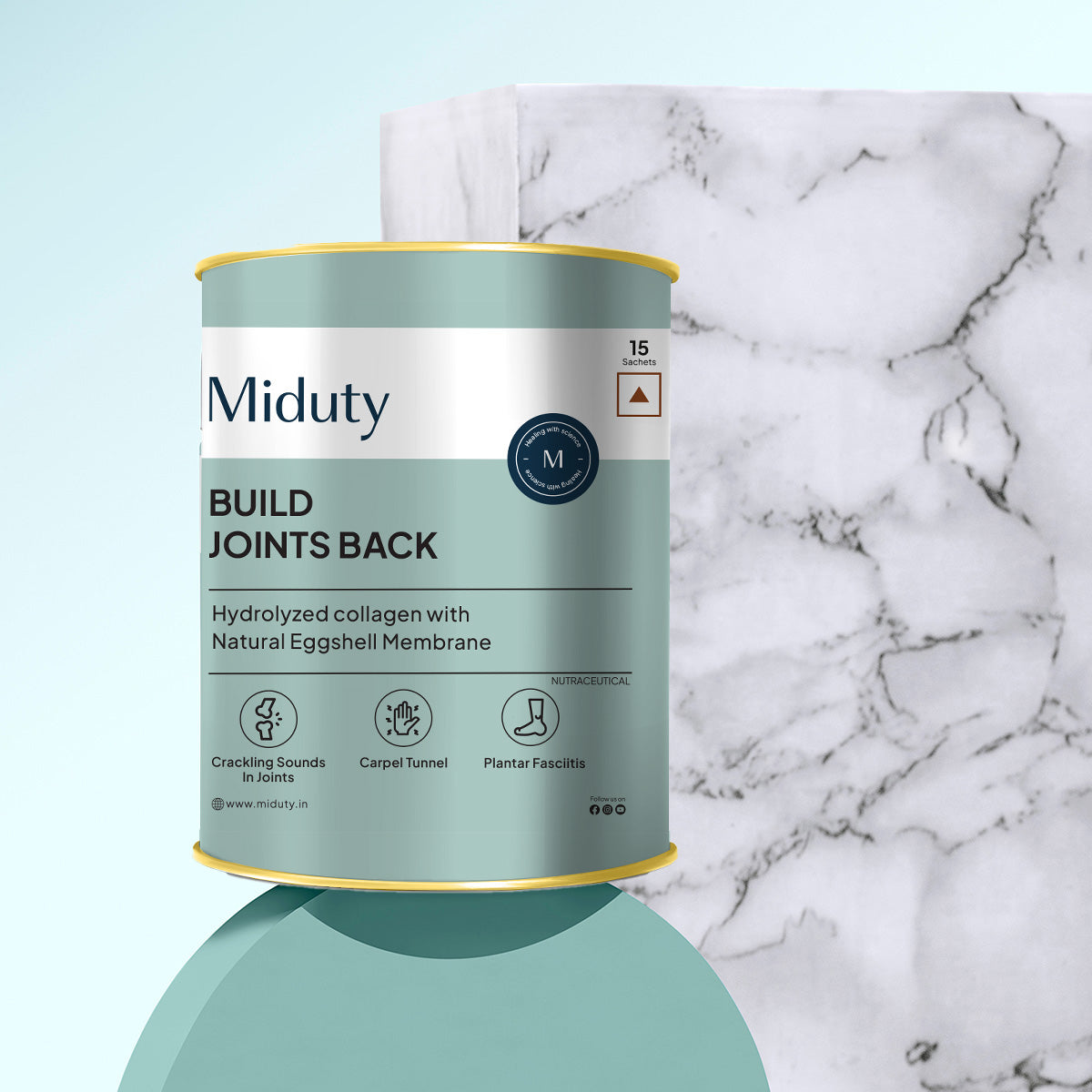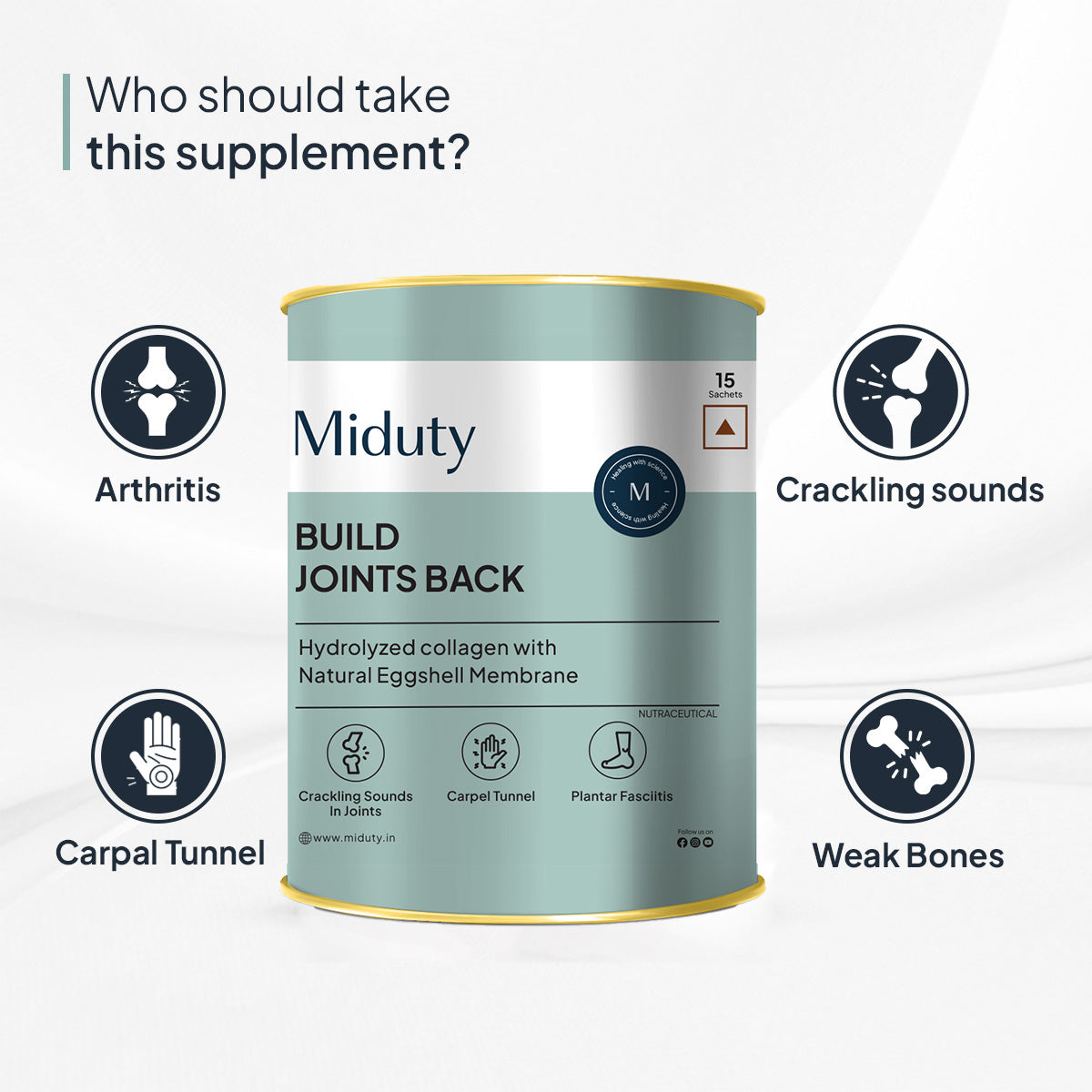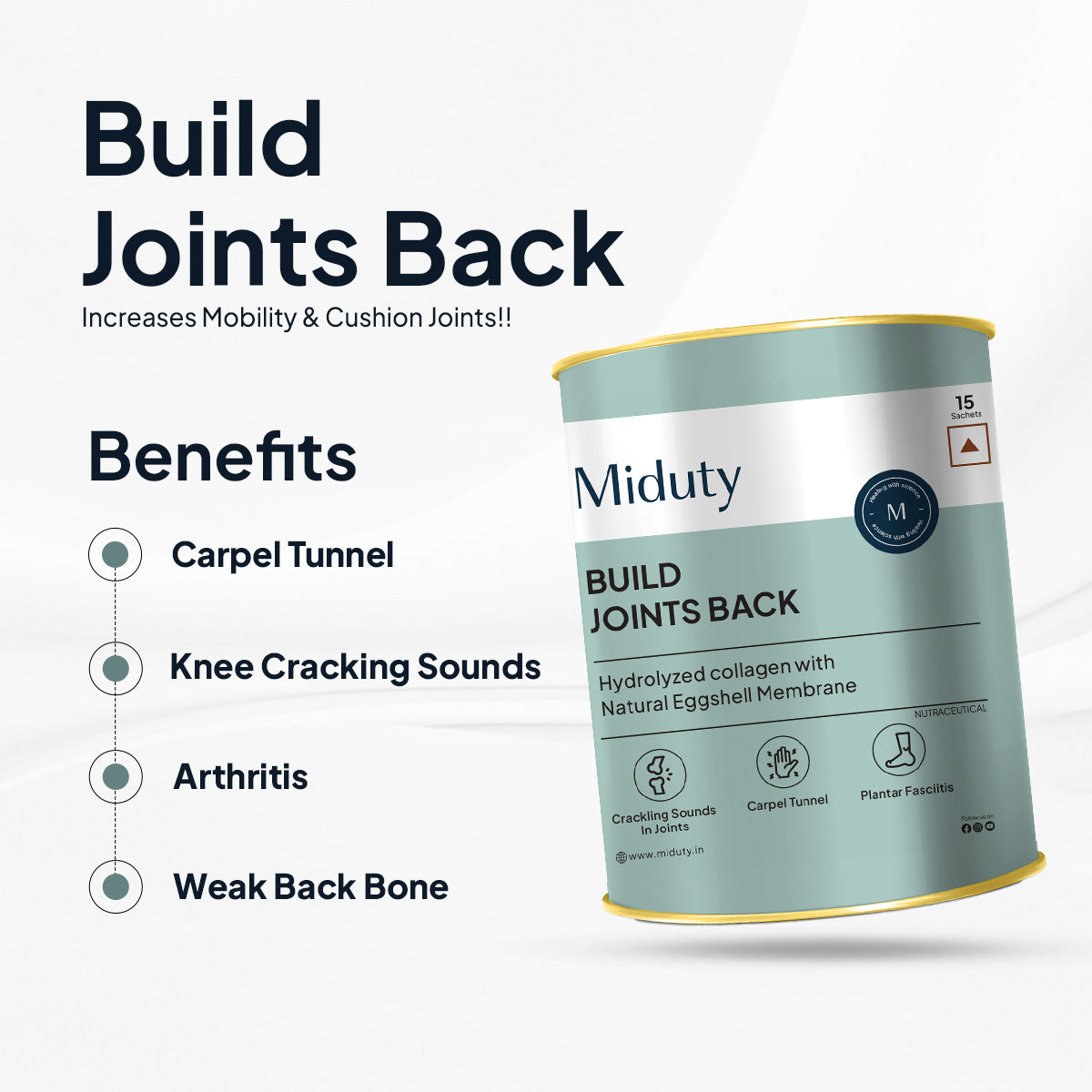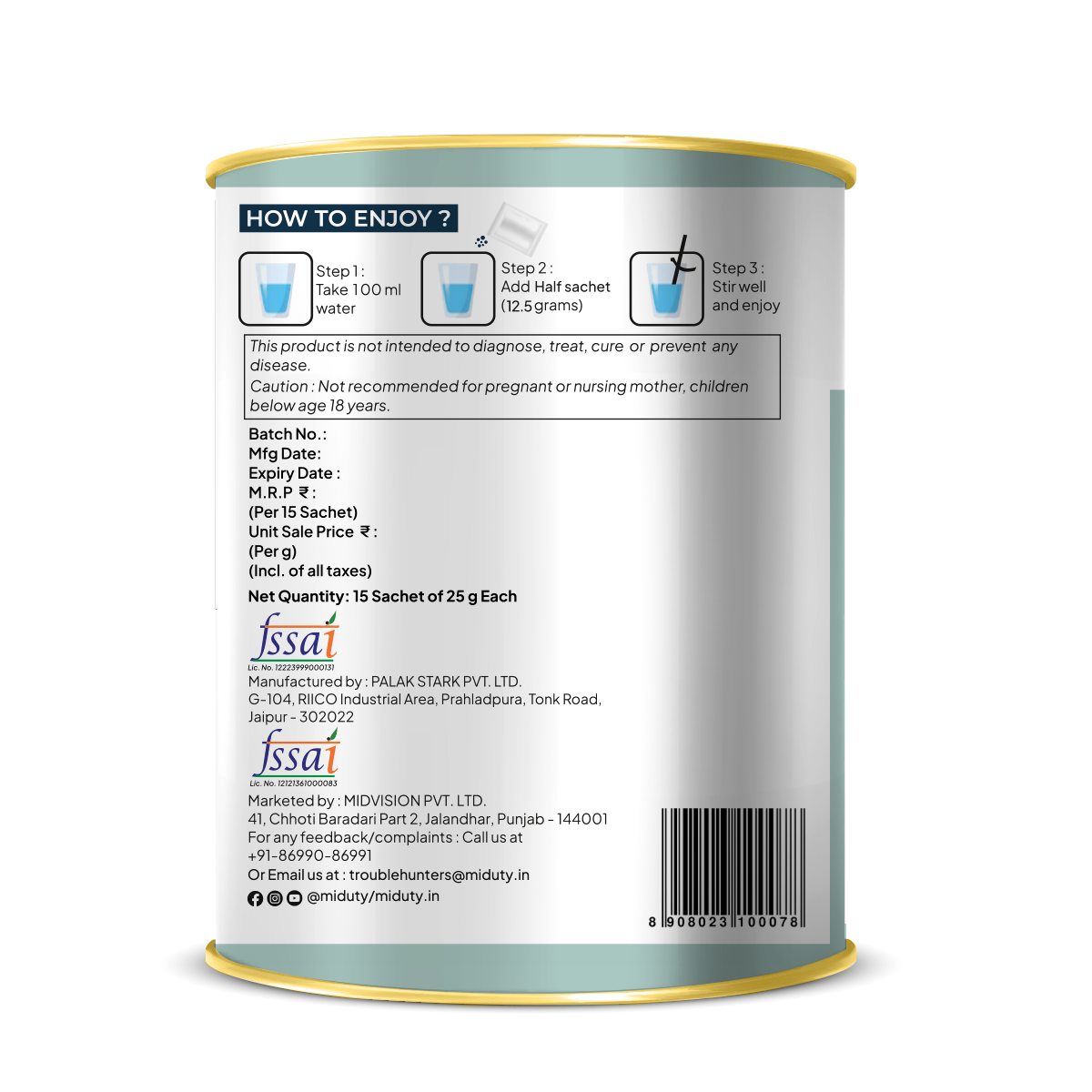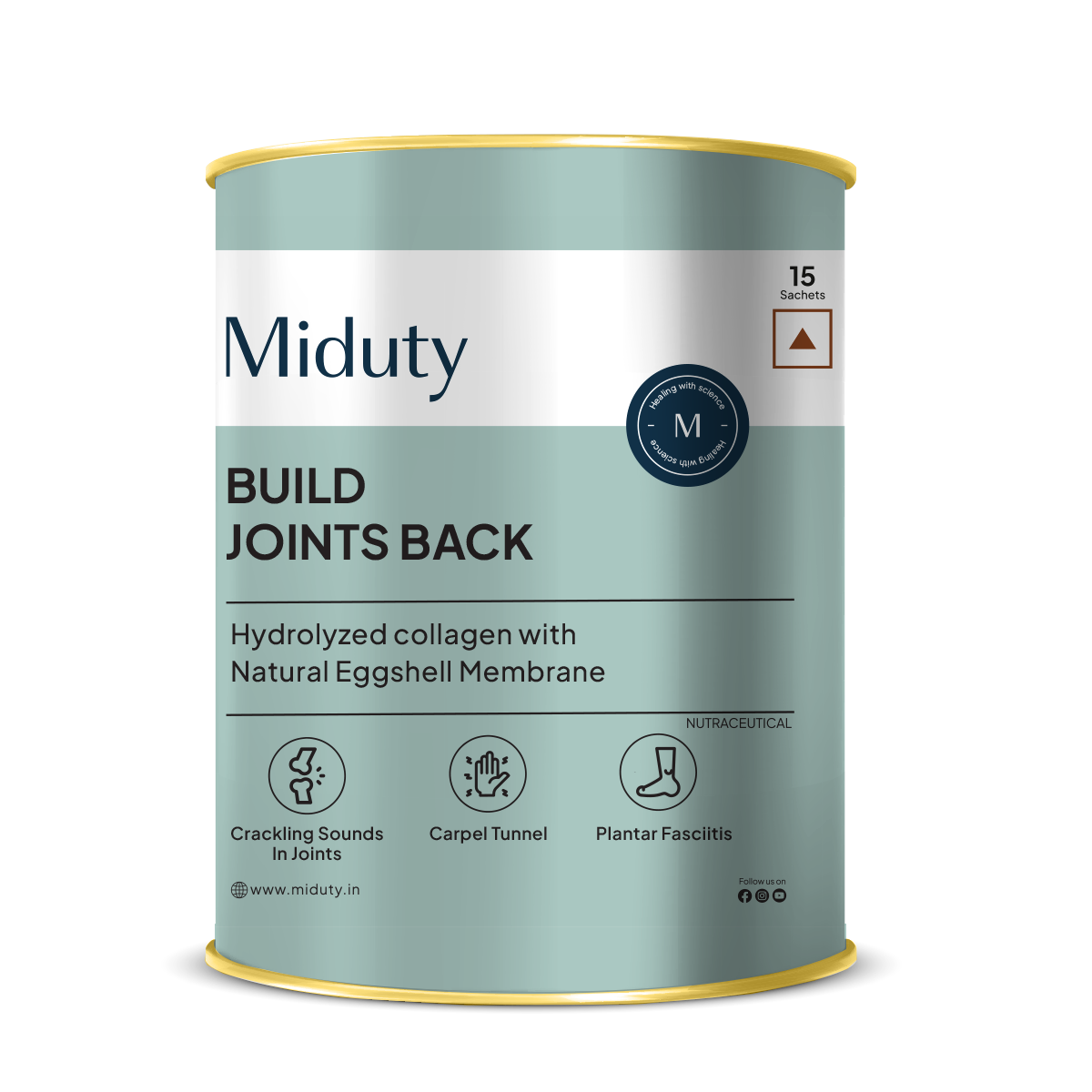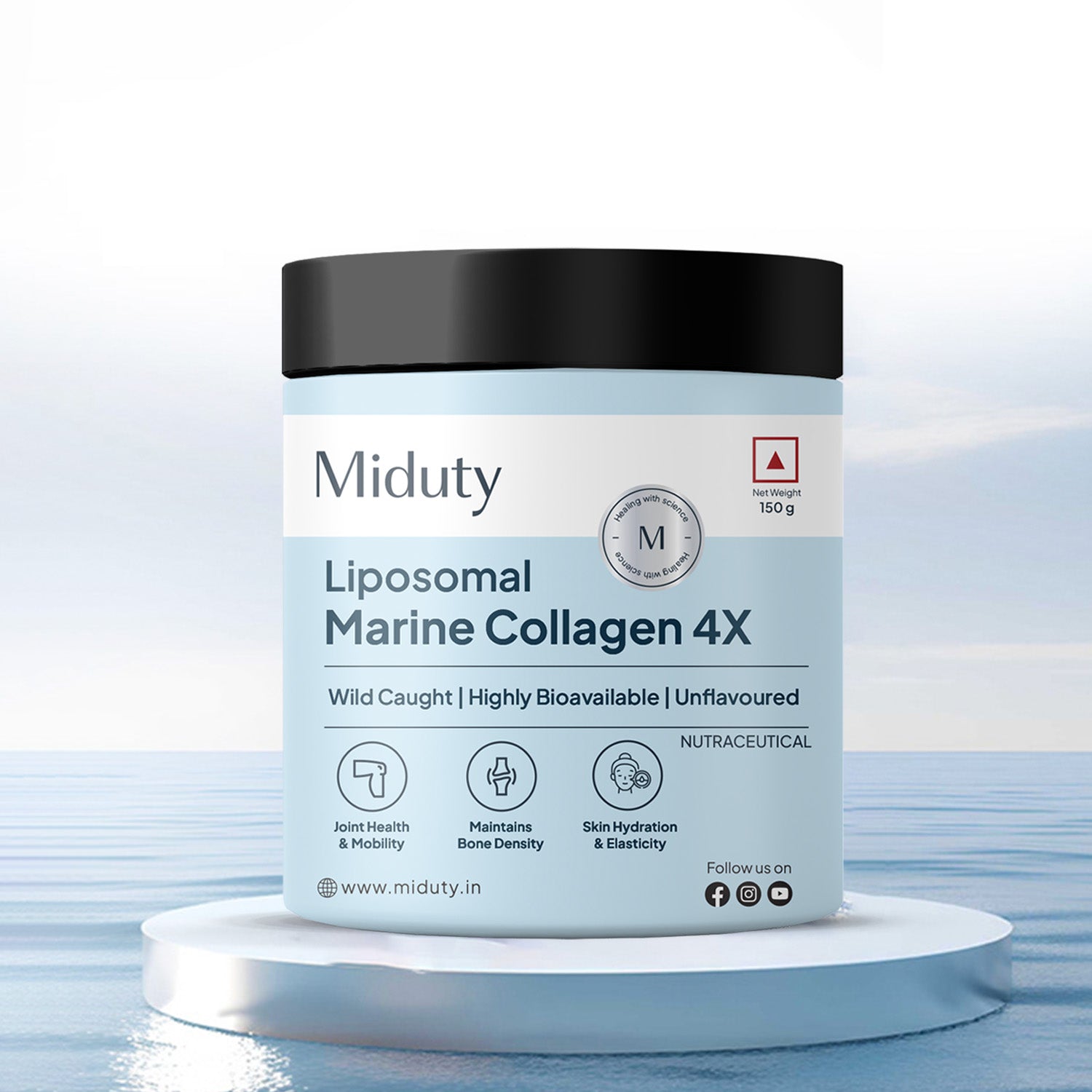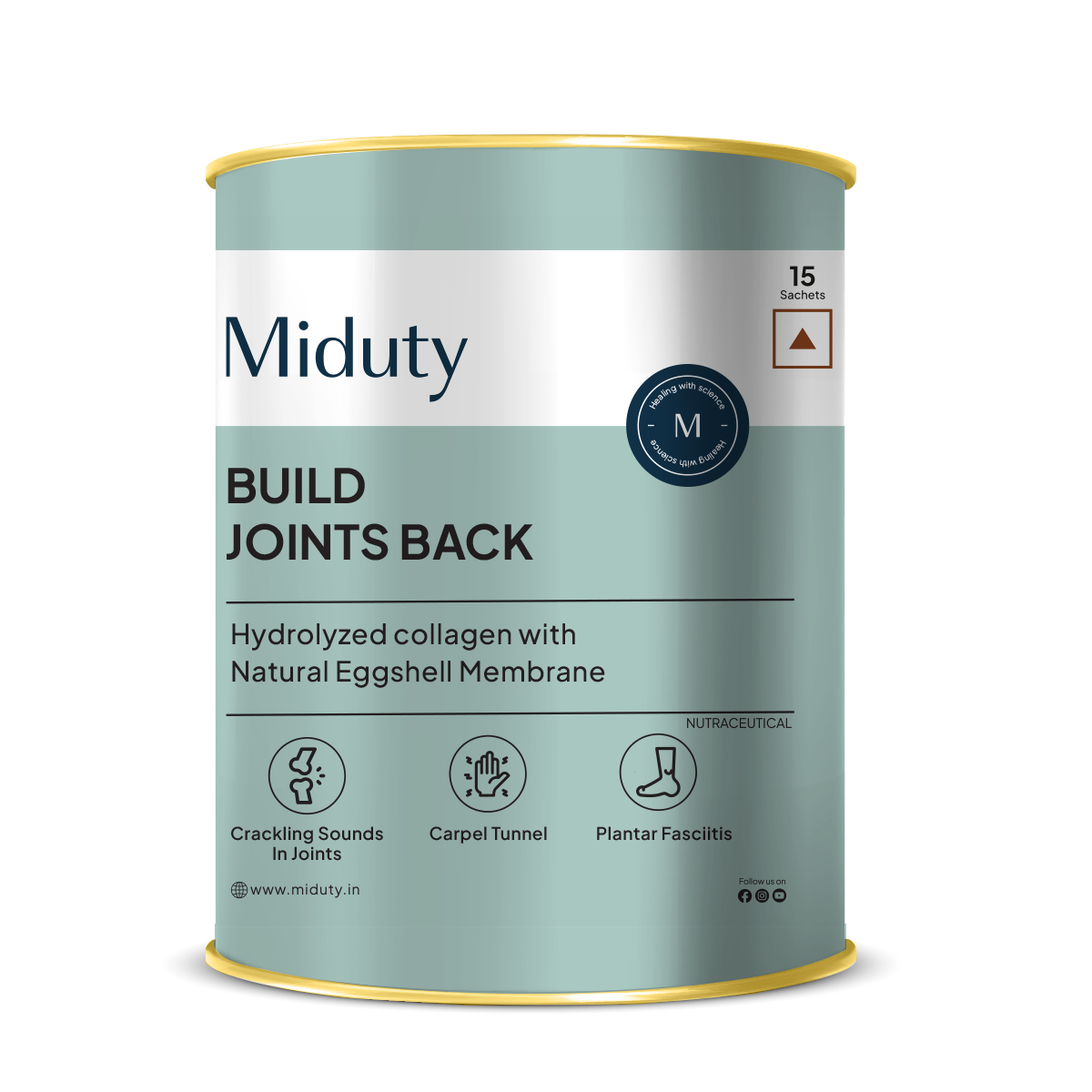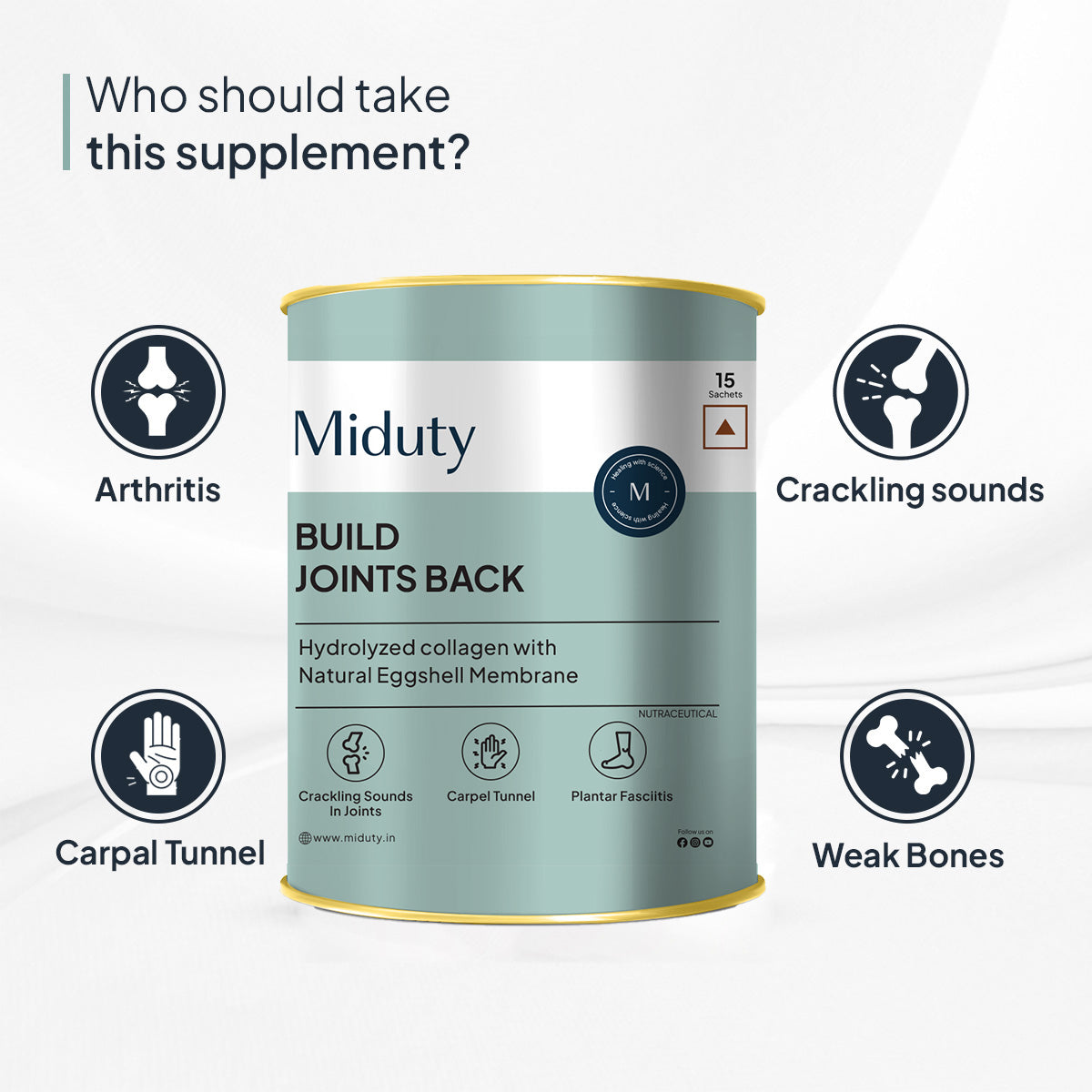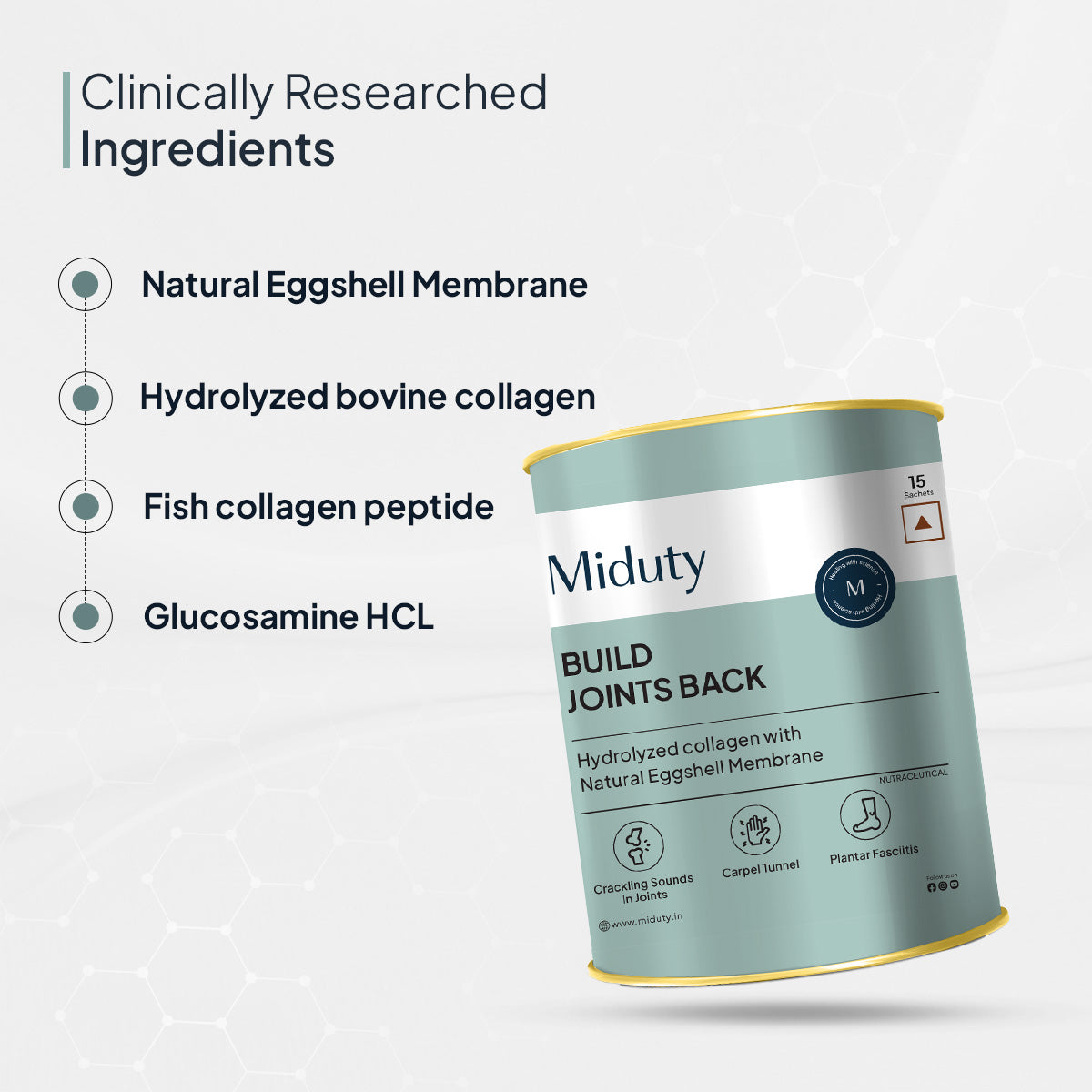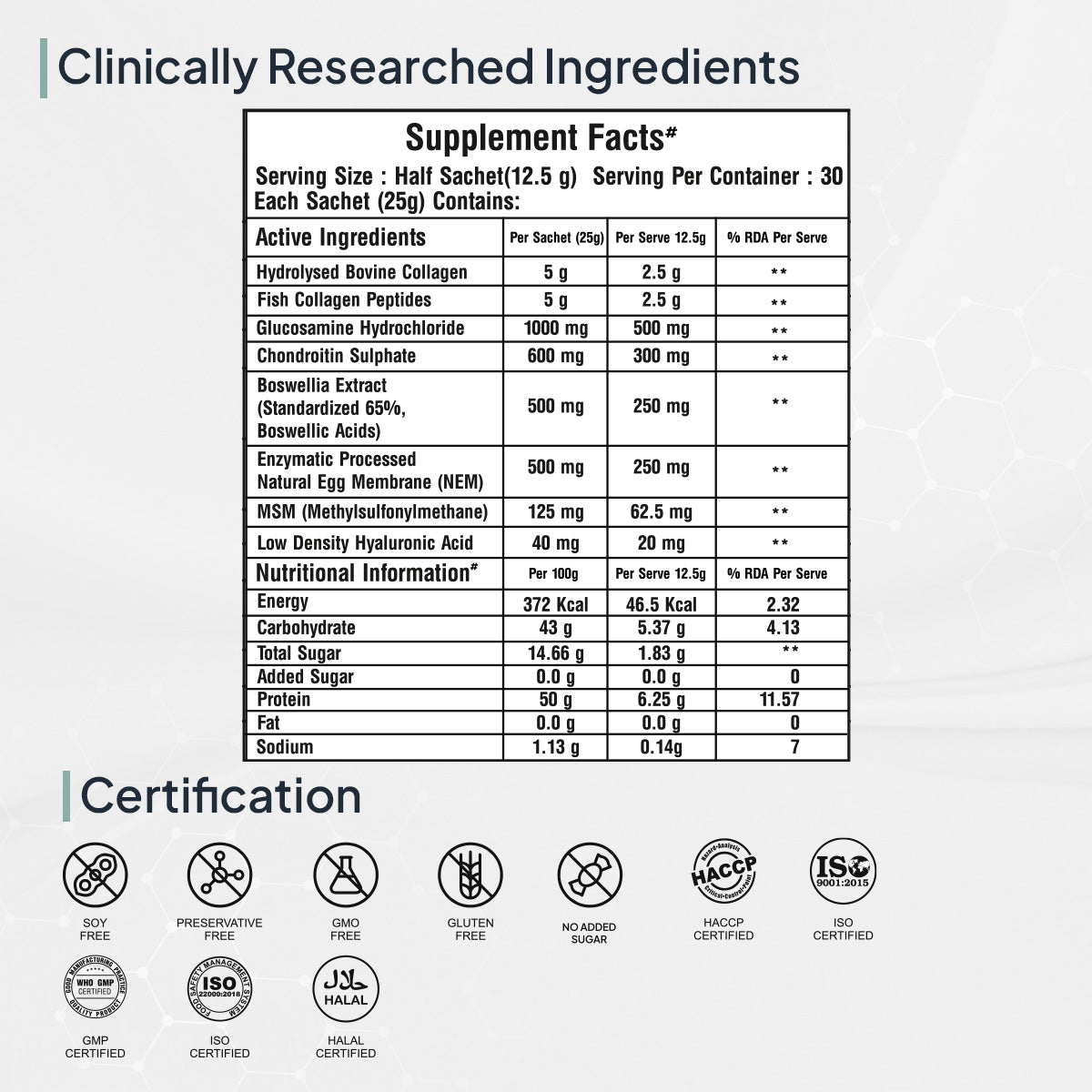 Arthritis
Build Joints Back
Collagen
Joints & Bones
Build Joints Back
One-third of all individuals experience joint discomfort on a monthly basis. If your joints are losing its elasticity and are degrading
If you are suffering from unbearable pains in your joints, dealing with difficulties of Arthritis, experiencing crackling sounds in your knees, having Carpal Tunnel Syndrome, or Plantar fasciitis condition then do you know, you can build the joint back by providing it with a raw material!   

Miduty's is here to provide you the ultimate relief and to lead a revolution with its Build Joints Back Supplement.
Description
Crackling sounds, sprains, and difficulty while climbing stairs, do you think these signs are normal? No, these are the signs of weak joint health, and taking painkillers is not the solution!
The joints that once gave us so much power and movement lose their strength and are no more being strong or capable enough to perform our daily tasks. Now, it's the end of this story and time to get the vitality and efficiency back with Miduty's Build joint back.
The deficiency of collagen leads to poor bone health and joint disorders along with skin wrinkles and age marks. Collagen supplement intake with increasing age is essential to support the deficiency of natural collagen production in the body. Collagen hydrolysate has therapeutic benefits against osteoarthritis and osteoporosis. [1] 
For the effective treatment of Arthritis, Build Joint Back proves itself potent as it is formulated with Glucosamine HCL and chondroitin sulphate. [2]

Build Joints Back provides an extra advantage as it has Hydrolyzed Bovine Collagen produced from fresh skin or bone of food-grade gelatin products which helps promote Hair, Nail, Bone, skin, Gut, and joint health. 
The addition of the Ayurvedic herb Boswellia Serrata in this supplement adds a plus to its worth as it provides an Anti-arthritic and Anti-inflammatory effect to build stronger joints. [3] Not only this, but it also controls blood lipid levels, relieves pain, protects the liver, and prevents cardiovascular diseases.
To name another advantage this supplement helps in bone formation and mineralization. Thus, it is also known to provide relief to patients suffering from Osteoarthritis and Osteoporosis. 
Thus, to heal everything from the inside out no need to wait to get the best results.
How do I take them?
Dosage -

Ideal serving size of 1 Sachet every alternative day after meal with water.

Please Note-

You can start with half sachet on alternate days if you have any gut-related issues.

Quick info-

Keep track of your body symptoms while taking this if you have high uric acid levels
What's it for?
- Arthritis

- People suffering from cracking sounds in joints

- Carpal tunnel syndrome

- People with Plantar fasciitis condition

- For Strong Bones & Joints
Why is Miduty's Build Joints Back Superior?
Miduty BUILD JOINTS BACK is manufactured with a whole New Advance Formulation, Enriched with Collagen peptides, Natural Egg Membrane [4] , Boswellia extract, and Glucosamine.



Marine collagen offers types I and II of collagen, while bovine collagen contains collagen types I and III. This is why it is best to use a multi-collagen complex with a variety of sources.


The biggest innovation we have done in this product is, Glucosamine which was prescribed by doctors to those who were having joint pain, but with time we came to know glucosamine is a big molecule that can't be absorbed by the body easily. Hence, on looking for its natural source we found out that the egg's natural membrane has glucosamine in its natural form. We processed this enzymatically in our labs, for its better absorbability which has made a difference.



Moreover, a supplement containing powdered bovine hydrolyzed collagen is highly advised as it can be readily absorbed by the body.



The presence of Hyaluronic acid in Build Joint Back provides an advantage in bone generation. Being non-toxic, and non-inflammatory, it provides tissue hydration, wound repair, cell mitigation, osteogenesis, and mineralization.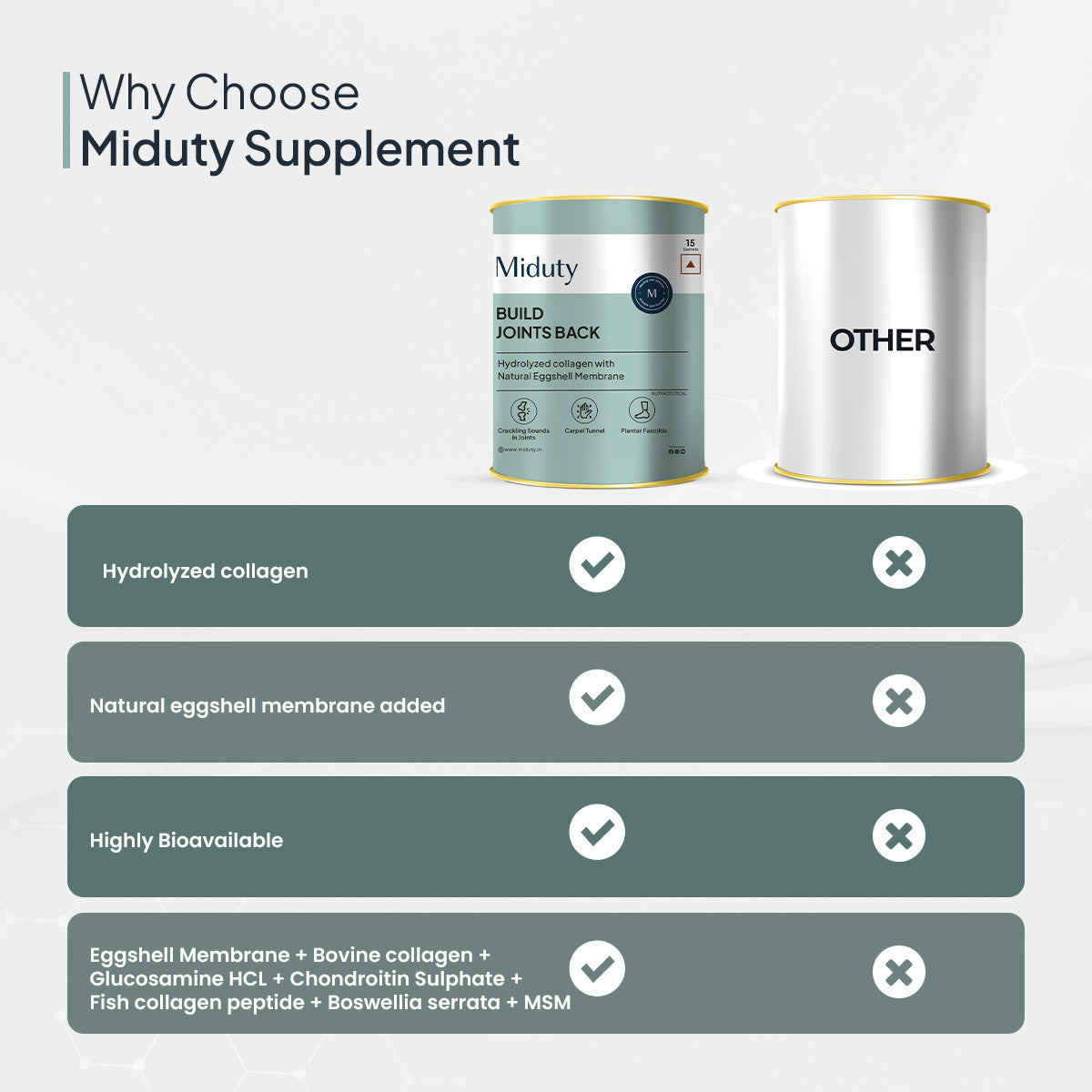 How We Helped Our Customers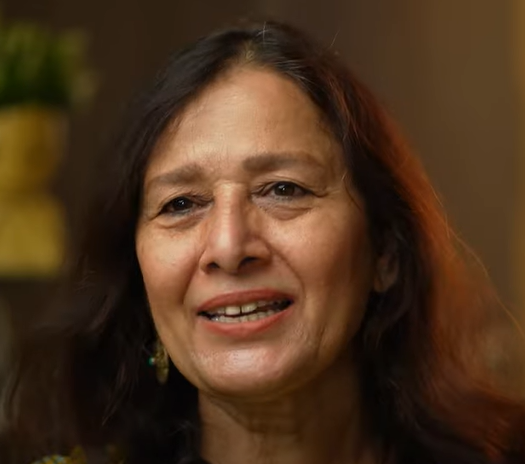 Pinky Maa Got Relief From Swollen Knees & Pain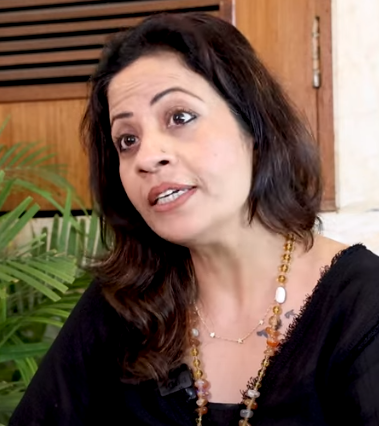 Poonam Got Relief In Her Ankle-Pain
What's Inside? (Ingredients)
FAQs
What is the flavor of this product?
It comes in a jal-jeera flavor.
My Doctor has recommended knee replacement, is there any way to avoid this?
By making lifestyle adjustments and adding Build Joint Back, you may be able to postpone or even avoid having to have knee replacement surgery altogether. Consult your physician after making these changes because there have been examples when people have been able to rebuild their joints.
I have Joint pain, can I have this product?
Yes, it will support joint health as it has all the ingredients but for pain add Joint pain relief or Turmeric Matrix
I am a heart patient. Can I have this product?
If you are on blood thinners don't take this product.
I want to do exercise, but my joints don't support the extensive exercise routine. What should I do?
You need to build your joints, to support the bone's health and start taking build joints back.
I am going through menopause and my bones have started aching. What should I do?
After menopause bones tend deteriorate and you might suffer from osteoarthritis. Start taking these supplements along with Vitamin ADK after menopause.
Are Palak Notes and Miduty same brands?
Yes, the brands Palak Notes and Miduty are the same.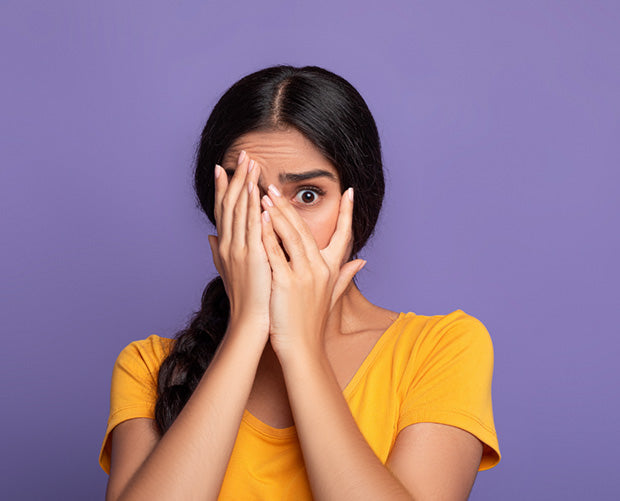 Unknown Facts
High-Level Safety

According to several researchers, Collagen hydrolysate is a wonderful long-term treatment for chronic diseases like osteoarthritis and osteoporosis because of its high level of safety.

Bone Regeneration and Healing

By improving bone mineral density and exerting anti-inflammatory effects on osteoarthritis, collagen peptides from fish skin may improve bone health.

Cellular Functioning

Collagens were once thought to be merely structural supports. Collagen and collagen-derived fragments regulate a wide range of cellular processes, including cell shape and differentiation, cell migration, and the manufacture of several critical proteins.
Scientific/Clinical Studies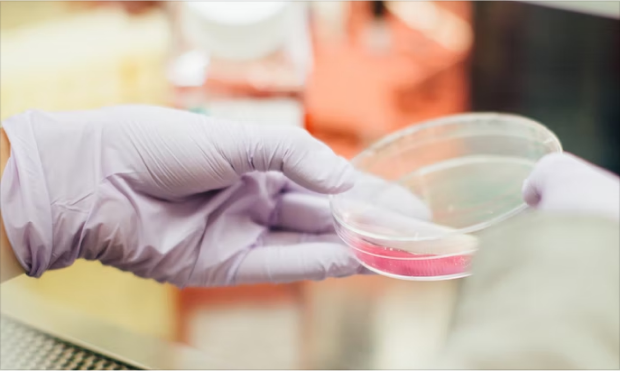 PALAK NOTES IS NOW MIDUTY
New Era! Continued Dedication!
Pain that went untreated gave rise to the brand Palak Notes. Pre-COVID, we began to evolve, and over the past three years (and counting), we have dedicated our entire selves to learning about the pain and health issues that society suffers. We had a modest beginning, but today we have a large family. 

So, in order to adapt to these changes over time, we have decided to create a new brand identity that reflects our team and potential customers. We are now known as MIDUTY. Our vision for the current era is presented and projected through this new identity.