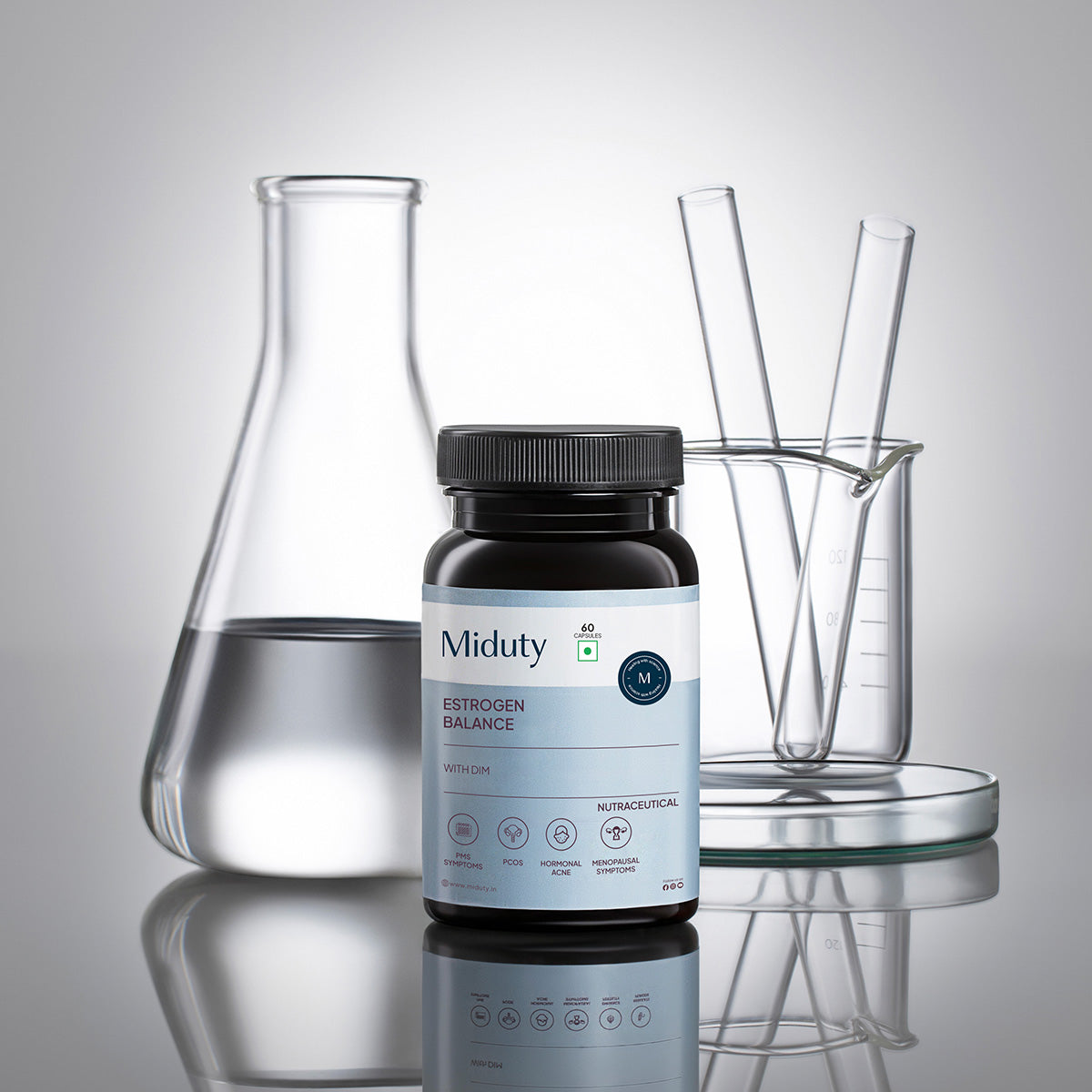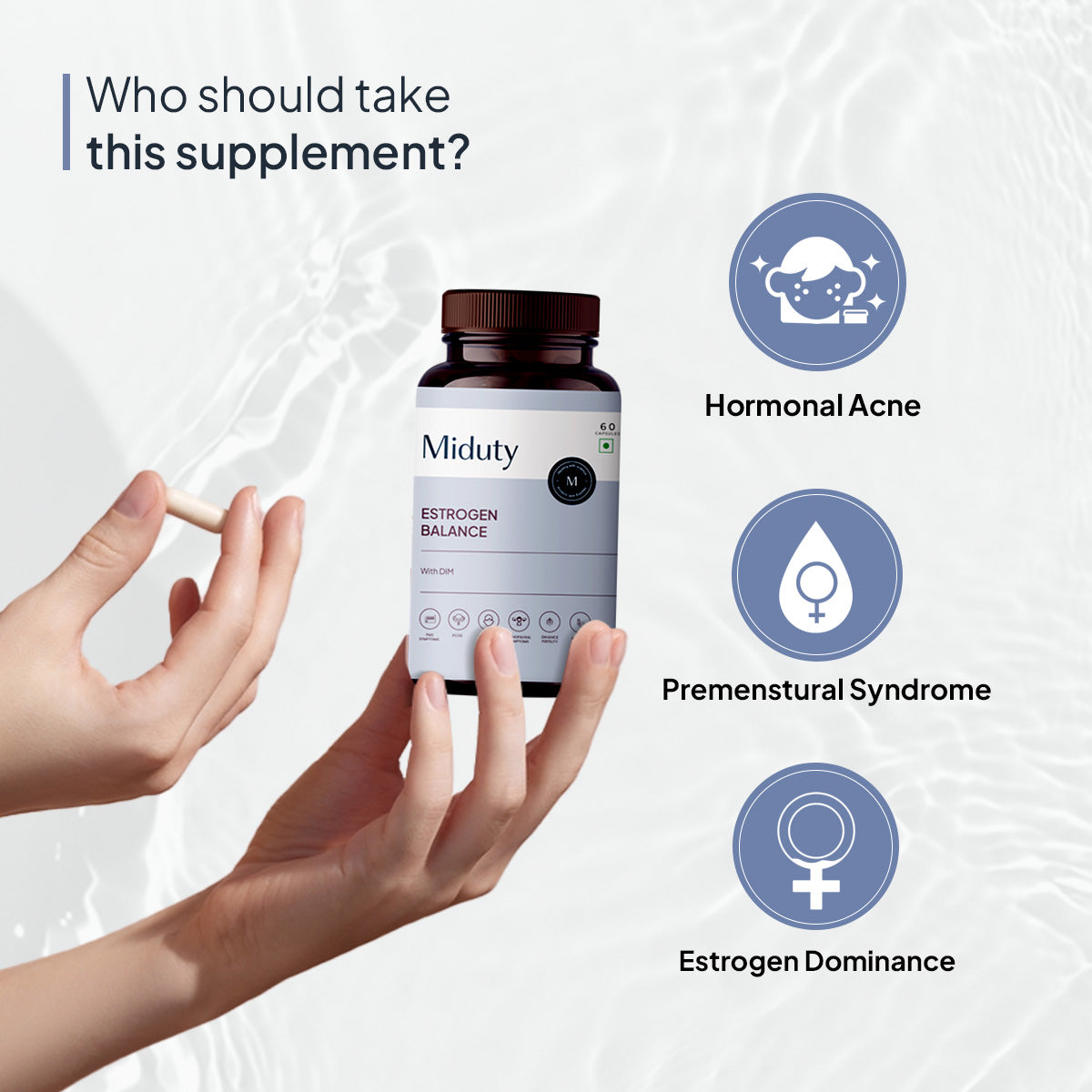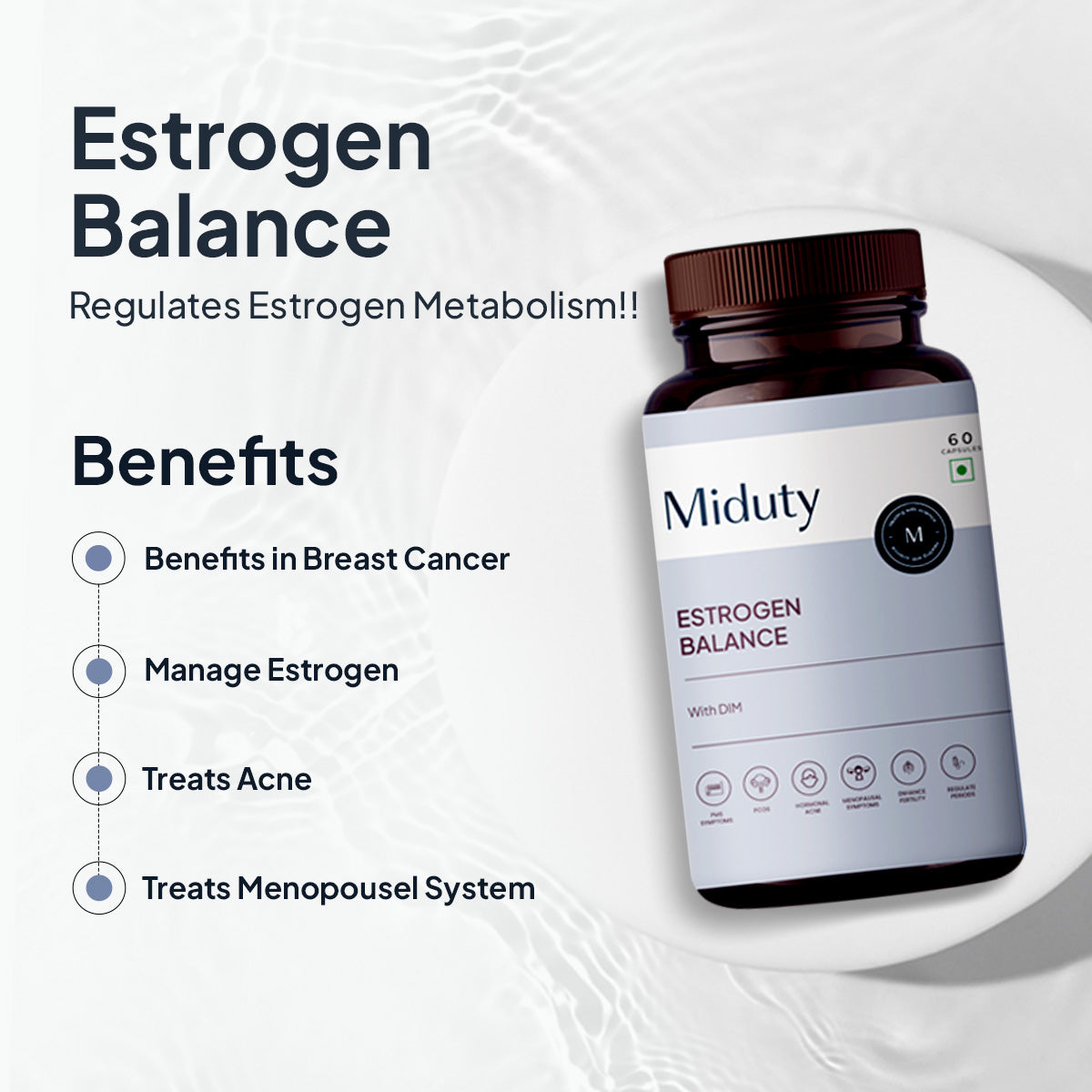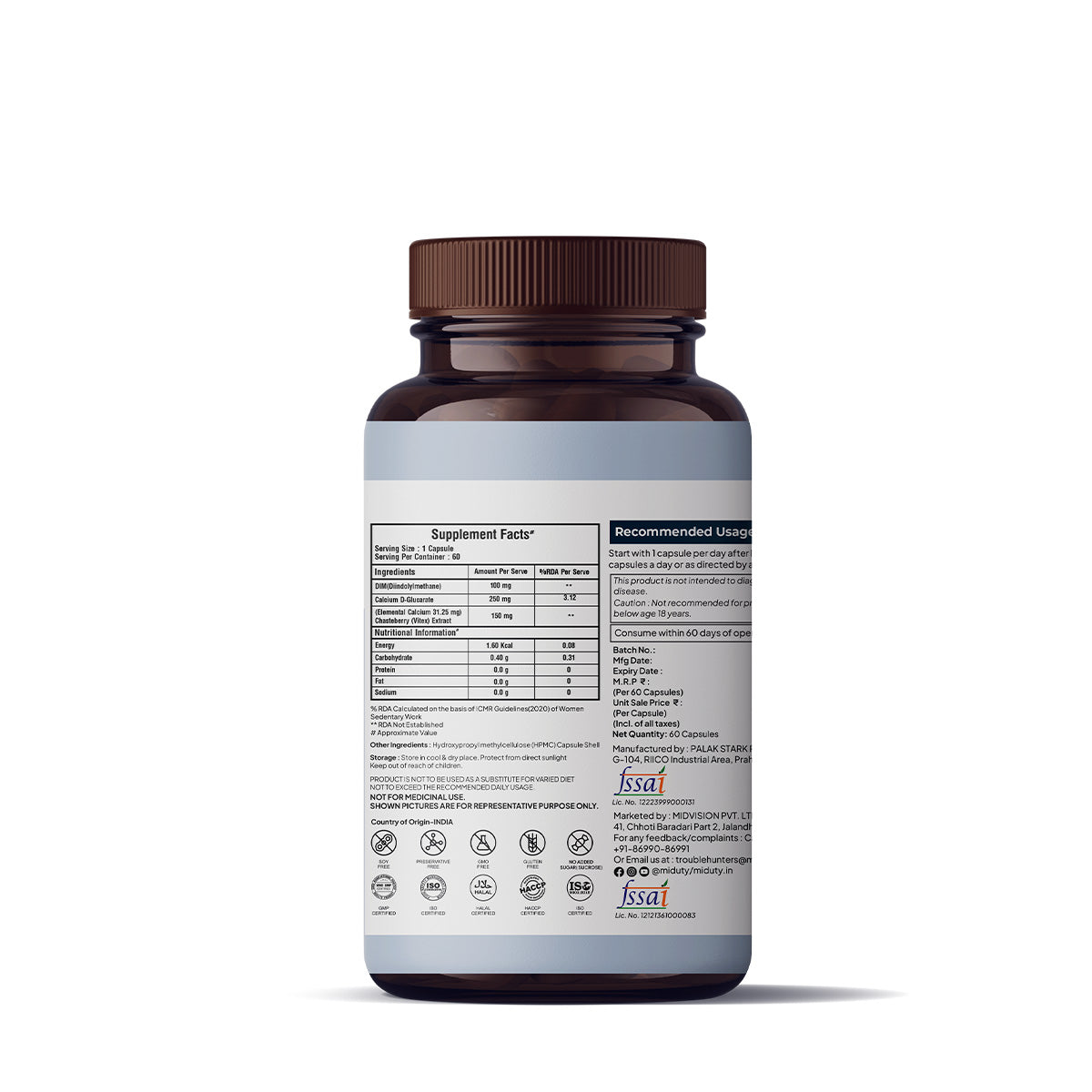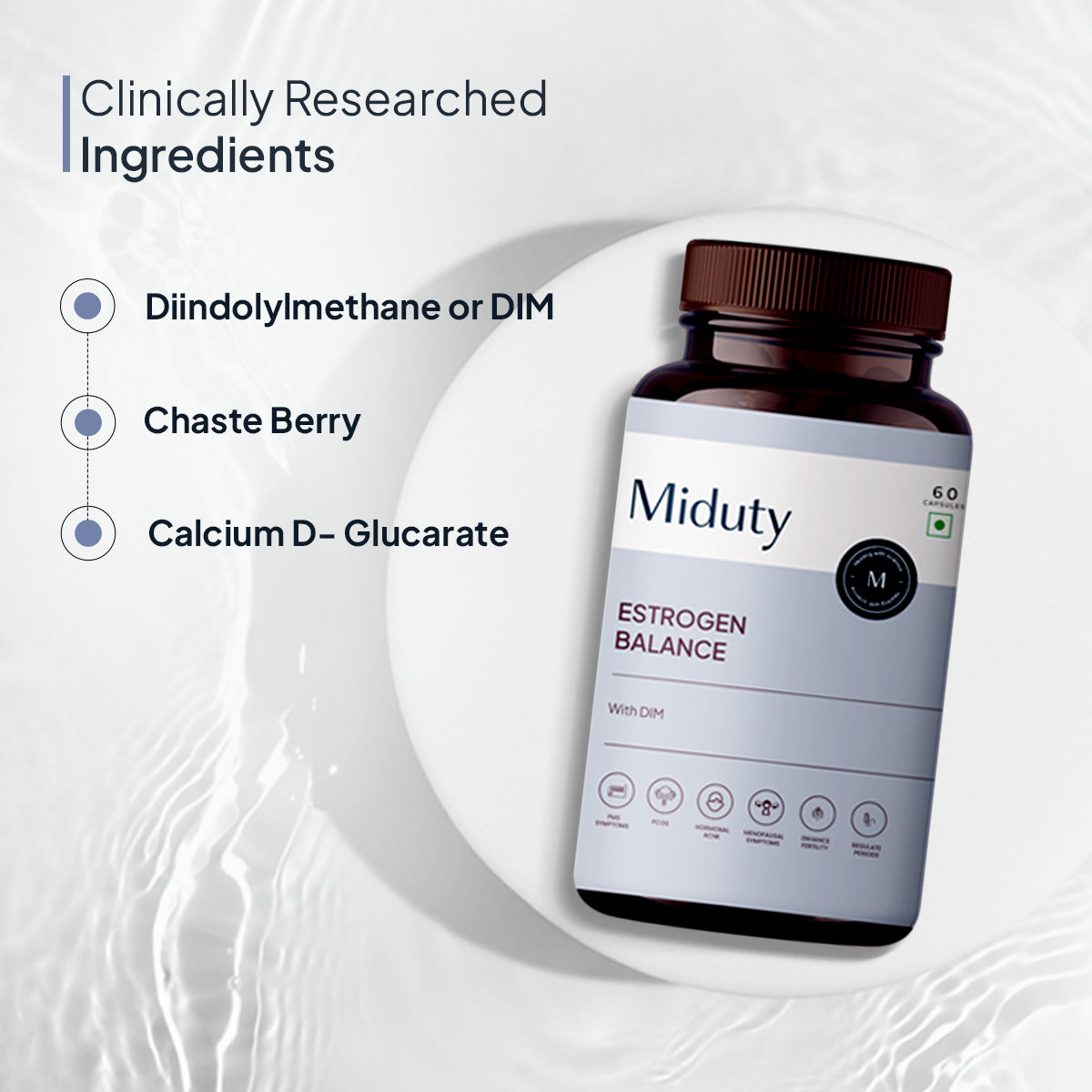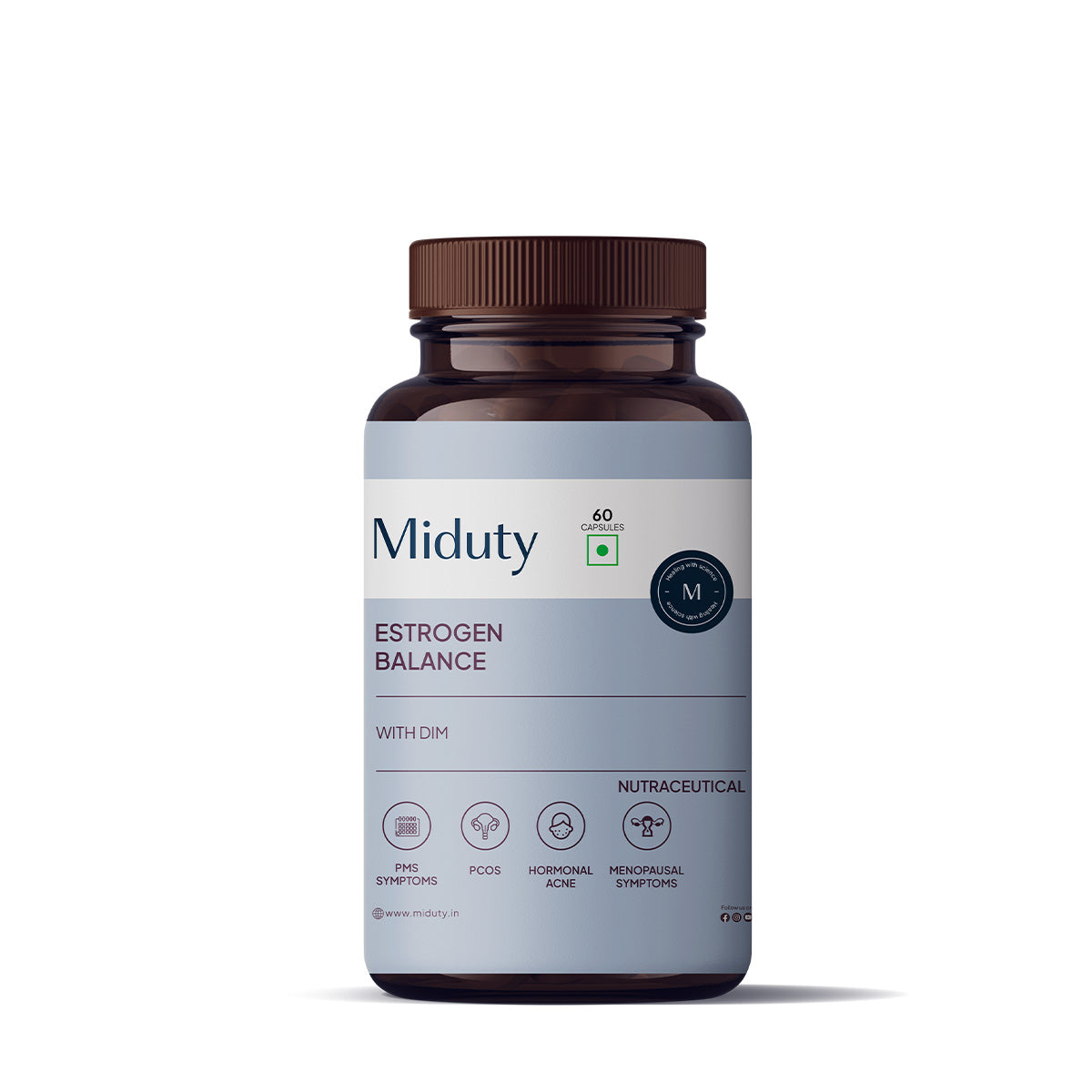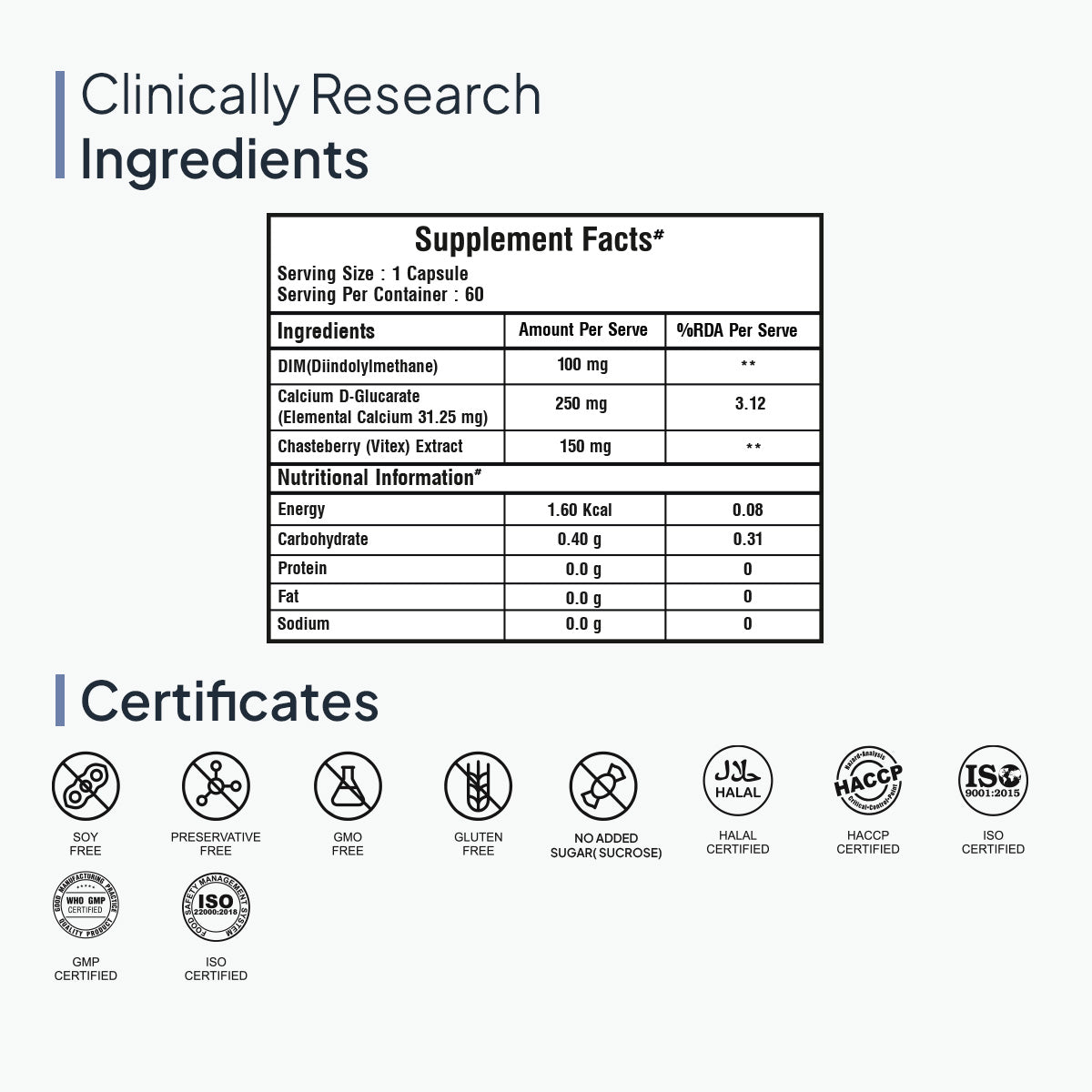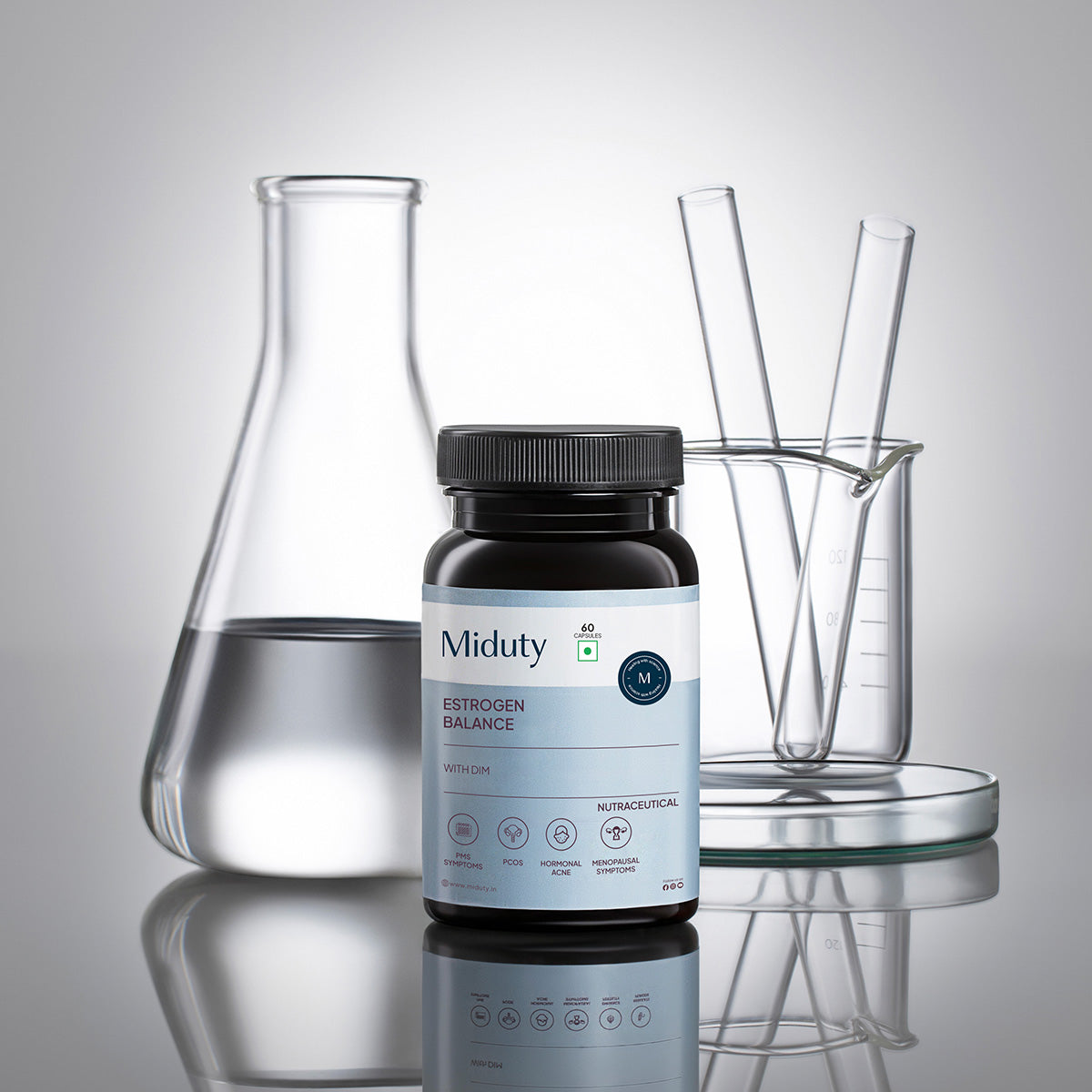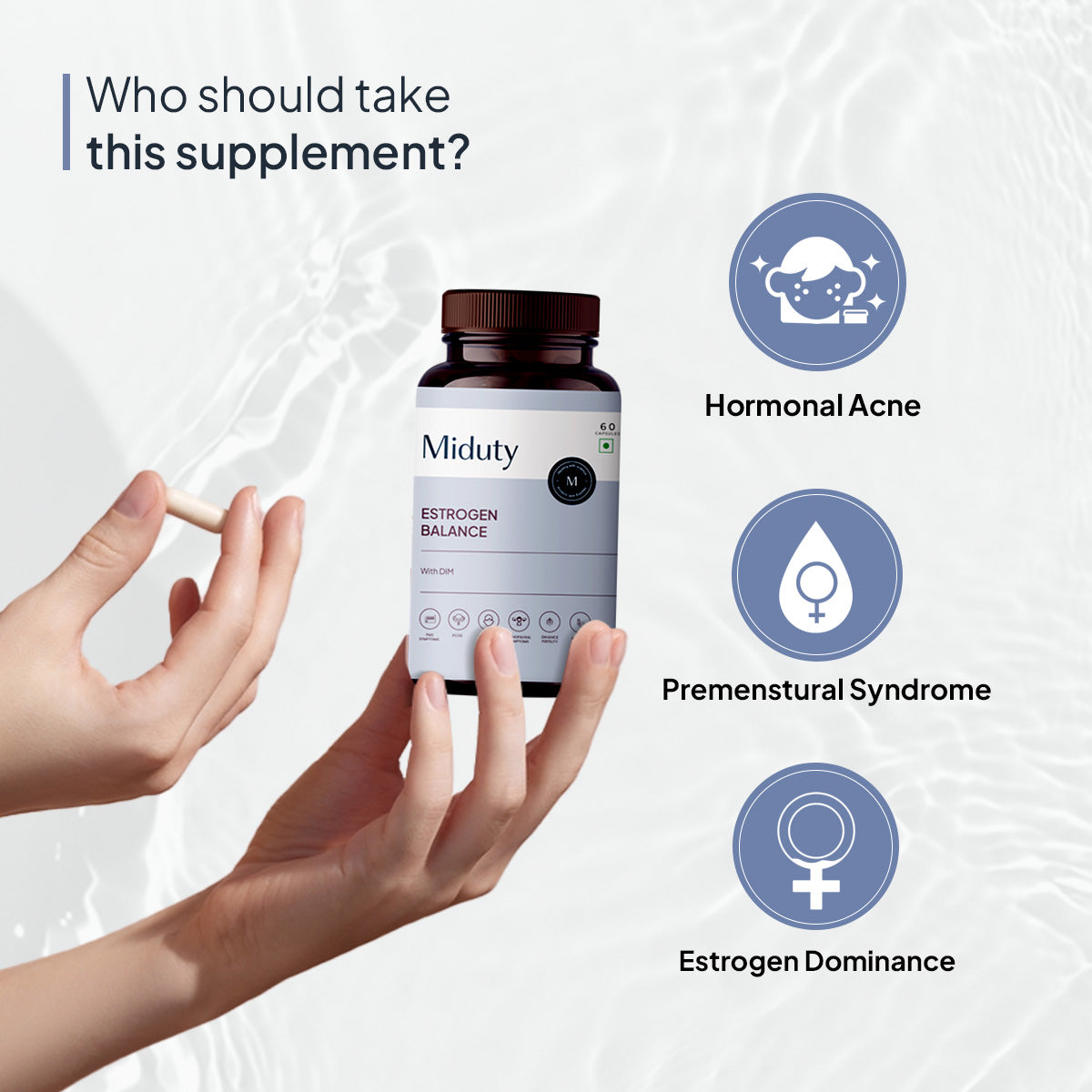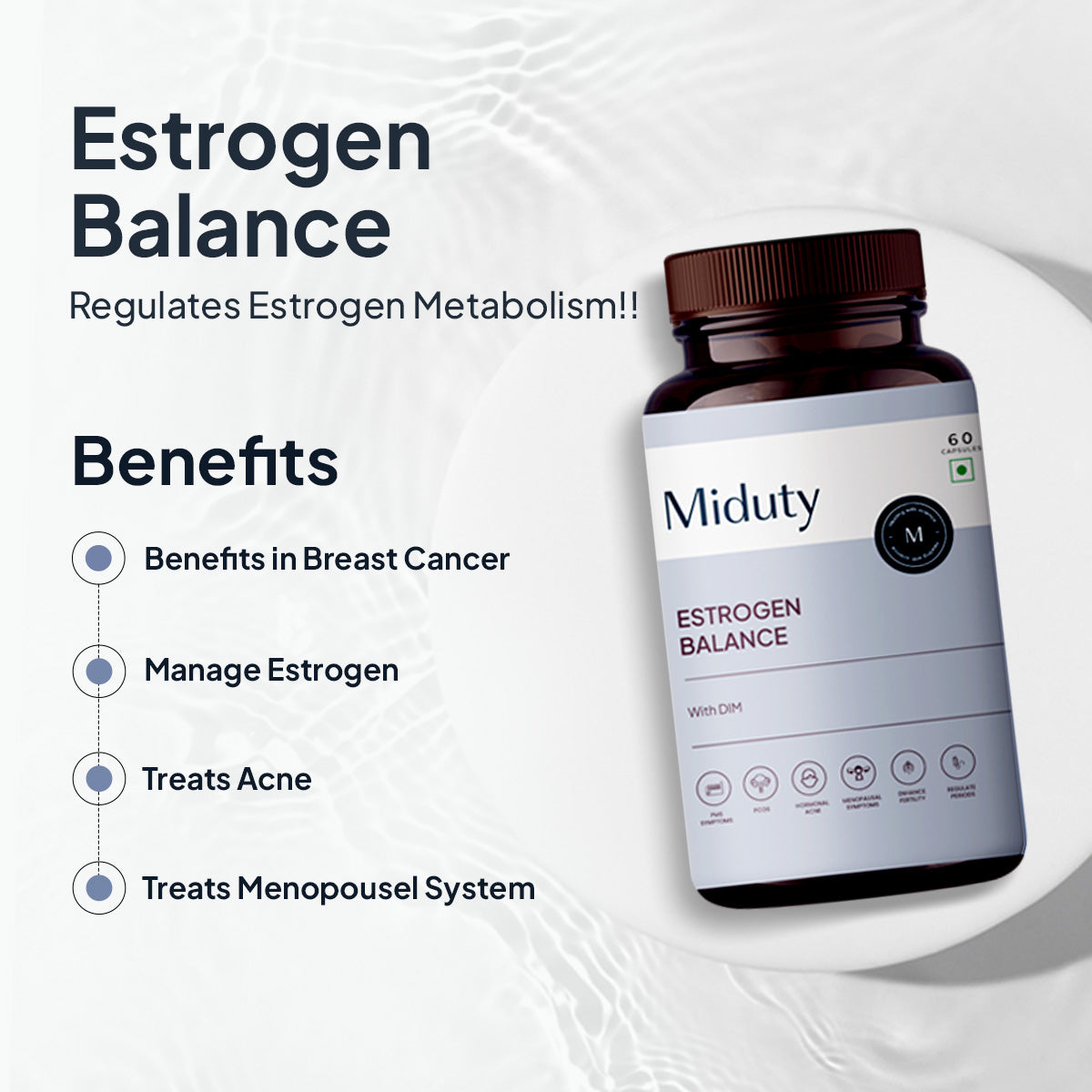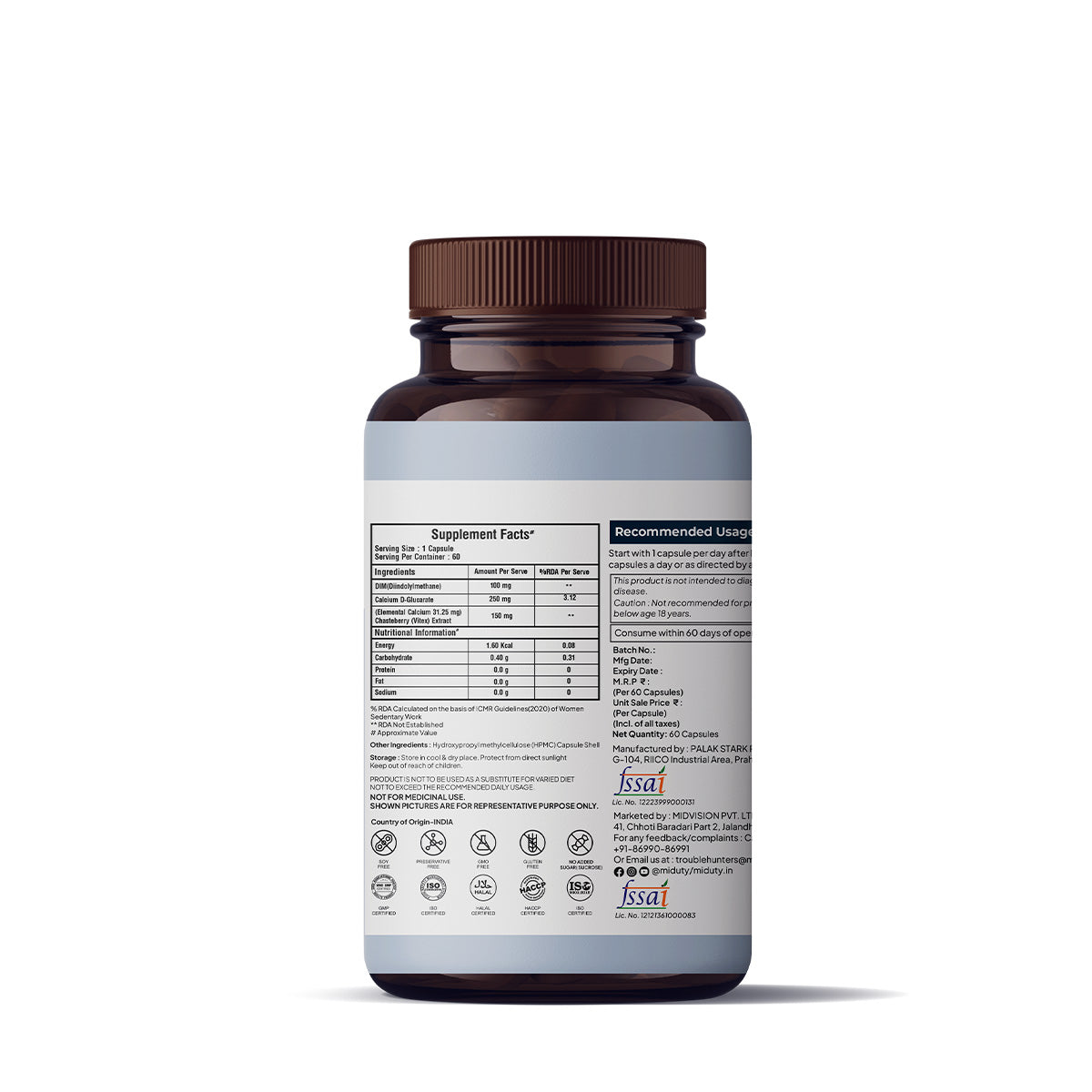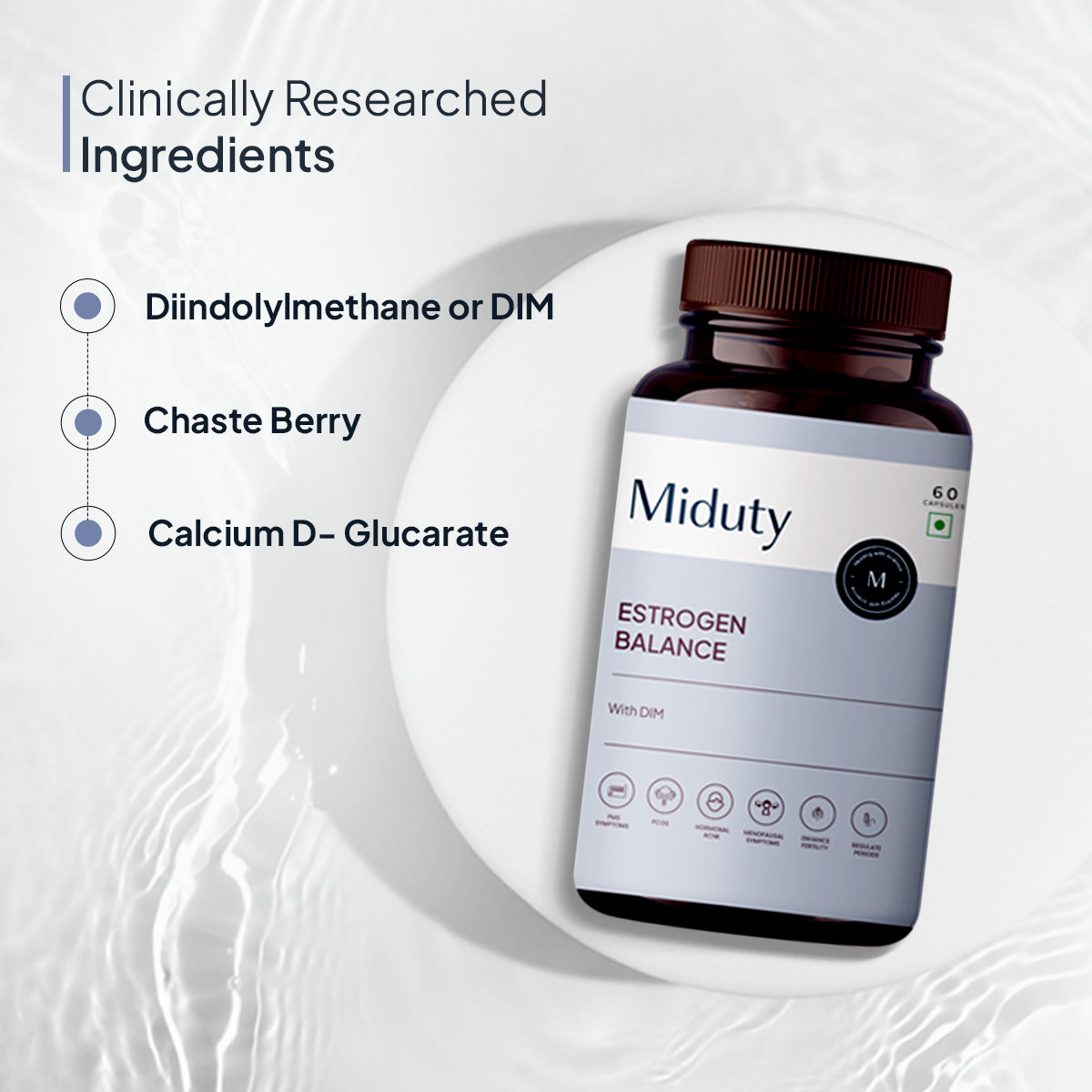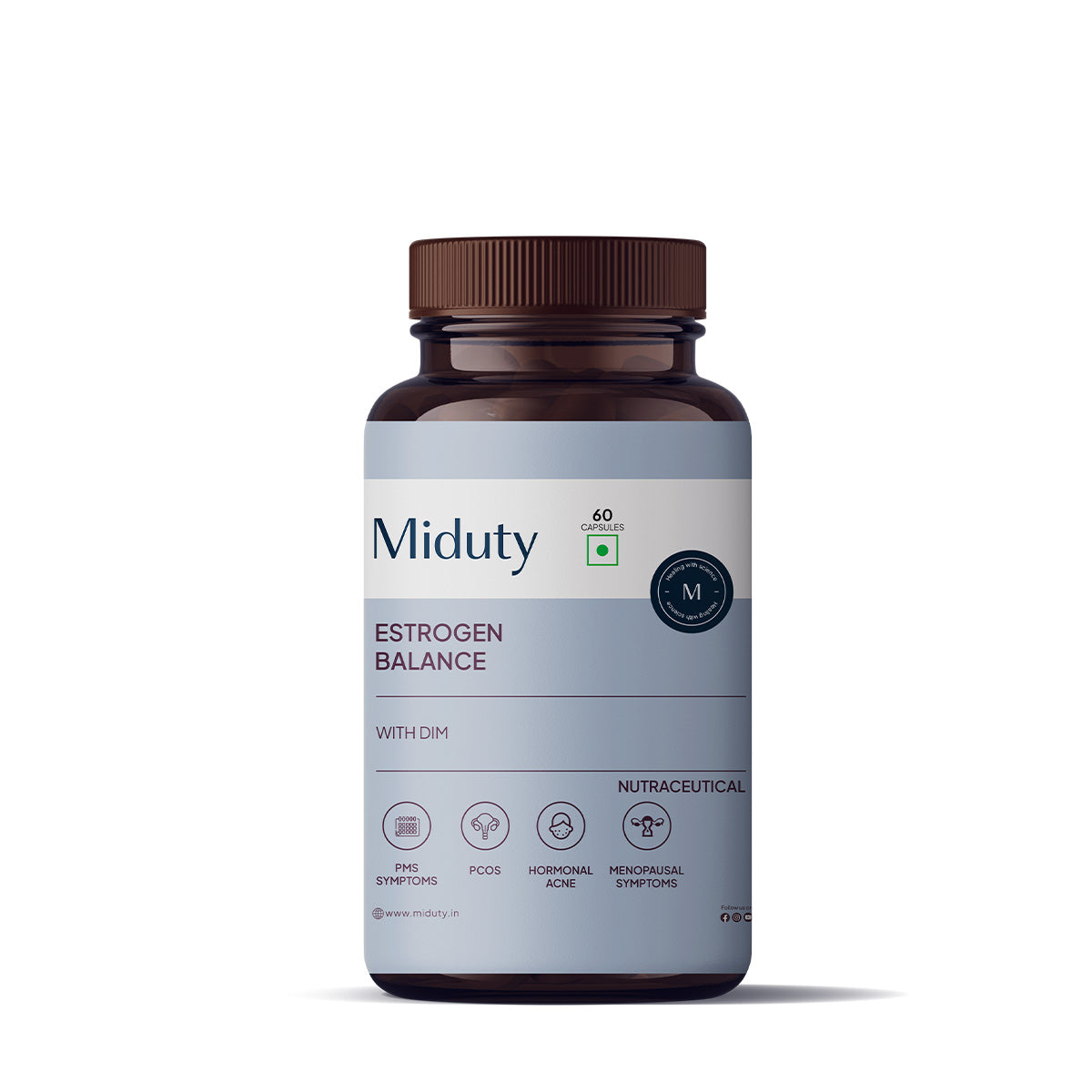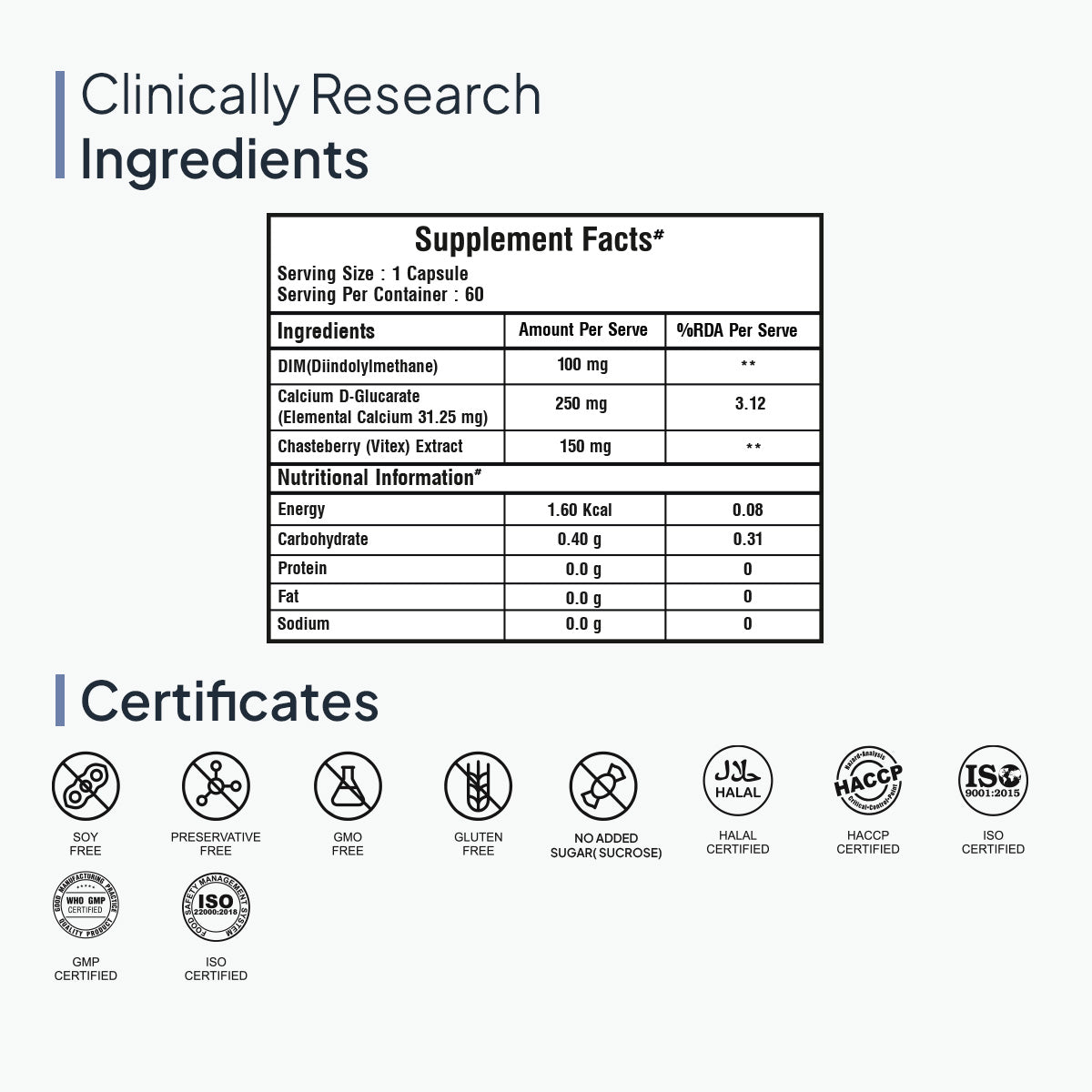 Estrogen Balance
Estrogen Dominance
Hormonal Imbalances
Irregular periods
Estrogen Balance
The sudden rise in cases of breast cancer, facial hair, irregular menstruation, man boobs, fibroids, PCOS cases, hormonal acne, infertility, and uncontrolled weight gain in females, is now a new normal. No, not at all!
It's because of the estrogen dominance in our bodies, which particularly happens because of lifestyle modifications and our exposure to Xenoestrogens, such as frequent visits to the salon, excessive use of cosmetic products, and medications, etc; these all have negatively impacted our bodies. 

Miduty Estrogen imbalance treatment with DIM promotes healthy hormone metabolism. 
Every woman should go with this bad estrogen-eliminating protocol.

Description
Why has there been a rise in the cases of breast cancer, endometriosis, irregular menstruation, fibroids, PCOS, hormonal acne, infertility, and weight gain among both older and younger girls?
Trust me, It's not normal! It's because of too much hormone estrogen in the body. 
Estrogen is crucial for daily functioning, however, because of lifestyle modifications such as frequent visits to the salon, excessive use of cosmetics, birth control pills, cleaning products, etc., our body has to go through hormonal alterations. It results in an excess of estrogen in the body, which leads to estrogen dominance.  
Unfortunately, relying on synthetic medicines frequently has three negative effects for most of those with hormonal disorders:
-It makes individuals reliant on taking prescription medications for the rest of their lives in order to treat their symptoms.
-It may increase the risk of developing major side effects like cancer, osteoporosis, stroke, anxiety, and more.
Every organ in our body has its own role, and removing an organ that aids in hormone balance will have many negative effects on the body. If you are going through this phase, you must be aware of how painful it may be to remove the uterus.
So why eliminate one section of the body if we can regulate our hormones?
Now the real question is, Is it possible to naturally balance hormones? The good news is, Yes!
A compound named DIM has been proven to reduce the prevalence of estrogen dominance. 
But, How? Let's see.
Diindolylmethane or DIM, which is found in Brassica or cruciferous vegetables including cabbage, broccoli, cauliflower, and mustard greens, enhances healthy estrogen metabolism. However, we can not consume cauliflower every day because too much of it can cause thyroid function to slow down.
By balancing the ratio of good to bad estrogens and by inhibiting the enzyme aromatase, which changes testosterone into estrogen, DIM maintains a healthy hormonal balance.
DIM actually functions in two directions. It does this by first inhibiting the enzyme that converts testosterone into estrogen. Additionally, it changes harmful estrogens into beneficial estrogen metabolites.
I3C, the precursor to DIM, not only has anticancer properties but is also a potent antioxidant and can help balance both male and female hormones, benefiting both sexes' reproductive health.
Detox symptoms / Mild side effects of DIM- 
You may experience some mild detox symptoms when your liver is not working properly and is not able to eliminate excess estrogen from your body.
The effects of DIM are typically modest and only last over a few days. DIM side effects include:
Headache
Fatigue
Mental haze
Dark urine (orange to brownish)

Darkened urine is safe and will go back to normal as soon as you stop using your DIM supplement. Some believe it's a sign that DIM is doing its job of neutralizing estrogen metabolites in your liver. Don't panic!
The other DIM side effects are temporary and mirror general detox symptoms because that is exactly what is actually happening. Your cells release excess estrogens into your bloodstream where they are then eliminated by DIM.
How to overcome this?
Fix your Gut
Take prebiotic and probiotic fiber to treat your digestive system if you have constipation because it is what removes harmful toxic/bad estrogen from your body.
Flush out Toxins
On difficult days, use charcoal. Extra estrogen is bonded by activated charcoal, which stops it from damaging your cells. Use it on the initial days to overcome any detoxification symptoms.
Hydration 
When you are undergoing a detoxification procedure, it is important to stay hydrated because continuous urination is an effective approach to removing toxins. Try to hydrate yourself with more water than you believe you need.
How do I take them?
Dosage -

Start with taking Miduty liver detox capsules 2x a day for a month. After that introduce DIM. Start with 1 capsule per day after lunch and after 2 weeks move to 2 capsules a day.

Quick info-

Take Probiotics & Prebiotic Fiber along with estrogen for the proper regulation of hormones and passage of bad estrogen from the body.

Avoid in case-

Avoid taking estrogen balance if you're having a fatty liver.
What's it for?
- Cystic Acne
- PMS: Painful Periods, Heavy bleeding, irregular periods, breast tenderness
- Mood swings
- Fibroids
- Perimenopause symptoms: Hot flashes, Night Sweats
- Man boobs
Why is Miduty's Estrogen Balance Superior?
Irregular periods, heavy bleeding, man boobs, facial hair, cystic acne, and belly fat are no longer symptoms with Miduty Estrogen Balance, as it is a powerful blend of Diindolylmethane, or DIM, and Chaste Berry Extract [1], which helps to regulate the estrogen metabolism. Chaste Berry Extract balances prolactin levels and treats breast tenderness.

[2]

 




When combined with DIM

[3]

and chaste berry extract, the Calcium-D-Glucarate that has been added to Miduty Estrogen Balance is a supplement that is uncommonly accessible in the market. It aids in the detoxification of excess harmful hormones, boosts bad estrogen removal, and may even balance the body's estrogen levels.



These capsules are helpful in fighting hormonal acne, Estrogen dominance, and thyroid disorders. Helpful to women experiencing menopause and it also may help in weight loss. 



Other than the above-mentioned benefits, these capsules help treat PCOS, fibroids, premenstrual syndrome, and endometriosis. 



Restoring the equilibrium of estrogen and progesterone is made easier with the help of the DIM-based Miduty Estrogen Imbalance treatment. Additionally,Diindolylmethane has breast cancer-preventive activity.

[4]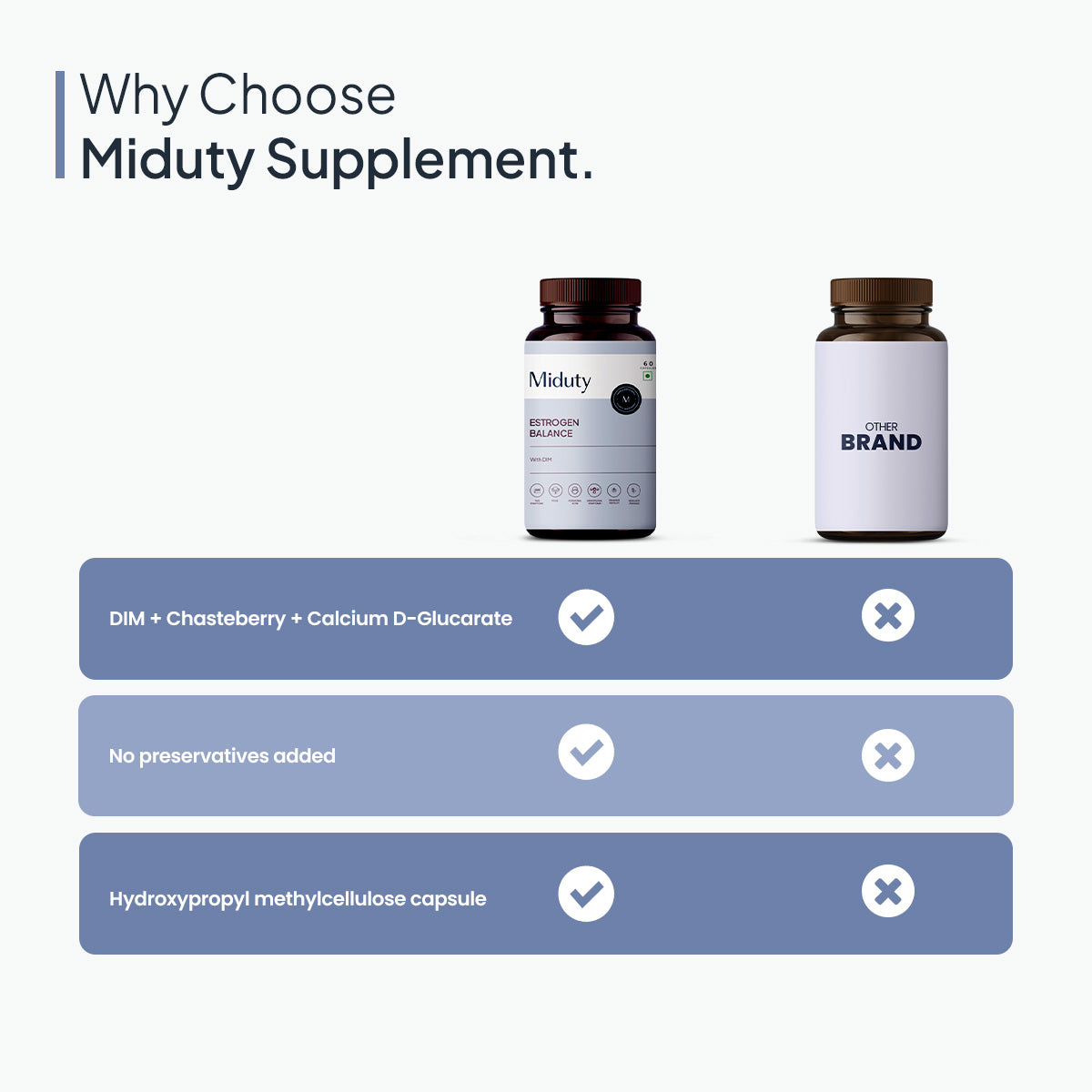 How We Helped Our Customers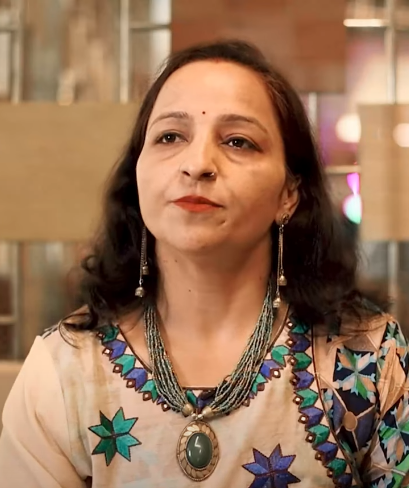 Arti's Journey: Freedom From Painful Periods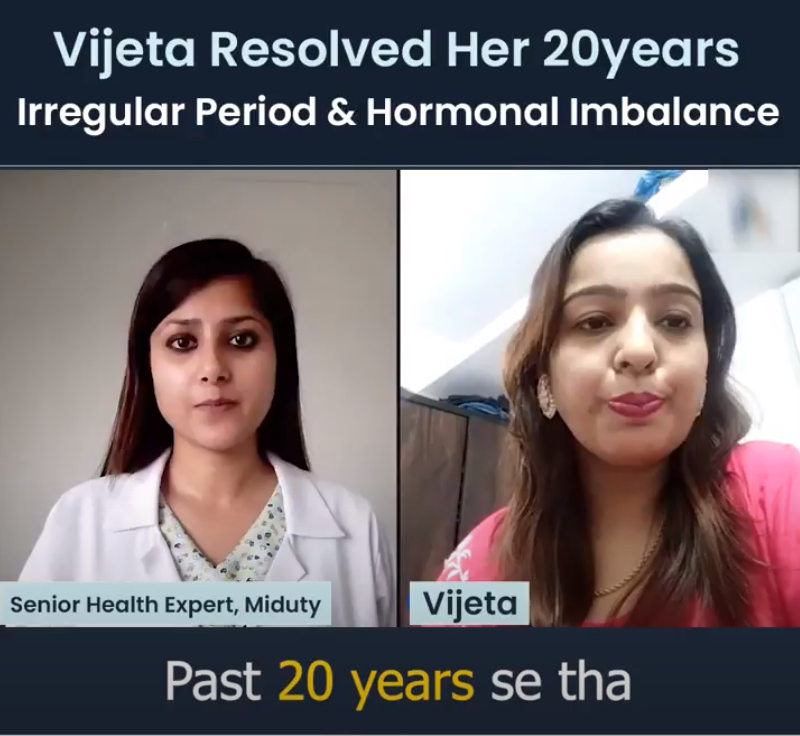 Vijyeta fixed her period cycle and heavy bleeding issue
What's Inside? (Ingredients)
FAQs
Are there any estrogen tablets uses in man Boobs?
One of the more adverse effects of too much estrogen, which occurs from too much testosterone, is gynecomastia (man boobs).DIM blocks aromatase, increasing the amount of free testosterone in your body for the wellness of your heart, brain, bones, and skin.
I am already taking Contraceptive pills. Can I take estrogen pills with it?
No, we don't recommend estrogen pills along with contraceptive pills as periods medicine.
What are the normal estrogen levels in men and women respectively?
The normal estrogen level are:
30 to 400 pg/mL for premenopausal women
0 to 30 pg/mL for postmenopausal women
10 to 50 pg/mL for men
Will it work as period pain medicine also?
The idea that period discomfort is normal is a misconception, but it is not true. Your hormone levels are disturbed, which causes period pain. Thus, estrogen balance will help in periods pain relief.
Are there any side effects of DIM?
If your liver or your detox pathways are compromised, you can initially have detox symptoms or mild effects like fatigue, brain fog, body pain, and headache.
How to get rid of detoxification symptoms?
You can start taking 500 mg - 1 gram of activated coconut charcoal to get rid of the symptoms. Take liver detox for a month and then start again with 1 capsule of estrogen balance.
At which age to start DIM?
You can start after 15 years of age with 1 capsule.
Are Palak Notes and Miduty same brands?
Yes, the brands Palak Notes and Miduty are the same.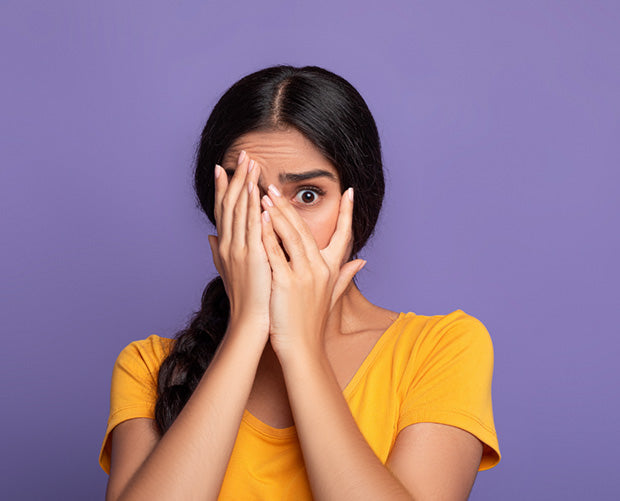 Unknown Facts
Maintain your Liver

Before taking estrogen balance directly, begin with liver detox for a month. Because estrogen is mostly broken down in the liver, your liver works extra hard when you use DIM to get rid of it. With liver cleansing, vitamin C, and herbs like dandelion, turmeric, and parsley, you can strengthen your liver.

Hormonal Acne

An abnormal ratio of testosterone, good estrogens, and bad estrogens leads to hormonal acne. DIM supplements boost the good estrogen and testosterone pathways while working to block the negative estrogen pathways. Your skin will have the required support to remain clear and healthy once everything is in balance.

Man Boobs

An oversupply of estrogen can result from too much testosterone and create a wide range of problems. One of the most adverse effects of too much estrogen, which occurs from too much testosterone, is gynecomastia (man boobs). Men gain additional breast fat and a mammary gland behind the nipple.
Scientific/Clinical Studies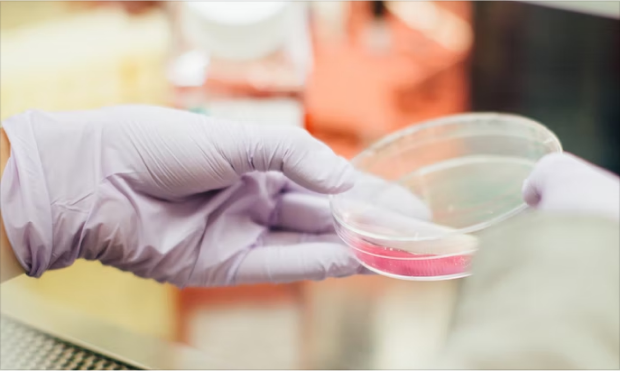 PALAK NOTES IS NOW MIDUTY
New Era! Continued Dedication!
Pain that went untreated gave rise to the brand Palak Notes. Pre-COVID, we began to evolve, and over the past three years (and counting), we have dedicated our entire selves to learning about the pain and health issues that society suffers. We had a modest beginning, but today we have a large family. 
So, in order to adapt to these changes over time, we have decided to create a new brand identity that reflects our team and potential customers. We are now known as MIDUTY. Our vision for the current era is presented and projected through this new identity.