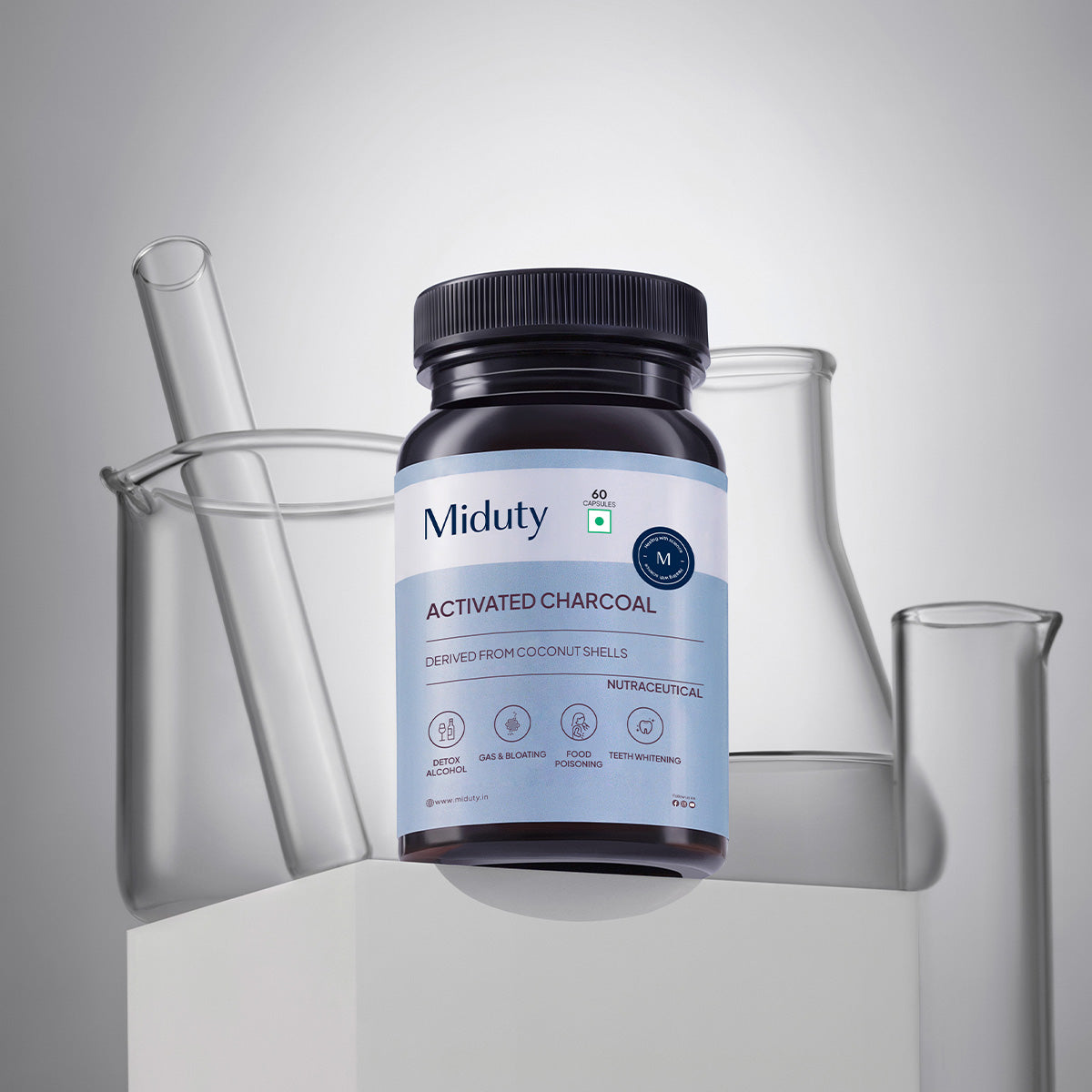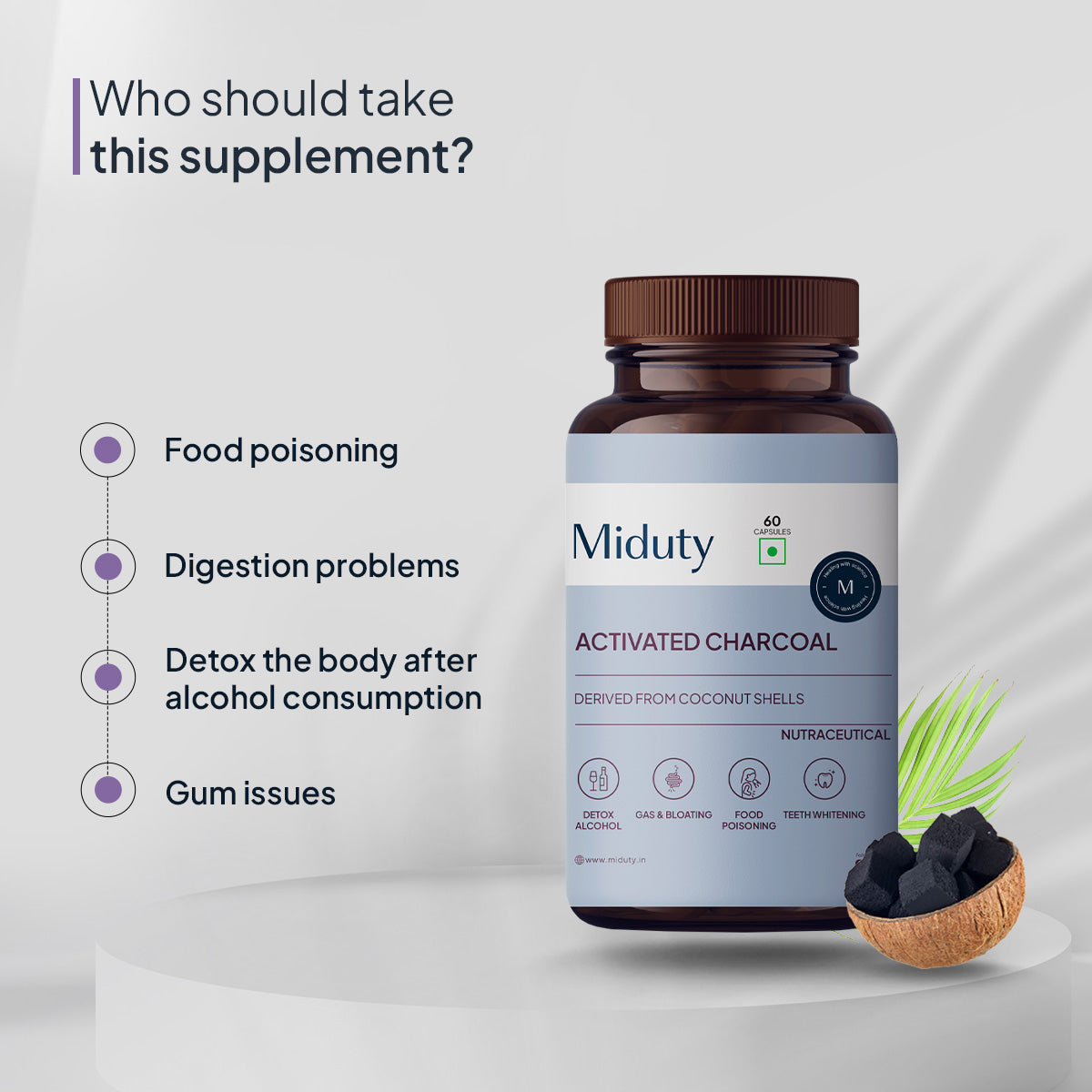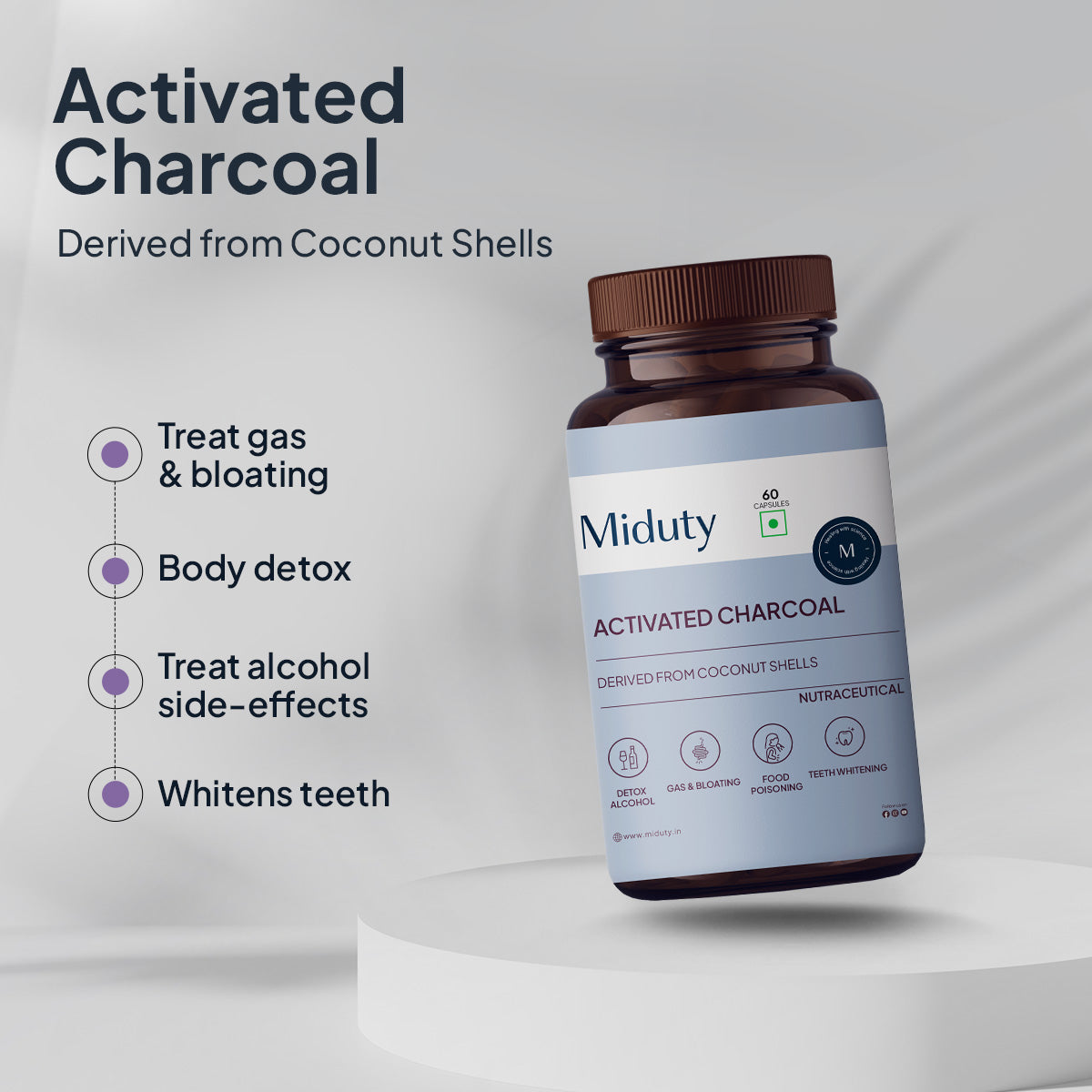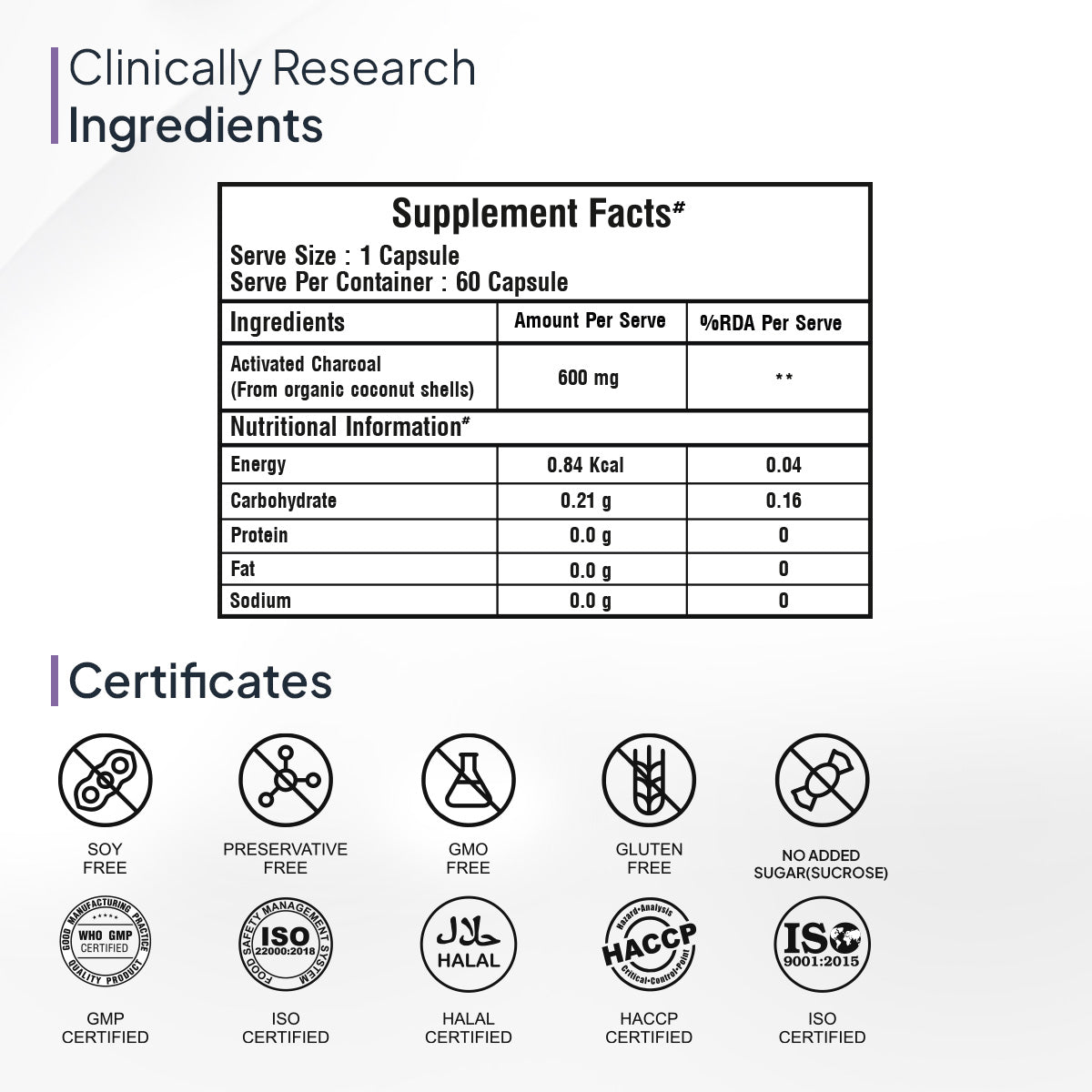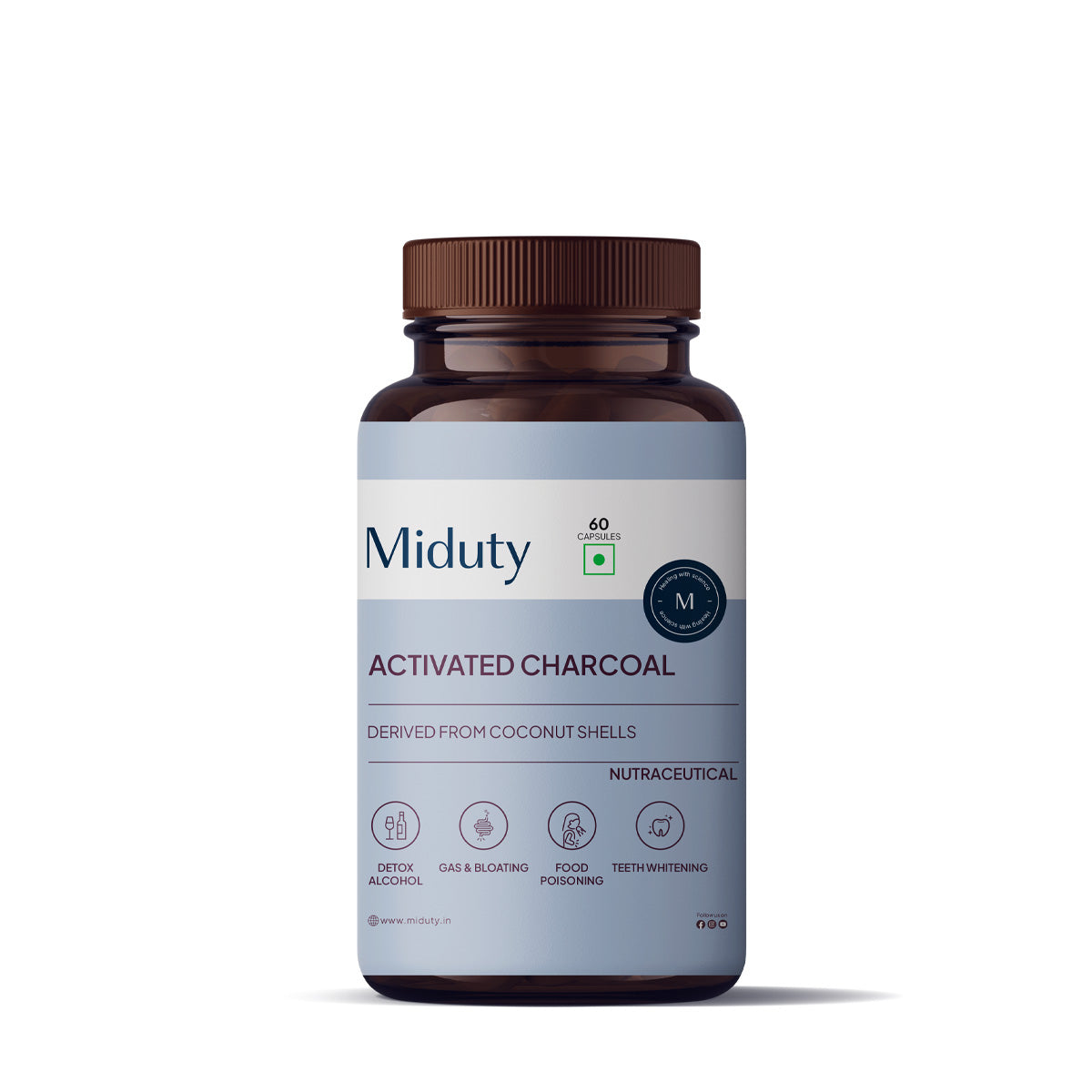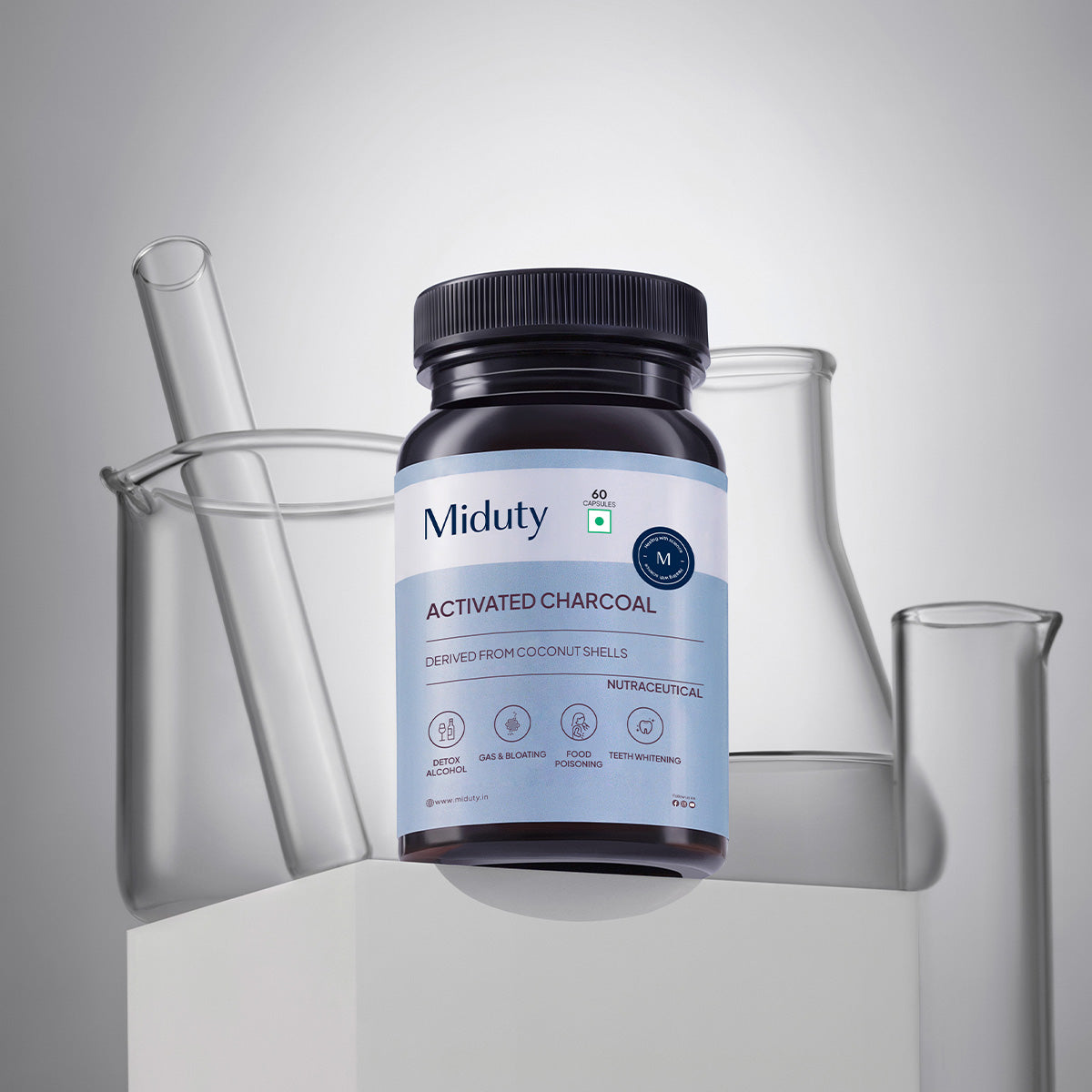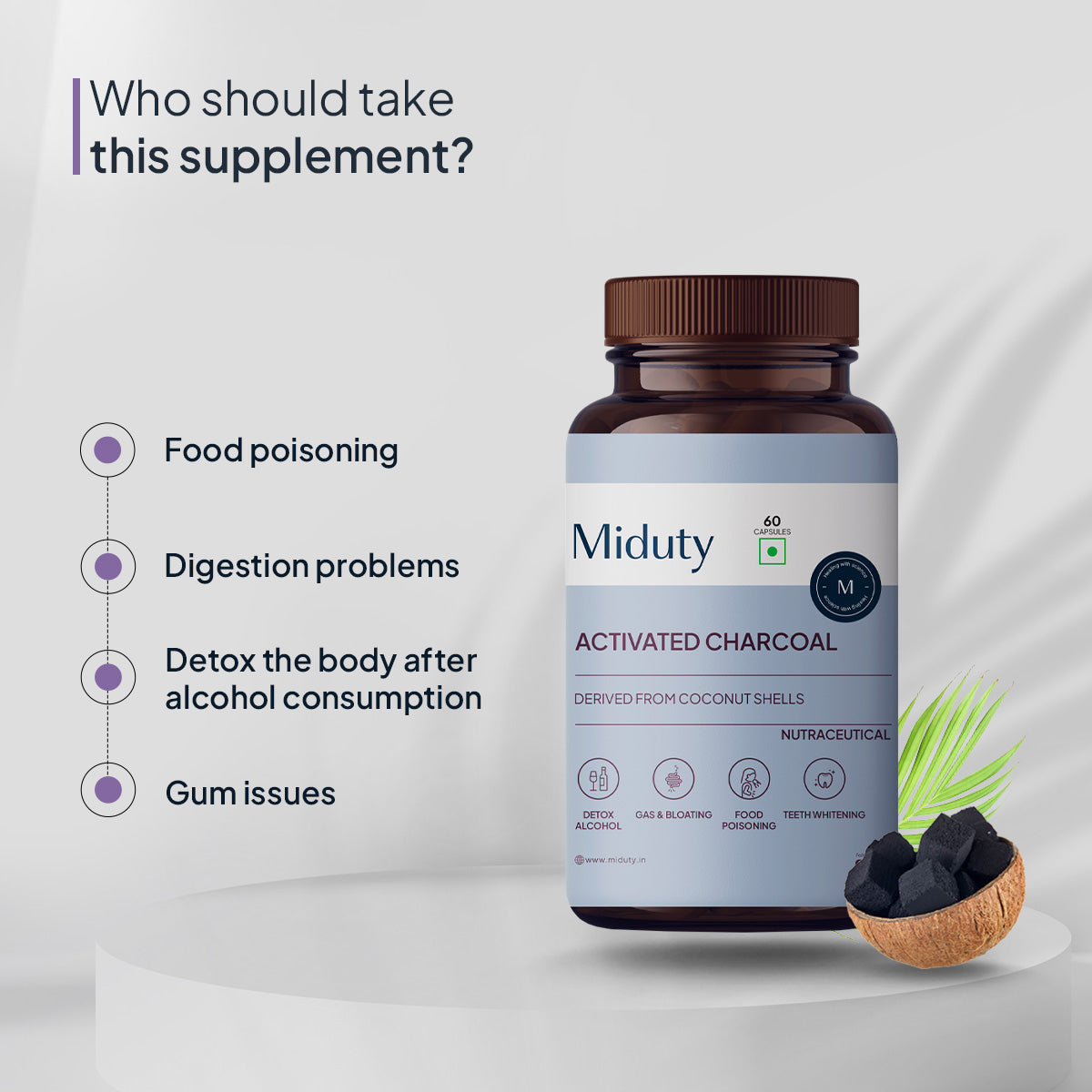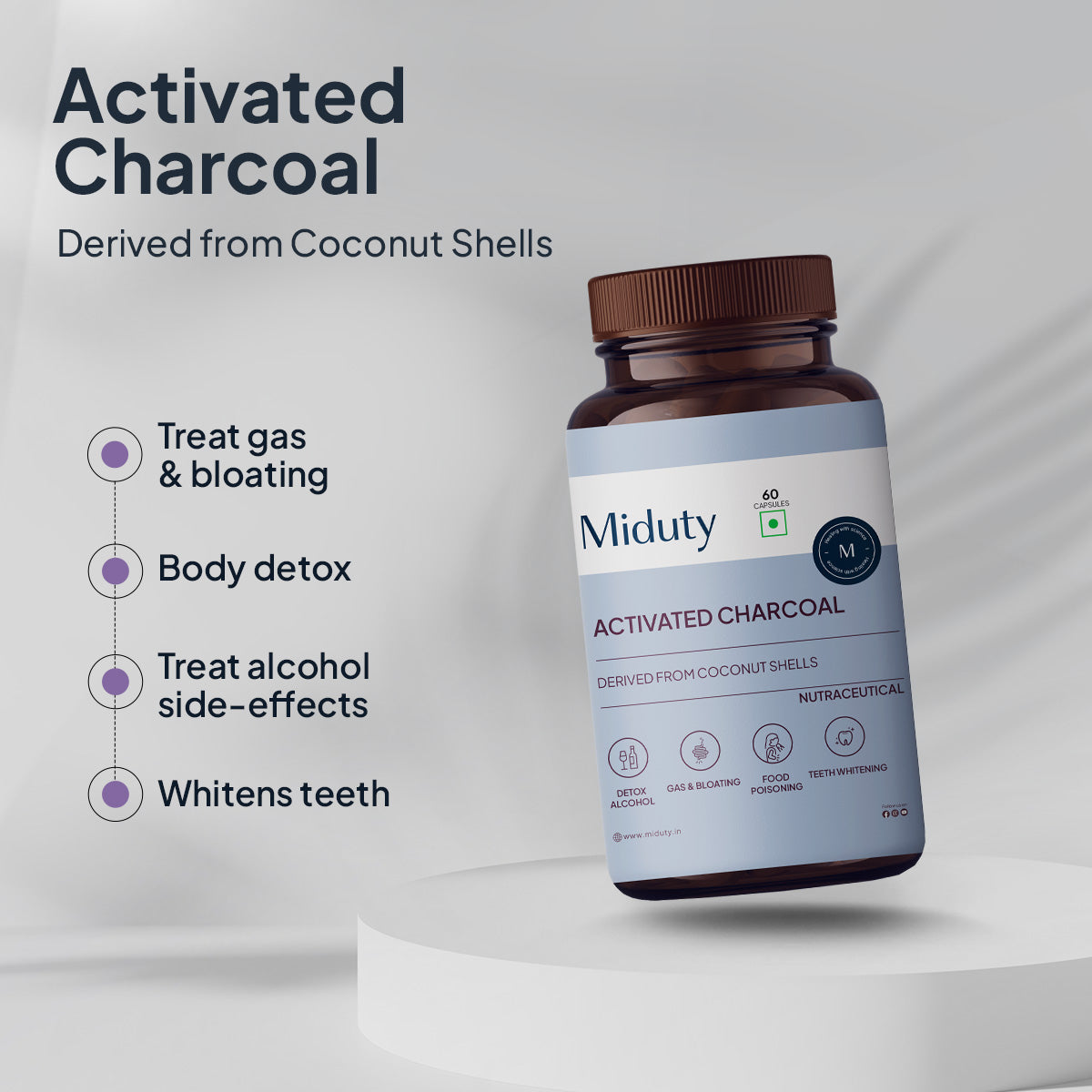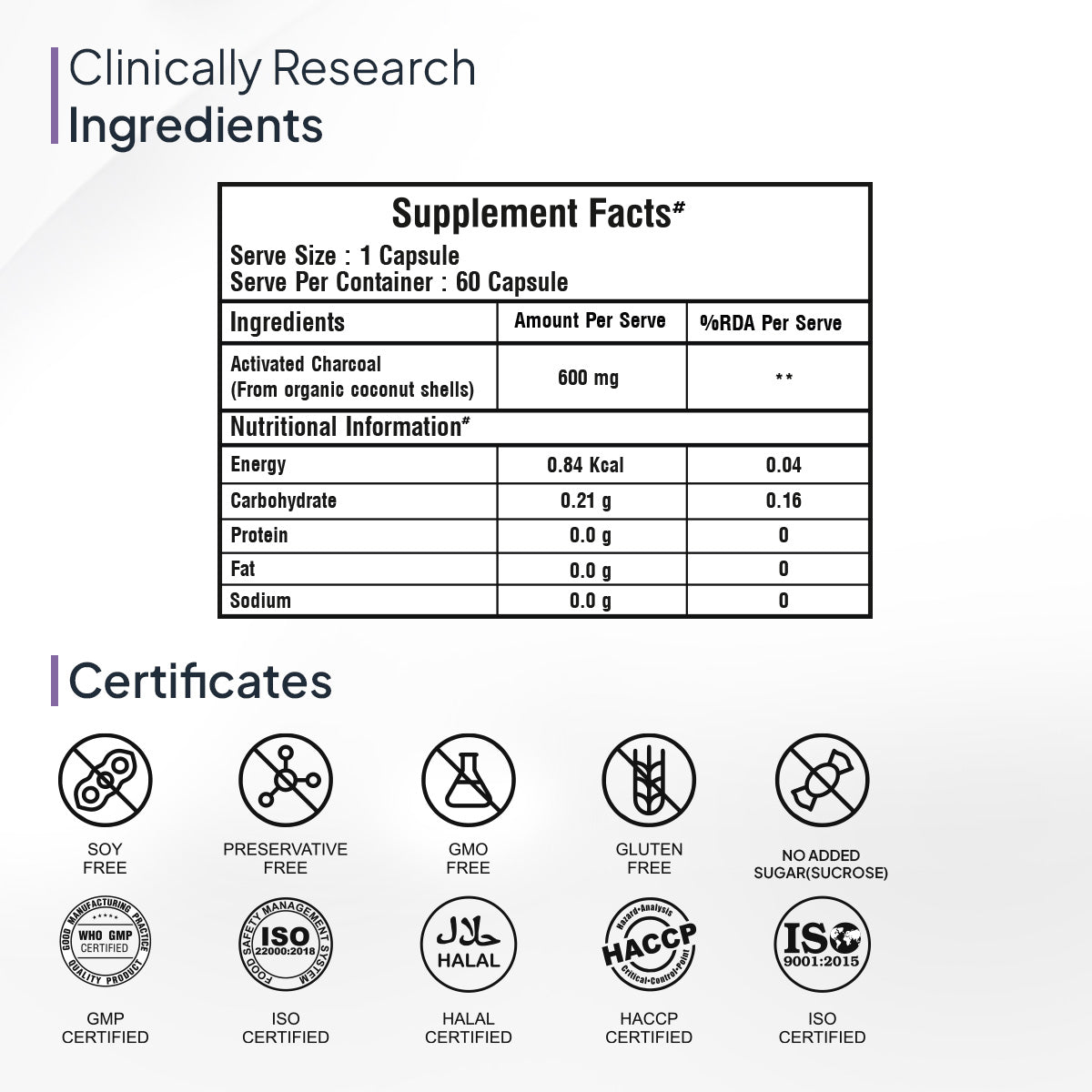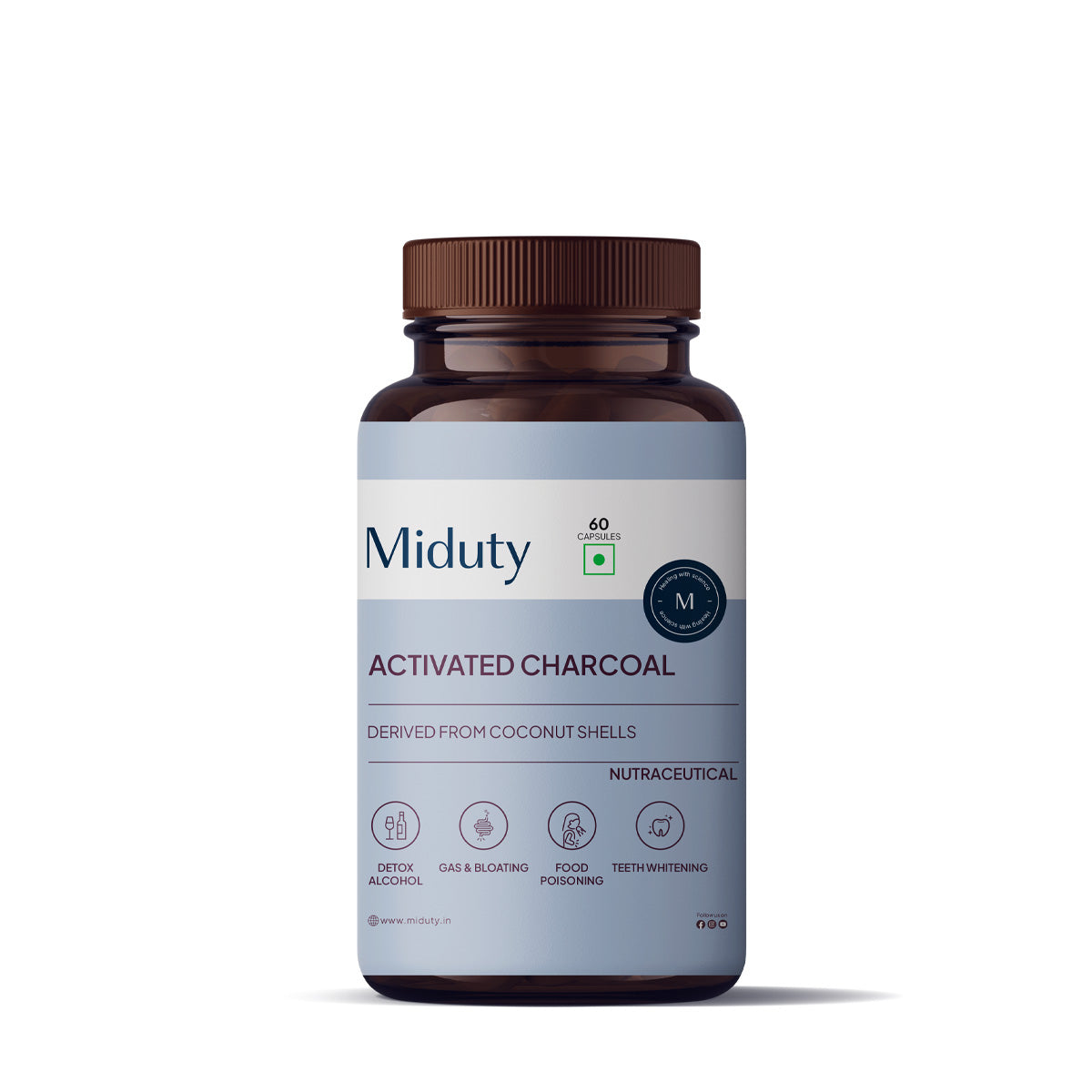 Activated Coconut Charcoal
Charcoal
Detoxification
Toxin removal
Activated Coconut Charcoal
Activated Charcoal is a powerful detoxifier utilized for more than 10,000 years by doctors, healers, and Ayurvedic practitioners.
Miduty's Activated Charcoal powder holds the strength to bind a large number of toxins present in our body and eject it.
Toxic Overload increases in our bodies due to traveling, snacking on junk food, use of cosmetics, and inhaling harmful fumes of paints and furniture. 
Description
Everyone now knows about detox, but not knowing the actual science behind it, the ways of detoxification we are doing more harm than any good. 
How? 
Because we are following an incomplete and wrong way of flushing out the toxins from our bodies. 
Make sense!
Now, we have heard a lot about cleansing our bodies, and we try various detoxifying drinks, and diets to flush out the toxins. This deposition of toxic overload goes on to increase in our body by coming in contact with multiple environmental stressors namely, parlor visits, pollution, pesticides, harmful radiations, and processed or junk foods.
With detoxification, toxins come out, yes, into your blood, but does it really get out of your body? No, it doesn't completely. The elimination of impurities from your body actually depends on how well our kidneys, and liver work. 
Here, Activated Charcoal comes as a savior, which binds it firmly and gets it excreted out of our body.
How can we prevent the reloading of these harmful toxins in the body?
The solution is quite adequate, and that is with the use of Activated Coconut Charcoal. Derived from clean coconut shells, it assists with all types of ailments.
Yes, charcoal, with its numerous tiny pores, is capable of trapping and eliminating toxins from the body, thus helping in immediate detoxification.
A wonder product for both acute and chronic detoxification

[1]

of alcohol detox along with heavy metals, contaminants, and gastrointestinal gases caused by low-quality, processed food, which results in brain fog and stomach problems. Taking activated charcoal 8 hours before an abdominal ultrasound significantly reduces the amount of gas in your gut.

[2]
Consuming charcoal is effective for binding gas-causing byproducts, and relieving discomfort.
It does prevent hangovers, as it swiftly removes the toxins from the body, thus treating poisoning.
This activated form of Charcoal also helps in treating body odor and also relieves discomfort caused due to insect bites, rashes, and reactions on the skin.
It is entitled to reduce joint pain, boost energy, and increase mental function, by removing toxins that cause a poor immune system or allergic reactions. The activated form of Charcoal helps prevent cellular damage, thus preventing premature aging.
You will definitely see a change if you give this one a try!
How do I take them?
Dosage -

Every day, take 1 capsule on an empty stomach or one hour after a meal, or as prescribed by a healthcare provider.

Please Note-

Avoid consuming it after a protein shake, nutrient-rich meal, or after taking any type of medicine.

Quick info-

If you face any detoxification symptoms due to a heavy toxic load in the body, this supplement is the best solution for you.
What's it for?
Treat gas and bloating
Body detox
Treat alcohol side-effects
Whitens teeth
Jet lags
Why is Miduty's Activated Coconut Charcoal Superior?
Miduty's Activated Charcoal is a green source and an environmentally better option than regular charcoal. It has Activated carbon obtained from the coconut shell, which has a higher number of micropores than coal-based activated carbon. Activated carbon obtained from coconut shells has 50% more micro-pores.

[5]




Toxins have a positive charge that gets stuck to the fat cells in our body and leads to oxidative damage. Activated Charcoal Supplement from Miduty, having a negative charge, binds up with the toxins and helps pull them out.




Formed with the cellulose obtained from the vegetables, Miduty's Activated charcoal will be of great help in restoring intestinal barrier function.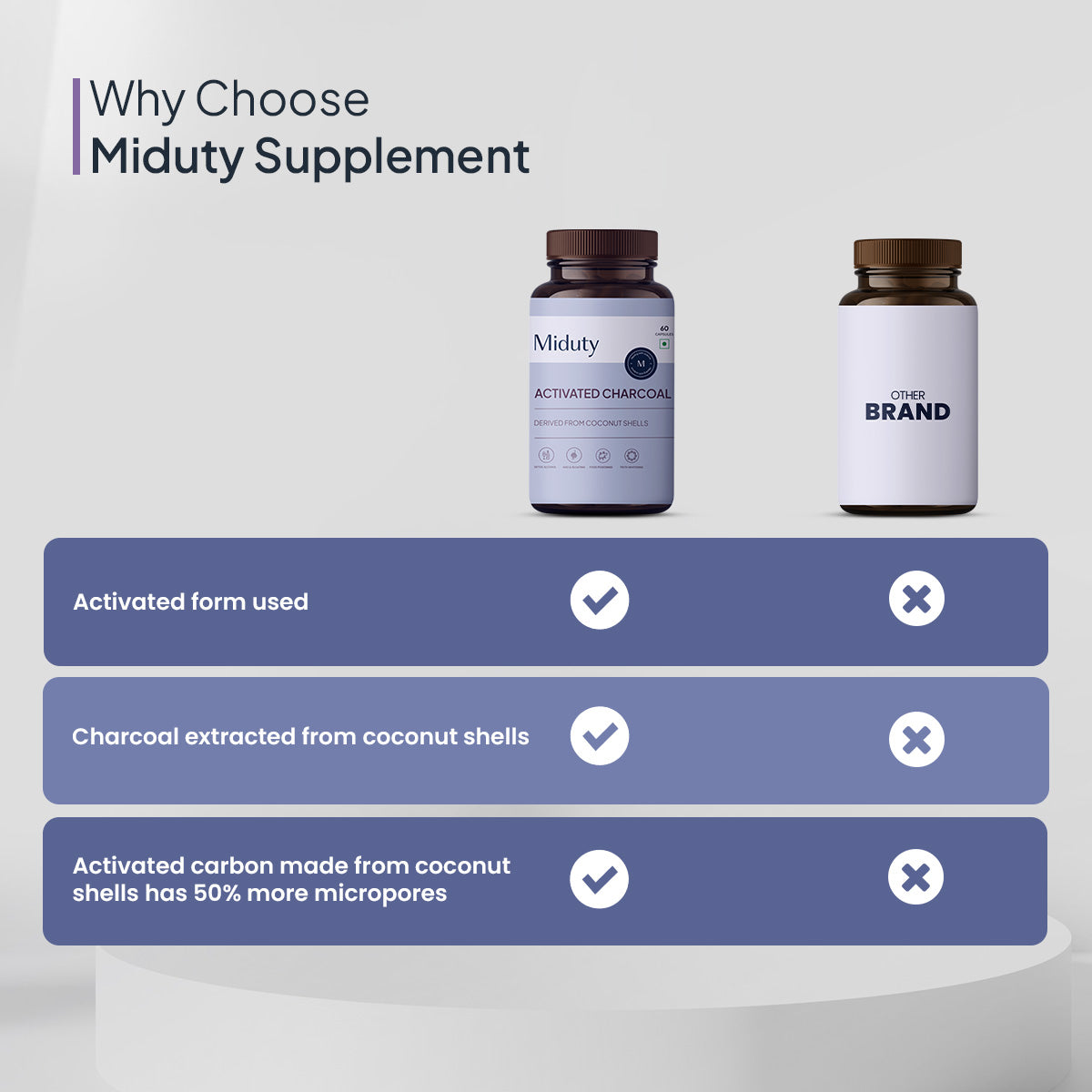 How We Helped Our Customers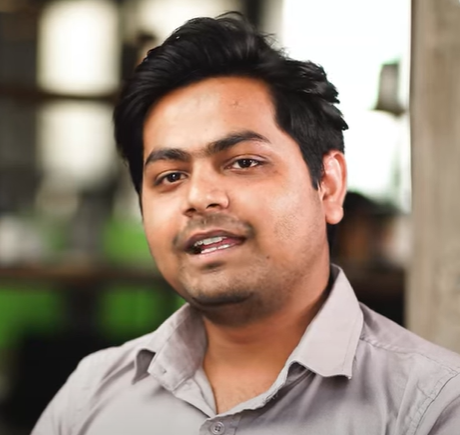 Zeeshan Removed Toxins And Treated Gas & Bloating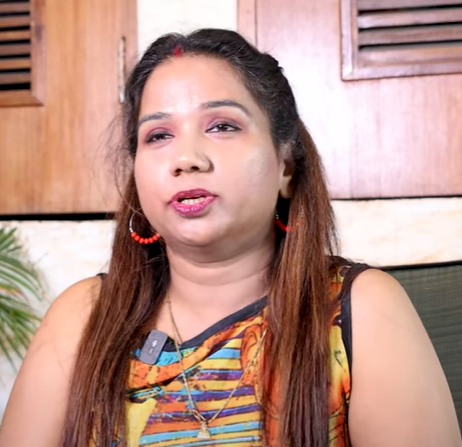 Anju Got Relief In Constipation & Gastro Issues
What's Inside? (Ingredients)
FAQs
What is the source of the Activated Charcoal used in this product?
Activated Charcoal is extracted from coconut shells having vegetable cellulose capsule covering which makes it 100% vegetarian and natural at the same time.
Is there any Use of activated charcoal in teeth whitening?
Yes. It can act as charcoal teeth whitening powder also as it helps to absorb tooth plaque and get toxins out of the mouth.
I am suffering from constipation, will it help to resolve it?
Drink plenty of water: Constipation may come from excessive charcoal use, particularly if magnesium is not present in your daily dietary routine. To prevent constipation, use 300–400 mg of magnesium glycinate around three hours after taking charcoal, every time you take it.
At what age can we start with activated charcoal?
We can start taking activated charcoal from the age of 12 years onwards on an alternative basis. You can also speak with your doctor or health care practitioner to be on the safe side.
Are Palak Notes and Miduty same brands?
Yes, the brands Palak Notes and Miduty are the same.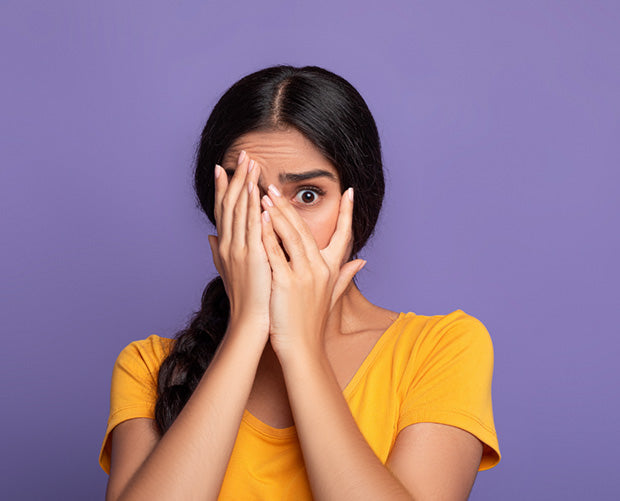 Unknown Facts
Anti-Aging Effect

Activated charcoal has an anti-aging effect as it reduces the toxic load from the body which is the major cause of aging. According to studies, activated charcoal shields against multiple cellular modifications related to aging, adrenal function, and kidney health. [6]

Routine Toxin Removal

If you feel body pain, anxiety, and low energy after fasting or even after taking Liver Detox, your body is getting detoxified. These are detoxification symptoms that happen because toxins are being pulled out to your blood but not eliminated yet. You need activated charcoal to bind with toxins and pull them out of the body.

Why Activated charcoal, not Charcoal?

According to research, activated carbon made from coconut shells has 50% more micropores than activated carbon made from coal. As a result, this kind of activated carbon is more porous than any other activated carbon made from coal. Fumes and other pollutants that are hard to remove from body fluids like water content can be absorbed by it.
Scientific/Clinical Studies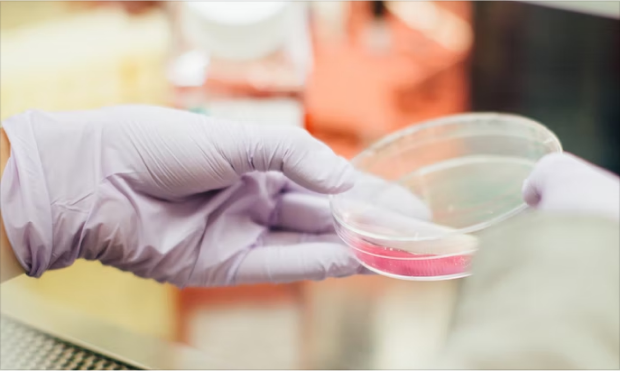 PALAK NOTES IS NOW MIDUTY
New Era! Continued Dedication!
Pain that went untreated gave rise to the brand Palak Notes. Pre-COVID, we began to evolve, and over the past three years (and counting), we have dedicated our entire selves to learning about the pain and health issues that society suffers. We had a modest beginning, but today we have a large family. 

So, in order to adapt to these changes over time, we have decided to create a new brand identity that reflects our team and potential customers. We are now known as MIDUTY. Our vision for the current era is presented and projected through this new identity.