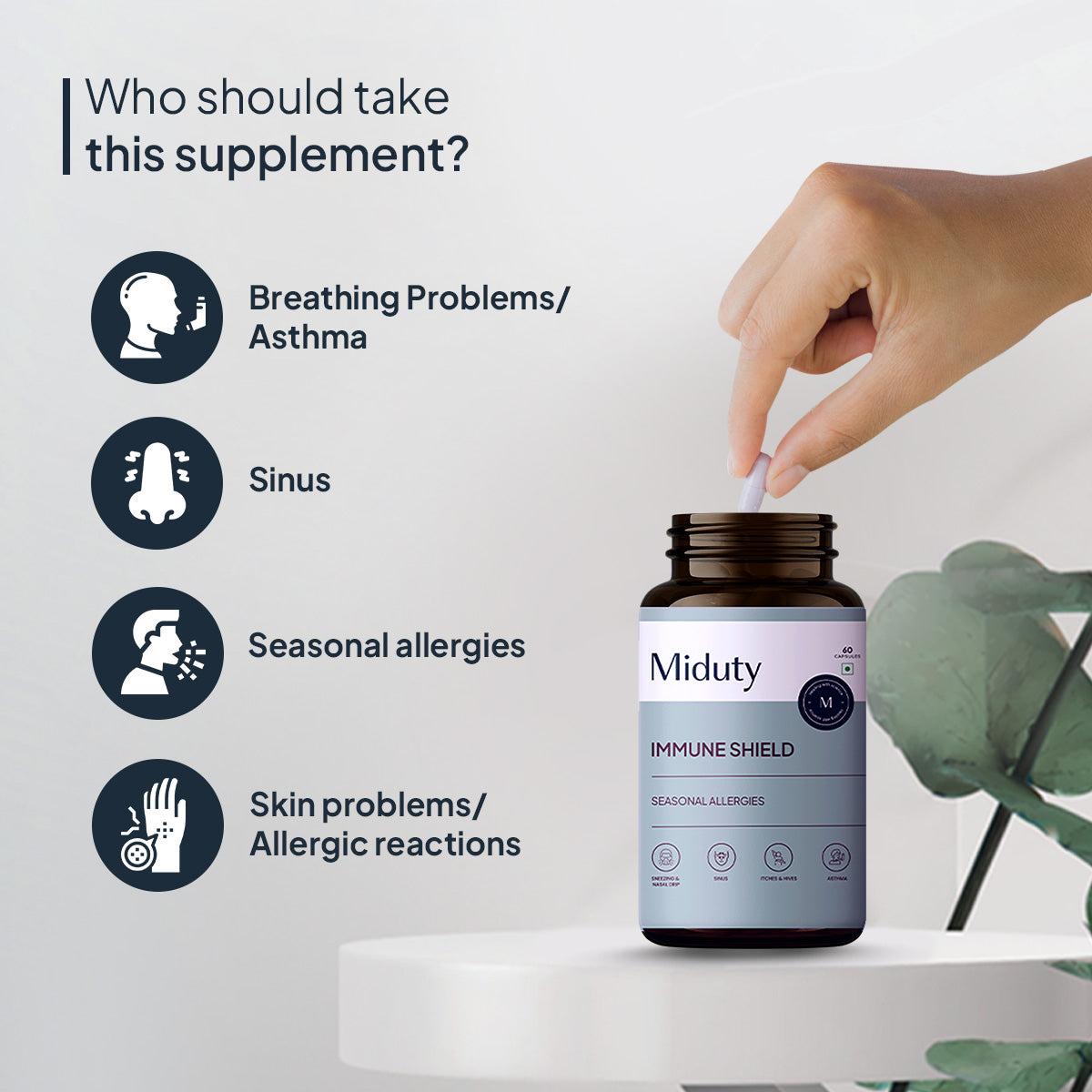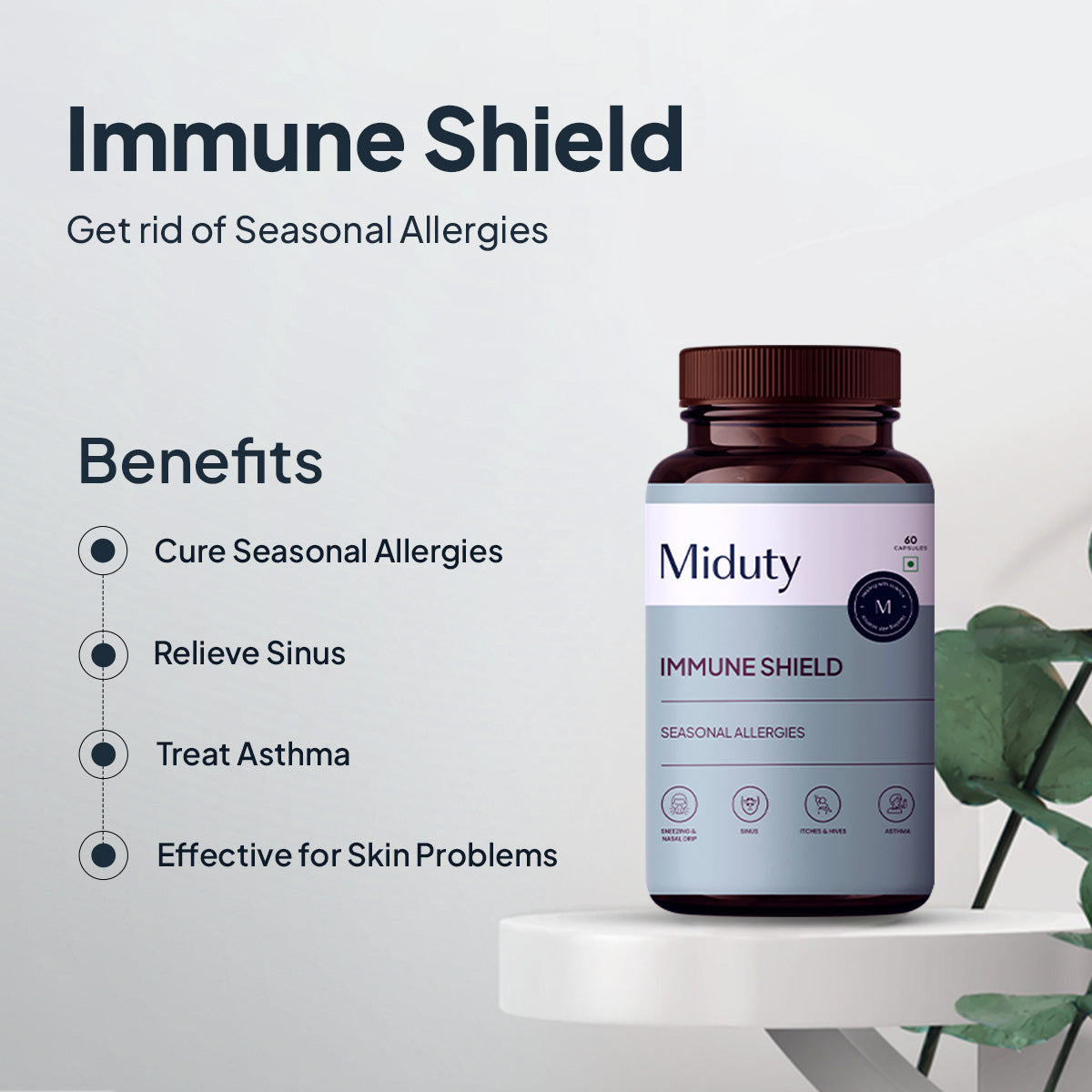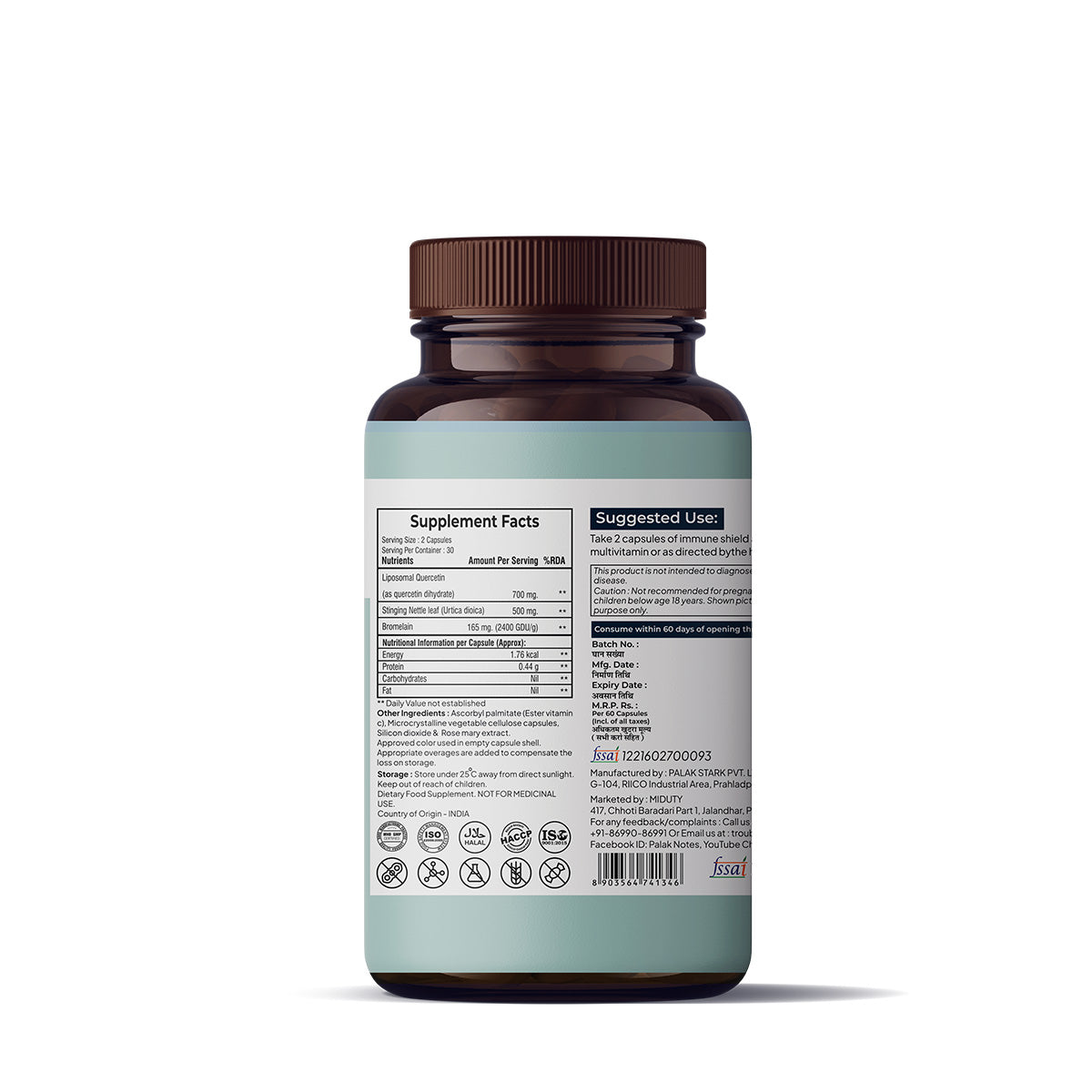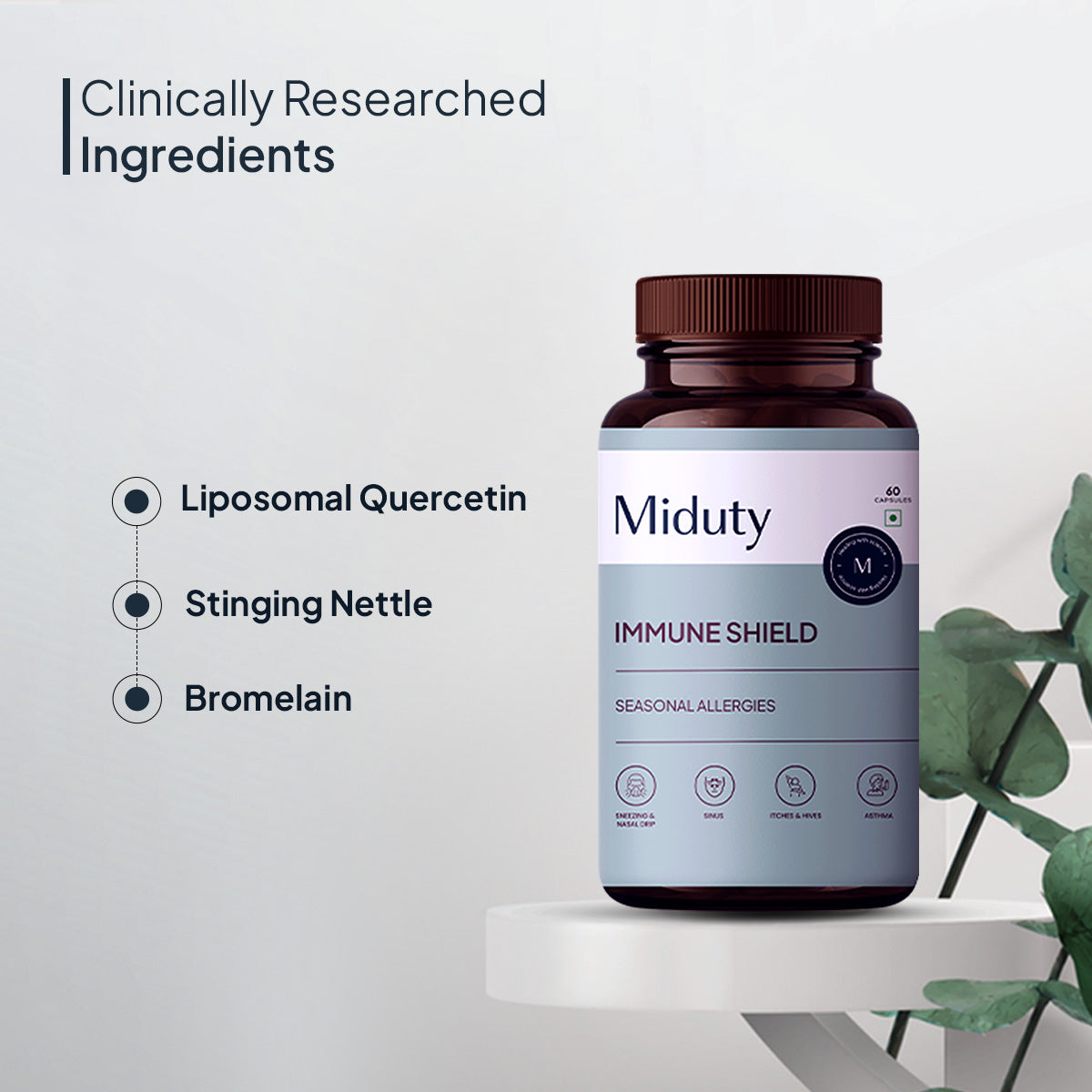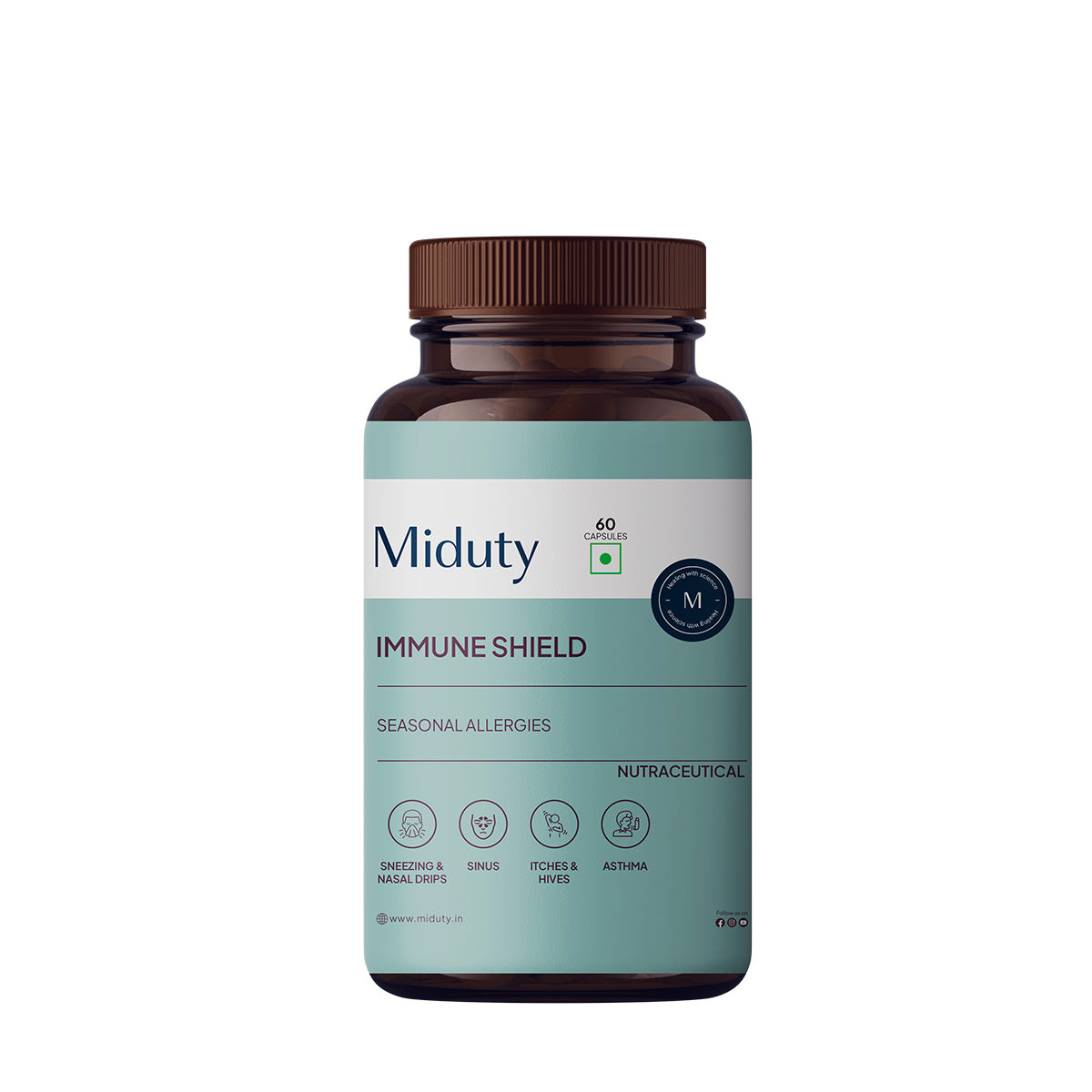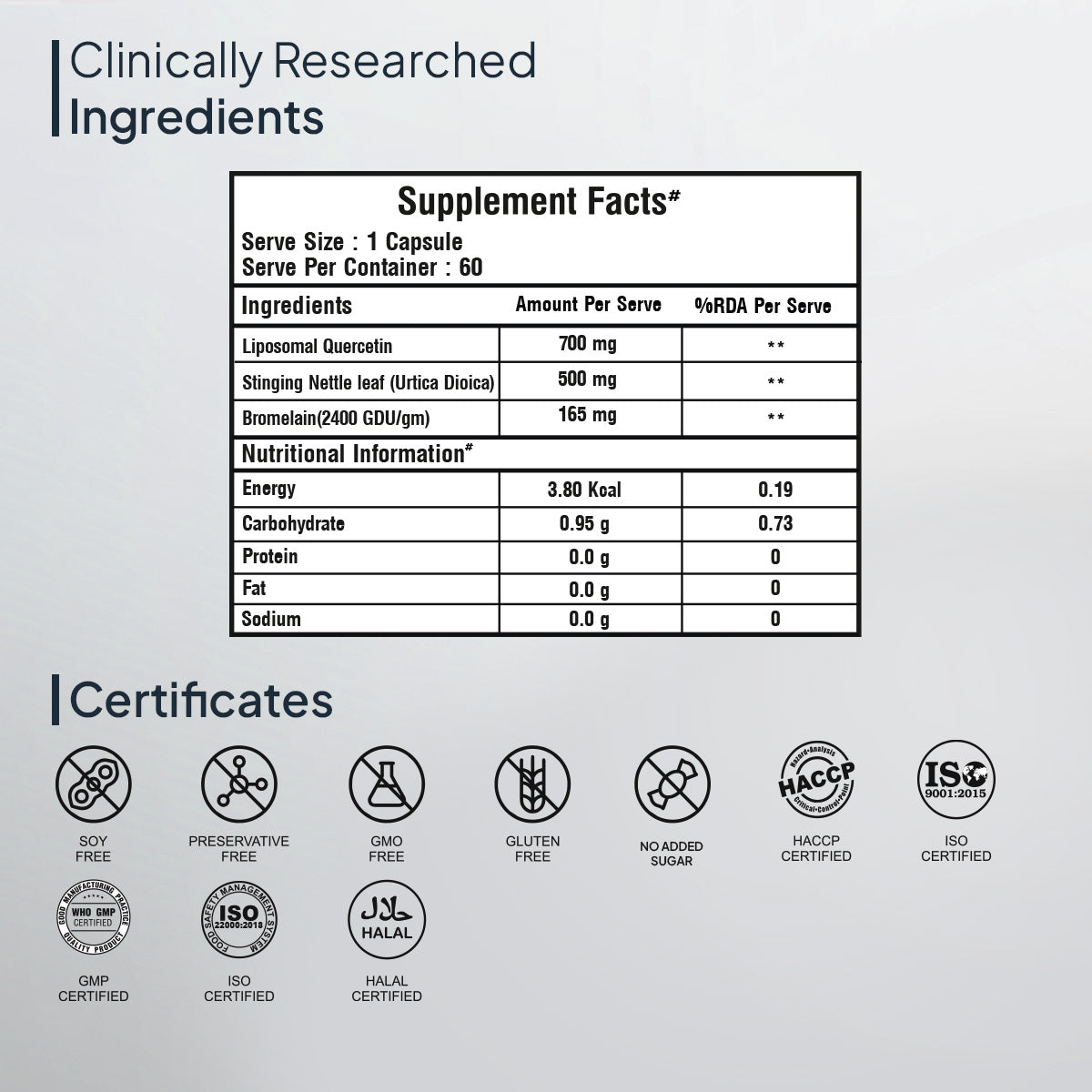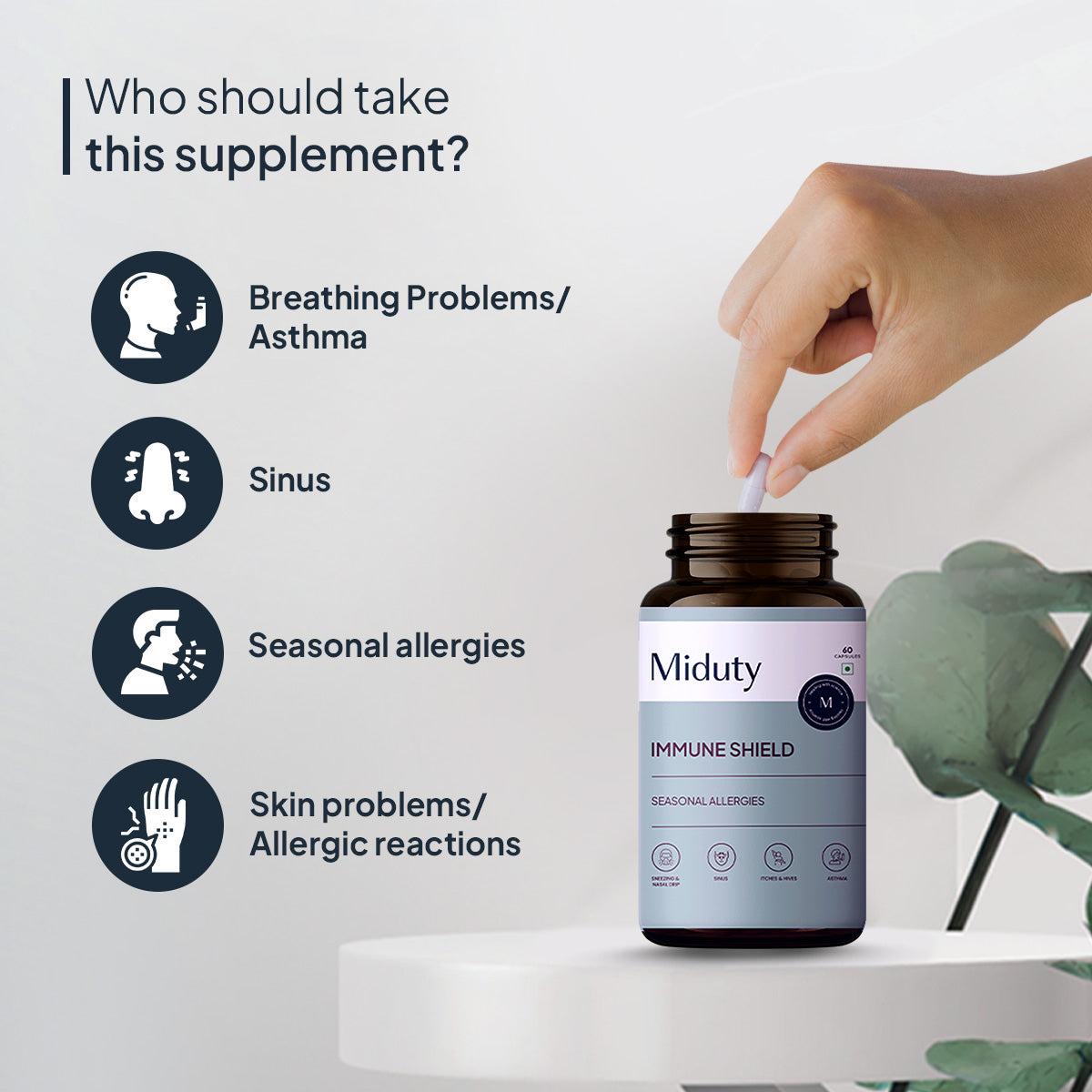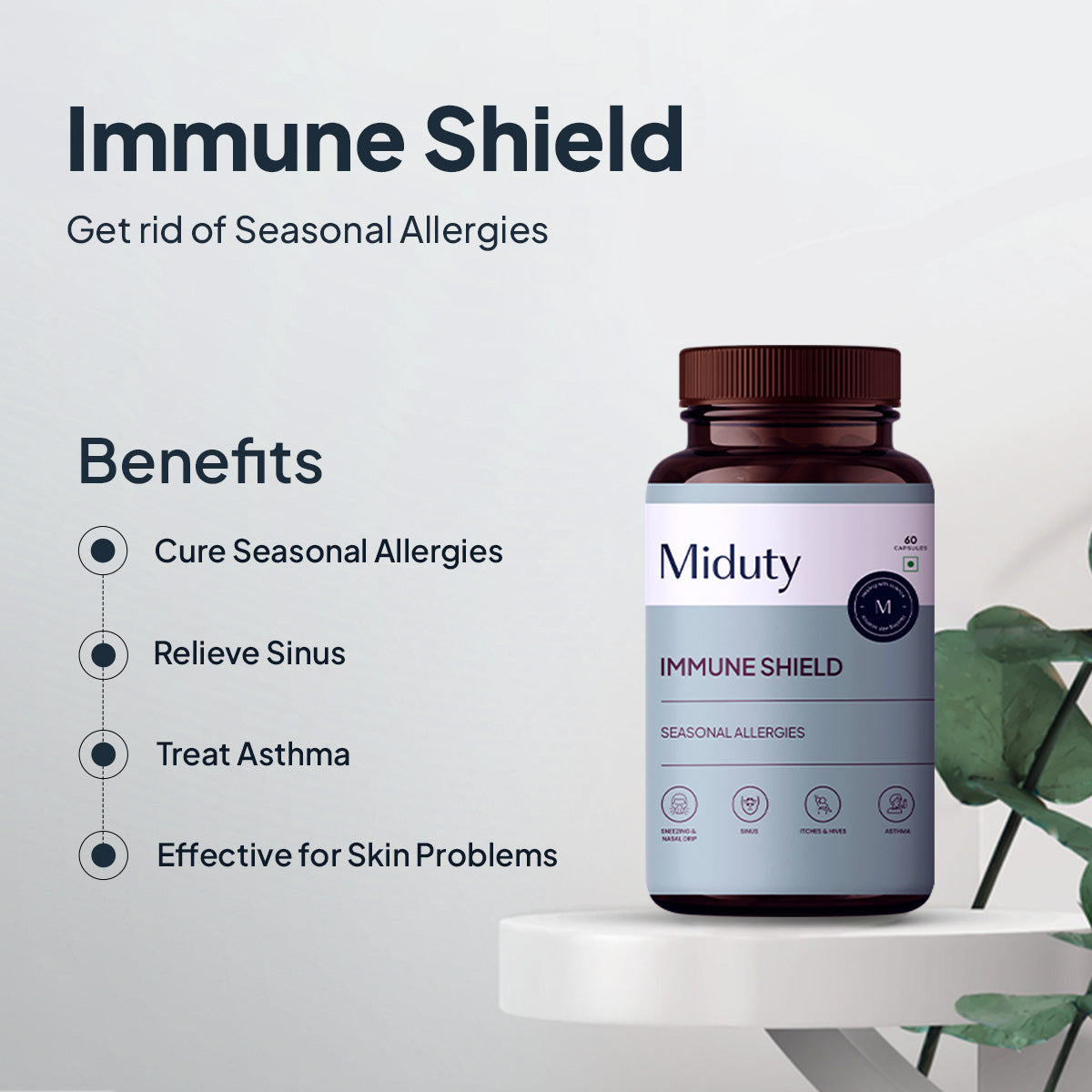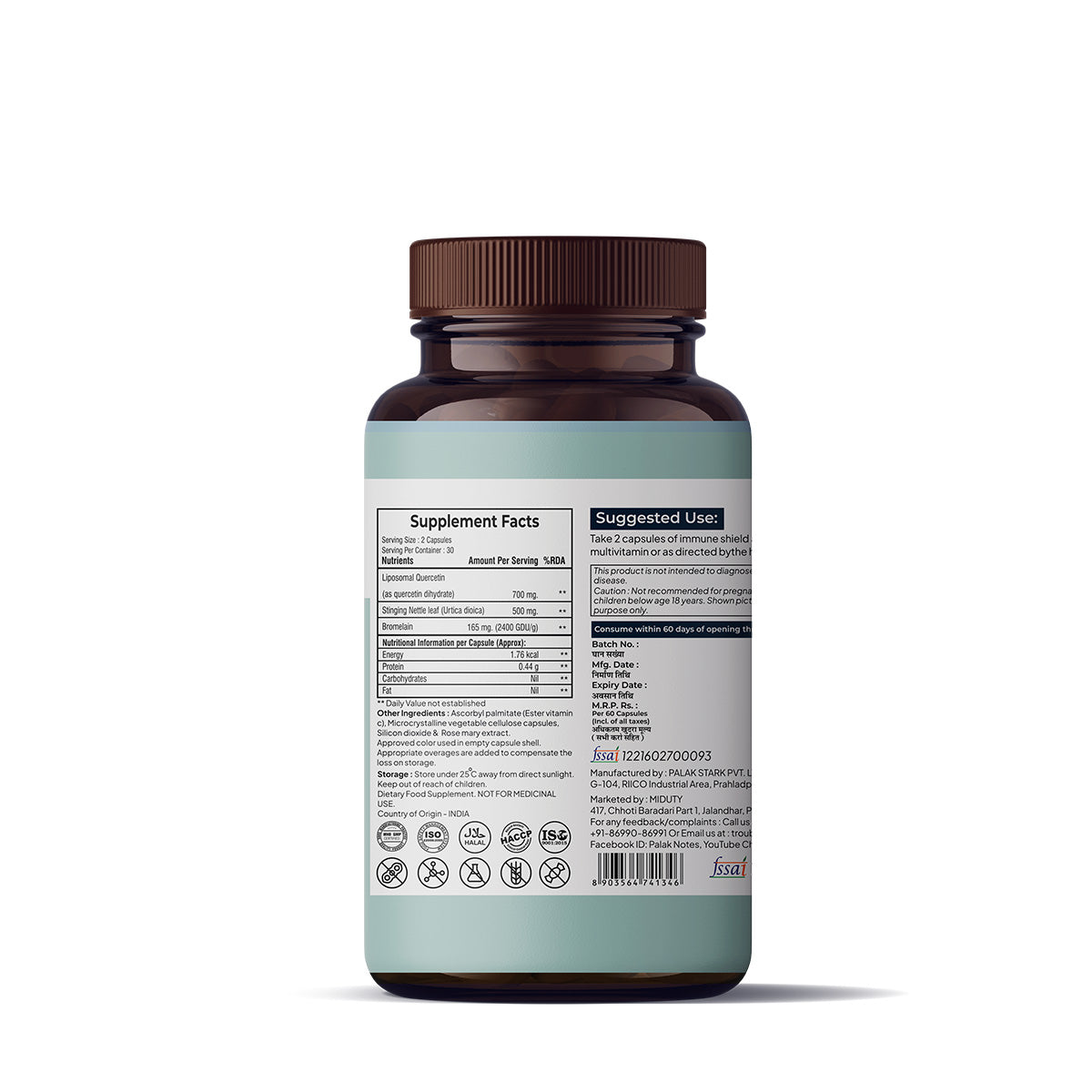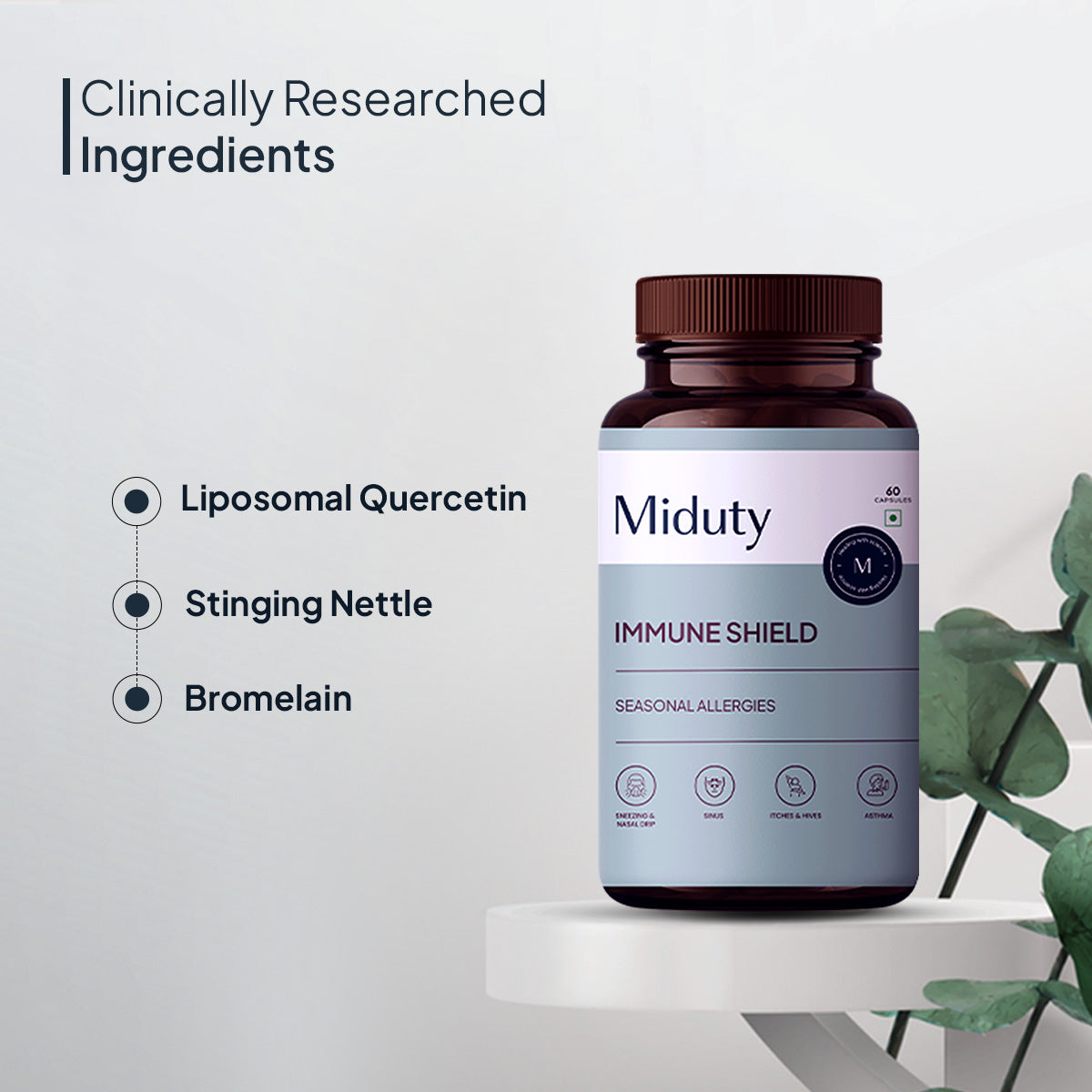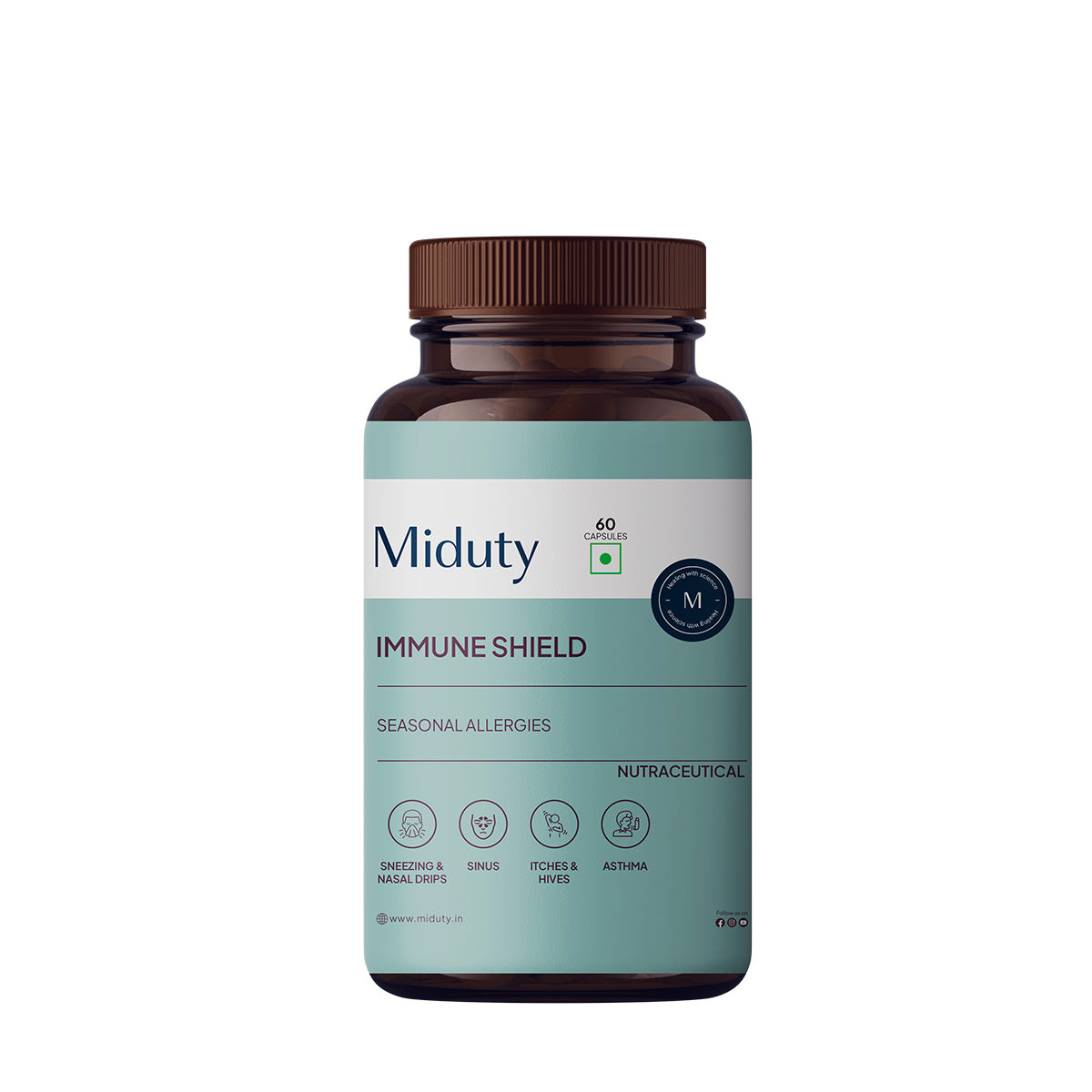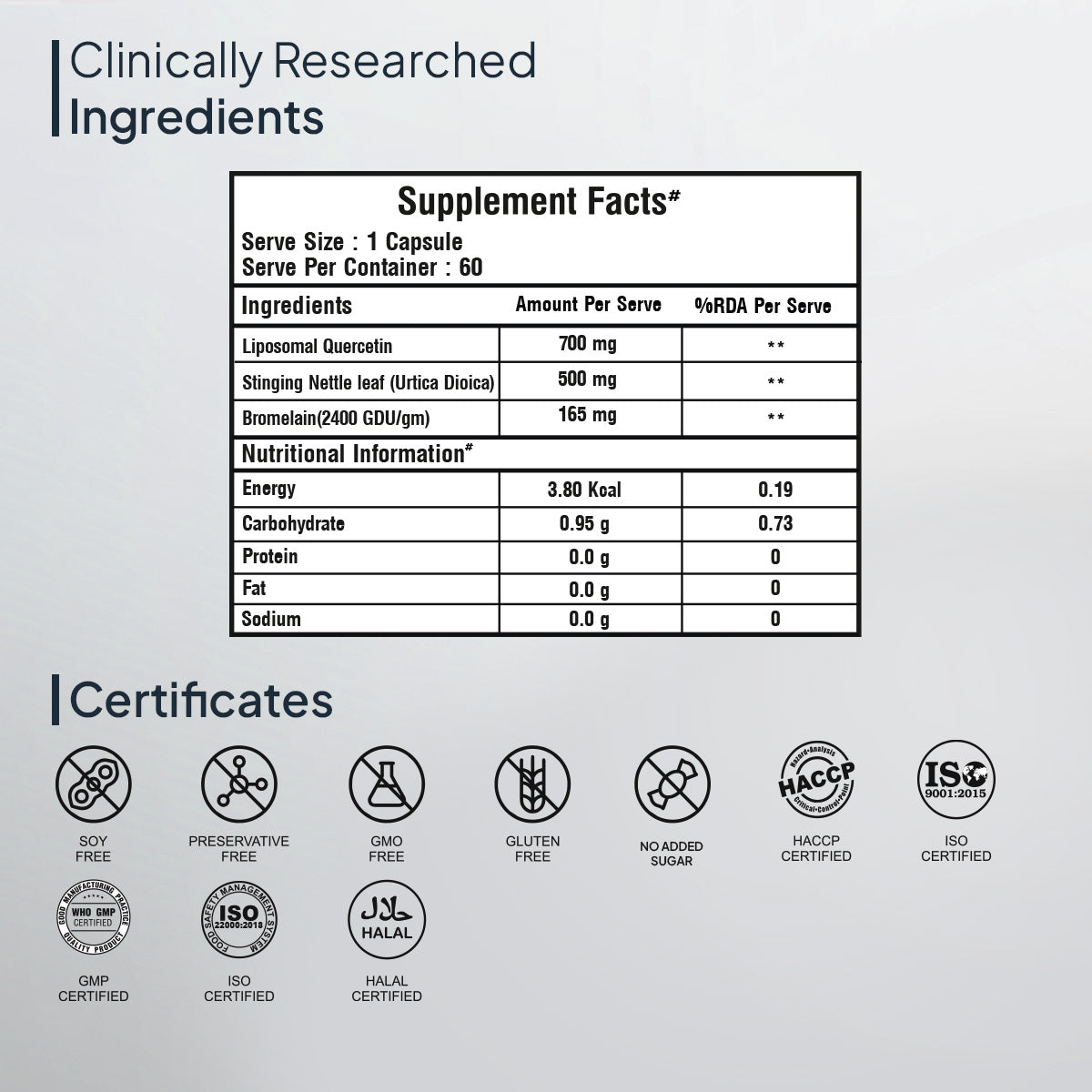 Allergies
Autoimmunity
Immune Shield
Immunity
Immune Shield
Fight seasonal allergies, itchy skin, and breathing difficulties with Immunity Shield—a special remedy designed to combat these issues head-on!
Packed with Liposomal Quercetin it offers high solubility and increased bioavailability, thus making it easily absorbed by the body.

Targets all kinds of allergies and provides much-needed relief from symptoms of sneezing, runny nose, scratchy eyes, hives, sore throat, and shortness of breath.

Description
Seasonal allergies are very common, affecting a large number of people each year when the weather changes. While some people may experience milder symptoms, those with respiratory conditions often struggle more and may even end up in the hospital. 

The majority of people who have difficulty managing their allergic symptoms such as itching, runny nose, frequent infections, etc. are frequently given products like flu shots, and anti-allergic and antihistamine medications, right? But does it actually minimize your allergic symptoms?
No! Not everyone finds them effective, and they often come with unwanted side effects.
But worry not, for this Miduty has your back!
Introducing Immune Shield, a highly effective product designed to safeguard you against all allergies.
One of the key components of Immunity Shield is its Liposomal Quercetin, which makes it 16 times stronger and more powerful than any other form of quercetin supplement. 
The advanced formula also contains Stinging nettle leaf and Bromelain, both of which are known for their antihistamine properties and ability to fight against allergies.
So, say goodbye to seasonal allergies, itching, and breathing problems with Miduty's Immune Shield!
How do I take them?
Dosage-

Take 2 capsules daily together with 1 multivitamin capsule, or as prescribed by a healthcare provider

Please Note-

Avoid taking it If you have low blood pressure, are pregnant, or are using blood thinners.

Quick info-

This supplement helps overcome all kinds of low immunity symptoms. Take Vitamin D and a zinc supplement along with an immune shield to boost your immunity.
What's it for?
- People having breathing problems/ asthma
- People having sinus
- People having seasonal allergies
- People having skin problems
- Autoimmune conditions
- Allergic reactions
Why is Miduty's Immune Shield Superior?
Unlike other supplements on the market, Miduty's Immune Shield stands out because it contains a Liposomal form of Quercetin which makes the product 16 times more powerful than other quercetin supplements. 


This particular form of Quercetin enhances the bioavailability of our product, facilitating better absorption in the body. Quercetin effectively relieves congestion by calming the airways' excitability.

[1]



Liposomal quercetin eliminates lipid-reactive oxygen species from the body (ROS).

[2]

 


Additionally, Miduty's Immune Shield contains other ingredients such as Stinging Nettle

[3]

and Bromelain which are known for their anti-inflammatory properties. The respiratory discomfort brought on by allergies can be effectively treated with bromelain.

[4]



As a result, it is a permanent treatment for fighting allergies.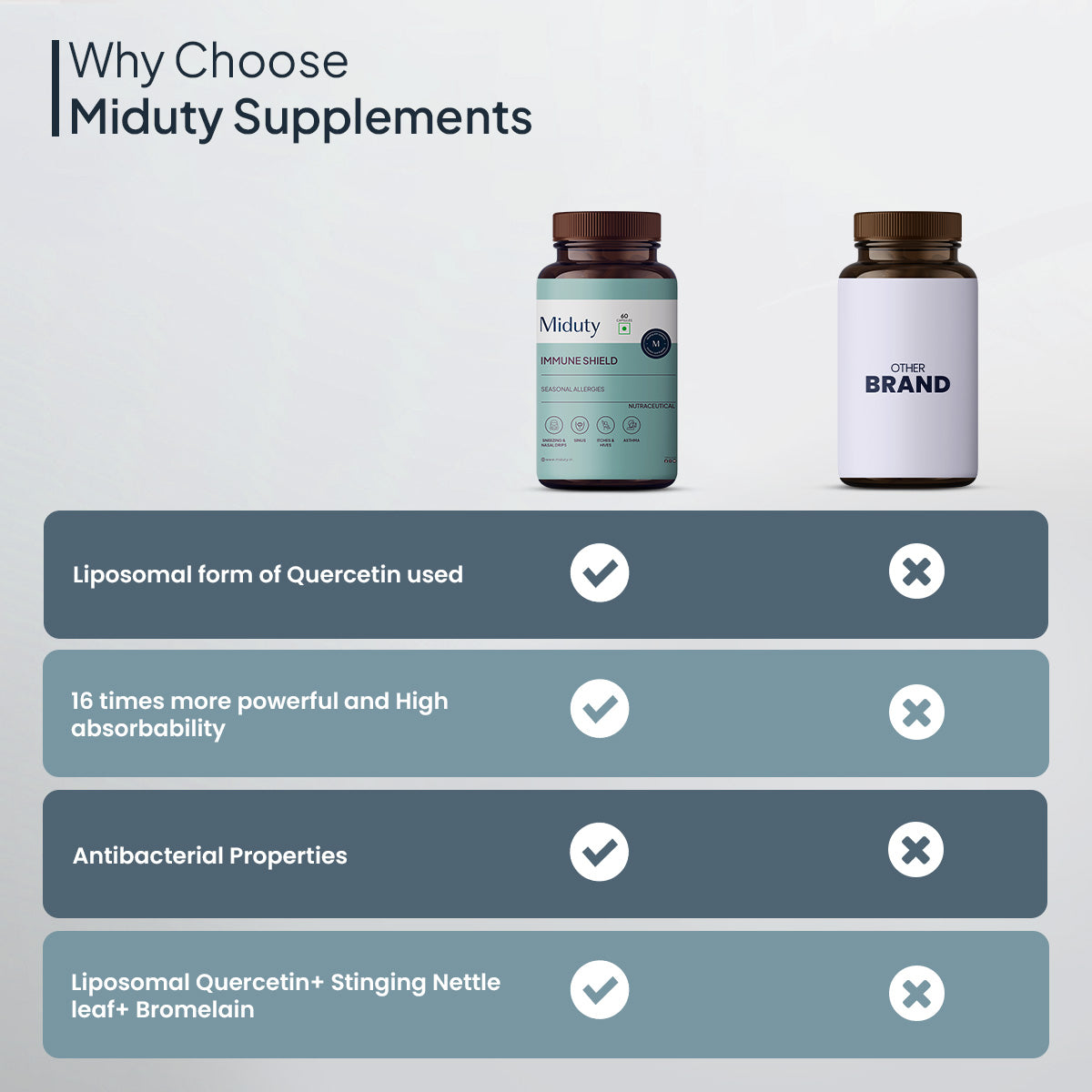 How We Helped Our Customers
Bhawana Got Relief From Seasonal Allergies And Skin Rashes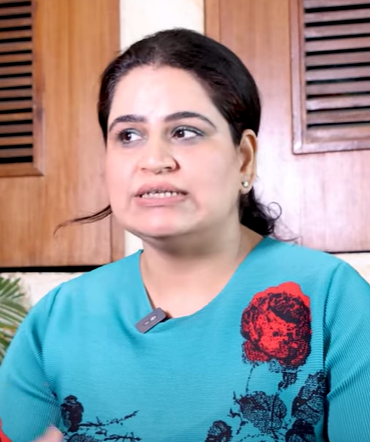 Nitya Cured Her Hives & Itching Allergies
What's Inside? (Ingredients)
FAQs
Do you often get colds, coughs, and sneezing?
Yes, then you need to take an Immune Shield for allergic symptoms for the same along with ADK.

Or Call us at +91-86990-86991 (national) / +91-76529-22771 (International) for an in-depth consultation.
Would this supplement help me to boost my Immunity?
Immune shields will only help you to reduce the allergic reactions in the body to hinder the release of histamine. To boost immune response you need to take vitamins and some minerals.
For how long do I need to take Palak Notes Immune Shield?
You need to take an Immune shield till your immune response gets strong.
If I don't have seasonal allergies but a weak immune system can I still have this product?
Yes, you can take it along with Vitamin ADK which will help you to increase your immunity.
Can pregnant women take it?
No, it is not recommended for pregnant women. 
Are Palak Notes and Miduty same brands?
Yes, the brand's Palak Notes and Miduty are the same.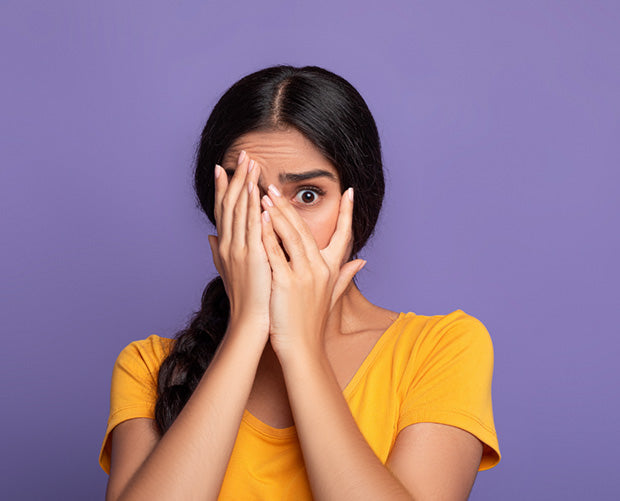 Unknown Facts
Fix the root cause

What's essential to recognize about allergies is that when your immune system develops an allergic response to something, it does so because it detects a problem with your body. In order to effectively treat allergy symptoms (such as irritated skin or eye irritation), you need to identify the underlying cause and strengthen your natural immunity.

Quercetin Effect on Allergic Symptoms

The symptoms of coughing, watery eyes, runny noses, hives, swollen lips or tongue, and indigestion can be lessened thanks to quercetin's ability to stabilize the production of histamines from some immune cells.

The combined effect of Quercetin and Bromelain

Combine bromelain with other anti-inflammatory substances like quercetin to increase the potency of its effects.
This could be referred to as a "quercetin complex" compound, a synergistic supplement that aims to provide additional antioxidant help.
PALAK NOTES IS NOW MIDUTY
New Era! Continued Dedication!
Pain that went untreated gave rise to the brand Palak Notes. Pre-COVID, we began to evolve, and over the past three years (and counting), we have dedicated our entire selves to learning about the pain and health issues that society suffers. We had a modest beginning, but today we have a large family. 
So, in order to adapt to these changes over time, we have decided to create a new brand identity that reflects our team and potential customers. We are now known as MIDUTY. Our vision for the current era is presented and projected through this new identity.