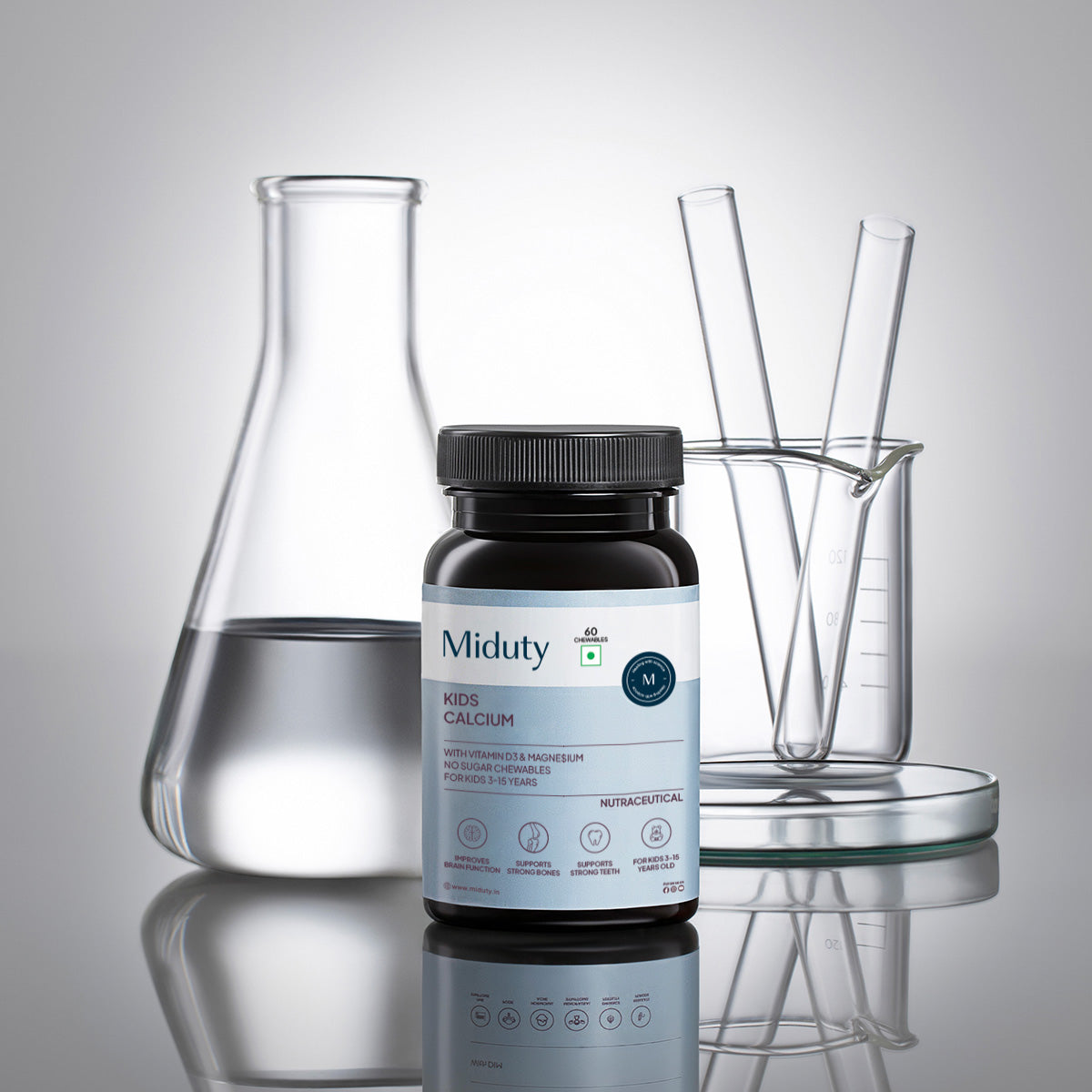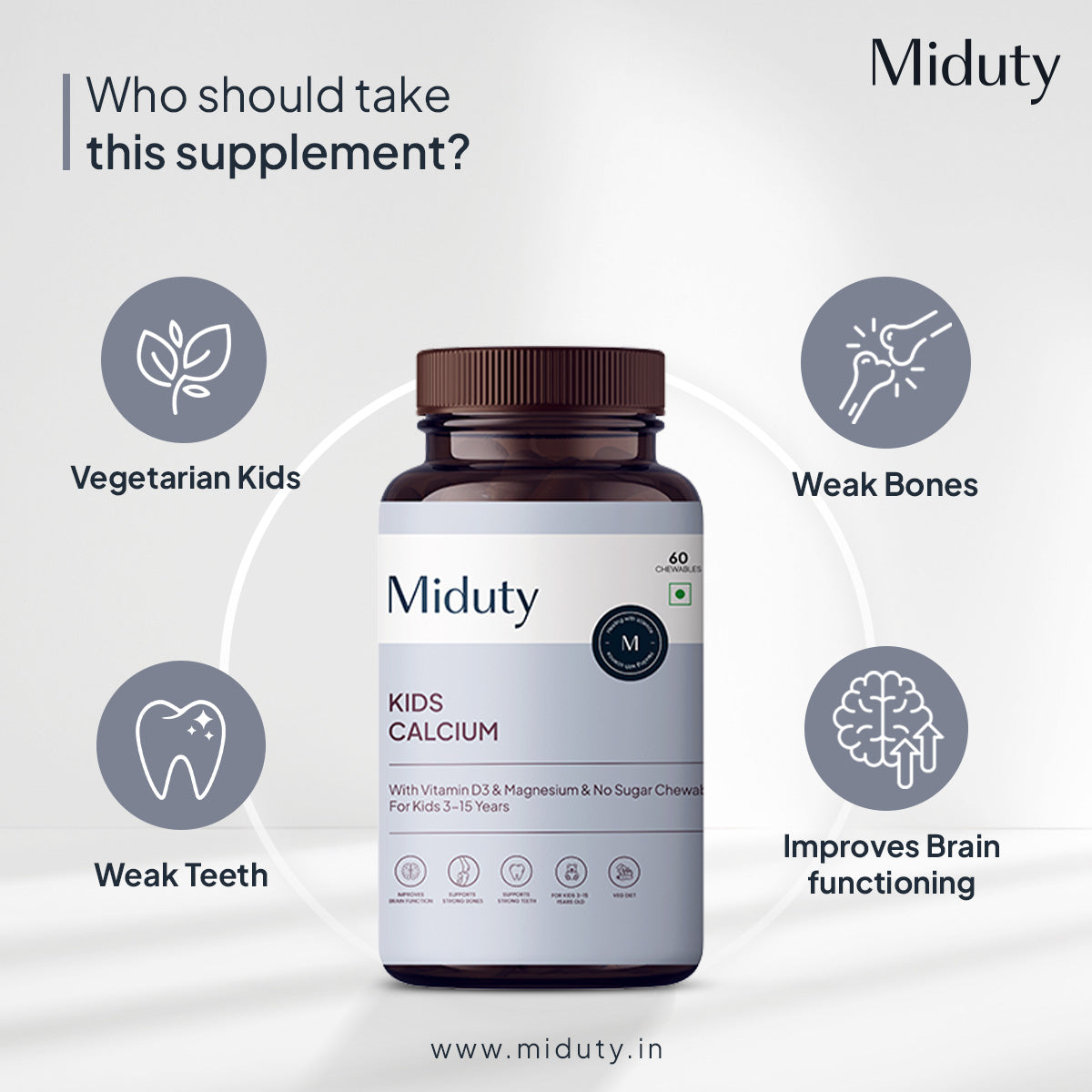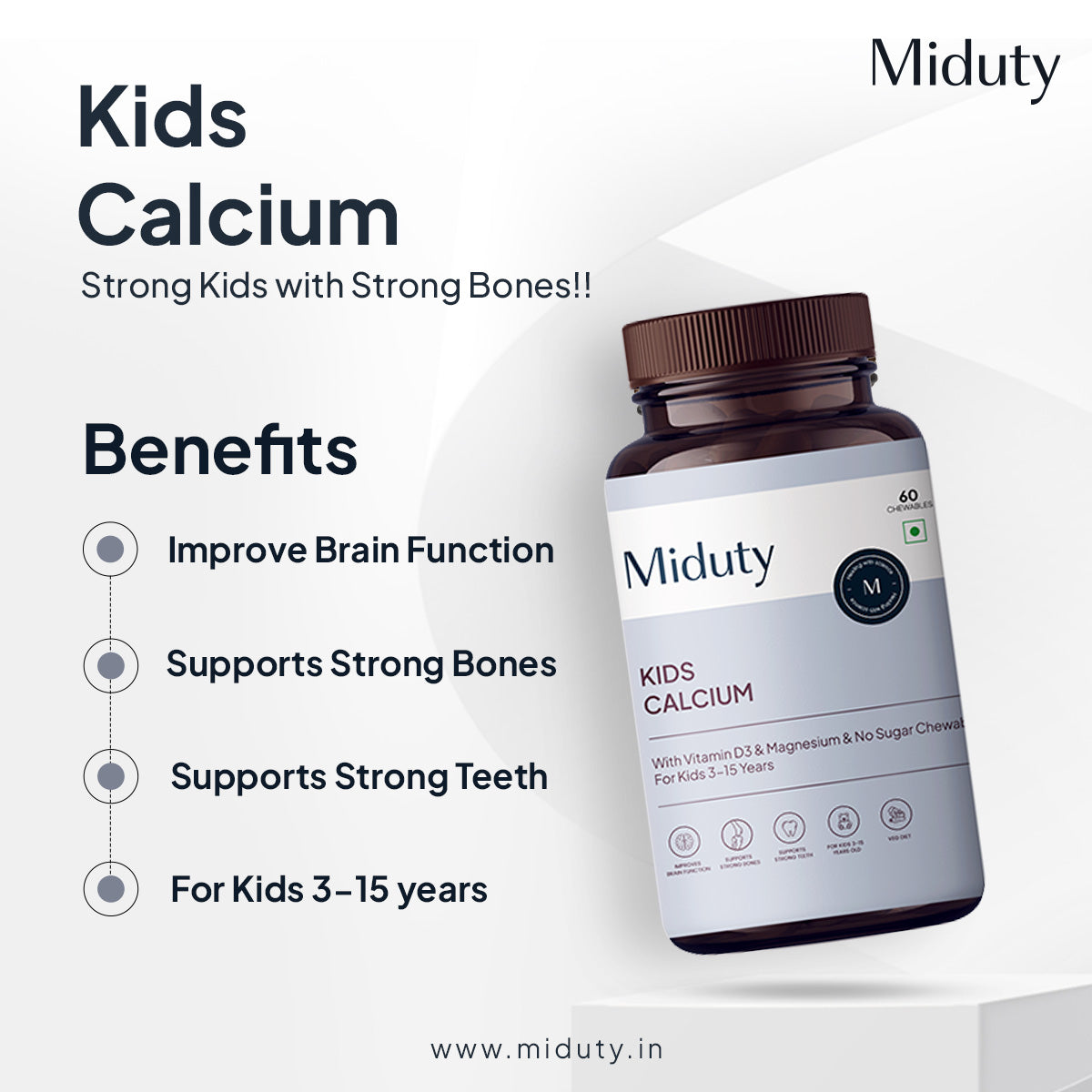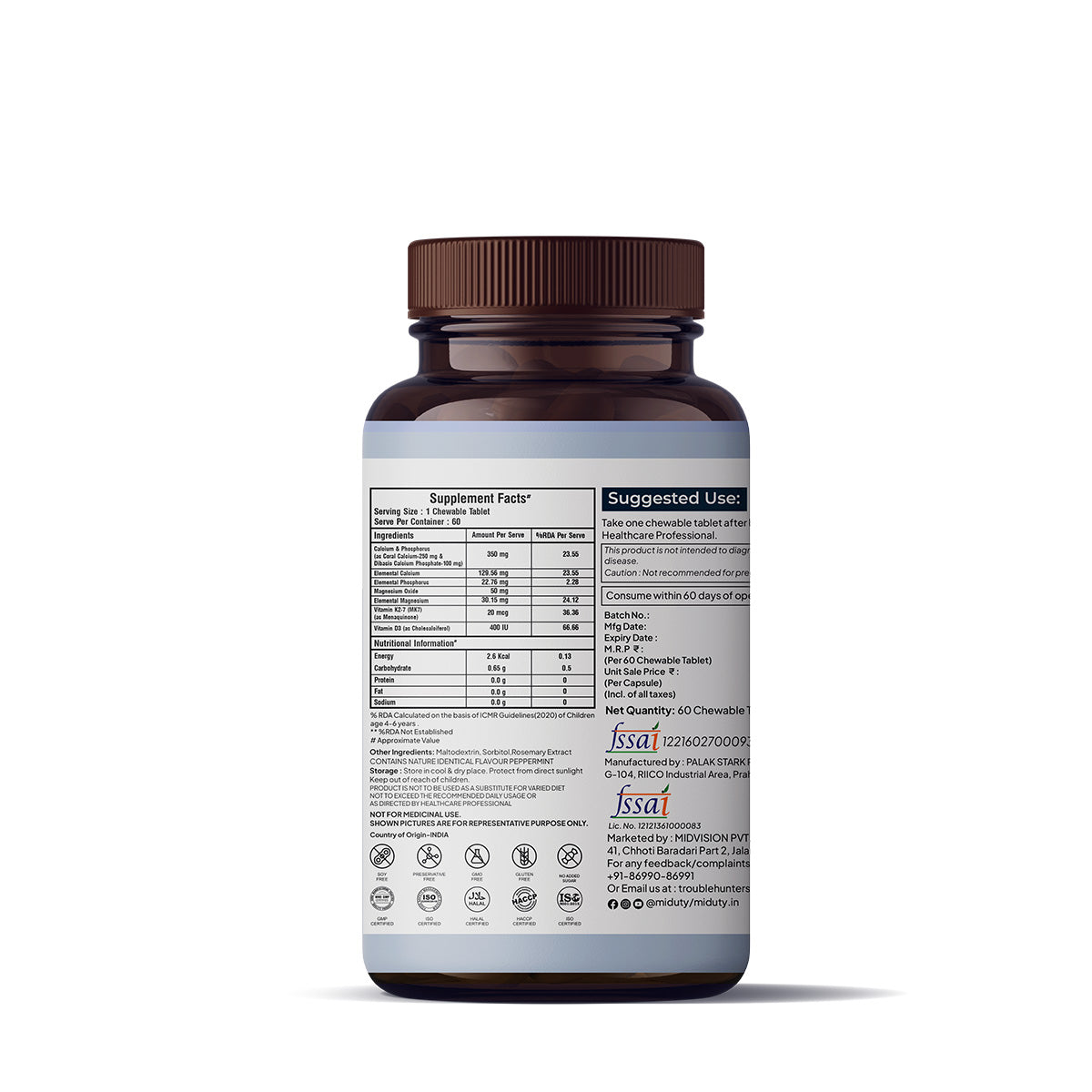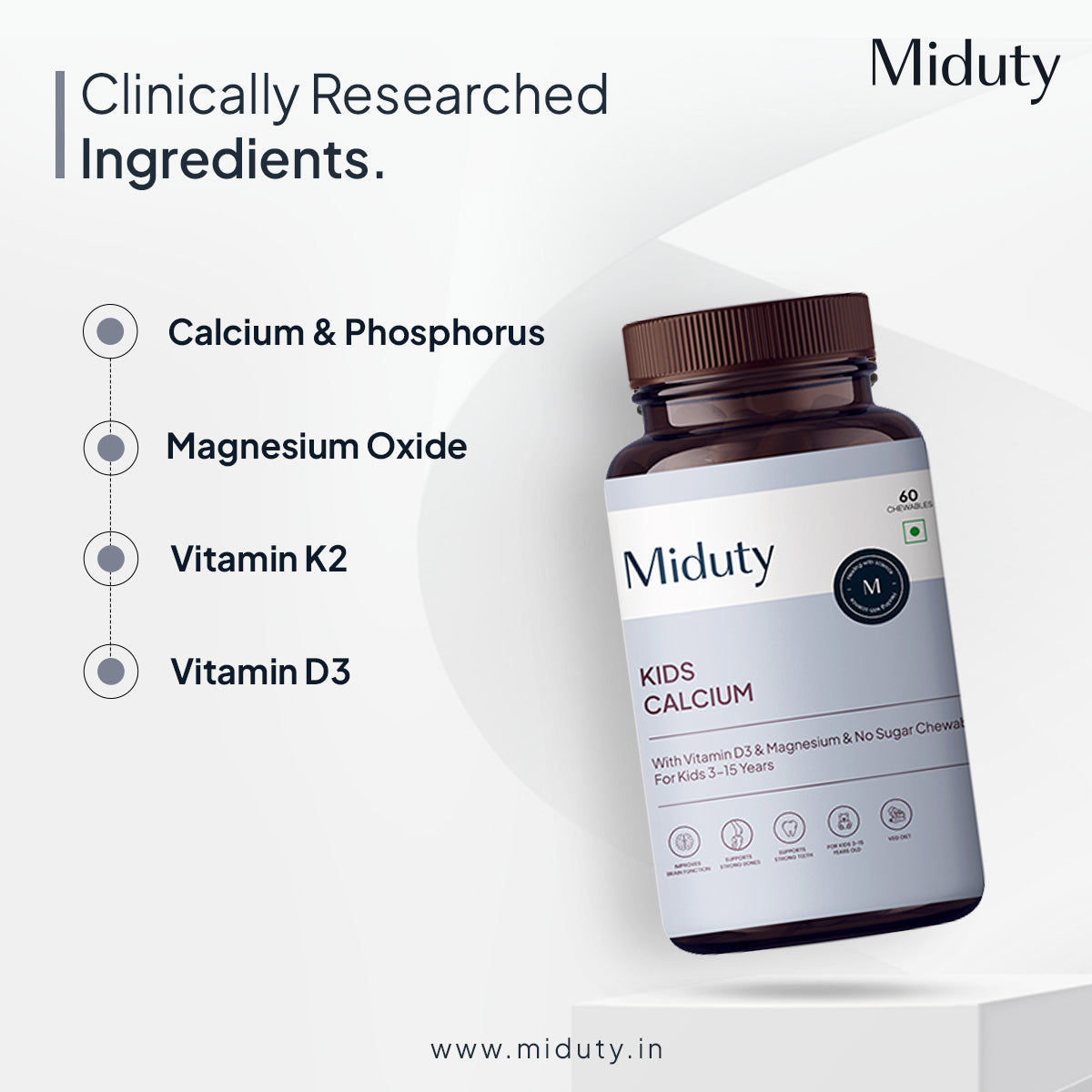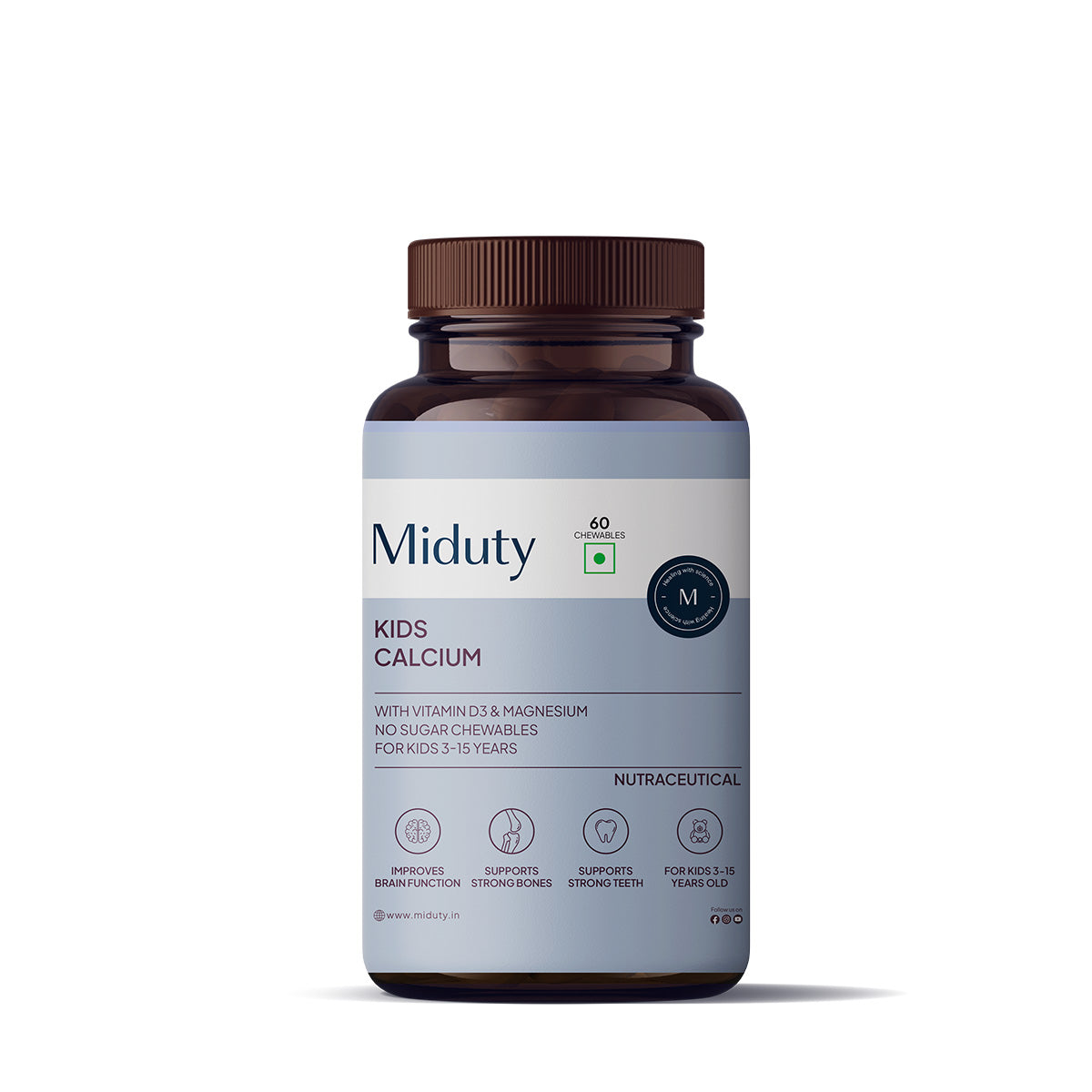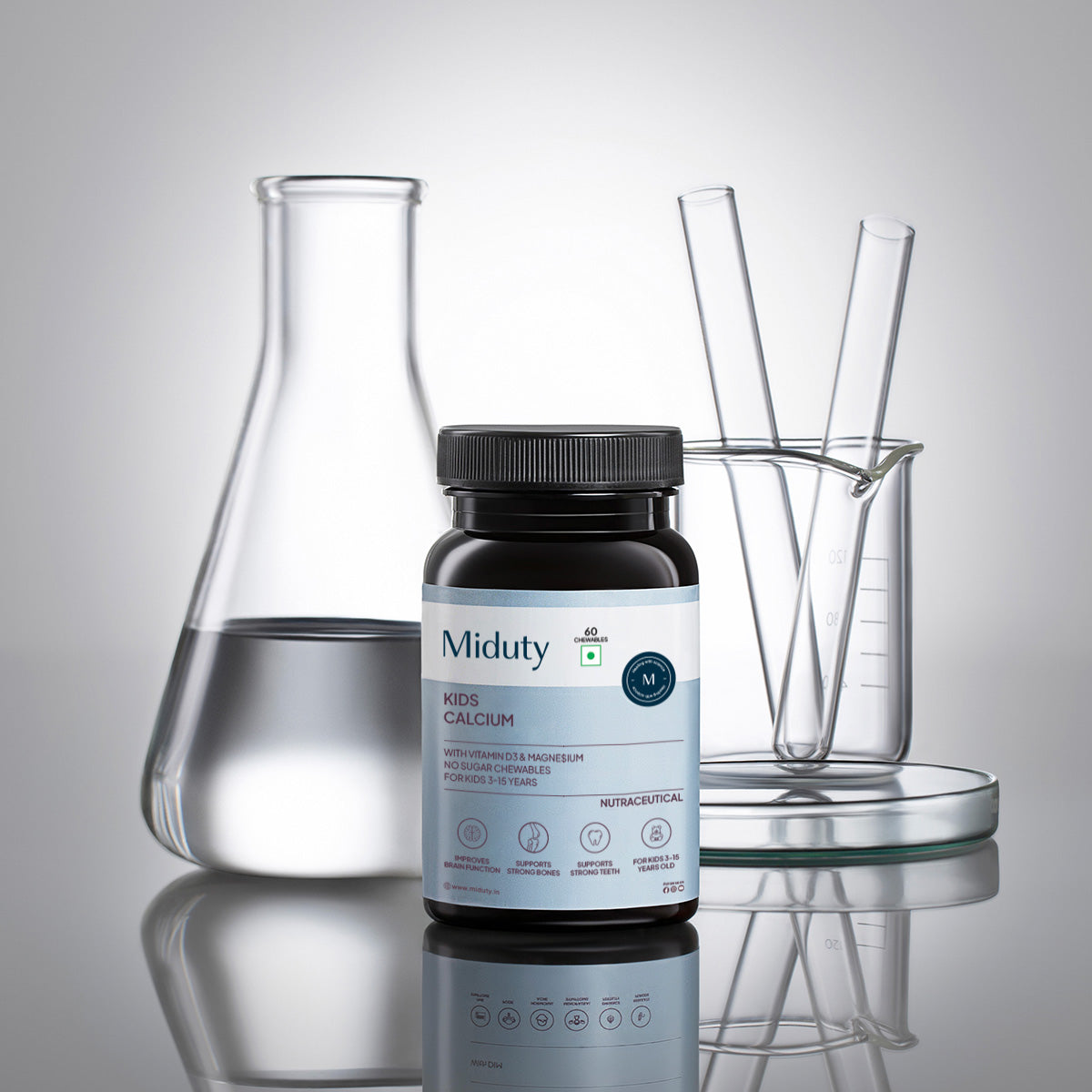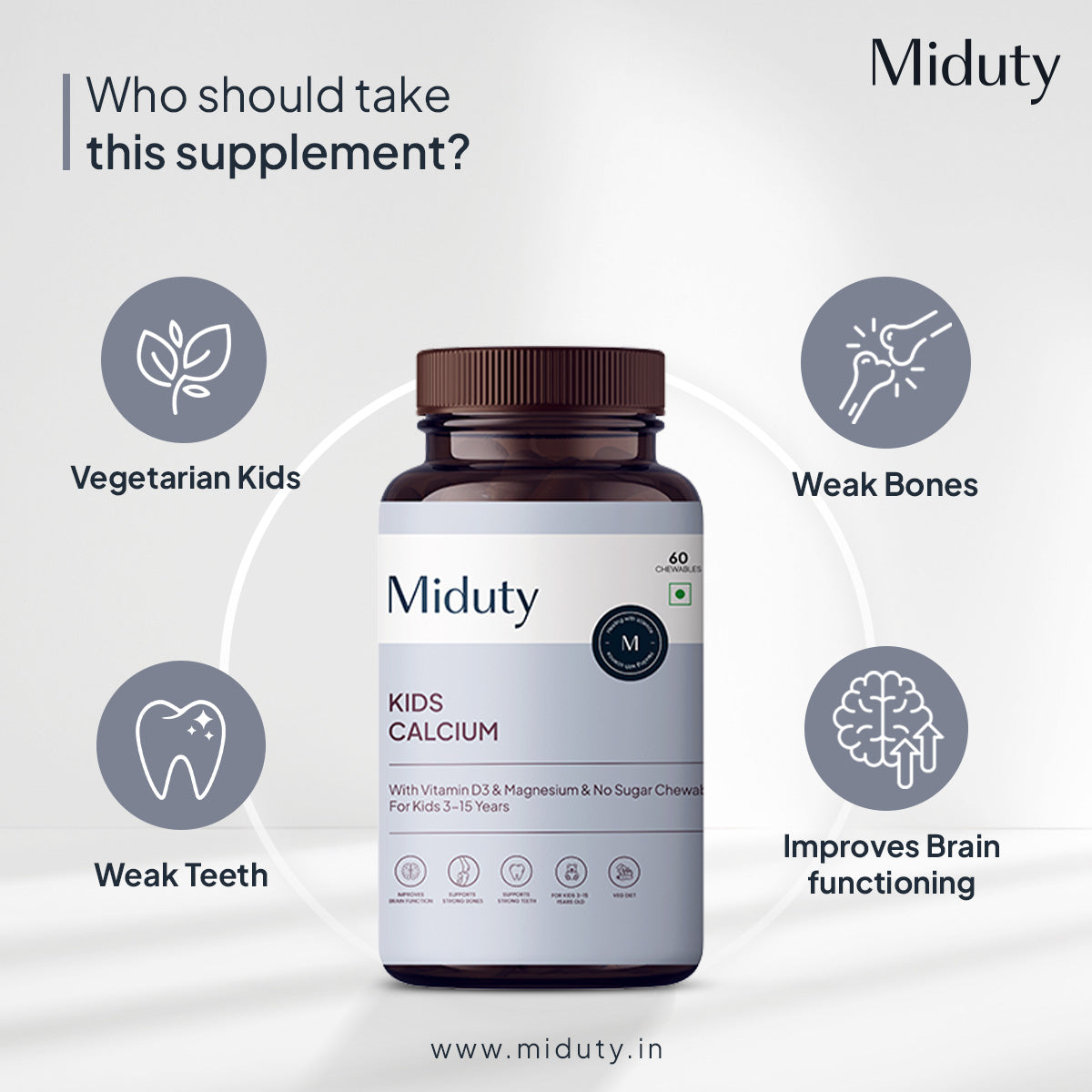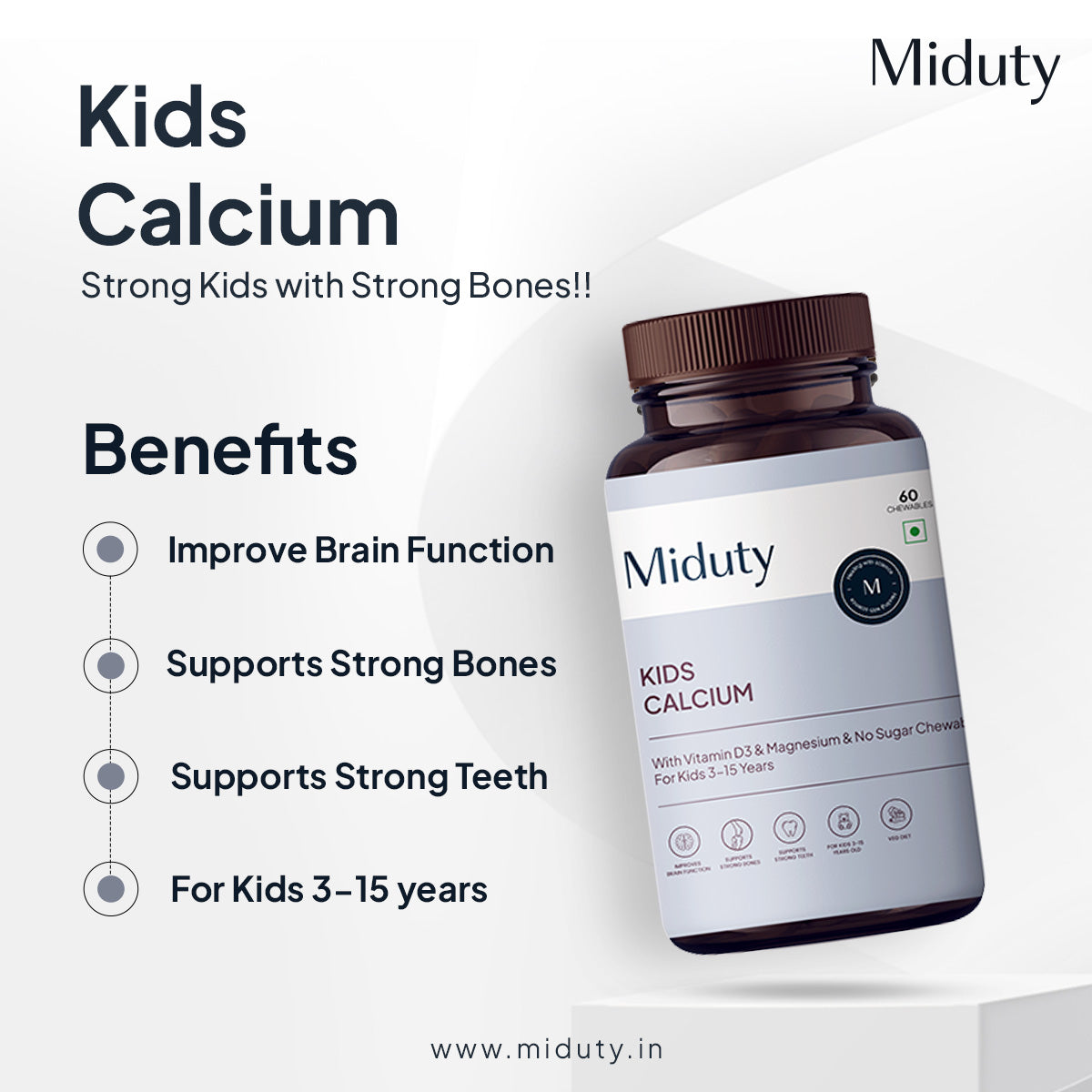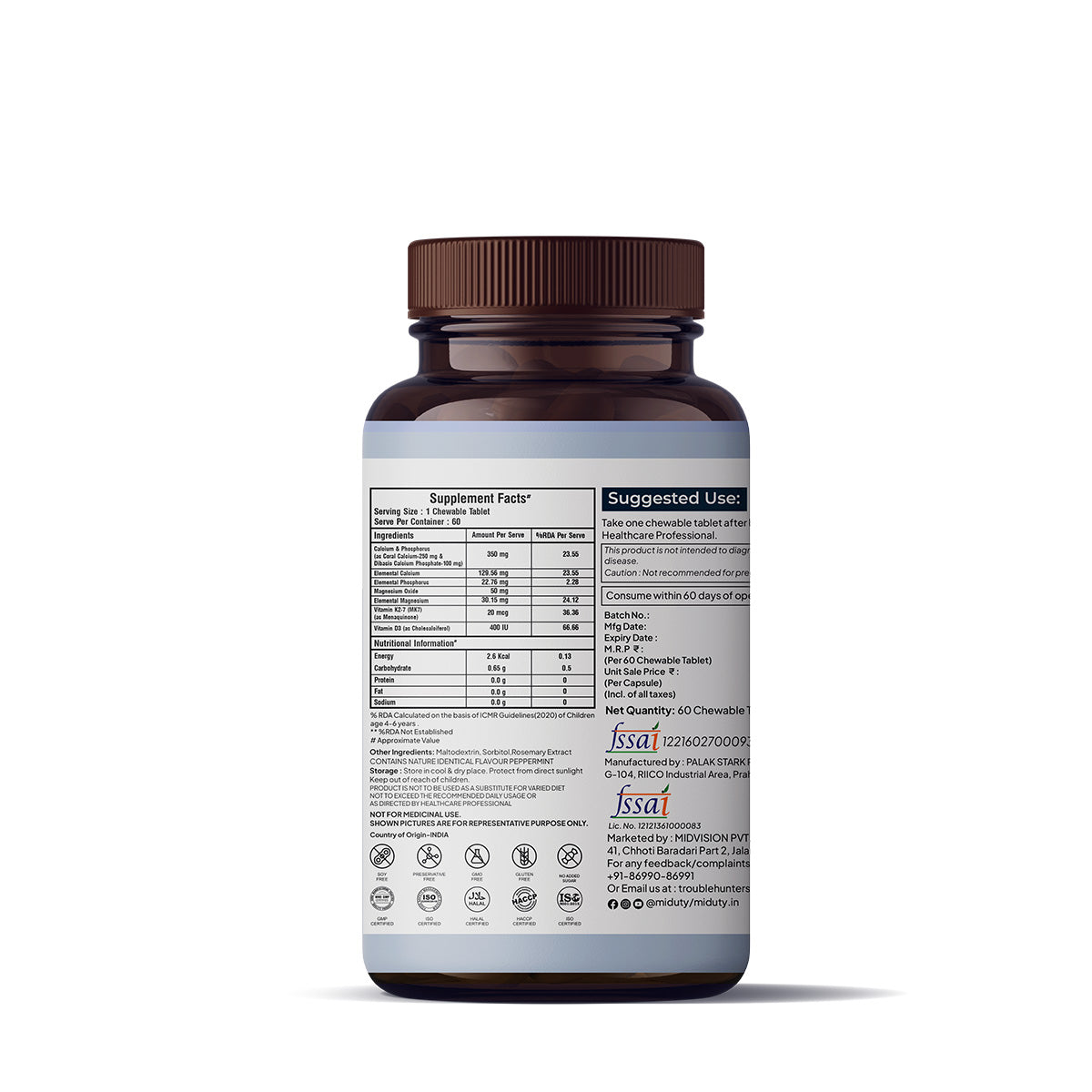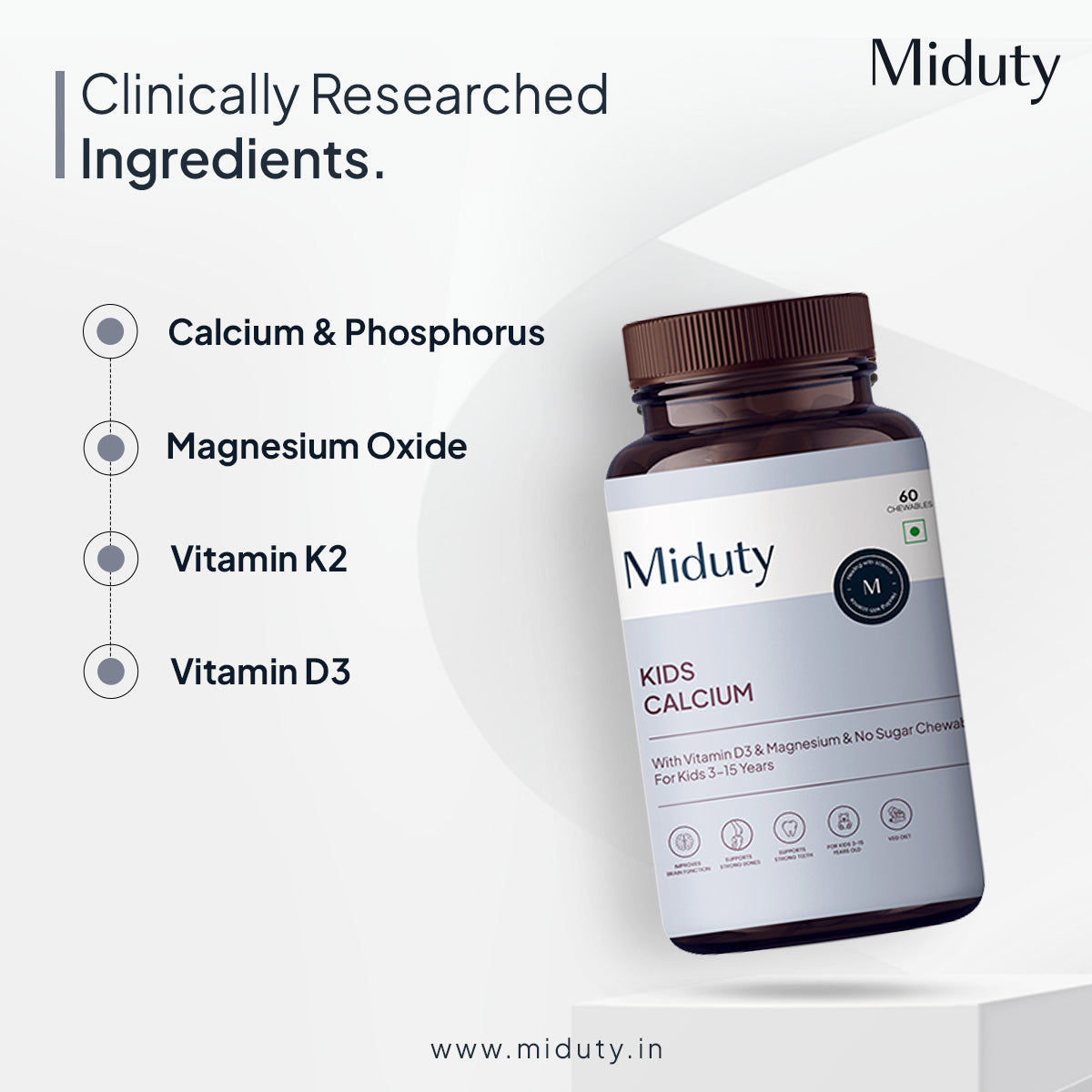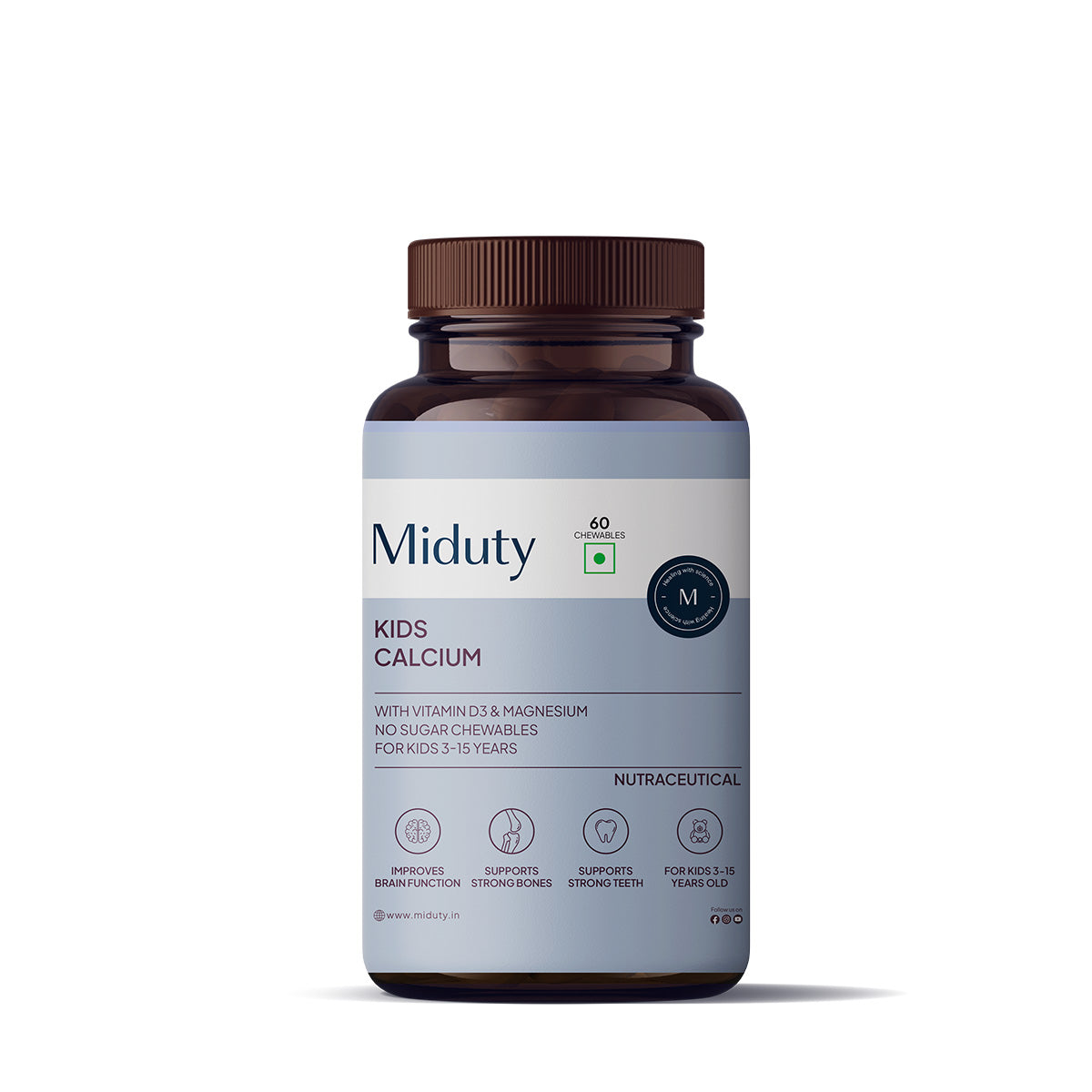 Bone Health
Immunity
Kids Calcium
Kids Health
Kids Calcium
Do children need to consume milk to obtain calcium? 
Gone are the days when to fulfill the calcium needs we used to provide our kids with Calcium Sandoz tablets. 
As per the new research, Calcium alone doesn't get absorbed in the body completely and forms oxalates, so it requires Vitamin D3, K2 for its transportation and absorption to the bones, teeth and for the complete bone matrix. 
Give them Miduty's Kids Calcium - Packed with a wholesome combination of Calcium, Vitamin D, Magnesium, and Vitamin K2. 
Description
Kids today have become real food critics, turning up their noses when it comes to eating good food. It's all about chips, chocolates, and fries, while milk, curd, and spinach get a big 'yucky' from them!

Especially when it comes to dairy products, they often run away. Some little ones are lactose intolerant, making it even harder to give them the essential calcium and vitamin D they need. This can lead to weaker bones and a whole bunch of problems.

Did you know that a glass of milk contains 125 mg of calcium? And kids aged 4-8 years need 1000 mg of calcium every day!

If you're concerned about your child's bone health and strength, then Miduty's Kids Calcium is here to the rescue!
Say hello to these delicious and nutritious calcium and vitamin D tablets that will take care of your munchkin's bones, making them stronger and healthier. Plus, they also contain magnesium and vitamin K2.
The cofactor for vitamin D is magnesium. According to a research study, a lack of magnesium impairs the parathyroid hormone (PTH) response, lowers vitamin D levels, and results in rickets that are vitamin D-resistant but dependent on magnesium. [1]
But wait, there's more! These tablets come in a refreshing mint flavor that'll get a big thumbs-up from your little ones. They'll absolutely love it!
So why wait? Gift your tiny tots the power of Miduty's Kids Calcium and watch them become strong and ready for the future.
How do I take them?
Dosage-

2-8 years of age 1 chewable after a meal.

Dosage-

8-18 years up to 2 chewable per day.

Quick Info-

Start giving COCO D3 drops along with Kids' calcium for stronger bone health of your kids.
What's it for?
- Kids Having Low Immunity
- Kids Doing Sports
- Lactose-Free Diet
- Low Calcium In The Diet
- Immunity Problems

Why is Miduty's Kids Calcium Superior ?
Miduty's Kids Calcium is carefully formulated with a unique blend of essential nutrients, including Calcium, Vitamin D3, Vitamin K2

[2]

, and magnesium. 


We have taken into consideration the potential risks of consuming calcium alone, which can lead to calcification in the body. 

[3]



Hence, we have mindfully addressed this concern in our formulation.


Our product comes in a refreshing mint flavor, designed to delight the taste buds of children. 


In addition to its great taste, it provides vital nutrients that contribute to the development of stronger bones, healthy muscles, and improved heart health.


The unique combination of these ingredients sets our product apart from others available in the market, making it a truly exceptional choice for your children's well-being


Increase in Bone Mass: In one study, calcium supplements for kids as young as 6 years old were found to be beneficial.

[4]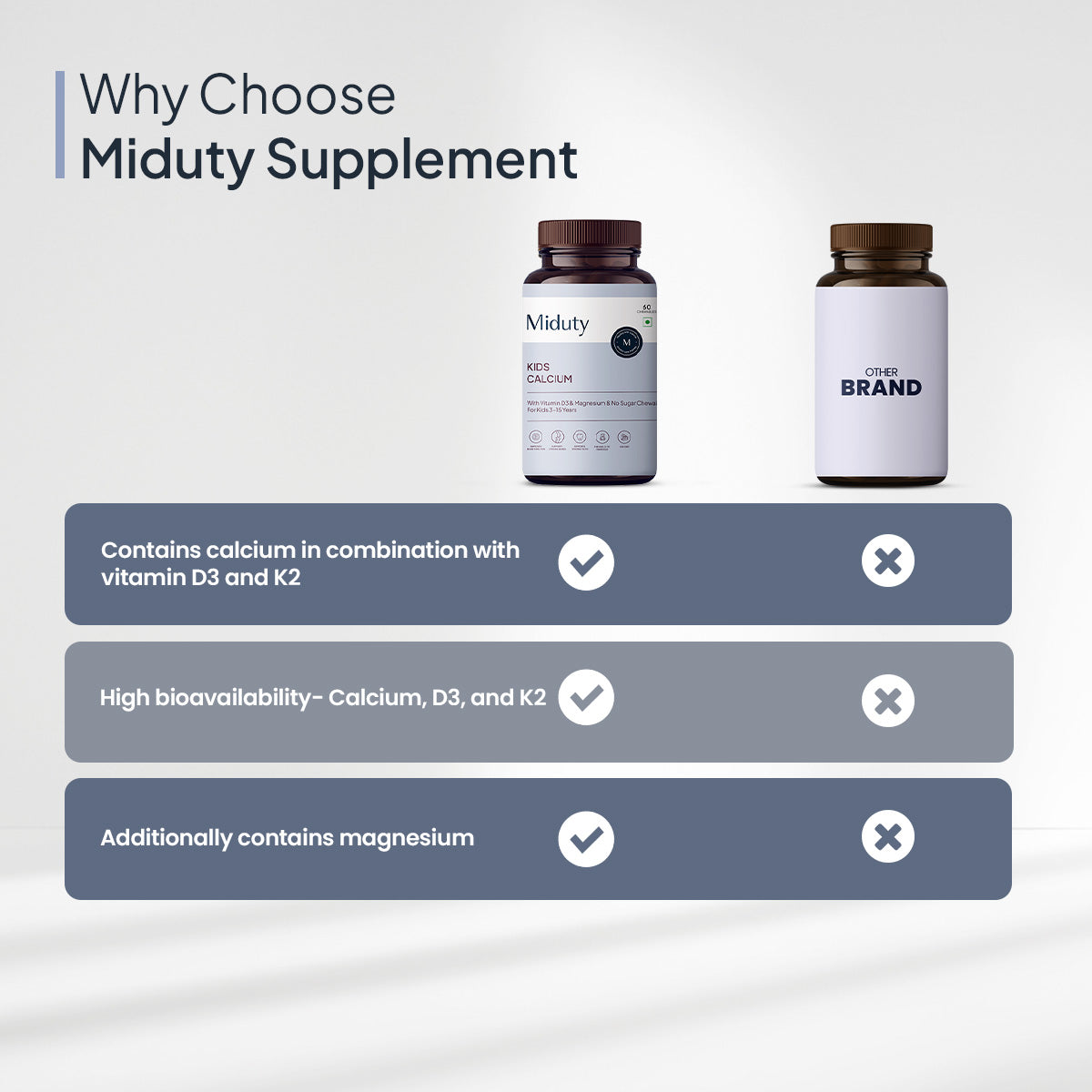 What's Inside? (Ingredients)
FAQs
Who should consume these chewable?
In order to build stronger bones, growing children require a combination of calcium, magnesium, D3, and K2. It can be challenging to consume enough food to meet daily demands. This supplement to our children's diet is excellent.
What age group is this product appropriate for?
These are Chewable items. You can start providing these tablets to your child when they are 2 or older if they can chew them.
Will this supplement help my baby, who is not eating well, to compensate for the nutritional deficiencies?
My baby often grinds his teeth at night. Will this supplement aid in resolving this problem?
Vitamin D insufficiency and poor dietary calcium intake are linked to teeth grinding. This supplement will undoubtedly aid in resolving this problem.
Are Palak Notes and Miduty same brands?
Yes, the brand's Palak Notes and Miduty are the same.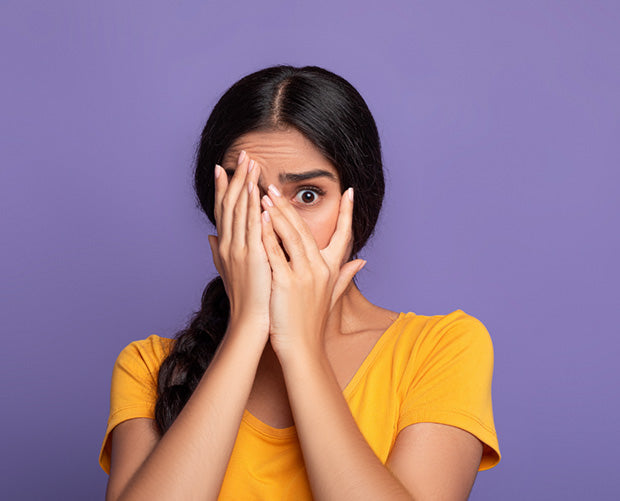 Unknown Facts
Extreme Fatigue

Low calcium levels can result in extreme tiredness, which includes a lack of energy and an overall feeling of sluggishness. Insomnia may result from it as well.

Low calcium effect on Teeth Health

Demineralized spots, which are dull white areas of the teeth that are weaker than normal enamel, can form on teeth that do not receive enough calcium. Those blemishes are delicate and prone to developing into complete cavities.

Support Brain Health

The brain can be impacted by low calcium levels over time, leading to neurological or psychological symptoms such as confusion, memory loss, fever, sadness, and nightmares. If you raise the calcium level, these symptoms go away.
Scientific/Clinical Studies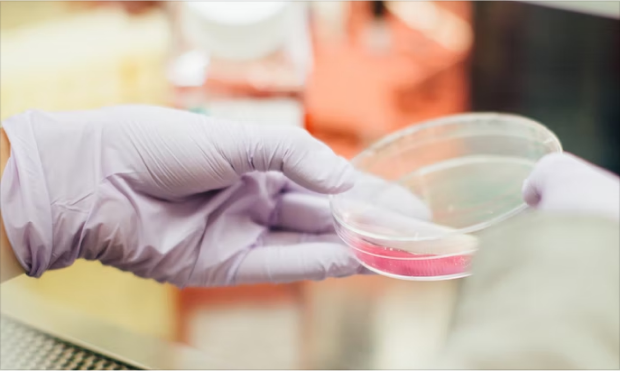 PALAK NOTES IS NOW MIDUTY
New Era! Continued Dedication!
Pain that went untreated gave rise to the brand Palak Notes. Pre-COVID, we began to evolve, and over the past three years (and counting), we have dedicated our entire self to learning about the pain and health issues that society suffers. We had a modest beginning, but today we have a large family. 
So, in order to adapt to these changes over time, we have decided to create a new brand identity that reflects our team and potential customers. We are now known as MIDUTY. Our vision for the current era is presented and projected through this new identity.