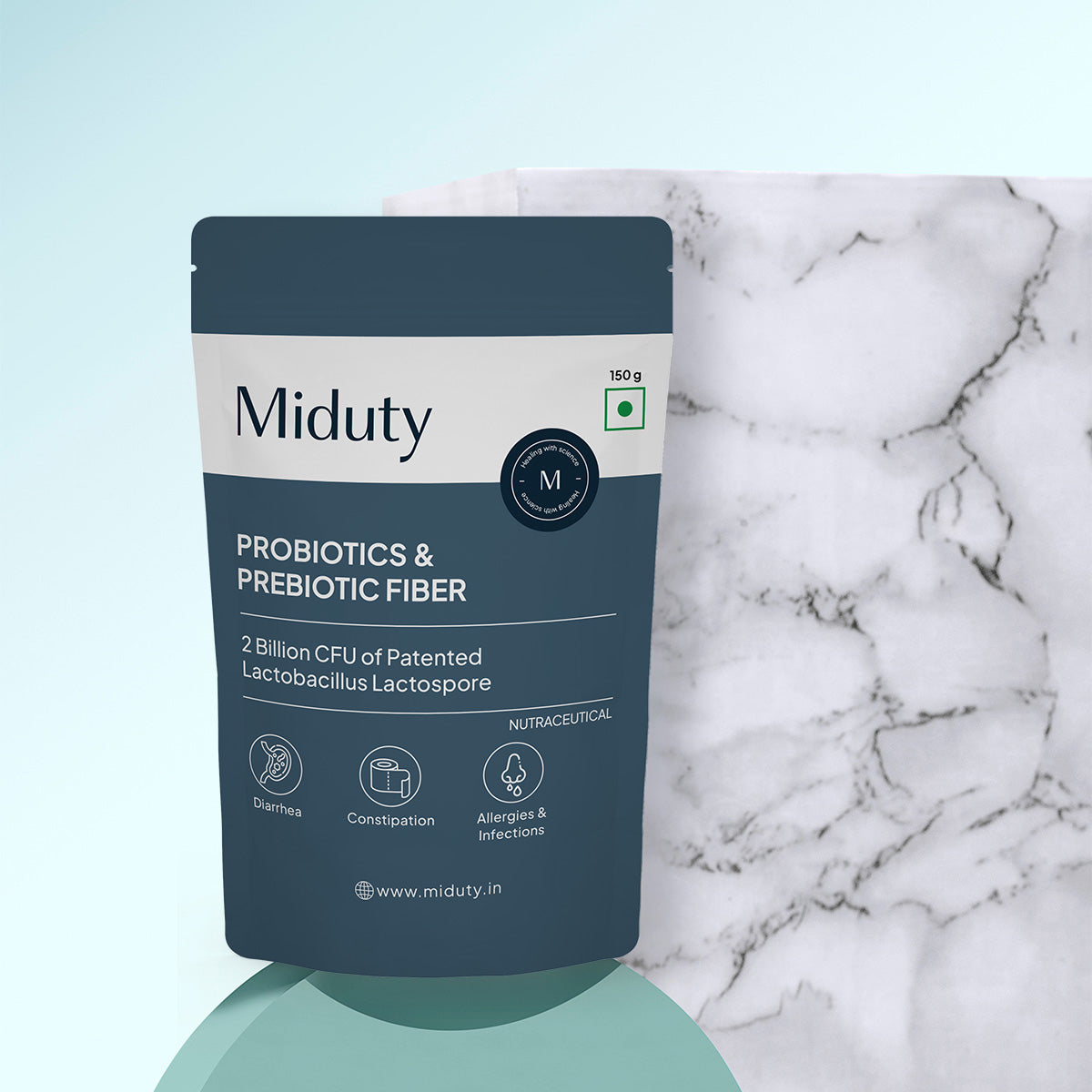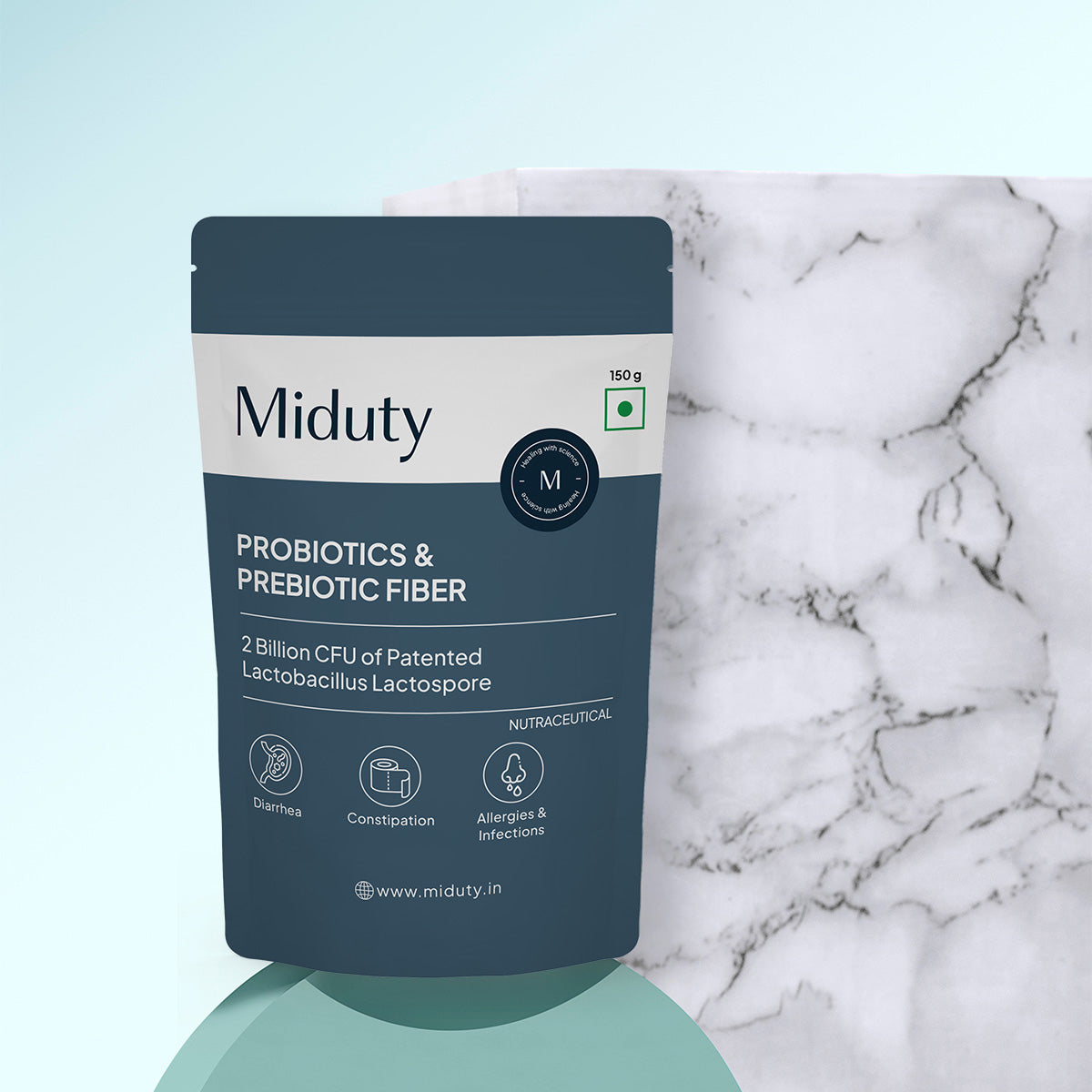 cart
Gut Health
Immunity
Probiotics & Prebiotic Fiber
Skin allergies
Probiotics And Prebiotic Fiber
In the modern healthcare community, how often do we hear about the terms prebiotics and probiotics? 
Taking probiotics is essential for ensuring the proper functioning of gut health and well-being. Prebiotics are the food for good bacteria and their survival.
Fiber is vital for our bodies, but it is also very hard to digest and can bloat you. However, taking care of it, Miduty's Probiotic and Prebiotic fiber is in Hydrolyzed form, which is predigested, and it's capable of feeding your gut bacteria so they can grow. 
It is highly efficient to increase our Unique Bacterial colony, which is lacking in other probiotic or prebiotic products.
Description
The good bacteria in our gut support a number of digestion processes, such as protecting us from infections and toxins.

It is highly recommended for people dealing with low immunity, skin problems, constipation issues, diarrhea, IBS, mood problems, and women facing UTI problems to get rid of them by constantly consuming Probiotics and prebiotic fiber.

Our product, being formulated with Patented Lactobacillus coagulans, is powerful enough to surpass stomach acid and start colonizing the gut bacteria, thus making it exceptionally good at treating all digestion-related problems.

Miduty's Probiotics and Prebiotics Fibre show their effectiveness in treating IBS and possible symptoms associated with it, like Abdominal pain, and thus improving the quality of life because of their anti-inflammatory properties.

This probiotic, which has a hypolipidemic effect, is potent for managing the lipid profile. Patented Lacto Bacillus Coagulant is beneficial in treating IBS and symptoms like abdominal pain that are related to it while also enhancing the quality of life. [1]

Additionally, with the consumption of this fiber, you can prevent excessive weight gain and also modulate adipose tissue dysfunction, specifically in diabetic patients, along with relieving constipation, because of the presence of the Hydrolyzed Acacia Fiber.

Lactorspore Supplementation in Miduty's Probiotics and Prebiotics powder may help alleviate depression symptoms by producing certain neurotransmitters, hormones, immune peptides, and neuropeptides. [2]

According to research, consuming Hydrolyzed Acacia Fiber can relieve constipation, modify adipose tissue malfunction, and reduce weight gain, especially in diabetic individuals. [3] FOS present in Probiotics & Prebiotic Fiber lowers constipation symptoms and enhances the friendly gut flora load. [4]

For solving the issue of eczema and other skin allergies, this is a good option to go by.

So what's stopping you from enhancing your gut metabolism, boosting immunity, and preventing inflammation all naturally?
How do I take them?
Dosage-

5 grams in yogurt, juice, smoothie, protein shake, or just plain water, once a day.

Please note-

Do not consume it if you have lactose intolerance.

Quick info-

You can start giving it to your kids at the age of 3 for better gut health and immunity.
What's it for?
- For constipation
- For Diarrhea
- Enhanced immunity
- Allergies
- For all gut-related issues
- UTI problems

Why is Miduty's Probiotics & Prebiotic Fiber Superior?
Our Probiotics & Prebiotic Fiber is a patented product that contains 2 billion CFU of patented LactoBacillus lactospore.


This strain has been specifically developed to overcome stomach acid and begin colonizing your gut bacteria, something the capsule form cannot achieve. It is incredibly effective in treating any digestive-related issues.


This supplement tastes good with virtually everything and won't necessarily alter the flavor of your food. You can mix this powder with water or add it to your favorite smoothies, protein drinks, yogurt, or even "dals" (pulses).


Being concocted with the combination of various powerful ingredients and in a hydrolyzed form, which is already predigested, makes it better and fit for consumption as compared to the other probiotics and probiotics available products.
How We Helped Our Customers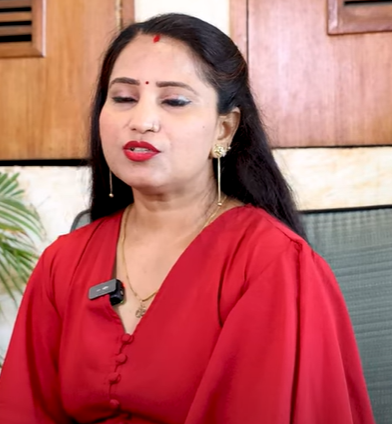 Sumanlata Treated Her Indigestion & Vomiting Issues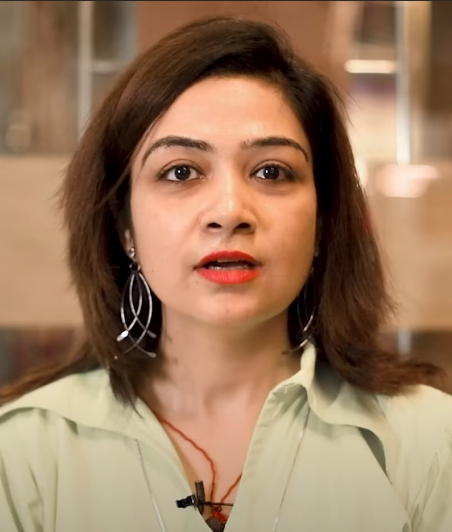 Swati's Gut Health Success Story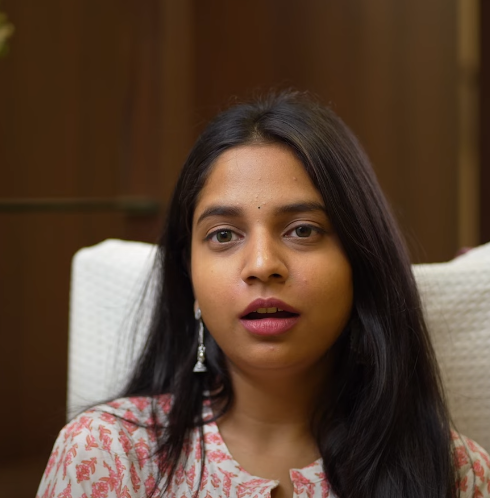 Ritika Got Relief From Constipation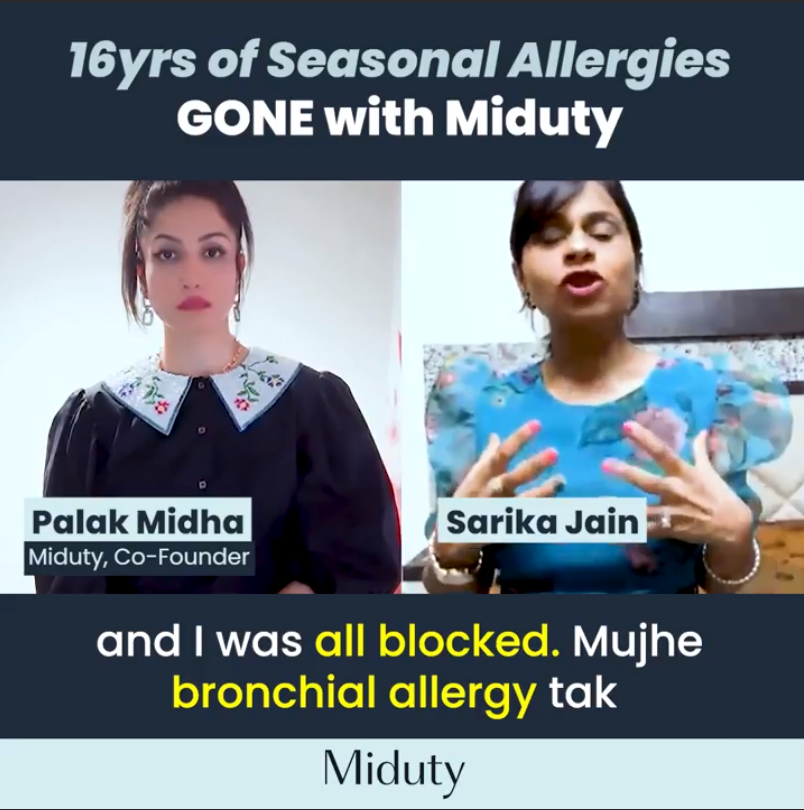 Sarika got relief from 16 years of Seasonal Allergies.
What's Inside? (Ingredients)
FAQs
I can get fiber from vegetables, so do I really need this product?
Eating a bowl of raw vegetables every day would cause farting problems. Additionally, a long-term diet of raw vegetables might cause histamine sensitivity. Therefore, it is preferable to use a substance that has previously been hydrolyzed (digested).
Over the past few years, I've taken antibiotics that have caused my stomach problems to get worse. What should I do?
Your gut's microbial ecosystem has been disrupted by antibiotics, so you should take this probiotic and prebiotic fiber to restore it.
How should this powder be used?
You can mix this powder with water or add it to your favorite smoothies, protein drinks, yogurt, or even "dals" (pulses).
What are this product's advantages and uses of prebiotic powder?
Constipation, IBS, diarrhea, and other digestive issues can all be resolved with the aid of this supplement. Prebiotics promote the growth of your gut flora by acting as fertilizer.
What is the recommended dose?
5 g, once a day, in water, yogurt, juice, smoothie, or protein shake.
Can I still use this product if I have lactose intolerance?
No, this is not advised. In that case, contact us at +91-86990-86991 (Domestic) and +91-76529-22771 (International) for proper consultation.
Are Palak Notes and Miduty same brands?
Yes, the brands' Palak Notes and Miduty are the same.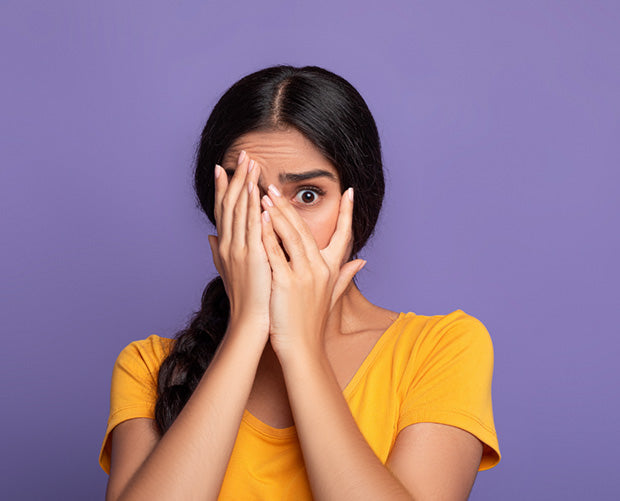 Unknown Facts
Improved Gut Health and Digestion

Prebiotics promote the increase of the good bacteria that populate our gut microbiota. Prebiotic substances balance harmful bacteria and toxins existing in the digestive tract by acting as food for probiotics.

Improved Immune Response

By enhancing nutrition absorption and bringing down the pH in the stomach to prevent the formation of possible infections and harmful bacteria, prebiotics and probiotics also aid in boosting immunity.

Protect against Food Allergies

Probiotics' capacity to decrease chronic gut inflammation and control immune responses in both adults and children is most likely the reason they can help with the symptoms of food allergies in particular.
PALAK NOTES IS NOW MIDUTY
New Era! Continued Dedication!
Pain that went untreated gave rise to the brand Palak Notes. Pre-COVID, we began to evolve, and over the past three years (and counting), we have dedicated our entire self to learning about the pain and health issues that society suffers. We had a modest beginning, but today we have a large family. 
So, in order to adapt to these changes over time, we have decided to create a new brand identity that reflects our team and potential customers. We are now known as MIDUTY. Our vision for the current era is presented and projected through this new identity.