How We Helped Our Customers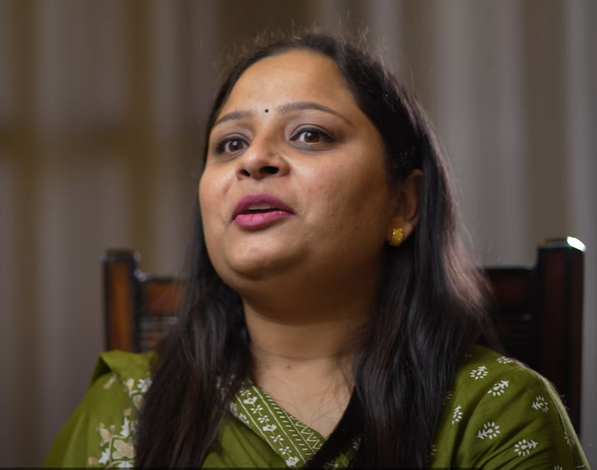 Neha Fixed Her Estrogen Dominance
What is Estrogen Dominance?
Do you have mood swings during periods? The extra hair growth or acne on your face makes you feel stressed and embarrassed, right? 
Have you ever analyzed the exact reason for this?
Nobody can truly understand the suffering that a woman experiences during her menstrual cycle, during pregnancy, and after giving birth. After giving birth, her body undergoes a full change. The reason for this is that the body experiences hormonal alterations.
Every single woman needs to work on her body for her hormones to be corrected. Because the types of things we are using, like make-up, cleaning products, birth control pills, etc., lead to hormonal imbalances due to the variety of ingredients present in them. Estrogen dominance is the root cause behind all this, which 90% of women do not even know they have.
When the body produces too much estrogen, when estrogen metabolism and excretion fluctuate, or when the levels of estrogen and progesterone are out of balance, estrogen dominance results. 
A compound called DIM (DiIndolylMethane)- an active ingredient in cruciferous vegetables, works to balance our hormones, which are present in our Estrogen Balance.
The liver helps metabolize hormones and eliminate unwanted hormones from the body. However, you should focus on your liver first if you want your hormones to function correctly.
Remember: You may be approaching perimenopause and menopause, but estrogen dominance is still possible.
Let's look at what hormones estrogen and progesterone are!
Let me first describe the function of these hormones before we continue. Progesterone and estrogen function in harmony. We cannot function without them, and we can only function properly with both of these partners in a fine balance.
Estrogen stimulates the uterus to expand and replace the lining lost during the previous menstrual cycle, while progesterone aids in the regulation of menstruation, helps the body get ready for pregnancy, and nourishes the uterine environment to enable the implantation of the fertilized egg and placenta growth.
The uterus and breasts are stimulated by estrogen and progesterone in order to get ready for possible fertilization. 
Estrogen affects how the body utilizes calcium, a necessary element for bone formation, and it aids in preserving normal blood cholesterol levels.
Normal reproductive development and fertility depend on the hormones estrogen and progesterone.
This Bundle
1
2
3
4
5
6
Treats premenstrual symptoms
Estrogen Dominance Bundle contains
Know More About Estrogen Dominance
What's the reason?
Poor diet and a sedentary lifestyle
A poor diet including more carbs and unhealthy fats can have harmful effects on the body and cause hormonal imbalances which may lead to estrogen dominance.
Excess use of cosmetics and cleaning products
Xenoestrogens, parabens and chemicals used in making of cosmetics and cleaning products have a hormone-disrupting effect.
High-Stress levels, and lack of enough sleep
Stress will elevate cortisol levels, and not taking proper sleep will also lead to creating hormonal imbalance and many more problems.
Usage of Contraceptive pills
Contraceptive pills or hormonal pills, directly put a bad impact on the hormones like estrogen and progesterone, leading to a imbalance of the same in the body.
What to avoid
Avoid the use of birth control pills
Birth control pills and other artificial hormonal pills as these pills can worsen your condition in the long run can mess with your hormones and can result in symptoms like tiredness, altered appetite, mood swings, breast tenderness, poor liver function, disturbed sleep patterns, sadness, low libido, and even depression.
Avoid dairy
As animals are being injected with a lot of hormones, which can lead to hormonal imbalance in the body as high quantities of estrogen found in dairy products, particularly those high in fat, can interfere with your body's production of the hormone, causing endometriosis and hormone-related malignancies of the breast, womb, or ovaries.
Avoid exposure to harmful chemicals
As these are proven to cause hormonal imbalances (including infertility).
Eliminate Xenoestrogens
Compounds known as xenoestrogens are substances that are present in many common goods, including creams, lotions, soaps, shampoos, fragrances, hair sprays, and room deodorizers. These substances frequently function like estrogen and have chemical structures that are comparable to estrogen and can affect estrogen levels in the body.
Risk Factors
PCOS
Estrogen dominance may lead to the formation of cysts or fibroids in ovaries.
Cervicitis, inflammation of the pelvic area
High levels of estrogen might lead to cervicitis and inflammation in the pelvic area accompanied by pain and heavy bleeding.
Infertility
Estrogen dominance affects the quality and release of the eggs from ovaries, which can further create complications like infertility.
Endometrial cancer
If left undiagnosed or untreated it can further turn into the Endometrial cancer too.
Golden Tips
Include healthy fats like coconut oil, butter, desi ghee, or avocado oil as healthy fats play a crucial role in hormone production and maintenance of normal hormone function because they help rebuild cells and stabilize hormones, including the fats found in sources of omega-3 fatty acids.
Include cruciferous vegetables like cabbage, broccoli, cauliflower, mustard greens, and Brussels sprouts as 3-Diindolylmethane, or DIM is a substance found in cruciferous vegetables. This substance has been shown to lower excess estrogen levels and enhance liver function to eliminate bad estrogen, which contributes to the overall balance of estrogen levels.
High fiber foods (soaked seeds - chia seeds, flax seeds, sesame seeds, pumpkin seeds/veggies/ avocado/ nuts, legumes/beans) as it might lower estrogen levels and protect against some symptoms linked to estrogen dominance.
Getting enough sleep- One of the worst habits that can lead to an imbalance in hormones is sleep deprivation. Increased morning cortisol levels, lowered immunity, hormonal changes, difficulty concentrating at work, and a higher tendency for anxiety, weight gain, and depression are all associated with excessive stress and poor sleep.
Identifying your estrogen dominance type can aid in managing it-
Frank estrogen dominance
The body produces excess estrogen.
Relative estrogen dominance
When the body doesn't create enough progesterone and estrogen levels are higher in comparison.
Complete Estrogen Dominance Cure
Every single woman needs to work on her body, for her hormones to be corrected. Because the type of things we are using like make-up, cleaning products, birth control pills, etc. leads to hormonal imbalance due to the variety of ingredients present in them. Estrogen dominance is the root cause behind all this which 90% of women do not even know they have.When the body produces too much estrogen, when estrogen metabolism and excretion fluctuate, or when the levels of estrogen and progesterone are out of balance, estrogen dominance results.
Diet
A healthy diet and lifestyle changes along with consistent use of ce, in the long run,s can help you overcome symptoms of Estrogen dominance and balance hormones naturally. In order to fill nutritional gaps that may be causing a hormonal imbalance, supplements are also necessary.

Dietary supplements
Supplements will fulfill the nutrient needs if you won't get them from your diet and will help your hair to grow faster. Start immediately with Liver Detox, Estrogen Balance, Probiotics & Prebiotics Fiber

Physical activity
Daily exercise helps in better estrogen metabolism and helps the body break estrogen down and flush away any excess
Stress Management
Managing stress levels with the help of meditation, yoga, and deep breathing is one of the best ways to balance hormones.
FAQs
Should I continue taking birth control pills?
No, birth control pills have a lot of side effects on the body like breast tenderness, elevated blood pressure, headache, nausea, bloating, etc.
Already taking hormonal pills, Can I take your estrogen dominance bundle along with?
You can take liver detox and Probiotics & Prebiotics Fiber but not estrogen balance as of now. Multiple hormonal treatments at a time can lead to adverse effects on the body. Also, you should avoid excessive use of artificial hormonal pills.
What is the best natural treatment for high estrogen in females?
Following a proper low carbohydrate and healthy fat diet along with dietary supplementation & physical exercises is the best natural treatment for estrogen dominance. For detailed information, you can contact us at 86990-86991.
What are the normal estrogen levels in women?
Normal levels for estradiol are: 30 to 400 pg/mL for premenopausal women, 0 to 30 pg/mL for postmenopausal women, and 10 to 50 pg/mL for men.
Having hot flashes and night sweats on a regular basis. Is this one of the low estrogen symptoms in women?
Yes, low estrogen levels with respect to progesterone can be the reason.
How long should I take this treatment?
You must follow this for at least three months or until your symptoms improve.