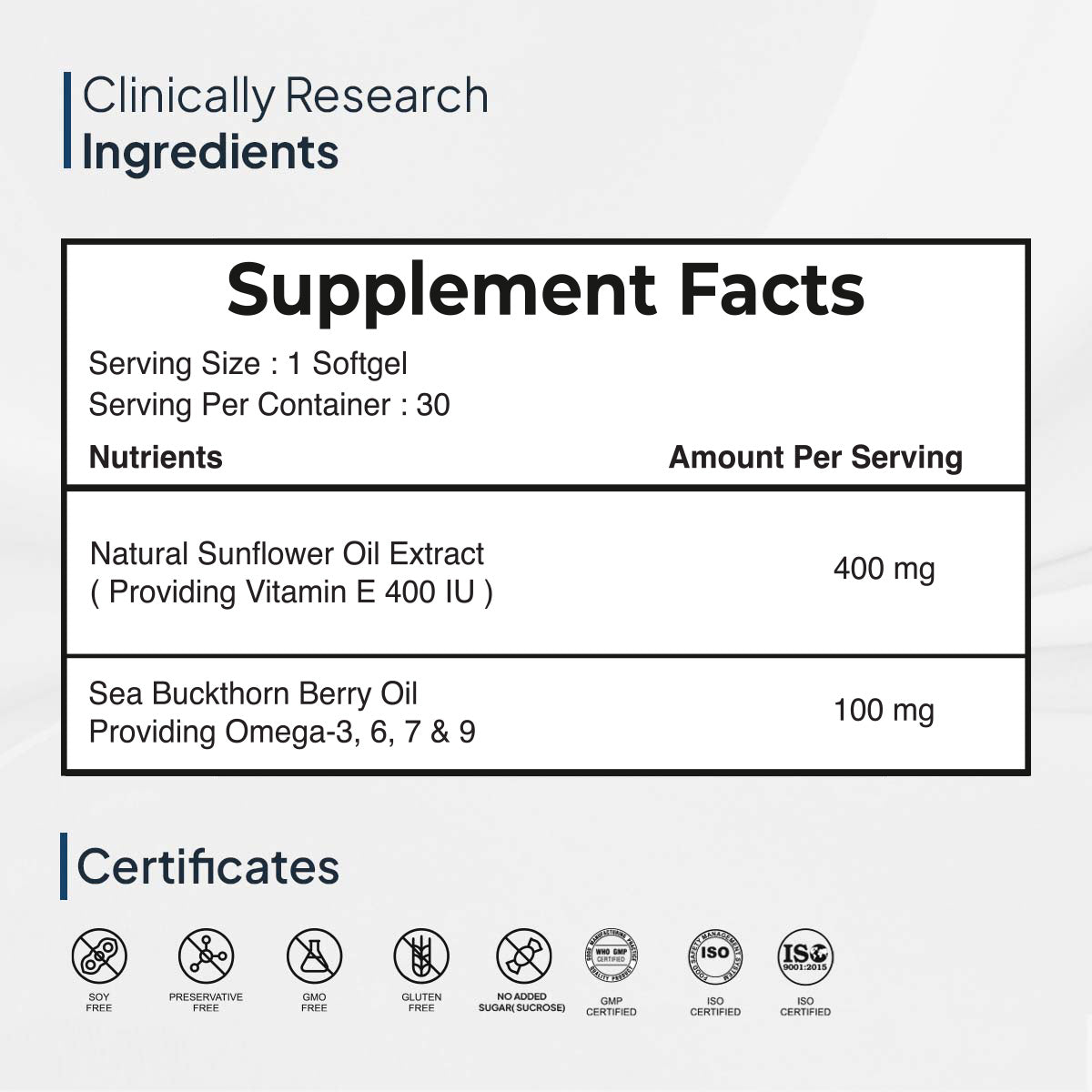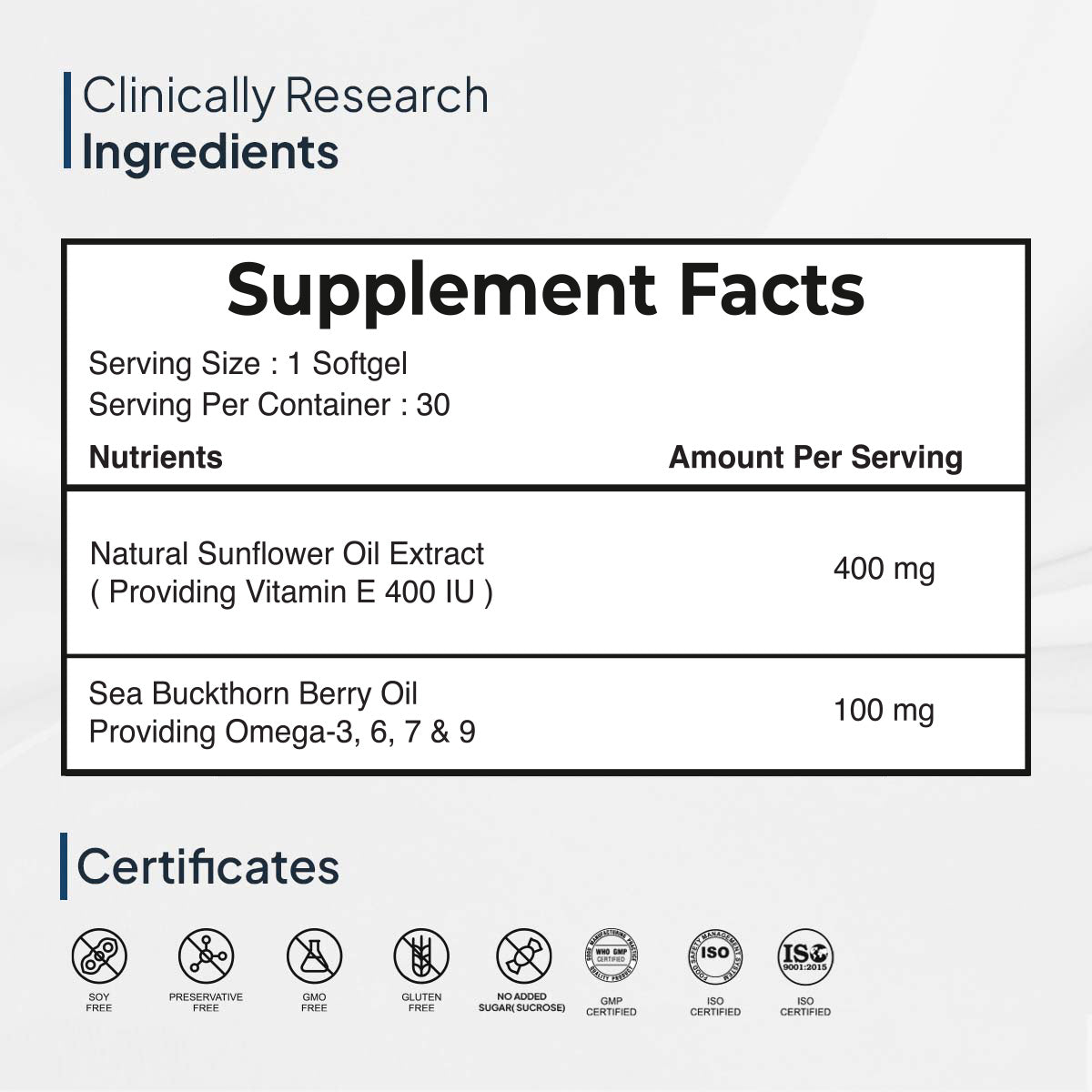 cart
Glowing Skin
Heart Health
Menopause
Vitamin E
Vitamin E
All of us are focused on the other vitamins, such as Vitamin A, vitamin D, and Vitamin B complex. Have we ever thought of Vitamin E that much?
Loss of feeling in the arms and legs, muscle weakness, loss of body movement control, weakened immune systems, impaired reflex coordination, anemia, and vision problems are all results of the deficiency of Vitamin E levels in the body.
Miduty introduces the natural form of Vitamin E, which distinguishes it from other forms of Vitamin E accessible on the market most of the time. We had to outsource this product from outside of India, thus it took so long to launch.
Description
Vitamin E, being an antioxidant, plays a vital role in supporting the immune system, cell functioning, and maintaining skin health by protecting it from free radicals that can damage the skin cells and can be a key factor in causing inflammation and aging.
Vitamin E fosters skin health by reducing collagen breakdown and improving moisture and elasticity. Vitamin E helps to strengthen the skin barrier function and also acts as a natural Anti-aging nutrient in our body.

Vitamin E insufficiency can typically be caused by a hindrance in Vitamin Absorption by our body.

Miduty's Pure and Natural Vitamin E is an essential product to balance hormones and skin issues. Apart from this, the other significant health benefits this supplement offers are that it promotes Cardiovascular health, prevents Cataract formation, and balances cholesterol.
A combination of Sea Buckthorn in Vitamin E supplement proves to be an abundant source of multiple Vitamins. The amazing trait of Sea Buckthorn is that it is an organic source of Omega 3, 6, 7, and 9. [1] 
The consumption of Miduty's Vitamin E supplement, which has the anti-inflammatory property offered by Sea Buckthorn puree, helps reduce cardiovascular diseases by diminishing C-reactive protein. [2] Sea Buckthorn can improve cardiac Index, cardiac output, and heart stroke index, and it can also control Hypertension.
Menopause leads to thinning and drying of the Vaginal Mucosa layer. Supplementing Sea buckthorn with Vitamin E is an effective alternative to estrogen treatment for Menopausal women, as it helps to maintain mucosal integrity and vaginal health for menopausal women.
Hence, it becomes mandatory to act as soon as you detect the signs of its deficiency.
How do I take them?
Dosage-

Every day after lunch, take 1 soft gel, or as otherwise advised by a healthcare professional.

Please Note-

If you are using blood thinners, do not consume this supplement.

Quick Info-

During the menopause phase, vitamin E is a must.
What's it for?
Women after menopause
For people with dry skin
People with eye issues
or better heart health
Prevents cataract formation
Why is Miduty's Vitamin E Superior?
D-alpha tocopherol, which is included in Miduty Vitamin E, is the most bioavailable form of alpha-tocopherol, meaning that your body likes to use it and can absorb it better than any other form.


Omega 3, 6, 7, and 9 are included in sea buckthorn berry oil, which is present in Miduty Vitamin E. Although it is less nutrient-dense in tea form than in oil form, sea buckthorn is primarily sold as tea or in other forms.


By enhancing the skin barrier function, sea buckthorn puree with vitamin E preserves the lipid and moisture content to keep skin smooth and prevent photoaging. [3] The sea buckthorn's alpha and gamma-linolenic acids have antidepressant properties.[4]


It is also helpful against cancer, improving heart health, and skin-related issues, unlike other Vitamin E products in the market.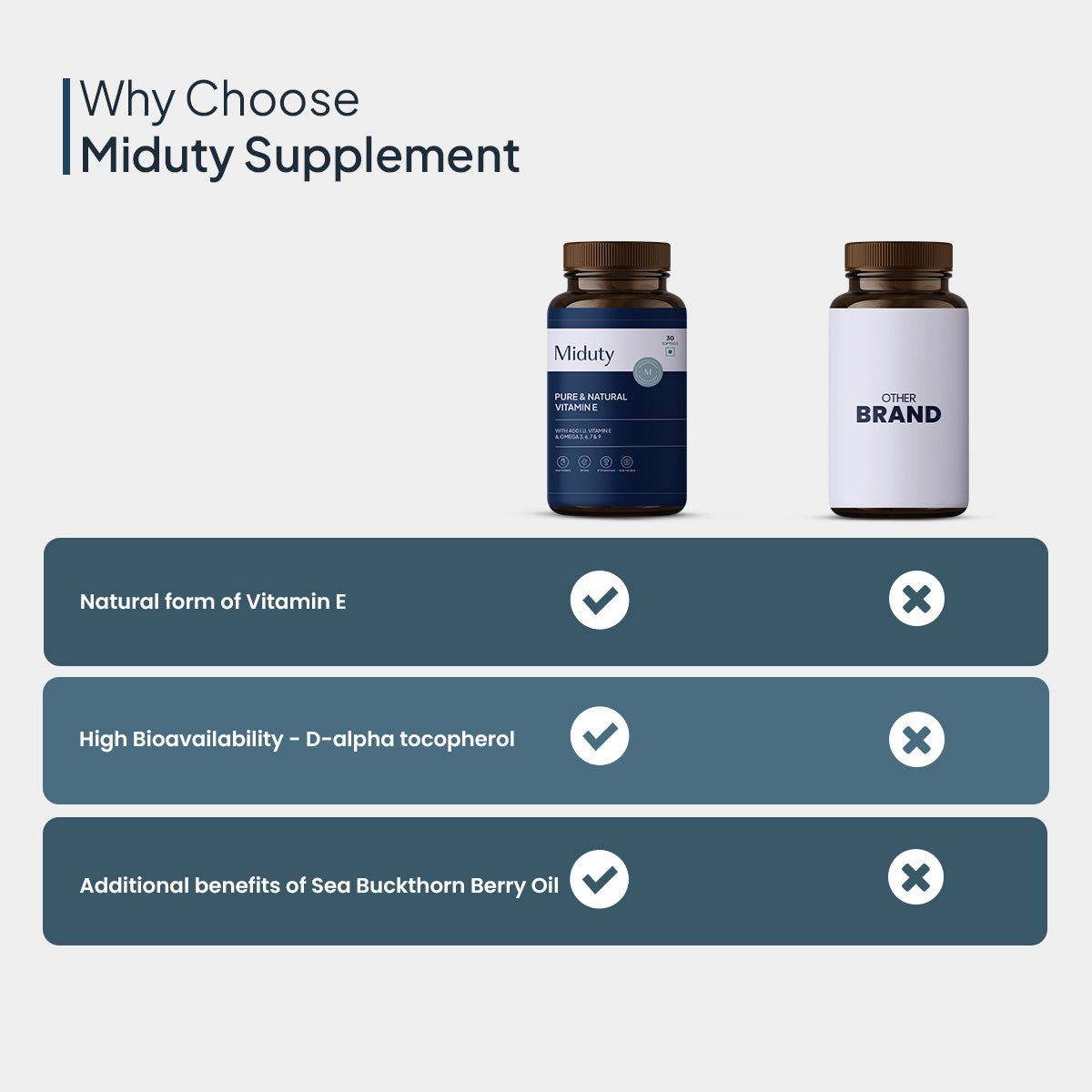 How We Helped Our Customers
Sheela Got Her Happy Hair Days Back!
Vitamin E Gave Heena A Pre-Menopausal Glow
What's Inside? (Ingredients)
FAQs
Can I take a vitamin E capsule with my cholesterol-lowering medicine?
If you are already taking cholesterol-lowering medicine it is prescribed to consult with your doctor once before taking it with cholesterol medicine.
I'm having muscle pain. Is this one of vitamin E deficiency symptoms?
I'm having dry skin. Can I take a Vitamin E capsule?
Yes, you can take it for a minimum of 3 months.
Is it necessary to take Vitamin E after Menopause?
Sea buckthorn supplementation helps to maintain mucosal integrity and vaginal health for menopausal women which is present in our Vitamin E supplement. The vitamin E family is a known treatment for hot flashes and nighttime sweats associated with menopause.
Are Palak Notes and Miduty same brands?
Yes, the brands Palak Notes and Miduty are the same.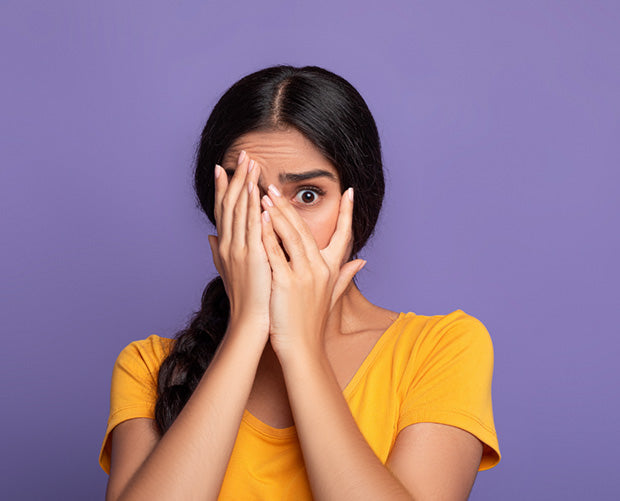 Unknown Facts
Vitamin E cannot be found in food sources like almonds, or sunflower seeds. It is hard to meet RDA requirements and we have to consider supplementation for the same.
Reduce free radicals

Certain vitamin E isomers have potent antioxidant properties that can prevent free radical damage, combat inflammation, and oxidative stress, and assist in naturally halting the aging process. [5]

Enhances Skin Repair

Vitamin E functions as a natural anti-aging ingredient in your body and improves skin by strengthening capillary walls, increasing hydration, and boosting elasticity.[6]

Helps balance hormones naturally

Your brain and hormonal systems can both benefit from vitamin E since it naturally helps to keep hormones in check.[7]
Scientific/Clinical Studies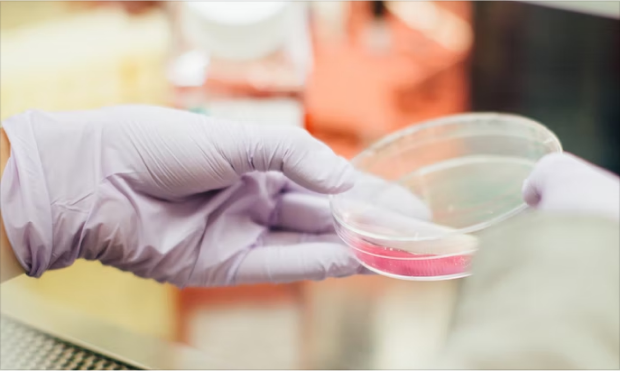 PALAK NOTES IS NOW MIDUTY
New Era! Continued Dedication!
Pain that went untreated gave rise to the brand Palak Notes. Pre-COVID, we began to evolve, and over the past three years (and counting), we have dedicated our entire selves to learning about the pain and health issues that society suffers. We had a modest beginning, but today we have a large family. 
So, in order to adapt to these changes over time, we have decided to create a new brand identity that reflects our team and potential customers. We are now known as MIDUTY. Our vision for the current era is presented and projected through this new identity.