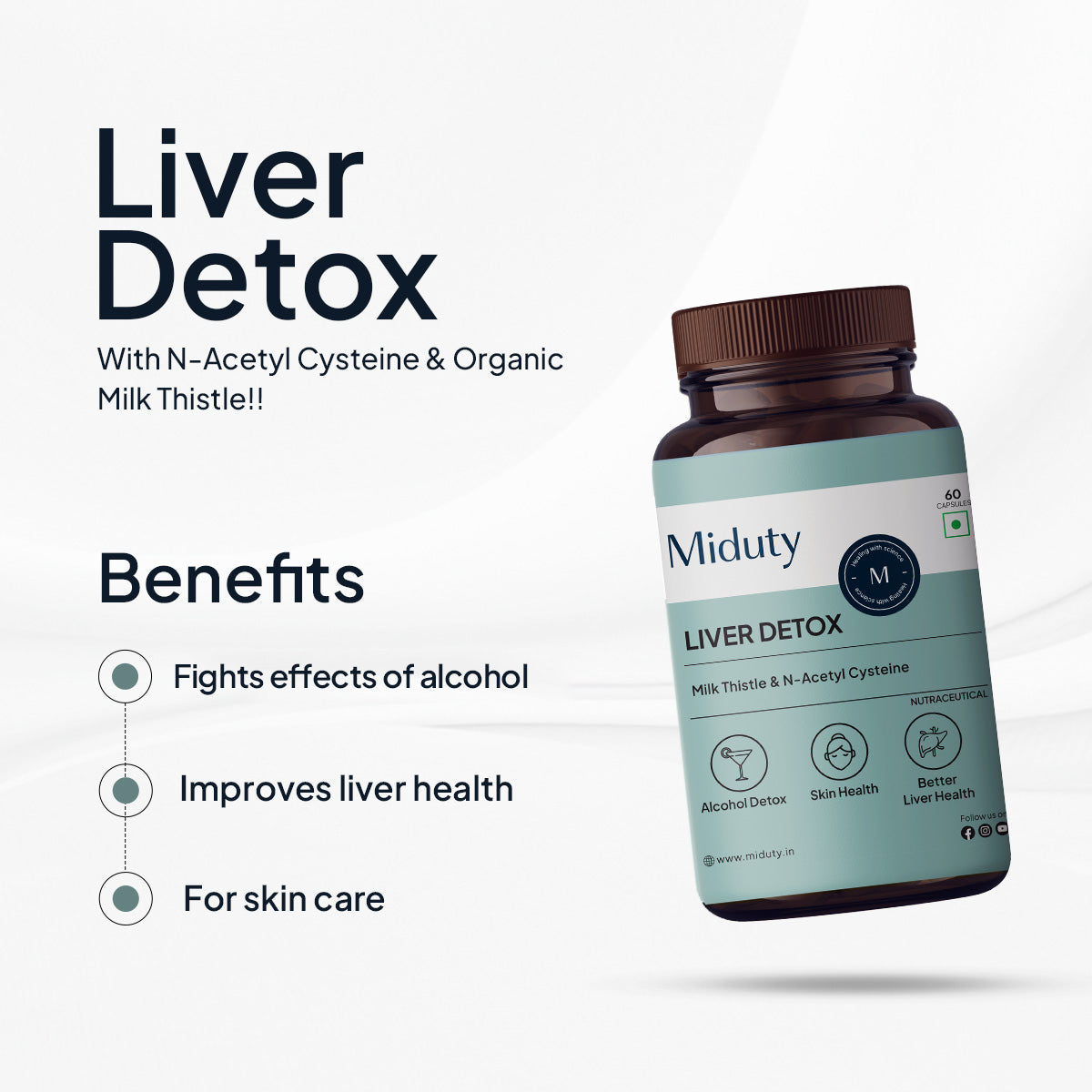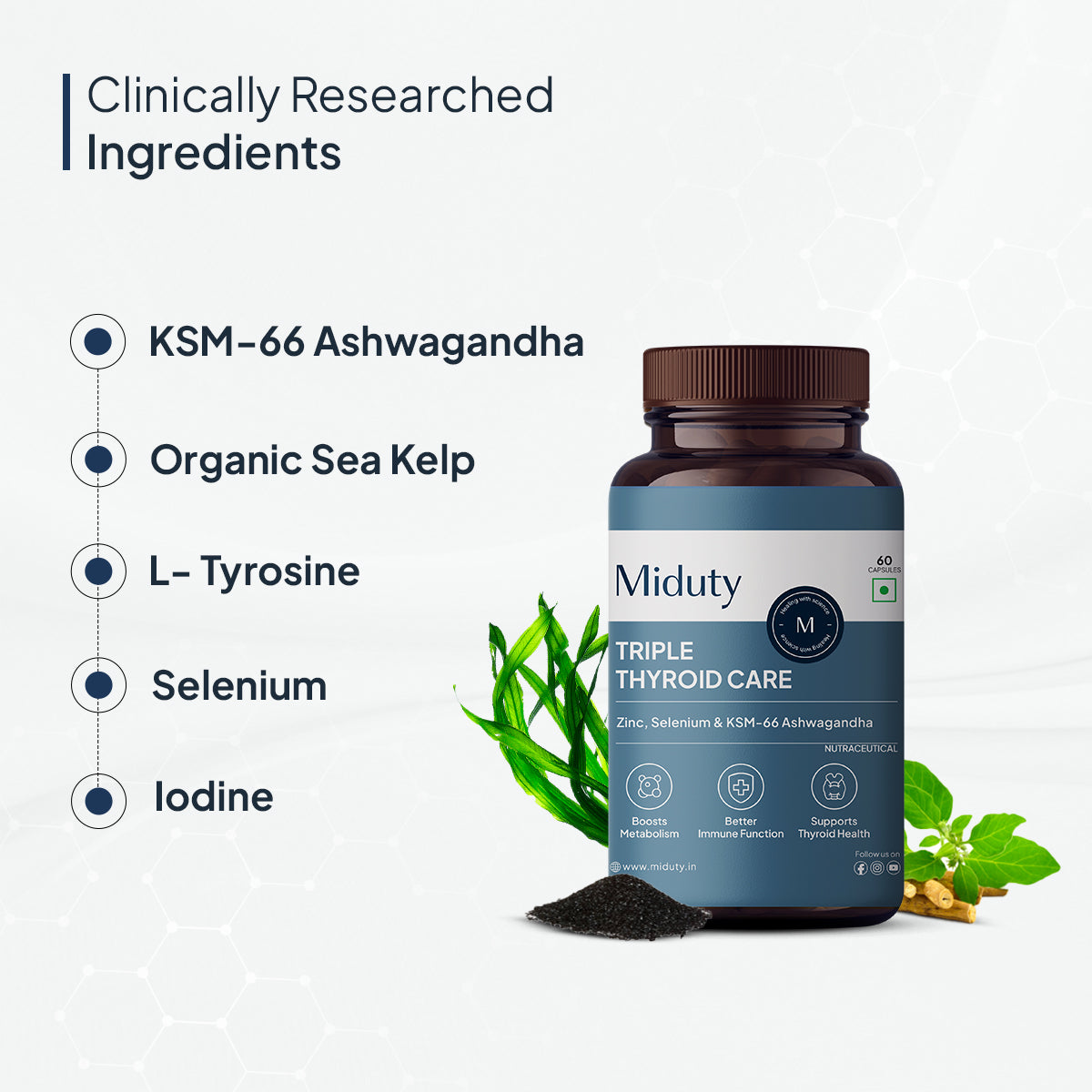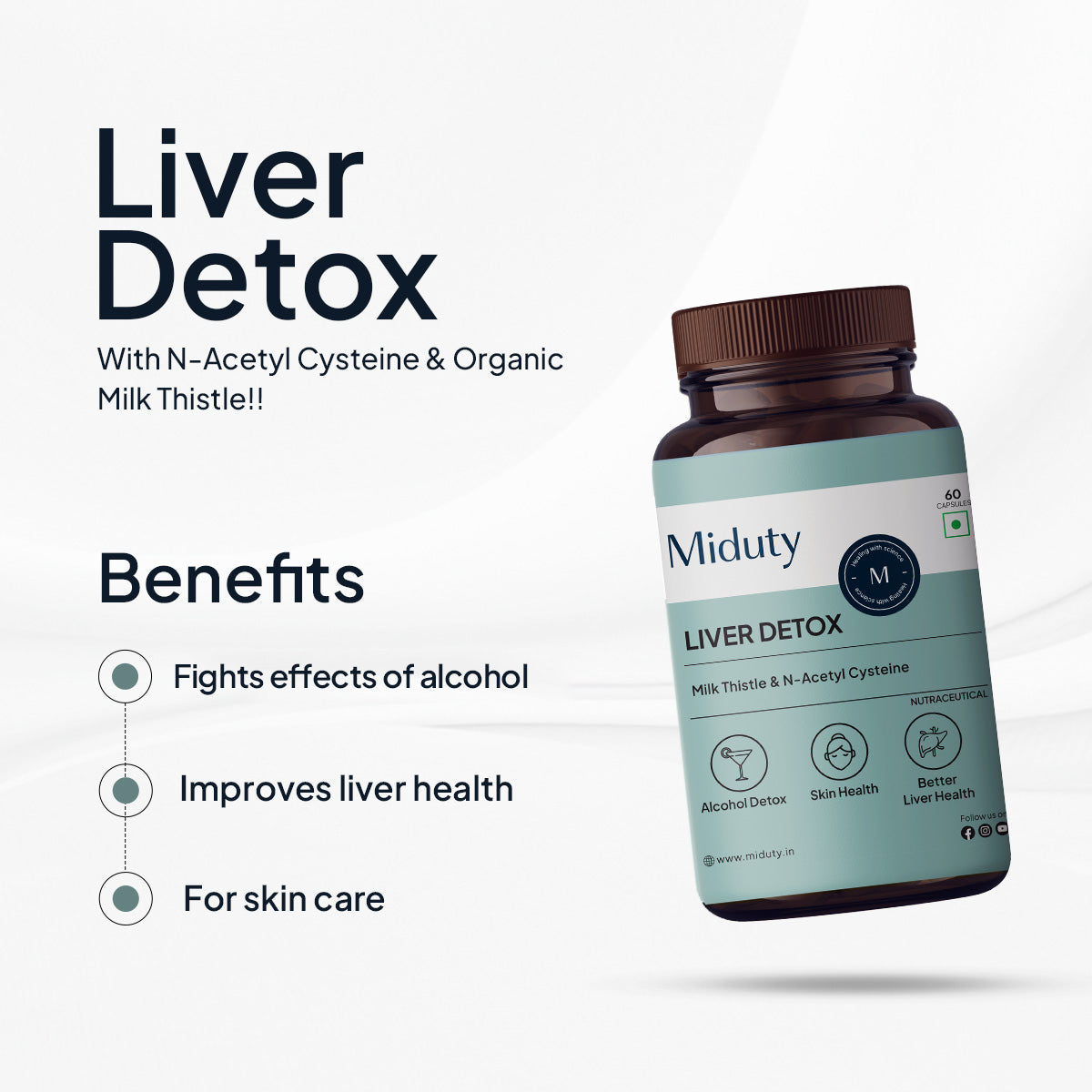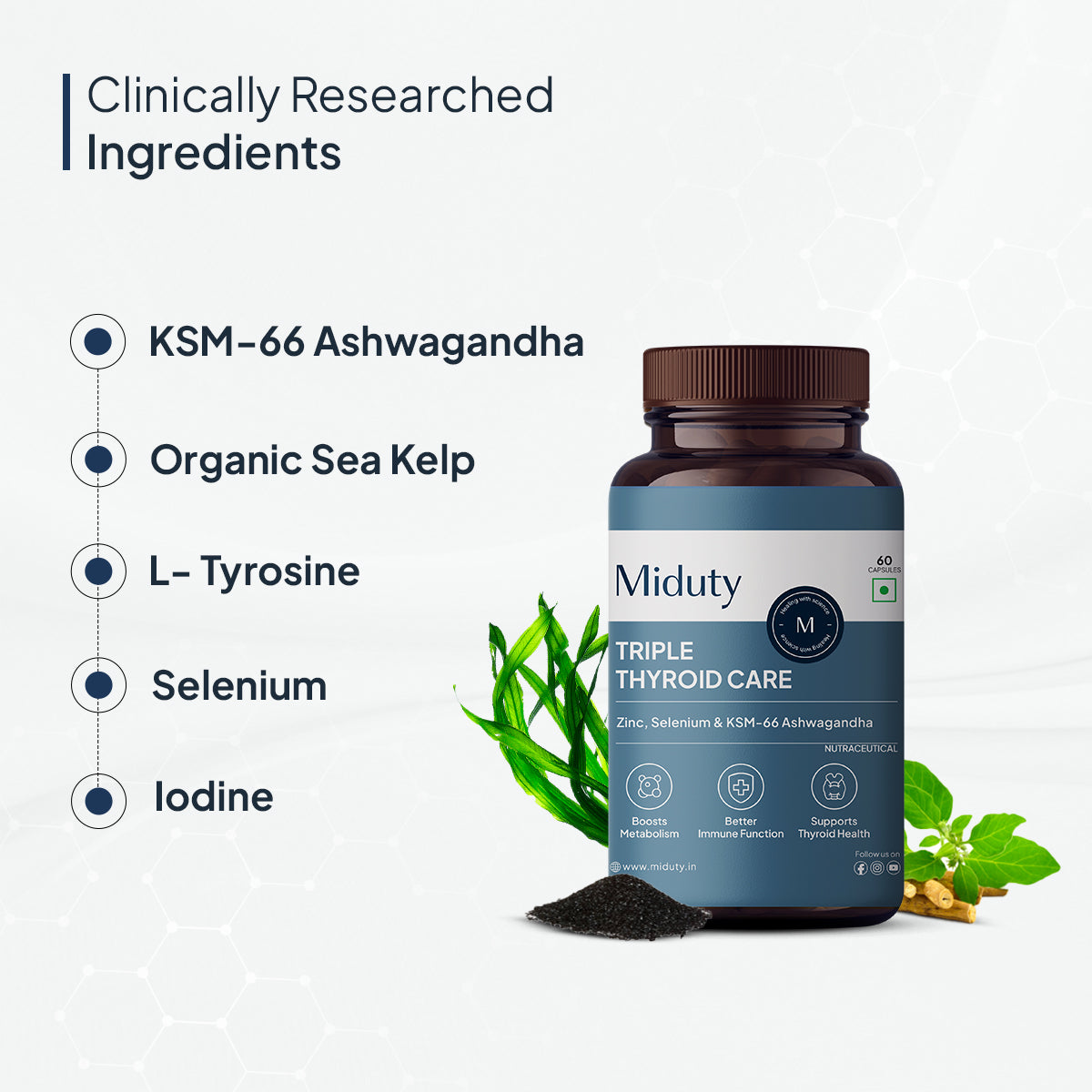 Immunity
Mood Swings
Thyroid Reversal
Triple Thyroid Care
Triple Thyroid Care
Are you constantly feeling tired due to thyroid issues? Despite taking medications, do you still lack the energy you need to be productive? 
Miduty's Triple Thyroid Care is here to help! Say goodbye to low energy levels, slow metabolism, cold extremities, and mood swings, and discover the solution to your thyroid concern.
Our unique formula targets the root cause, and regression of hypothyroidism and boosts your energy levels. 
Description
People with thyroid disorders are often recommended to take regular medication, right? However, it is seen that even after taking proper medicine, people still struggle with low energy levels, weight gain, mood instability, and other thyroid symptoms. As a result, the dosage of your thyroid medicine increases with time.

Does living with a thyroid condition mean you have to sacrifice your quality of life?

Absolutely not! The ultimate solution is to address the root cause of the problem. We need to address deficiencies such as vitamin and mineral deficiencies, which can lead to autoimmune disorders.

Miduty has developed Triple Thyroid Care, a unique blend of Selenium - Sea Kelp - L-Tyrosine - Zinc - Ashwagandha - B1 which will help you to support your thyroid gland. Our body needs minerals like zinc, selenium, and iodine for the proper functioning of our thyroid gland. 

This powerful combination addresses the root cause of thyroid disorder and helps reduce symptoms related to thyroid dysfunction. 

With the constant and correct use of Miduty's Triple Thyroid Care, you can expect regression of thyroid disorder as well as increased energy levels and a boosted metabolism, which will contribute to healthy weight management. Gradually your dosage will be reduced over time, leading to a better quality of life.

If you are seeking relief while managing your thyroid condition then don't hesitate to explore the benefits of Triple Thyroid Care.
How do I take them?
Dosage-

Take 1 capsule after lunch and 1 after dinner with water or as prescribed by a healthcare professional.

Quick info-

You can consume this supplement in the case of any autoimmune condition, as the ingredients present help to keep antibody levels in range.

Please Note-

Do not consume it if you have Hyperthyroidism.
What's it for?
- For people with Hypothyroid
- Slow metabolism
- For people with autoimmune conditions
Why is Miduty's Triple Thyroid Care Superior?
Miduty's Triple Thyroid Care is a holistic formula specifically curated to target autoimmunity related to the Thyroid condition. It is a powerful punch of vitamins, minerals, and herbs such as Iodine, Zinc, Selenium, Vitamin B12, L-Tyrosine, and the most effective KSM-66 Ashwagandha.


Ashwagandha contains thyroid-modulating properties. [1] Added Zinc is crucial for gut health, immune system performance, T4 to T3 conversion, and TSH generation.[2]


Sea Kelp: Iodine, the most significant mineral and a component of sea kelp, is a potent thyroid gland medication.[3]


This power pack of ingredients contributes to alleviating your energy levels, boosting your body's metabolism, and enhancing your mood, providing you with much-needed relief.


Miduty offers a combination of expertise and quality assurance, ensuring you receive the right Thyroid support.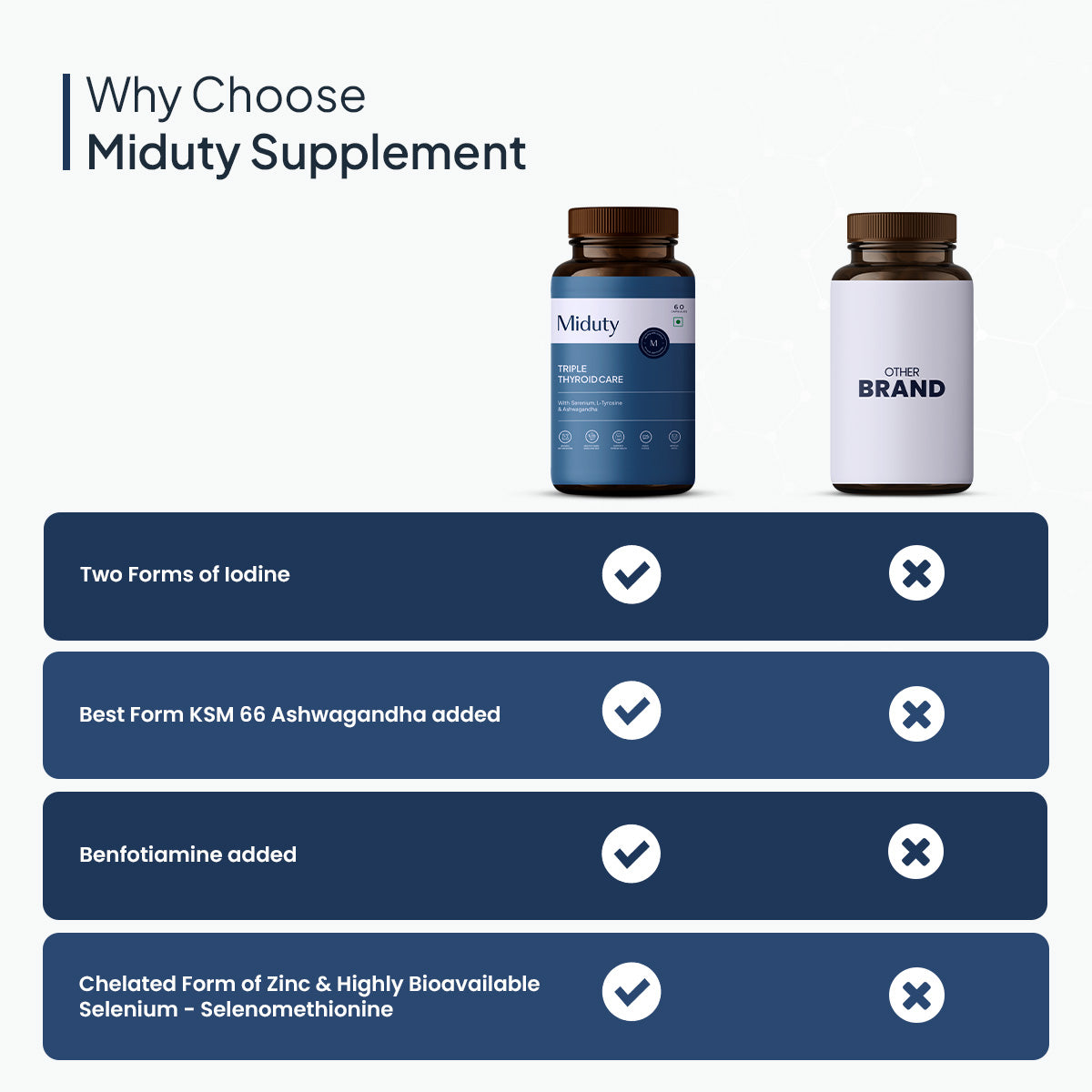 How We Helped Our Customers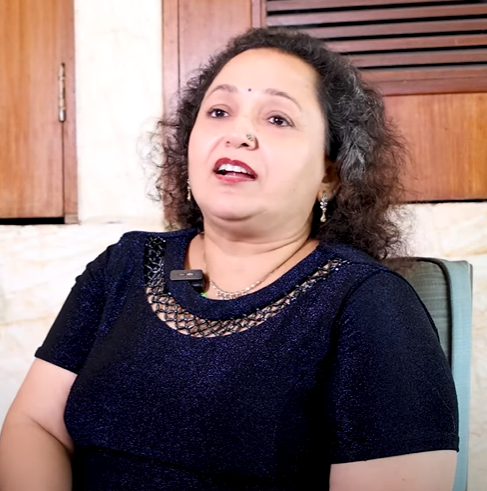 Meena Solved Her Post Delivery Weight Gain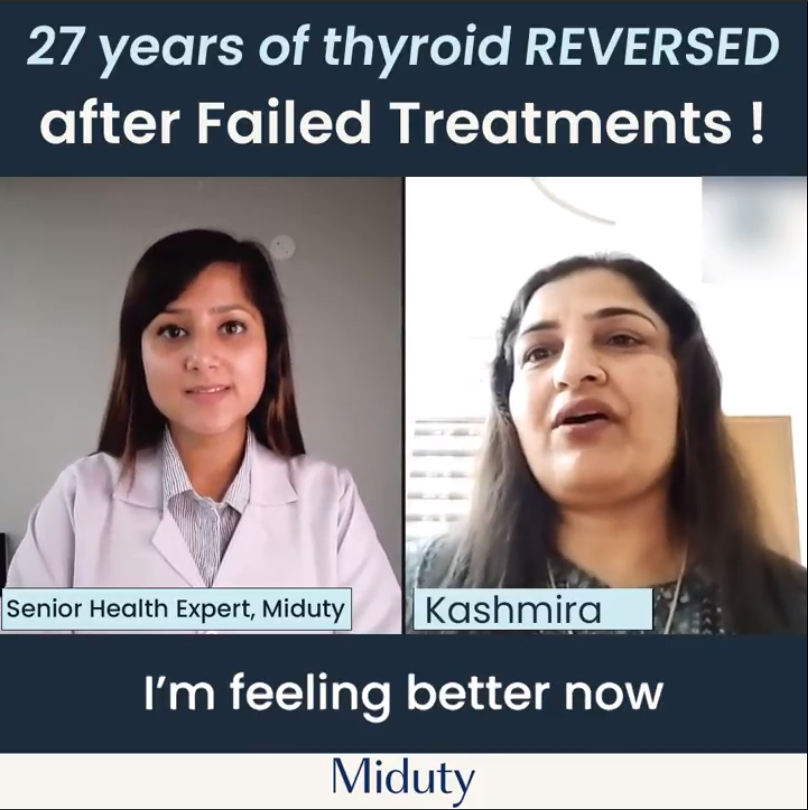 Karishma successfully reversed 27 years her thyroid struggles.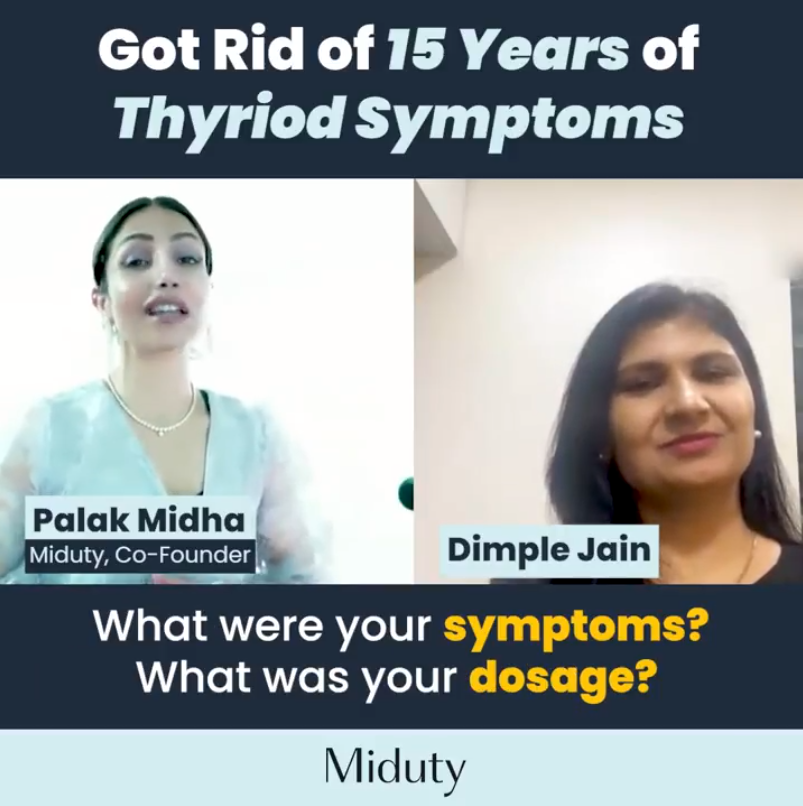 Dimple reversed her Thyroid Symptoms
What's Inside? (Ingredients)
FAQs
When using this product, may I stop using my thyroid medication?
The majority of thyroid disorders are truly chronic autoimmune illnesses. You continue to experience thyroid symptoms as a result of taking thyroid medication. This supplement aims to lessen the symptoms and slow the spread of the illness by working on the root cause of it. After having your thyroid levels evaluated, you can gradually wean off your medication after making dietary and lifestyle changes.
If I don't have thyroid issues can I still take Triple Thyroid care?
As per our supplement advisor and founder Palak Midha, this supplement is way more powerful than any multivitamin. If you are at the age of 30 or above this must be an addition to your routine. As, after 30 our body's metabolism tends to slow down, due to we gain excess weight. Yes, it's needed for maintaining energy levels, supporting muscle mass, along with fulfilling mineral requirements, stabilizing mood, and autoimmunity.
Detected with Hashimoto's, Can I take your Triple Thyroid Care?
Yes, For Hashimoto's, selenium is important (200 mcg of selenium over the course of 3 months should see a reduction of antibodies by about half) which is present in our Triple thyroid care. Not just selenium but the blend of zinc, sea kelp, L-tyrosine, B1, and Ashwagandha in this supplement provides many positive results.
For how long, do I have to take the Triple Thyroid tablets?
Make sure to have a test of your antibiotics, thereafter with the help of our diet plan and Triple Thyroid care supplement we will lower the dosage of Antibiotics. Therefore, it is necessary to take it for three months continuously and then can decide to take it on and off, if you feel the symptoms are getting aggravated. 
Are Palak Notes and Miduty same brands?
Yes, the brand's Palak Notes and Miduty are the same.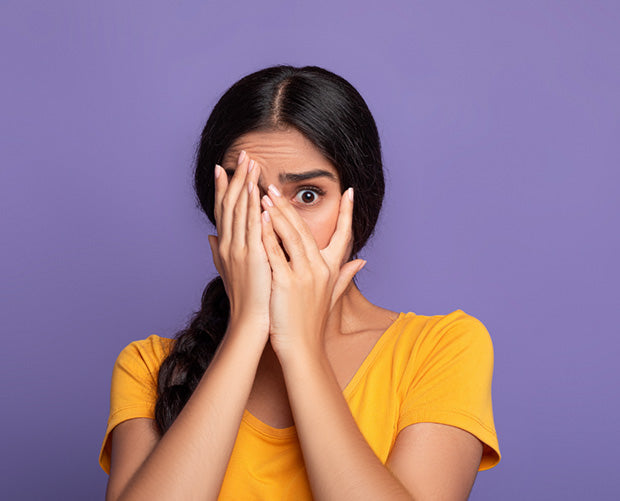 Unknown Facts
Have you ever wondered why you have gained so much weight? Slow metabolism, which is one of the hypothyroid symptoms, is the reason.
Enhances the function of an underactive thyroid

For those with Hashimoto's disease or an underactive thyroid, ashwagandha has been demonstrated to help with a sluggish thyroid. According to a study, the effects of ashwagandha in treating people with hypothyroidism were examined. [4]

Great Iodine Source

This supplement has two forms of Iodine i.e. natural and a very small dosage of Iodine which is added according to your daily requirement.
Because kelp has such a high iodine content, it's one of the greatest ways to keep your iodine levels in check. Patients with brain deficits who are at a very high risk of iodine deficiency have been treated for hypothyroidism with kelp. Therefore, the addition of both sorts of Iodine is done in a way that the amount of Iodine needed by the body will be done on its own. [5]

Regulates Thyroid Function

According to recent research, selenium insufficiency and thyroid metabolism are related. [6]Too little in your diet can affect the function of your thyroid and, consequently, your metabolism. Anti-TPO antibodies in Hashimoto's disease and Grave's disease may benefit from selenium supplementation. [7]
Scientific/Clinical Studies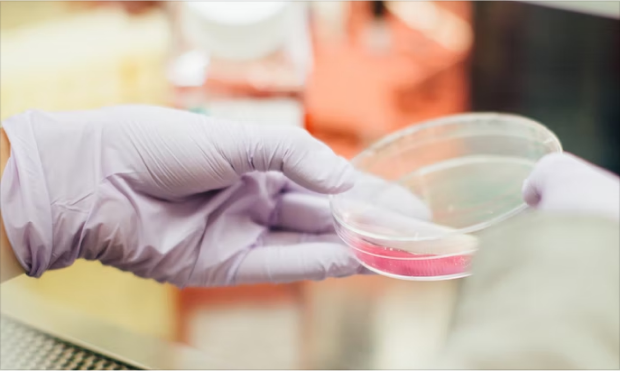 PALAK NOTES IS NOW MIDUTY
New Era! Continued Dedication!
Pain that went untreated gave rise to the brand Palak Notes. Pre-COVID, we began to evolve, and over the past three years (and counting), we have dedicated our entire self to learning about the pain and health issues that society suffers. We had a modest beginning, but today we have a large family. 
So, in order to adapt to these changes over time, we have decided to create a new brand identity that reflects our team and potential customers. We are now known as MIDUTY. Our vision for the current era is presented and projected through this new identity.