cart
Hair Growth
Hair Health
Hair Quality
Thick & Grow
Thick And Grow
Miduty Thick and Grow - best supplements for hair growth and thickness a blend of ingredients that target each and every cause of hair fall | Enhance hair re-growth | Strengthen hair structure | Promotes Hair Thickness | Prevent greying hair | Improved alopecia makes it the best supplement for hair growth.
Description
Have you recently realized that there is more hair in your brush than there used to be? 

Do you notice your scalp when you used to simply see your hair when you gaze in the mirror? 

The good news is that hair growth can be boosted with dietary changes, stress-reduction techniques, and by considering the vitamins or supplementation which your body requires. 

While supplementation is relatively affordable and easily accessible, it is important to know which vitamins and minerals are helpful in treating hair loss. 

Miduty's Thick & Grow has Saw Palmetto that helps block the formation of DHT. [1]  

L-methionine plays an important role in both keratin and procollagen synthesis. [2] L-lysine helps in iron and zinc uptake and solves temporary hair loss because of iron or zinc deficiency. [3]

Vitamins and minerals are important for normal cell growth and function and may contribute to hair loss when they are deficient. 

Added L- Cysteine in Miduty's Thick& Grow helps to maintain hair thickness. [4]
How do I take them?
Dosage-

Take 2 capsules every day after your meals, or as directed by the healthcare professional.

Quick Info-

The secret to healthy hair is a healthy gut. If you have stomach problems and want good hair, work on your gut.

Please note-

Take these capsules for atleast 3 months to get better results.
What's it for?
- Boost hair regrowth
- Strengthen hair follicles
- Encourage hair thickness
- Stop hair from going grey
- Improved Hair quality

Why is Miduty's Thick and Grow is Superior?
Miduty Thick and Grow is the ultimate hair-nourishing formula for your shiny and thick hair.


Thick and Grow contains a blend of Pantothenic acid (Vitamin B5), Pyridoxine HCL (Vitamin B6), Biotin, Methyl Folate, and Selenium.


These vitamins and minerals are essential for the growth of your hair.



The majority of the supplements available in the market under the name of treating hair fall contain biotin (vitamin B7) but biotin alone cannot solve the issue of hair fall. Miduty has brought a proprietary.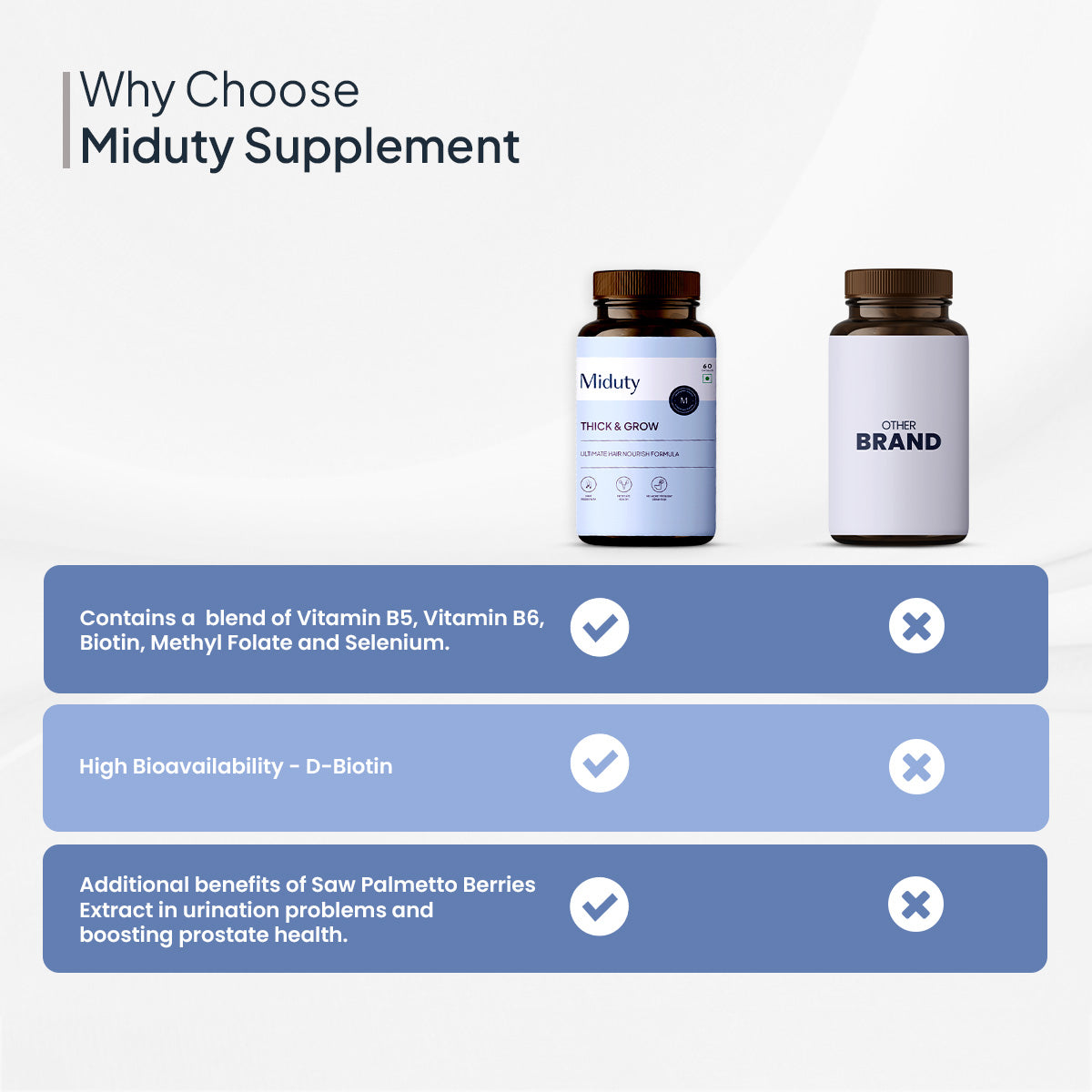 How We Helped Our Customers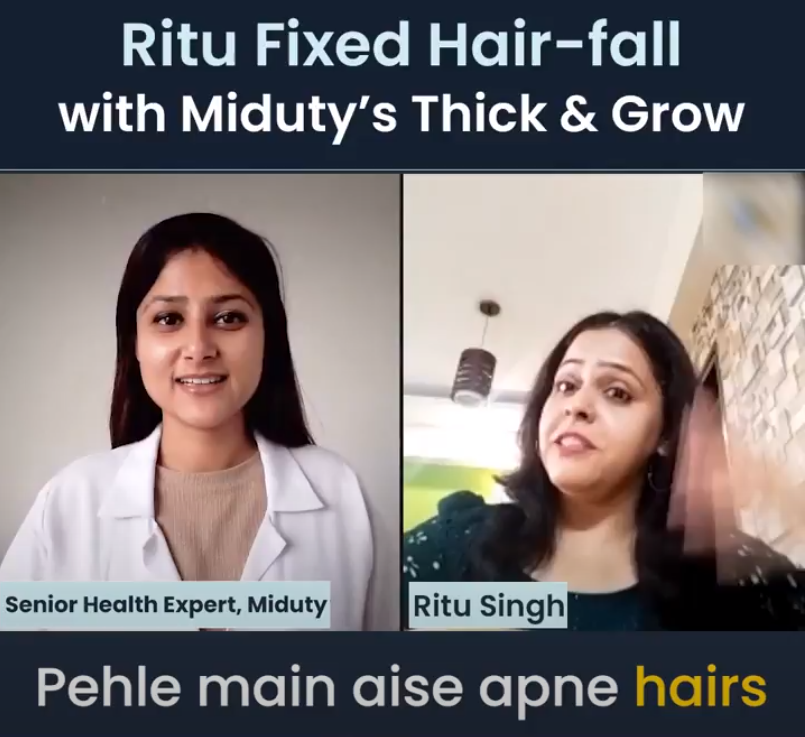 Ritu solved her hairfall problems.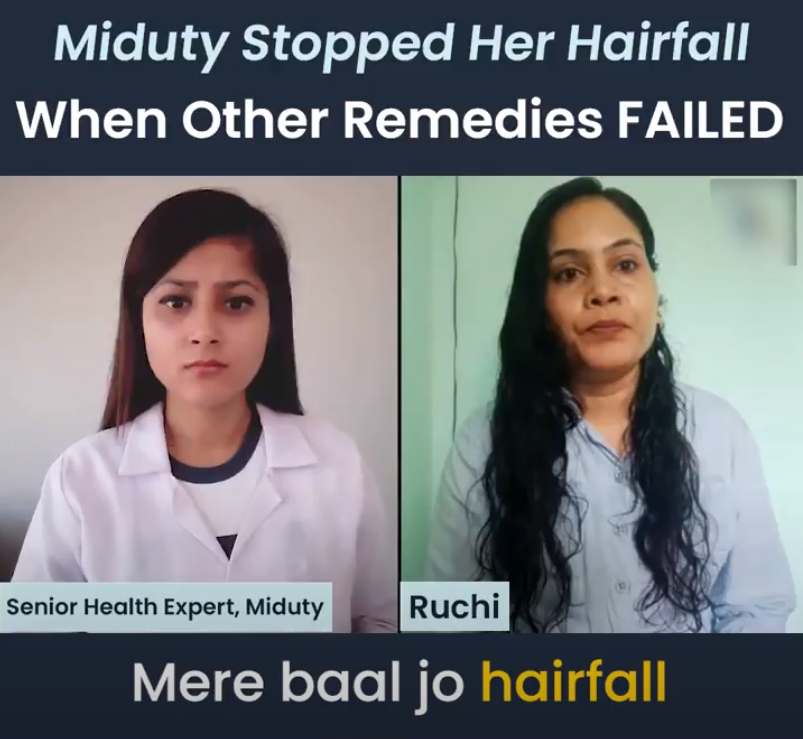 Ruchi reversed her hairfall issues.
What's Inside? (Ingredients)
FAQs
Is this Supplement Vegetarian or Non-Vegetarian?
Thick and Grow is extracted from organic plants like Saw Palmetto and Horsetail which makes it 100% vegetarian and natural at the same time.
Is it helpful in treating graying of hair?
Yes, it contains zinc which will help you prevent both hair graying and hair fall.
Is it sufficient to take this supplement only for hair fall?
Start with a protein shake as it is the structural unit of hair, and add this supplement along with it. Along with this, you have to work on your stress level management.
Are Palak Notes and Miduty same brands?
Yes, the brand's Palak Notes and Miduty are the same.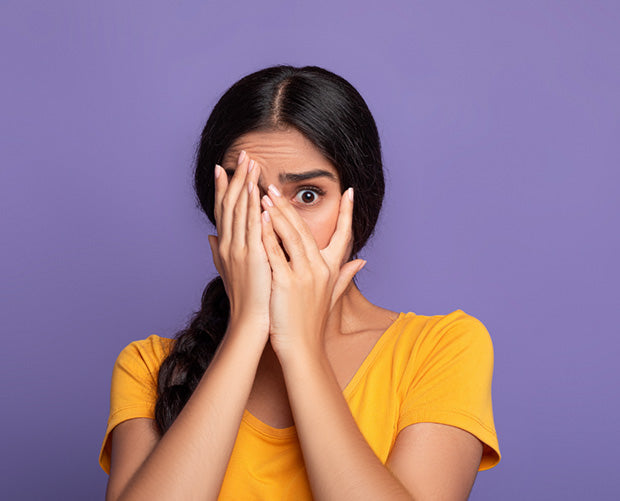 Unknown Facts
Imbalance of hormones results in hair fall.

As levels of estrogen and progesterone decline, the effects of androgens—male hormones—increase. Because hair follicles diminish during and after menopause, hair may become finer (thinner). In these circumstances, hair grows more slowly and sheds more frequently.

You can also experience hair fall if you have dandruff!

Addressing any dandruff concerns can directly promote hair development because dandruff has been associated with an increased risk of hair loss. But extremely bad dandruff can make someone scratch their scalp so forcefully that they damage it which can impede or stop hair growth.

Are you also suffering from hair fall and you have low iron levels?

Your body can't make hemoglobin for your blood when you don't have enough iron. The oxygen carried by hemoglobin helps your body's cells, including those that promote hair development, growth, and repair.
Scientific/Clinical Studies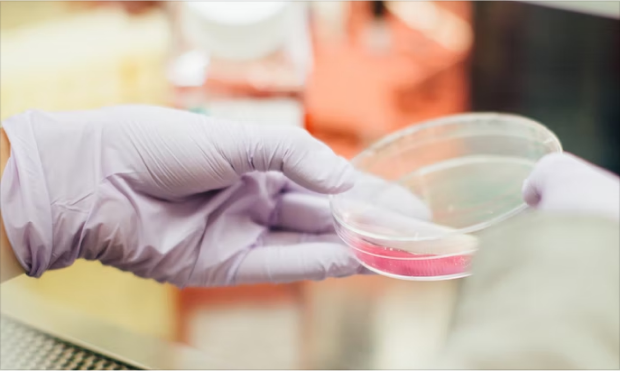 PALAK NOTES IS NOW MIDUTY
New Era! Continued Dedication!
Pain that went untreated gave rise to the brand Palak Notes. Pre-COVID, we began to evolve, and over the past three years (and counting), we have dedicated our entire self to learning about the pain and health issues that society suffers. We had a modest beginning, but today we have a large family. 
So, in order to adapt to these changes over time, we have decided to create a new brand identity that reflects our team and potential customers. We are now known as MIDUTY. Our vision for the current era is presented and projected through this new identity.