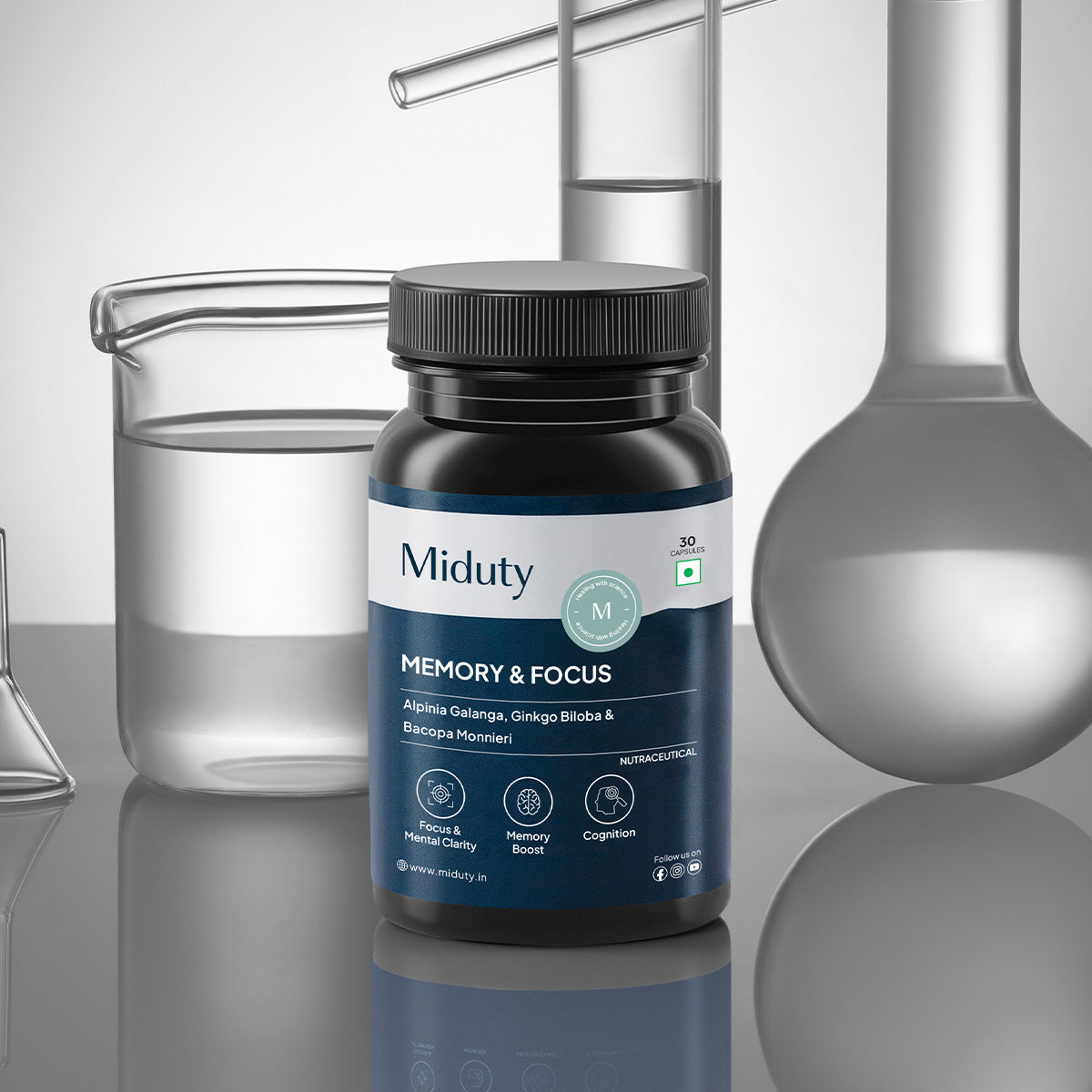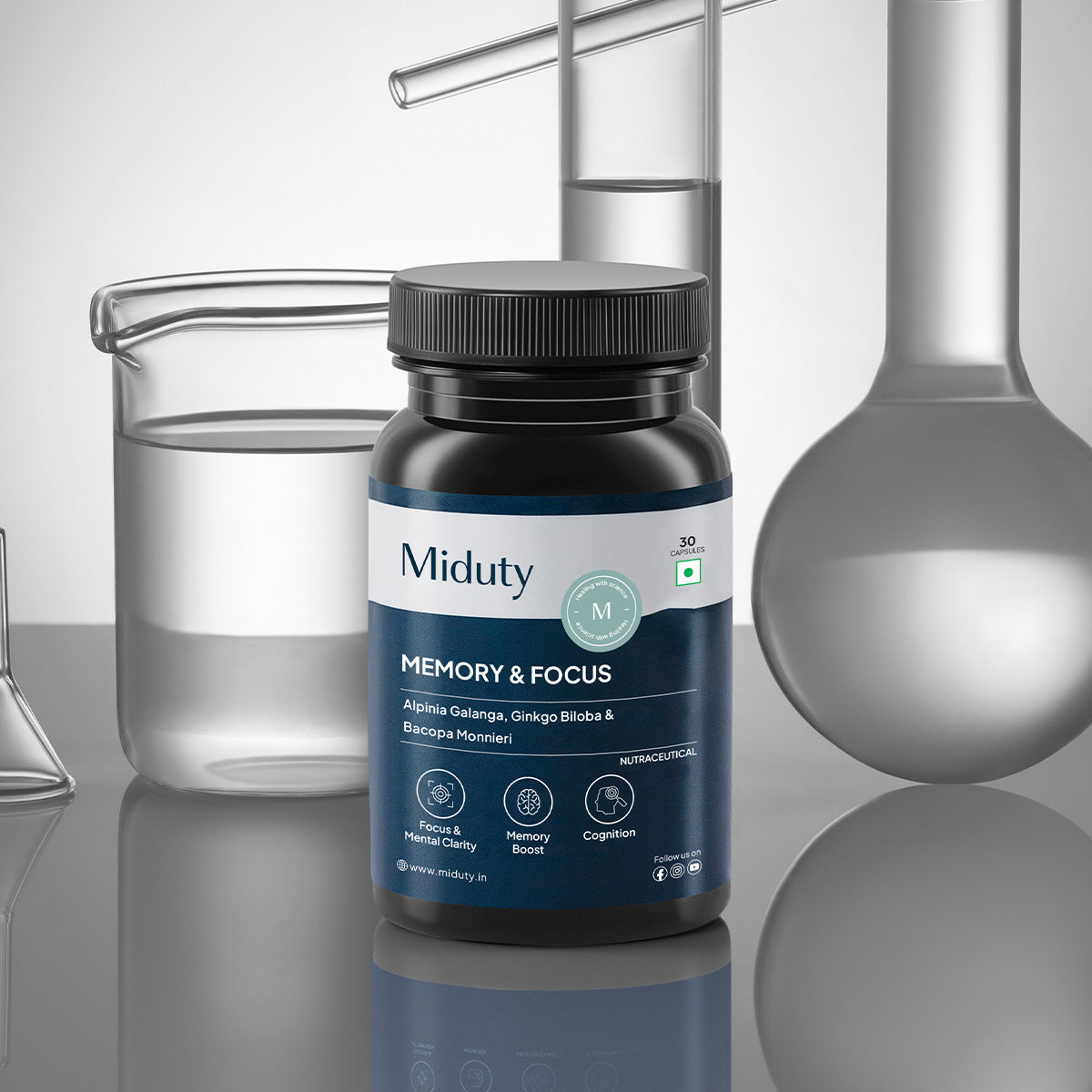 Brain Health
Concentration
Memory and Focus
Sharp Memory
Memory & Focus
There are moments in our life when we invest a high degree of focus and memory strength in an activity, but we find it hard to accomplish. We can lose attention at times, making it difficult to handle stress and brain fog.
Miduty's Memory and Focus is a nutraceutical formulation with a high-performance formula for improving mental clarity and enhancing focus and concentration. 
For undivided, focused attention for hours, imagine that with one small pill, you can gain an edge by being more productive. Miduty offers the best supplements for focus and concentration.
Description
Miduty's Memory and Focus product is an ideal option to improve the ability to communicate, learn and recall information, create new and retrieve old memories, ability to reason and solve problems with the blend of various scientifically approved and tested ingredients and extracts.
Alpinia galanga extract in the supplement shows an anti-amnesic effect, improves brain membrane integrity, and scavenges free radicals due to its potent antioxidant property.
It's also known to improve DHA and support neuronal survival in brain tissue. Thus, it also prevents neurological impairment with aging and improves memory functions.
This supplementation prevents exercise-induced reductions in choline levels and increases endurance performance and hormone secretion.
A clinical research result also showed that giving Alpinia galanga extract raised the mental alertness score and considerably decreased the mean response time. [1] 
In nerve cells, phosphatidylserine safely slows down, halts, or reverses metabolic changes and structural degeneration. Phosphatidylserine can alter the lipid profiles in dementia patients' brains, as well as DHA levels and neuronal survival in brain tissue. [2]
Patients with Alzheimer's disease benefit from Bacopa Monnieri's neuroprotective effects, which increase cognitive function and hippocampus-dependent contextual memory. [3]
Huperzine A helps improve memory and learning in a group of adolescent students people with Alzheimer's disease or other forms of dementia can benefit from Huperzine A by having better memory and mental function. [4]
Memory And focus supplement which is a rich source of antioxidants, shows its importance in brain signalling. It is effective in showing its ability to reduce anxiety, stress, and other symptoms associated with Alzheimer's disease and cognitive decline associated with aging.
How do I take them?
Dosage -

Take 1 capsule daily, either after breakfast or lunch or as prescribed by your healthcare provider.

Please Note-

Take this dietary supplement before 4-5 PM.

Quick info-

From the age of 6 or as soon as your child begins swallowing, you can start giving them this.
What's it for?
- Enhanced memory

- Focus and concentration

- For brain health

- Mental Clarity

- Improves cognition

- For people with Brain Fog
Why is Miduty's Memory & Focus Superior?
Memory and Focus are extracted from organic plants like Alpinia Galanga Extract and Ginkgo biloba, which makes them 100% vegetarian and natural at the same time.


The best high-performance option for strengthening cognition, increasing focus, and improving memory is Memory and Focus. One of the ingredients in Miduty Memory and Focus, ginkgo biloba, has been shown to be about as good at preventing memory loss as the top Alzheimer's treatment.


No other supplement offers the combination of potent herbs found in Miduty Memory and Focus, which works to slow down the decline of brain cells with aging.


There is no other product on the market that combines Alpinia Galanga Extract and Phosphatidylserine (Standardized up to 20%), Ginkgo Biloba Extract, Bacopa Monnieri Extract, Alpha GPC 50%, and Huperzine A.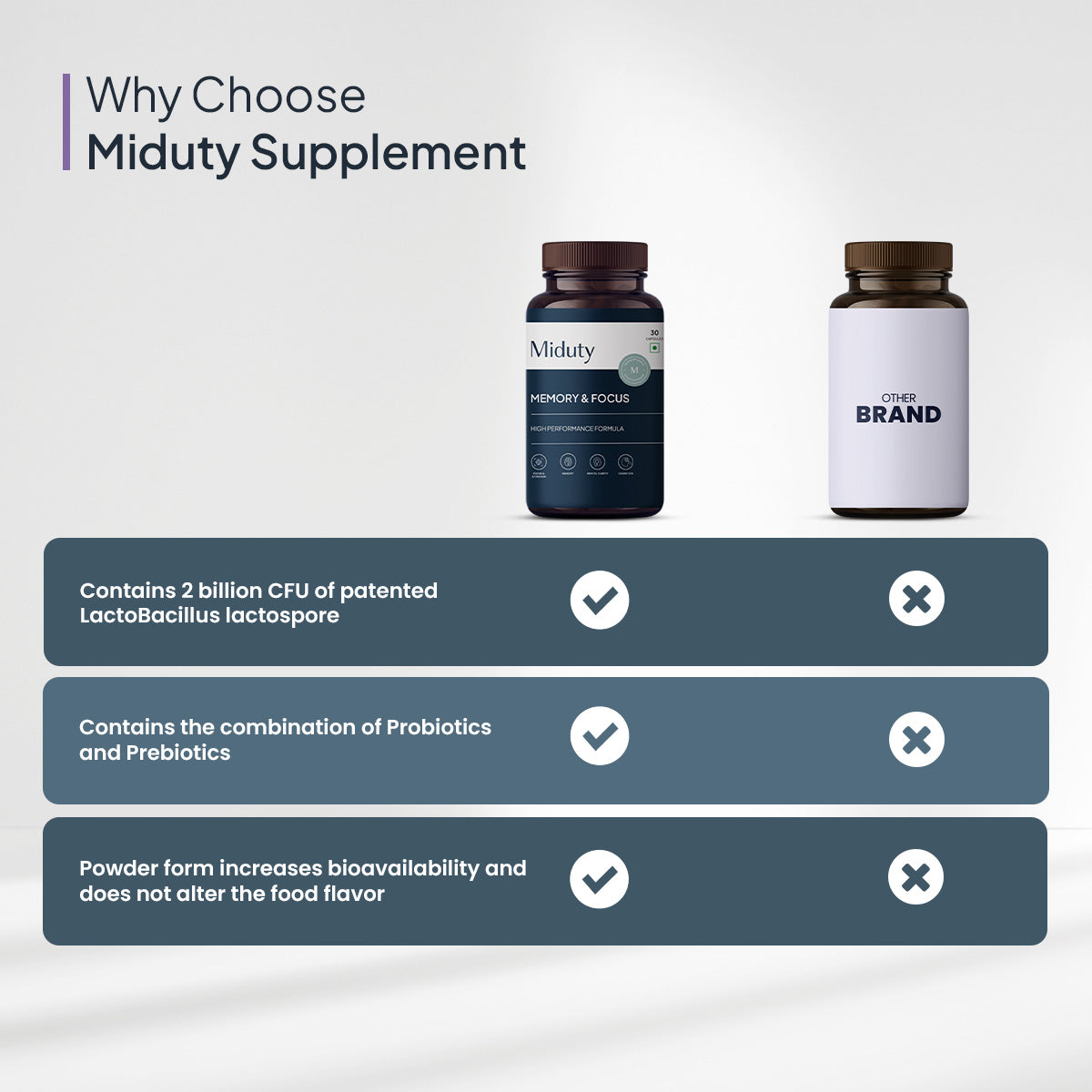 How We Helped Our Customers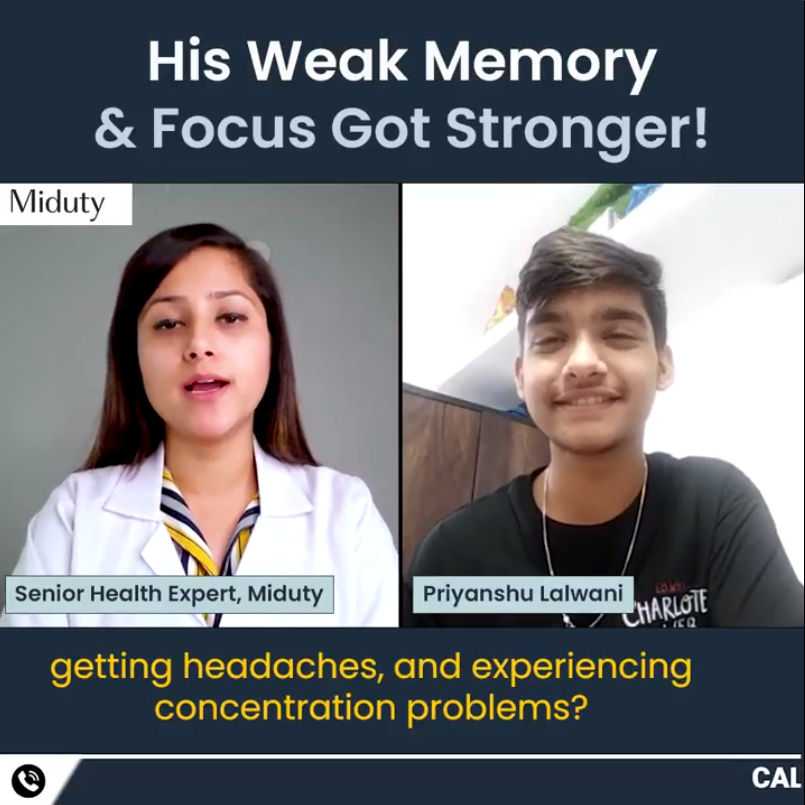 Priyanshu Got his Memory & Focus boosted
What's Inside? (Ingredients)
FAQs
Can your Memory and focus capsule benefit my 12-year-old daughter?
Yes, you can give 1 capsule per day, this will help enhance the focus.
Are your Memory and Focus capsule addictive?
This doesn't contain any ingredient that could be habit-forming or addictive. It is a Natural Brain Health Formula for Memory & Focus.
I'm having difficulty remembering things. Will this supplement help me in that case?
Yes, as Alpinia galanga extract present in Miduty's Memory and Focus can sustain attention for a longer period of time.
My 9-year-old has epilepsy and experiences fits frequently. Will this supplement help him with that?
Yes, I would suggest him take nerve pain relief and vitamin b12 along. For more information, please connect with one of our health experts and call us at +9186990-86991 for a free consultation. 
Are Palak Notes and Miduty same brands?
Yes, the brand's Palak Notes and Miduty are the same.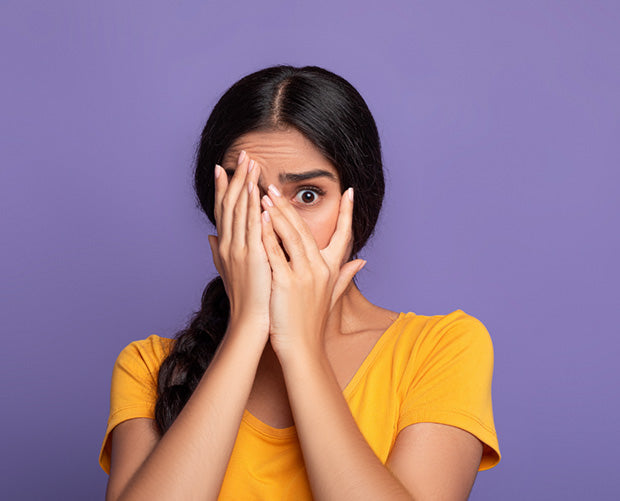 Unknown Facts
Want to feel more focused, joyful, and in control of your thoughts again? It begins with addressing the root cause. Let's focus on revealing some unknown facts.
Brain fog is not normal!

Some people experience brain fog which they usually think is normal, which is NOT! Supplementation with Alpha GPC and Bacopa Monnieri Extract which is present in Miduty Memory and Focus, helps with brain clarity by increasing focus.

Tea or coffee is not going to enhance your focus!

We usually rely on coffee/tea to boost our brain's energy levels. Excess intake of caffeine can also prevent the body from absorbing vital nutrients including calcium, iron, magnesium, and B vitamins. Alpinia galanga extract present in Miduty Memory and Focus is an alternative to caffeine to support sustained alertness and mental energy.

While taking on a new project your mind wanders a lot or you try to multitask?

When you multitask, your brain stores new information in the incorrect location. Your short-term memory is impaired as multitasking can exhaust your brain.
PALAK NOTES IS NOW MIDUTY
New Era! Continued Dedication!
Pain that went untreated gave rise to the brand Palak Notes. Pre-COVID, we began to evolve, and over the past three years (and counting), we have dedicated our entire selves to learning about the pain and health issues that society suffers. We had a modest beginning, but today we have a large family. 

So, in order to adapt to these changes over time, we have decided to create a new brand identity that reflects our team and potential customers. We are now known as MIDUTY. Our vision for the current era is presented and projected through this new identity.