5 Healthy Breakfast Ideas To Fuel Your Day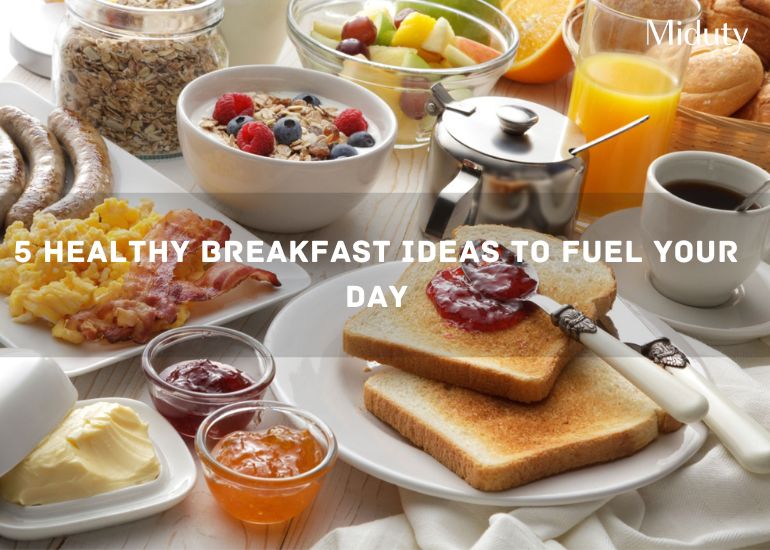 Are you unsure about what to eat for breakfast in order to begin your day with energy? 
Breakfast is the most crucial meal of the day. Your entire day may be affected by what you eat at breakfast. You should think about having a well-balanced breakfast if you want to start your day off right. However, the secret is to consume balanced meals in the proper quantities.  
If you're looking for healthy breakfast ideas, keep in mind that, in addition to being one of the most crucial meals of the day, breakfast can also be among the tastiest when you find the right component combinations. 
Want to get your day off to a strong start? Continue reading to know healthy and yummy breakfast ideas to fuel your day. 
What Makes a Healthy Breakfast?

 
A nutritious breakfast should ensure that you get the minerals and vitamins you need, help you manage your blood sugar levels, and provide you with energy for the rest of the day. 
A healthy breakfast includes a combination of good fats, fibre, protein, and a tiny bit of carbohydrates.  
However, watch out for added sugar. Your favourite breakfast may taste delicious, but sugar can be found in oatmeal, cereals, and bars, as well as coffee, tea, and juice. If possible, choose unsweetened items and maintain sugar counts low.  Use stevia instead of sugar.  
Easy Healthy Breakfast Food Ideas

 
Do you also feel full after eating yogurt? Let's know the reason.  
Greek yogurt has much more protein than regular yogurt, which makes it full. [1] It also contains a low carbohydrate content.  
Furthermore, Greek yogurt is high in probiotics, which are helpful bacteria that promote a healthy digestive system. Greek yogurt is also high in key vitamins and minerals including B12, selenium, and zinc, all of which are beneficial to your health.   
To limit additional sugar, choose plain yogurt over flavored yogurt and add your own fruit.  
Finish with adding a topping of chopped nuts and seeds such as flaxseeds and chia seeds for some healthy fat. Seeds also include soluble fiber, which can help reduce the amount of "bad" cholesterol (LDL) while boosting "good" cholesterol (HDL). [2] Protein and fiber can also help to prevent a blood sugar increase before lunch. 
There are multiple reasons why eggs are a popular breakfast item. They're a cheap and nutrient-dense food that's high in vitamins A, D, and B12. [3]  
One egg also contains approximately 8 grams of protein. Protein is required for nearly every organ in our bodies to function properly, especially our skin, blood, muscles, and bones.  
Try scrambled eggs or a masala omelette with veggie toppings for a fiber- and protein-rich breakfast. 
 Poha is a light, satisfying, and simple dish. Poha is a popular breakfast in India. 
 It is a good source of carbs, iron, fiber, antioxidants, and important vitamins, and it is gluten-free, so it can be eaten by those who are allergic to wheat products. It is also a good source of vitamin B1, which can help with blood sugar regulation.  
Protein Shake can be a quick and easy breakfast alternative for people who are rushed for time in the morning.  
Protein smoothies often require little to no preparation, depending on the ingredients you select, which may save you time and energy first in the morning.
 Protein shakes are an easy way to get some extra vitamins and minerals into your diet. Spinach, kale, zucchini, and beets are all high in nutrients and can be readily incorporated into a protein shake. Nuts and seeds are also beneficial foods that can be added to your protein shake.  
Consuming a protein shake for breakfast is more beneficial than eating a high-carb breakfast at lowering ghrelin levels. Ghrelin is a hormone responsible for hunger. Consuming protein in the morning can thus help you minimise your total calorie intake and benefit your weight loss effort. 
Dosa may have originated in a South Indian kitchen, but it is now a popular morning dish throughout India.  
Furthermore, you will find various unique tweaks to a traditional dosa recipe to make it even healthier and of course, tastier as well. One such example is moong dal dosa. Dosas are not only delicious, but they are also easy on the digestive system.  
Those who have heart disease or diabetes must be especially careful about what they eat. Dosa, on the other hand, is a healthy breakfast alternative for people who need to limit their fat intake.             
Oats are one of the healthiest breakfast foods for a variety of reasons.  
They're high in fiber, plant-based protein, B vitamins, and minerals like iron, calcium, and magnesium because they're made entirely of whole grains.  
Eating oats has been related to a lower risk of heart disease, lower cholesterol, better gut health, and weight loss. [5] Though oats are not traditionally used in Indian cuisine, they are making their way into Indian kitchens. 
Try Oats upma, a nutritious upma made with quick-cooked oats and steamed vegetables. The recipe is simple and can be completed in 30 minutes, including preparation and cooking time. As a result, it's ideal for breakfast or a quick snack. 
References 
[1] https://www.ncbi.nlm.nih.gov/pmc/articles/PMC6144340/ 
[2] https://www.hsph.harvard.edu/nutritionsource/food-features/chia-seeds/ 
[3] https://www.hsph.harvard.edu/nutritionsource/food-features/eggs/ 
[4] https://www.medicinenet.com/protein_shake_for_breakfast_benefits_weight_loss/article.htm#:~:text=According%20to%20studies%2C%20drinking%20a,aid%20your%20weight%20loss%20efforts.
[5] https://health.clevelandclinic.org/how-healthy-is-oatmeal-for-breakfast-really/#:~:text=Research%20shows%20that%20a%20daily,quickly%2C%20too%2C%20notes%20Czerwony.