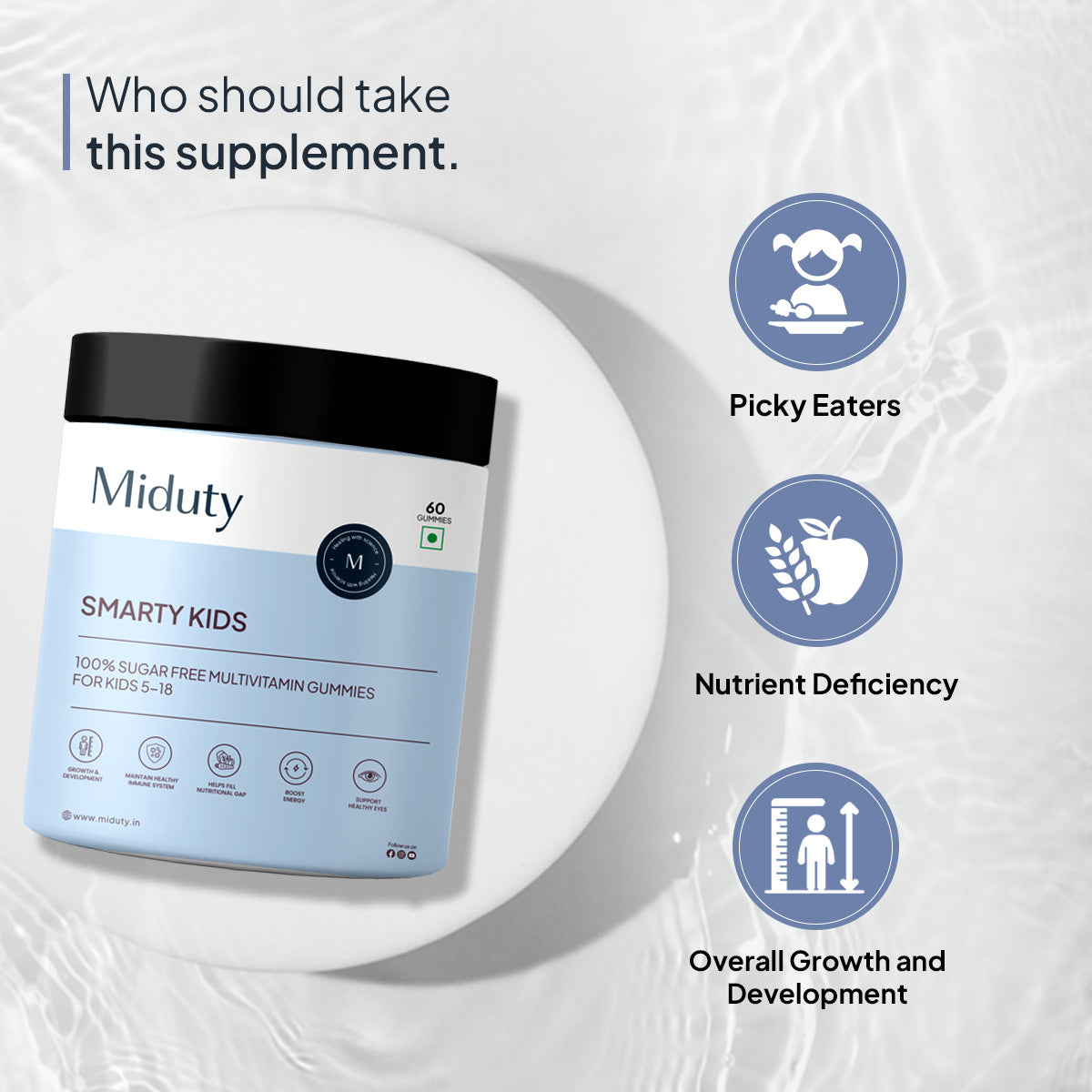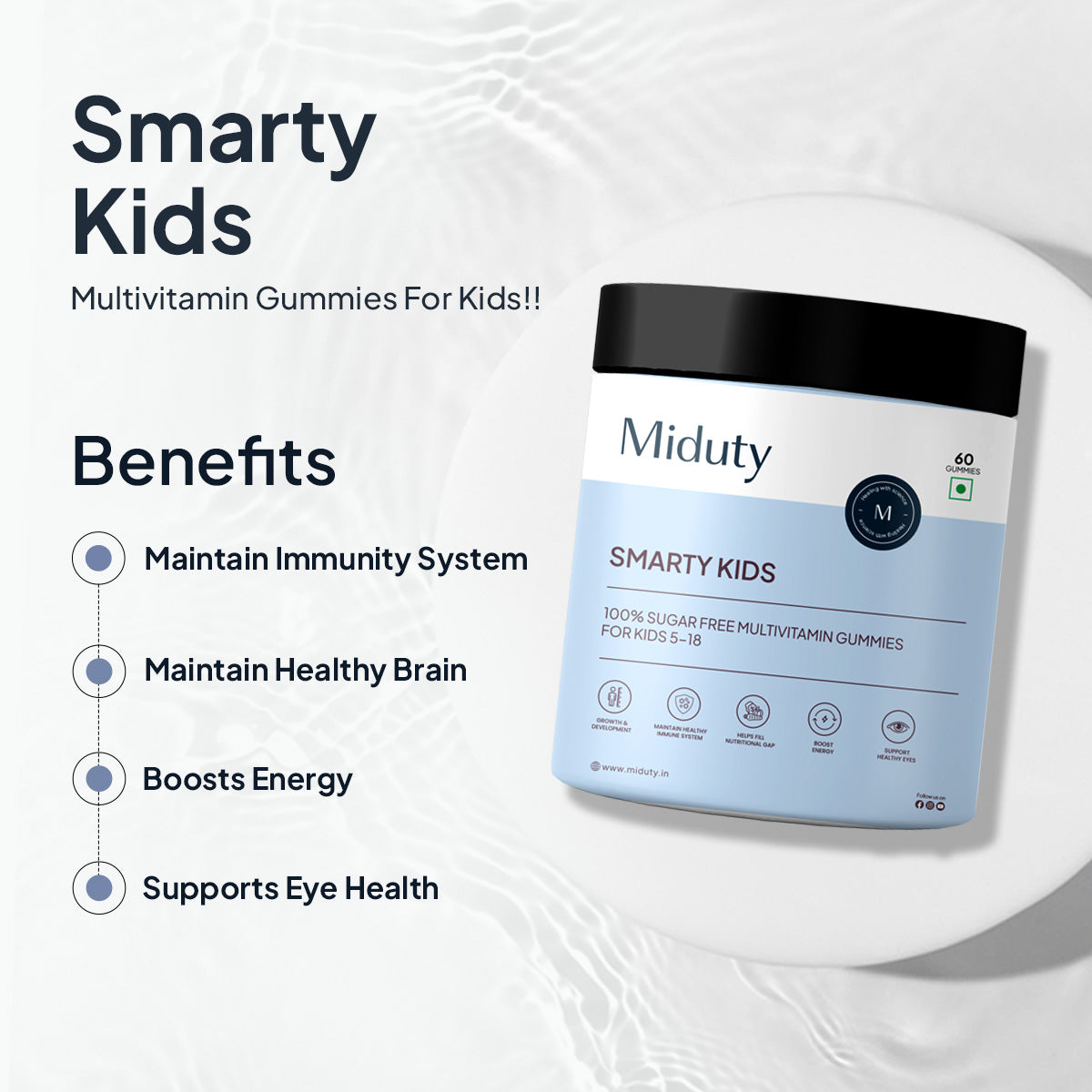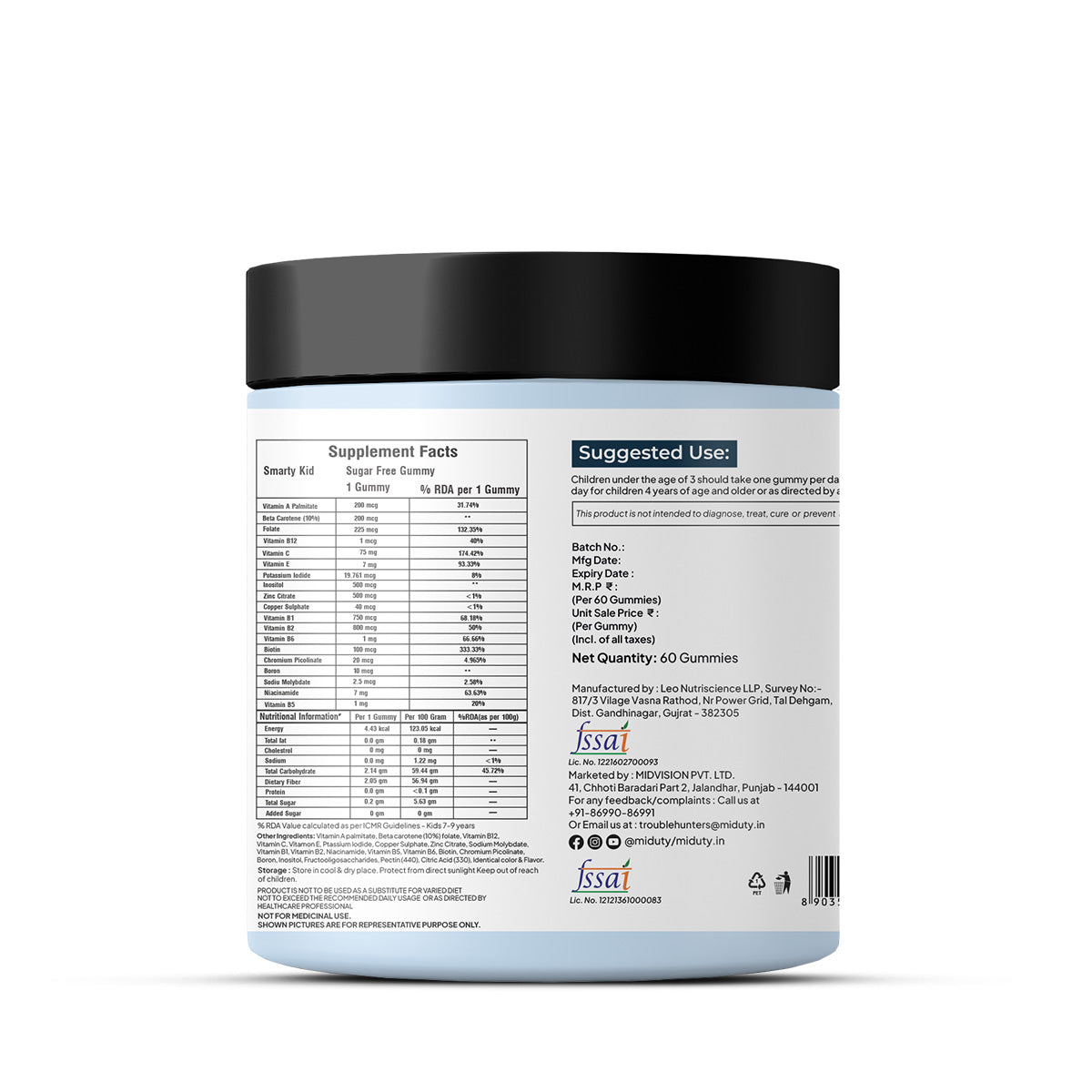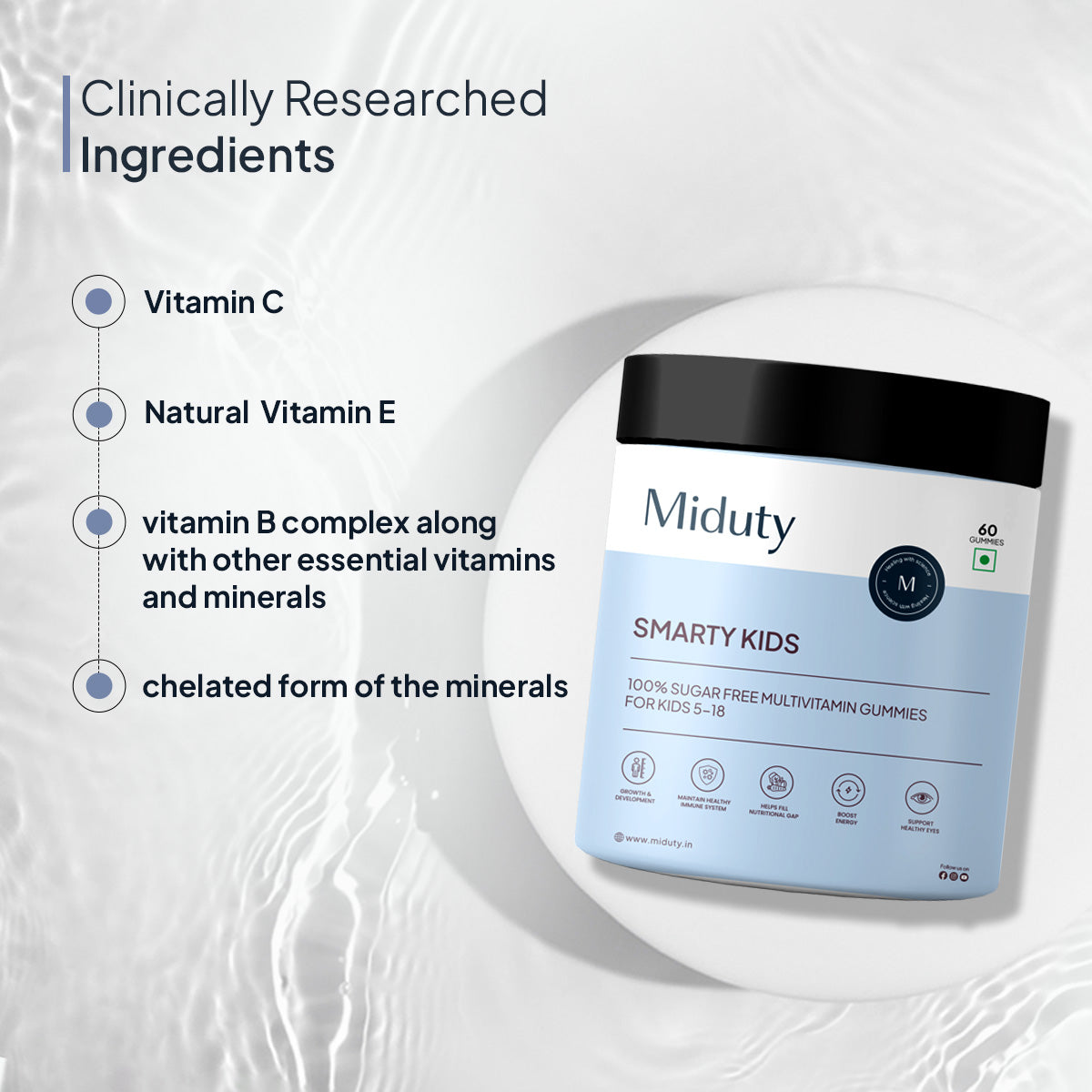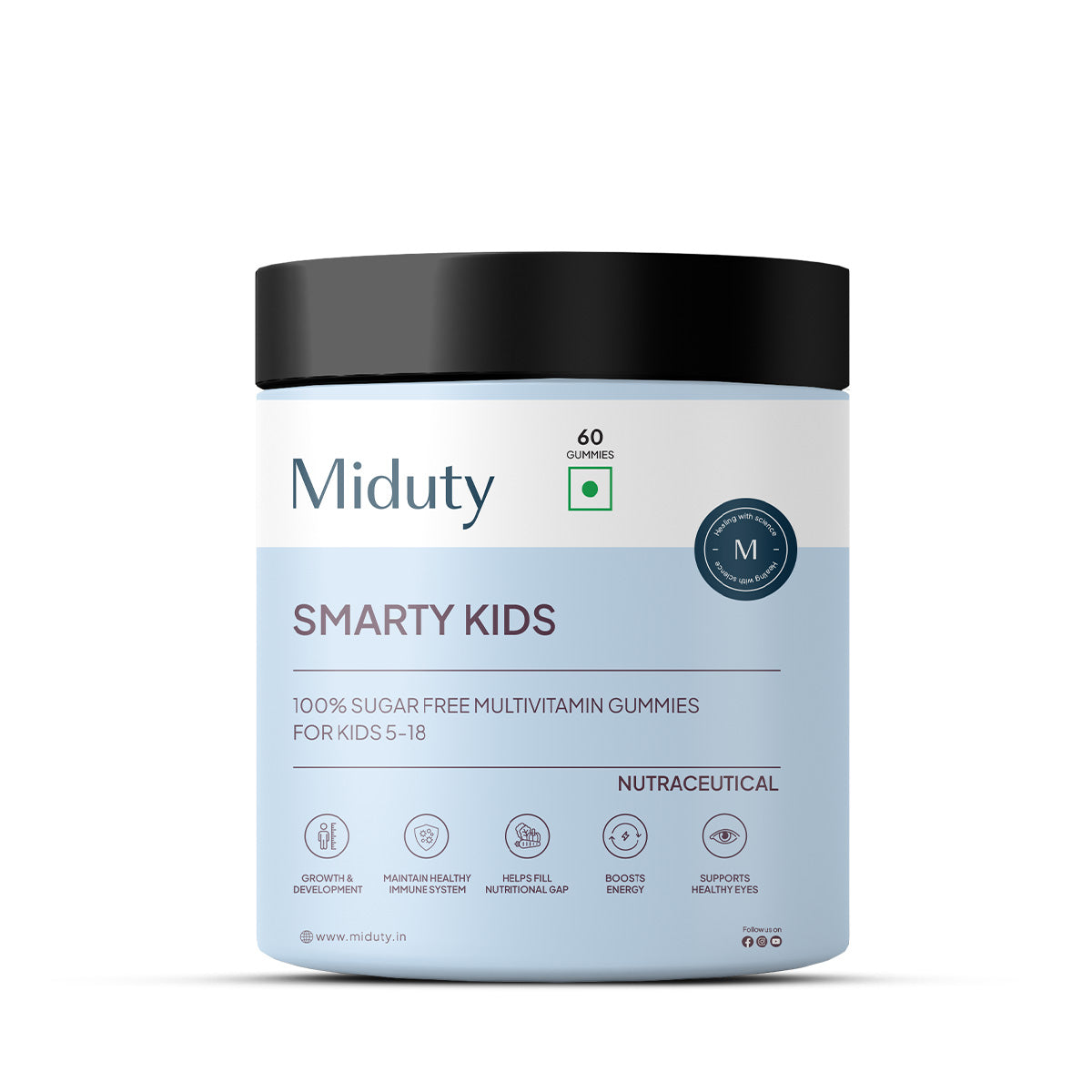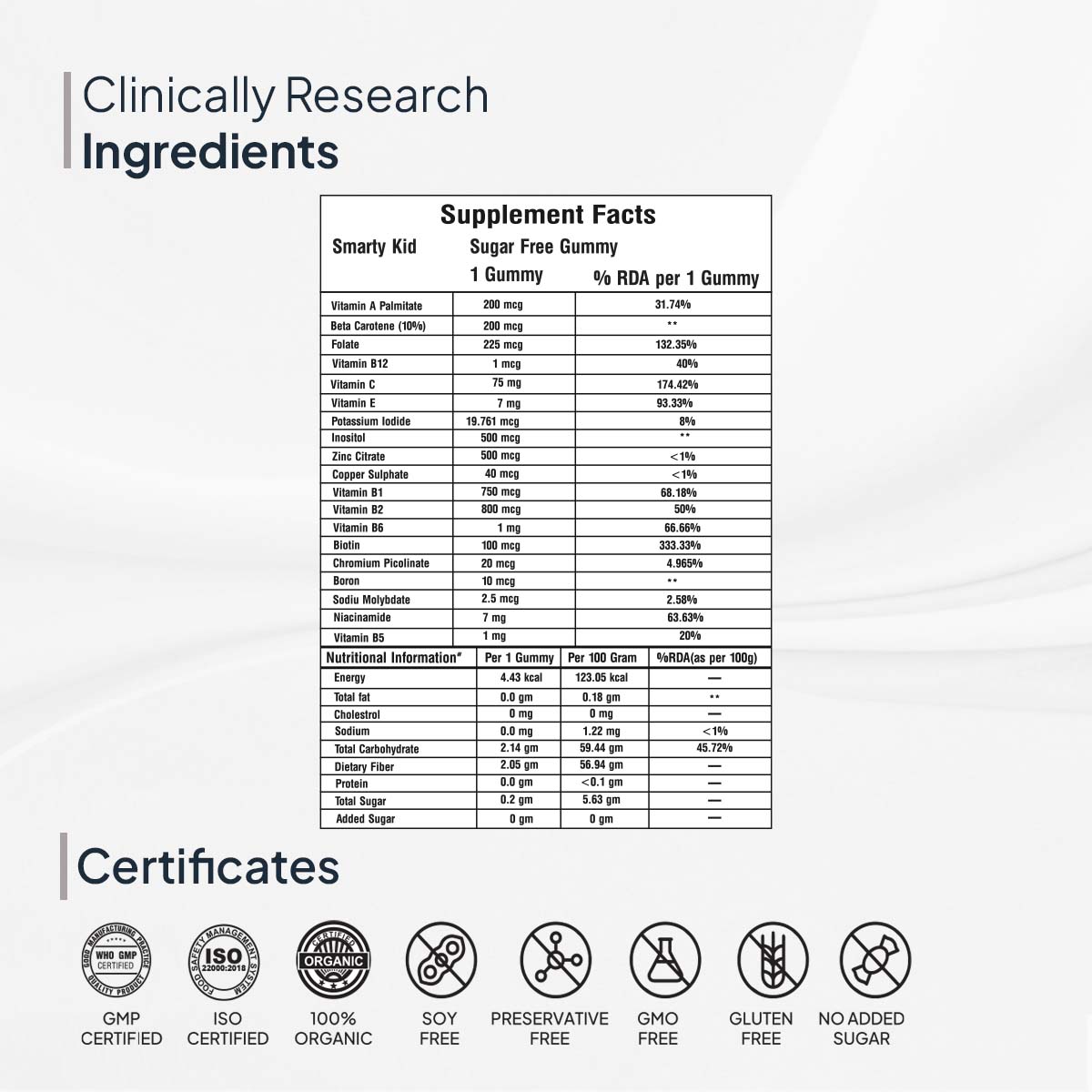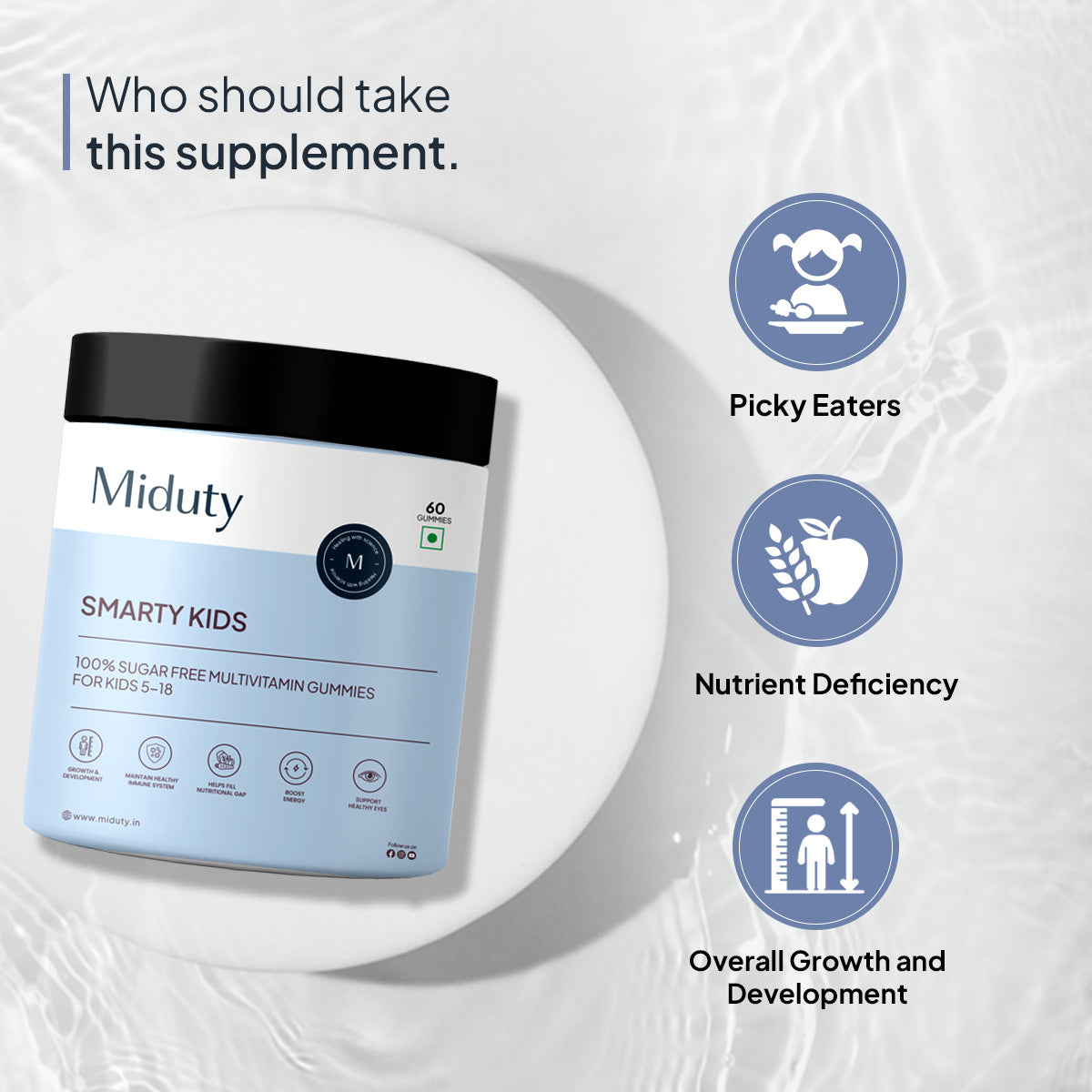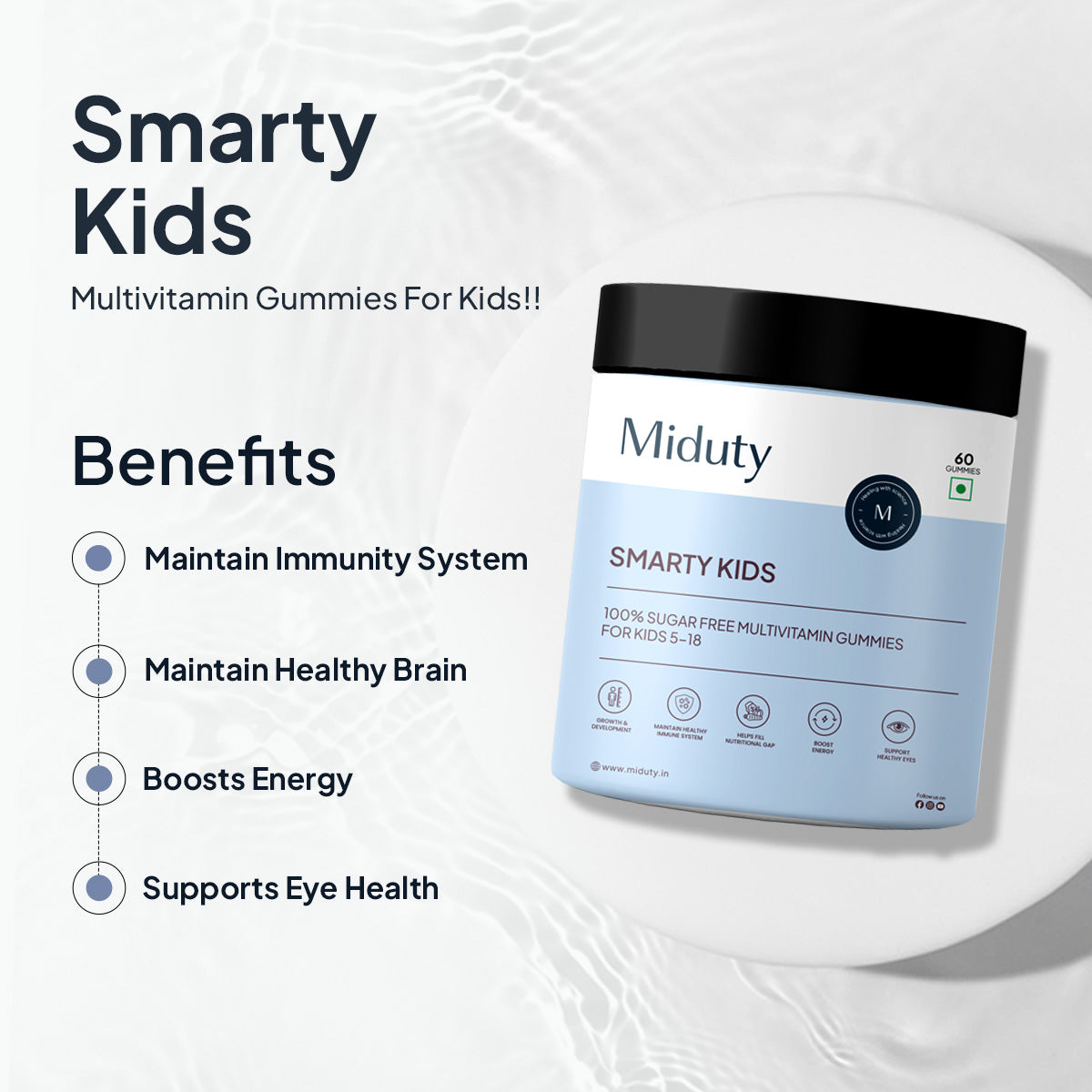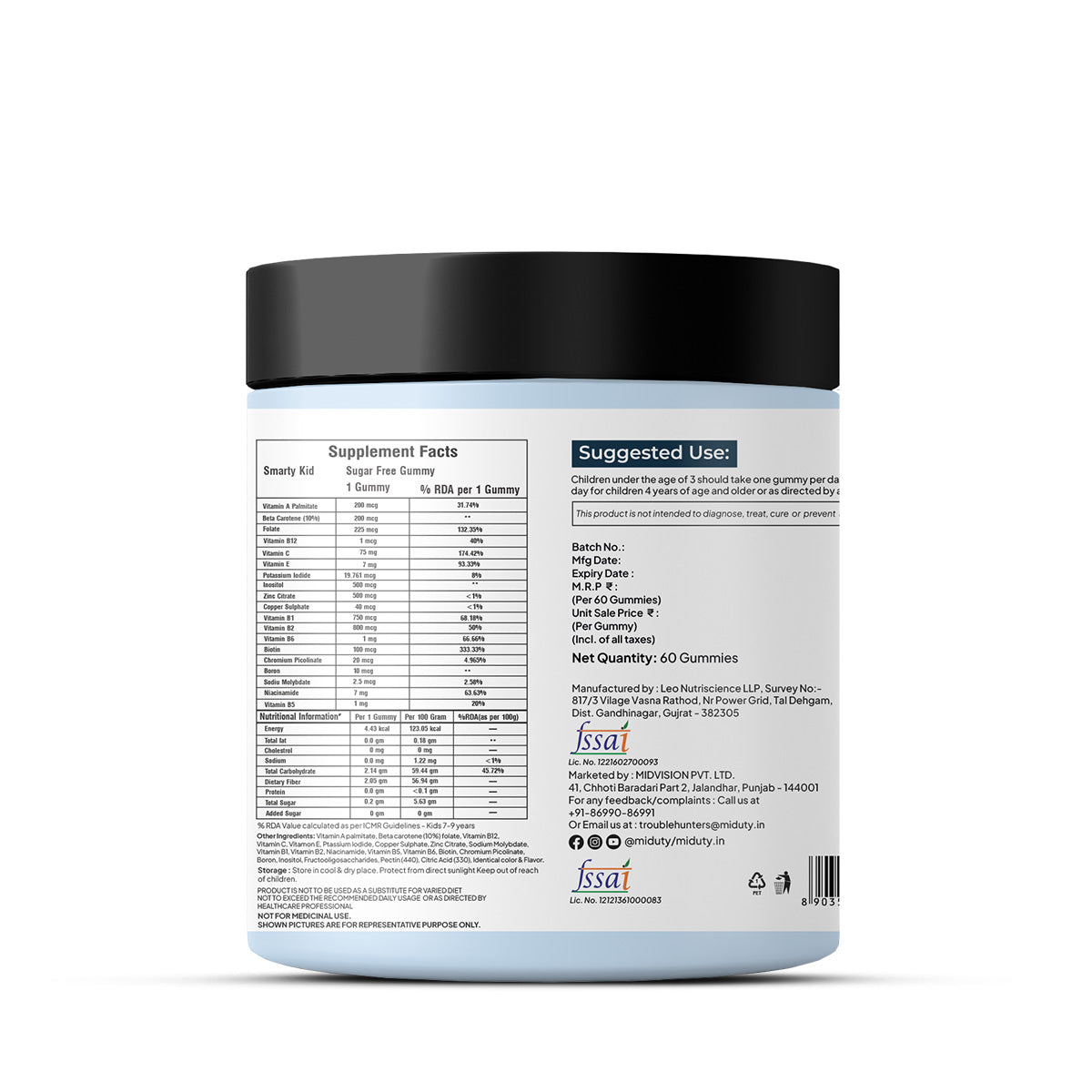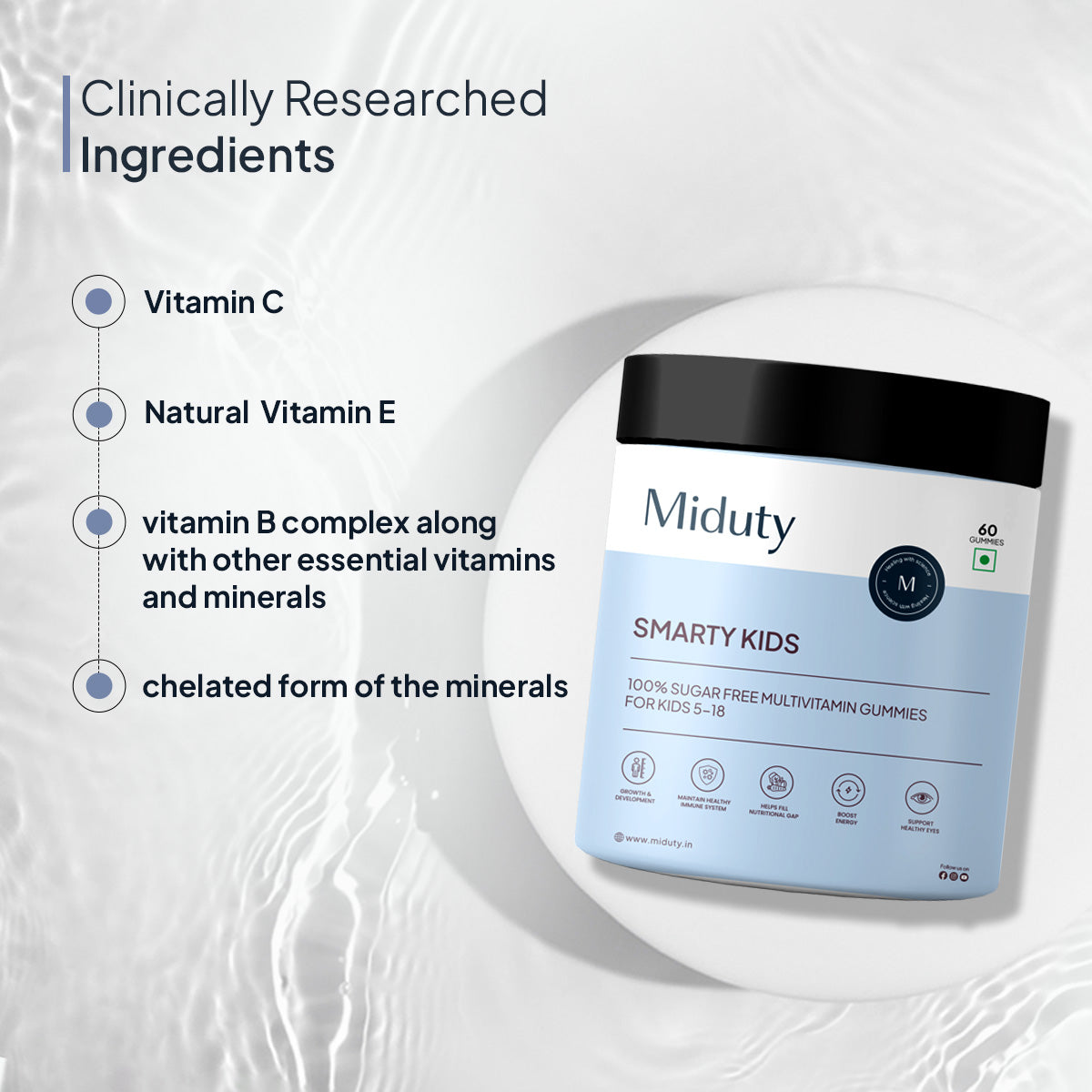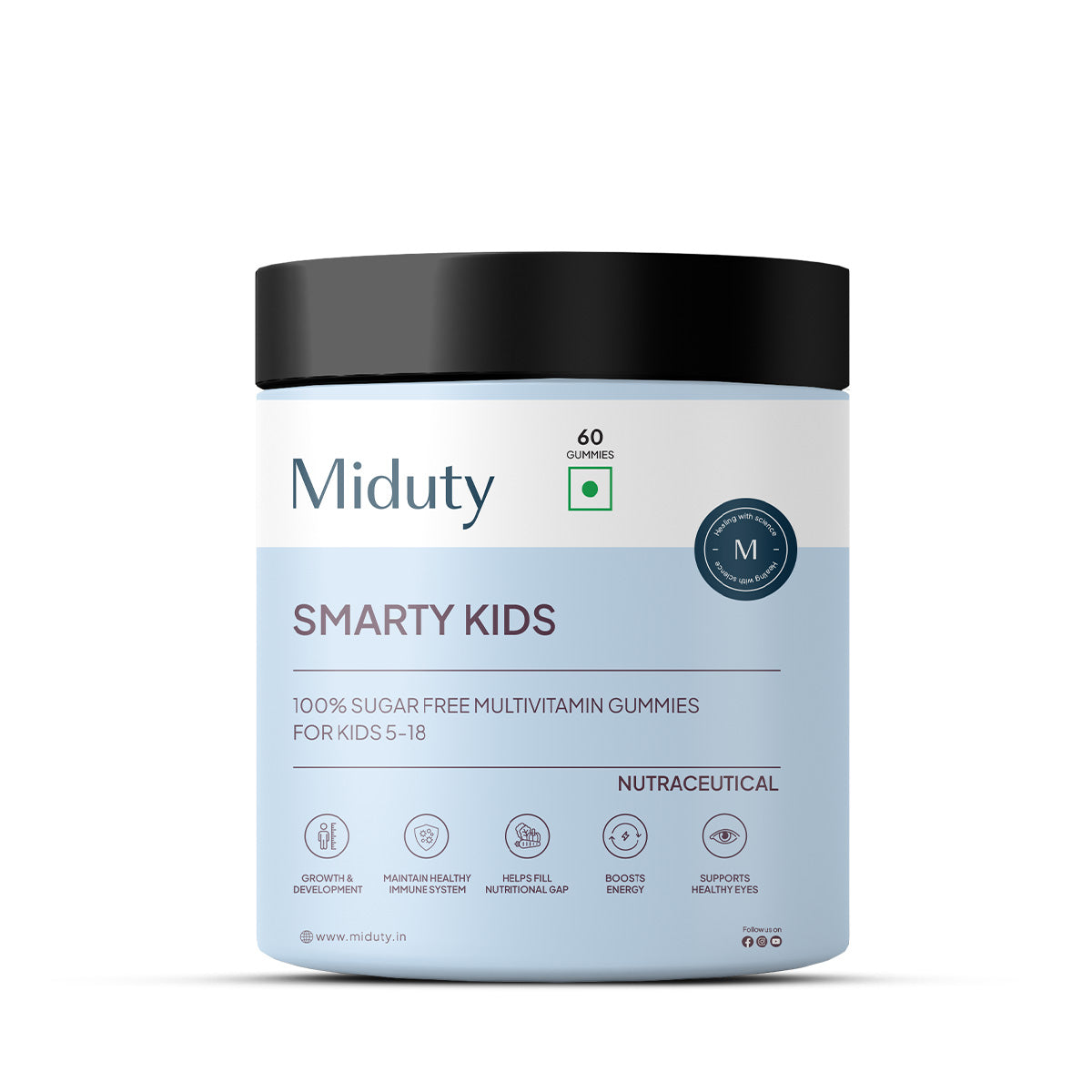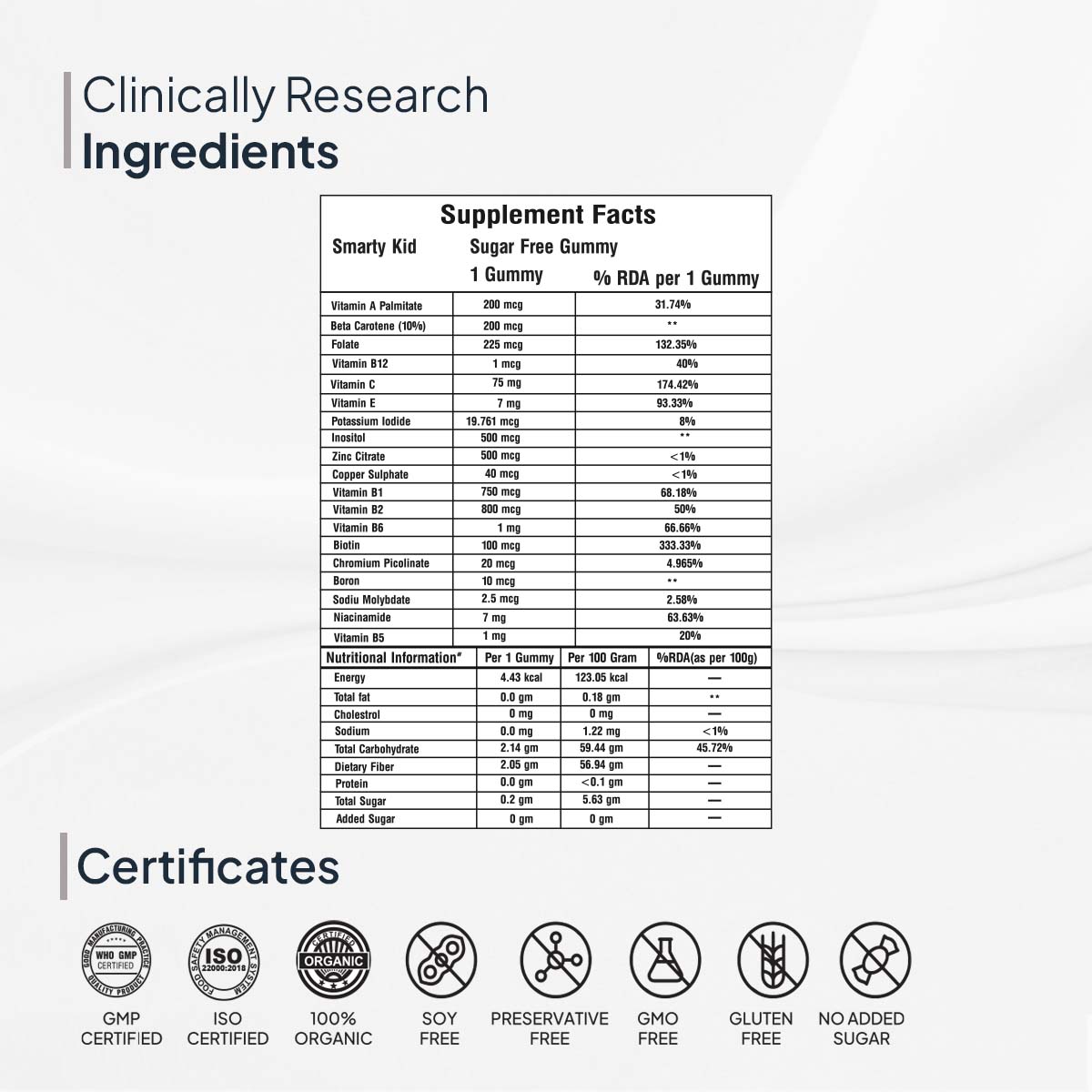 Kids Growth
Kids Immunity
Kids Multivitamins
Smarty Kids
Smarty Kids
Is it appropriate to start giving vitamins to kids at such a young age? Food provides all the vitamins each day, so what is the necessity?

Having the requirement for the proper vitamins and minerals, Multivitamin candies are gaining much popularity.

Miduty's Smarty Kids is a must-have for picky eaters. It boosts a child's overall growth, fills in nutritional gaps, builds strong and healthy bones, and enhances energy and immunity.
Description
Nowadays, it is very difficult to supply the proper vitamins and minerals to kids, which are essential for their growth.
For kids who are picky eaters and face complaints of nutrient deficiency or absorption issues, these gummies are a must. These will provide all the essential vitamins and minerals that kids are not getting from food.
These vitamins should be taken every day because they are crucial for healthy body regulation, growth, and maintenance. Additionally, they support the production of hormones and enzymes, improve immunity, and maintain healthy nerve and organ function.
Miduty Smarty Kids (Kids Multivitamin), containing Vitamin A, Vitamin B complex, and Vitamin C with a powerpack punch of vital minerals and micronutrients, delivers potential benefits for brain function while also providing a synergistic effect against oxidative stress.
Kids' brains undergo rigorous mental processing during their learning stage. Vitamin B complex and vitamin C minerals support high levels of cognitive demand, prevent mental fatigue, and improve cognitive performance, mood, and well-being.
The study investigations indicated administering a full complement of B vitamins along with other vitamins, minerals, and micronutrients is crucial for prospective advantages for brain function. [1] 
Throughout the learning stage, the child's brain has undergone intensive mental processing. According to the findings of clinical research, a B vitamin complex combined with vitamin C, minerals, and high levels of cognitive demand can maintain cognitive function, avoid mental tiredness, and enhance mood, well-being, and cognitive performance. [2]
Magnesium chelate was found to be successful in reducing the frequency and severity of leg cramps in a clinical investigation. additionally, manage an asthmatic patient's bronchial responsiveness. [3]
Since l-methyl folate does not need to be converted into active folate form by enzyme activity, everyone can consume it immediately. [4]
These are maintenance multivitamins that can be integrated as a part of daily life to fill nutritional gaps in children.
How do I take them?
Dosage for kids under the age of 3-

Children under the age of 3 should take one gummy per day.

Dosage for kids of age 4 or above 4 years-

2 gummies each day for children 4 years of age and older.

Quick Info -

If your child is a picky eater, then this multivitamin gummy is a must.
What's it for?
- Nutritional Deficiencies
- Kids Having Absorption Issues
- To Increase Nutrient Needs
- Kids Who Are Picky Eaters
- Kids Who Do Not Consume An Adequate Diet
- Kids Who Have Difficulty Swallowing Pills
Why is Miduty's Smarty Kids is Superior?
Compared to other Multivitamins available for kids, Miduty Smarty Kids includes all of the multivitamins, such as Vitamin C, Vitamin A+B complex, and many others.


This contains just chelated minerals for better tolerability, bioavailability, and stability. Mineral supplements with "chelated" minerals are among those that have better absorption.


The presence of Iron Chelate in this supplement helps to correct anemia in infants and toddlers.


100% Organic Brown Sugar is present. Due to the addition of Raw Brown Sugar, these candies have the ability to provide kids with the necessary vitamins and minerals while also tasting wonderful.


Due to its slightly higher calcium, iron, and potassium content as well as its slightly lower calorie count, brown sugar is healthier than white sugar.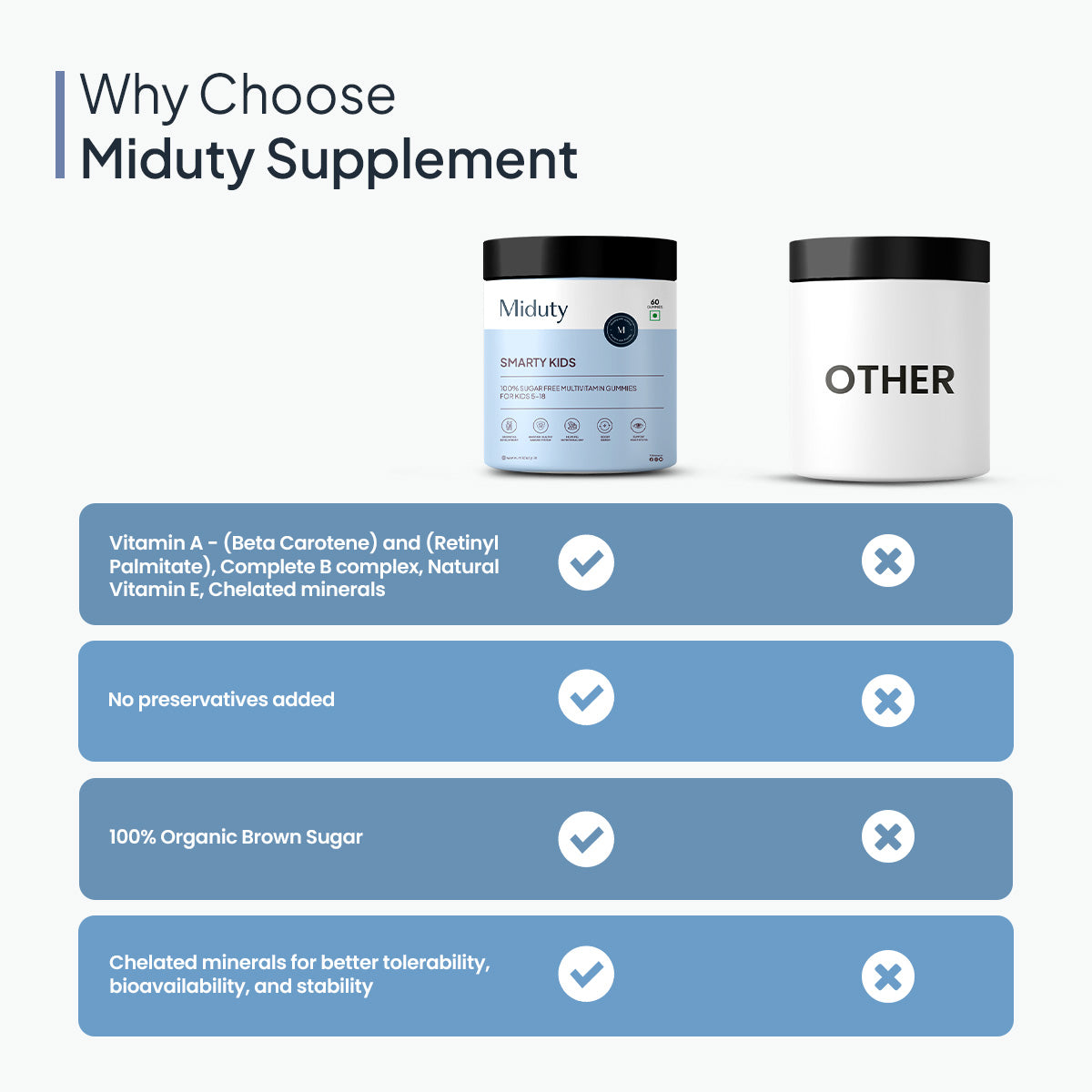 How We Helped Our Customers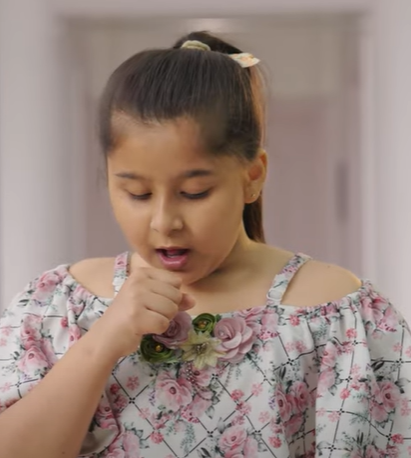 Akansha Solved Her Daughter's Cough & Cold Issue
What's Inside? (Ingredients)
FAQs
Why should I give it to my kid?
Nowadays, it is very challenging to give children the correct vitamins and minerals that are crucial for their development. Kids who are not getting all the necessary vitamins and minerals from their food will be benefited by these gummies.
How long should we give this to our children?
These maintenance multivitamins can be included in daily living to help children who may be lacking in certain nutrients.
Which age range of children may we give this to?
For kids of all ages, these gummies were specifically created.
Will this supplement be able to help my picky eater baby's body recover from its deficiencies?
Yes, Smarty Kids along with Kids Chocolate Shake will help in completing the body's nutritional needs.
Are Palak Notes and Miduty same brands?
Yes, the brands Palak Notes and Miduty are the same.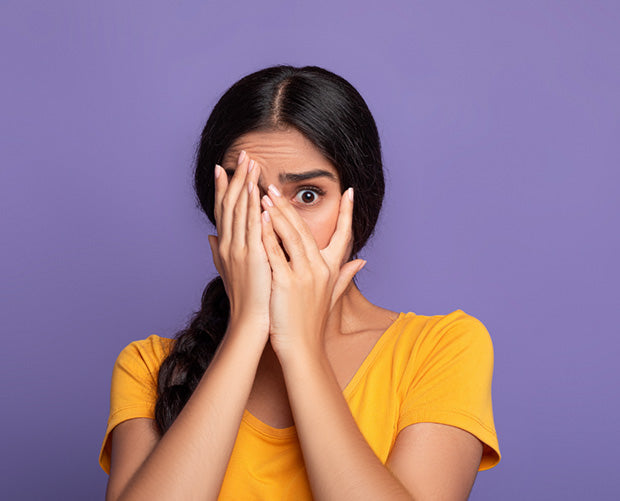 Unknown Facts
Fill nutritional gaps

Serious conditions like anemia, bone loss, tiredness, and constipation can all be caused by micronutrient deficiencies. Fortunately, you may improve your health by using multivitamins to help fill in any nutritional gaps in your diet and guard against vitamin and mineral deficiencies.

Enhances Mental Function

According to some studies, taking a daily multivitamin can also maintain brain function and improve mental wellness. It's interesting to note that one study even discovered that daily multivitamin intake could enhance memory in elderly males at risk for cognitive deterioration.

Improved Eye Health

According to recent studies, taking a multivitamin can help maintain good eye health and help treat diseases like macular degeneration, which is the most common cause of blindness worldwide and causes vision loss.
Scientific/Clinical Studies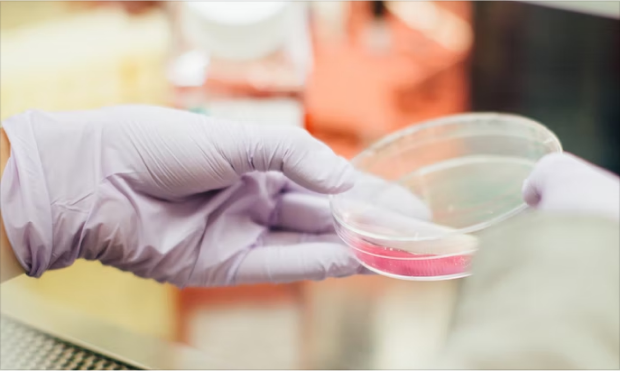 PALAK NOTES IS NOW MIDUTY
New Era! Continued Dedication!
Pain that went untreated gave rise to the brand Palak Notes. Pre-COVID, we began to evolve, and over the past three years (and counting), we have dedicated our entire selves to learning about the pain and health issues that society suffers. We had a modest beginning, but today we have a large family. 
So, in order to adapt to these changes over time, we have decided to create a new brand identity that reflects our team and potential customers. We are now known as MIDUTY. Our vision for the current era is presented and projected through this new identity.