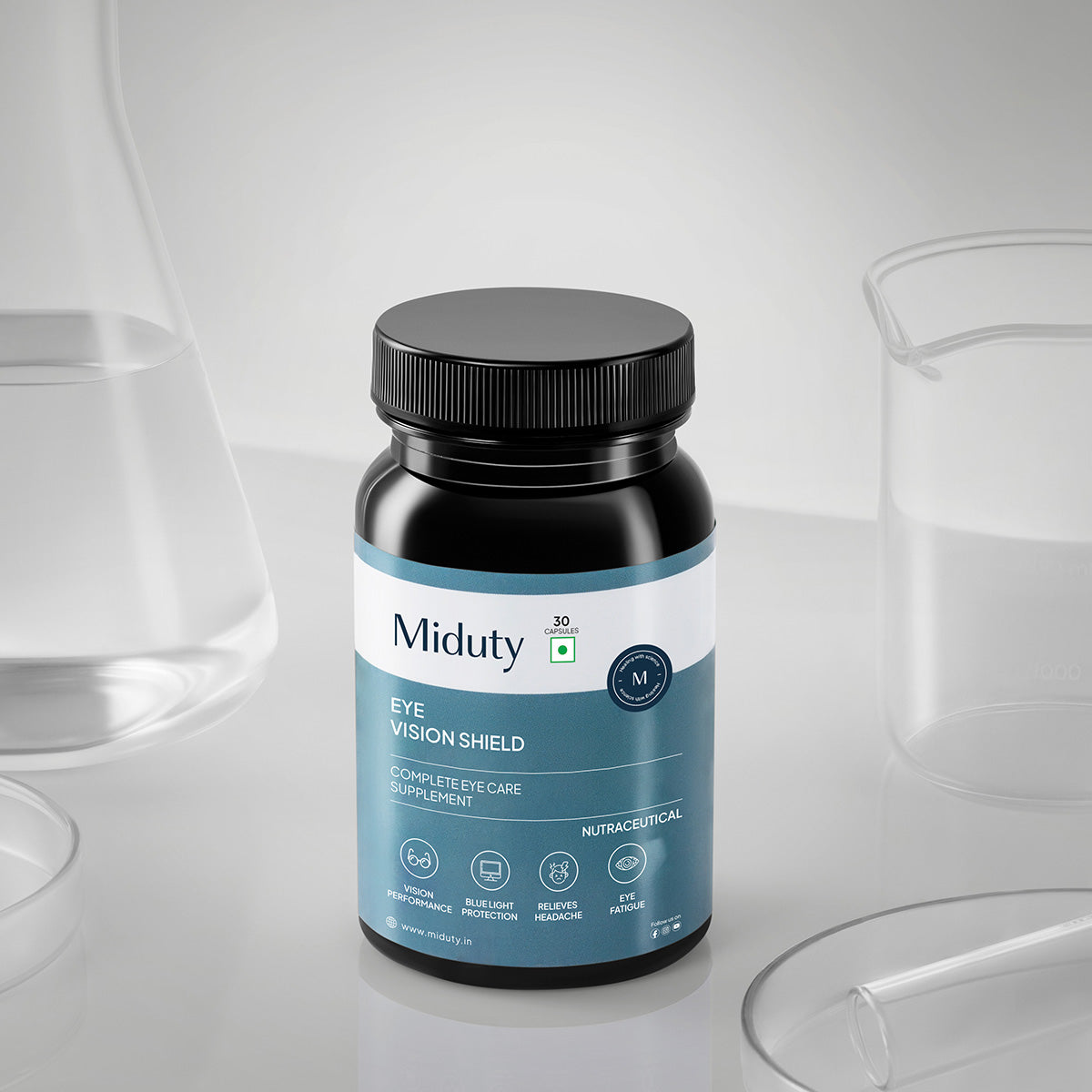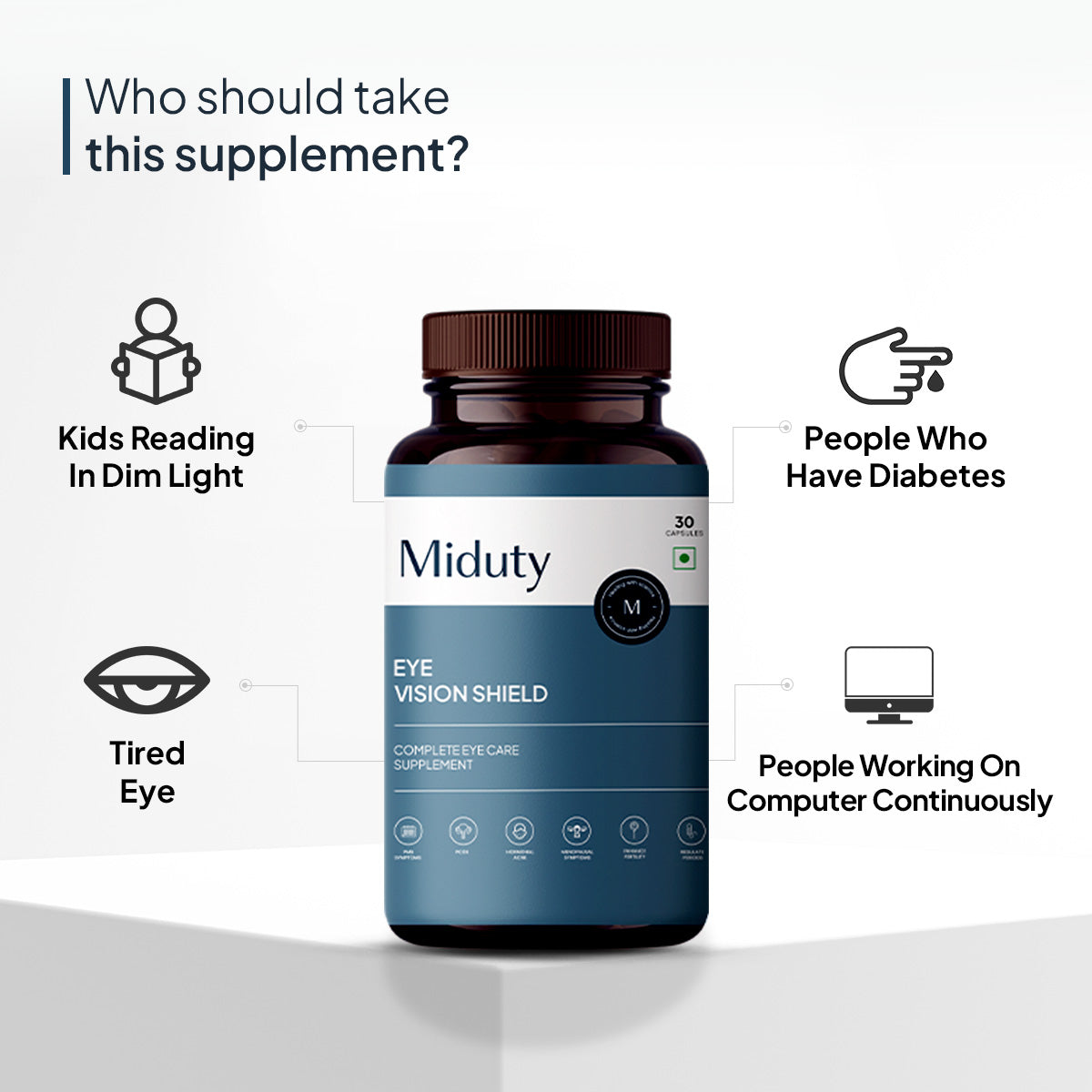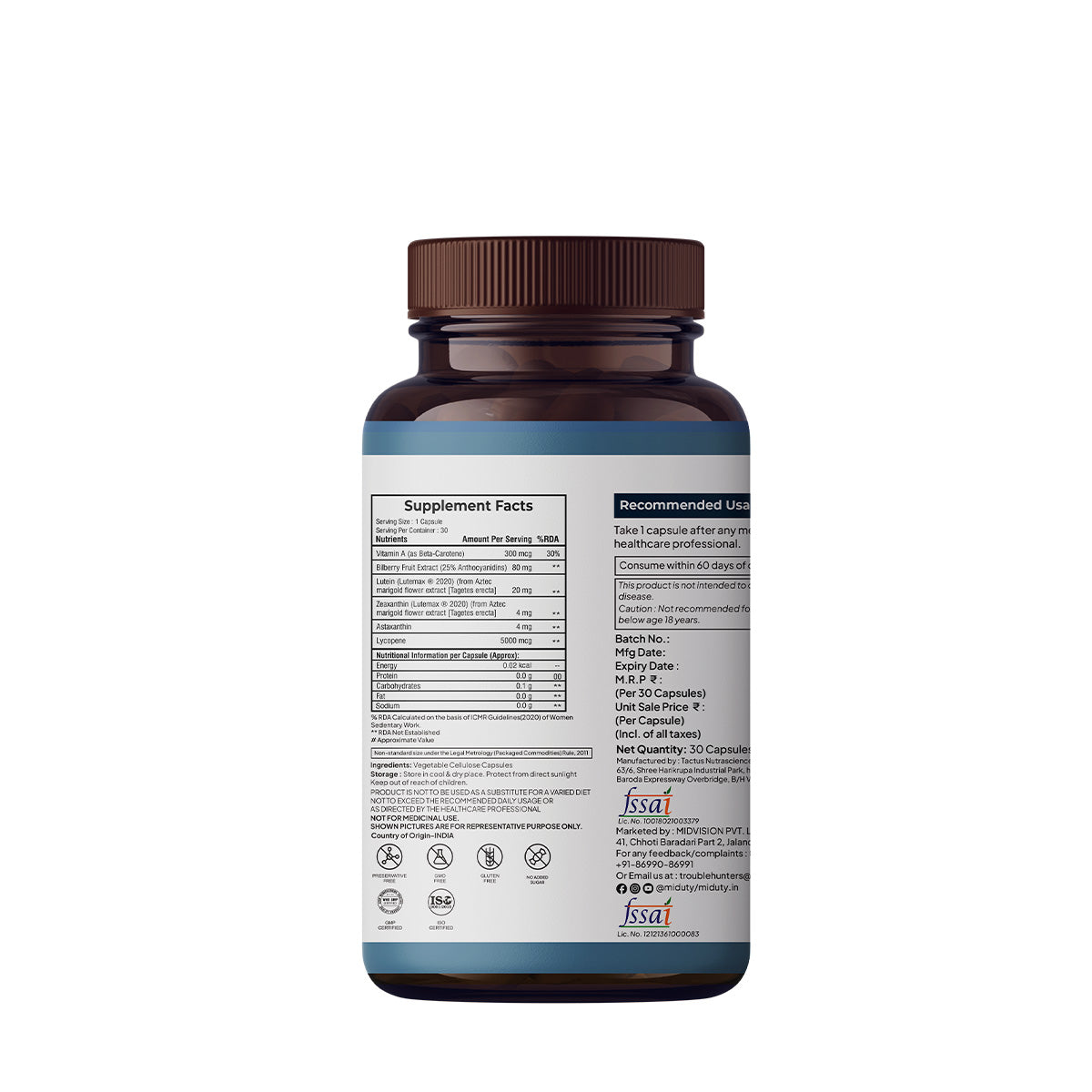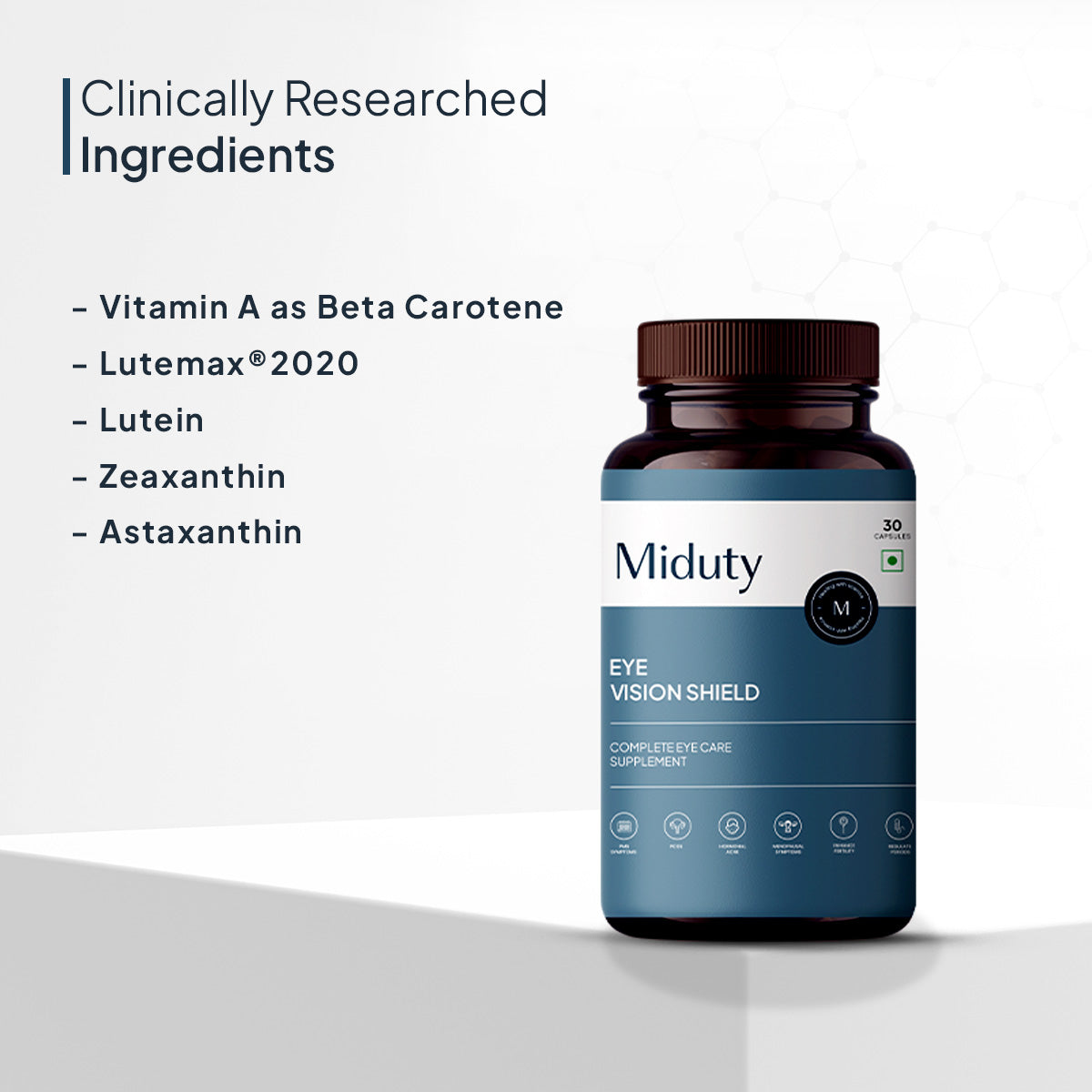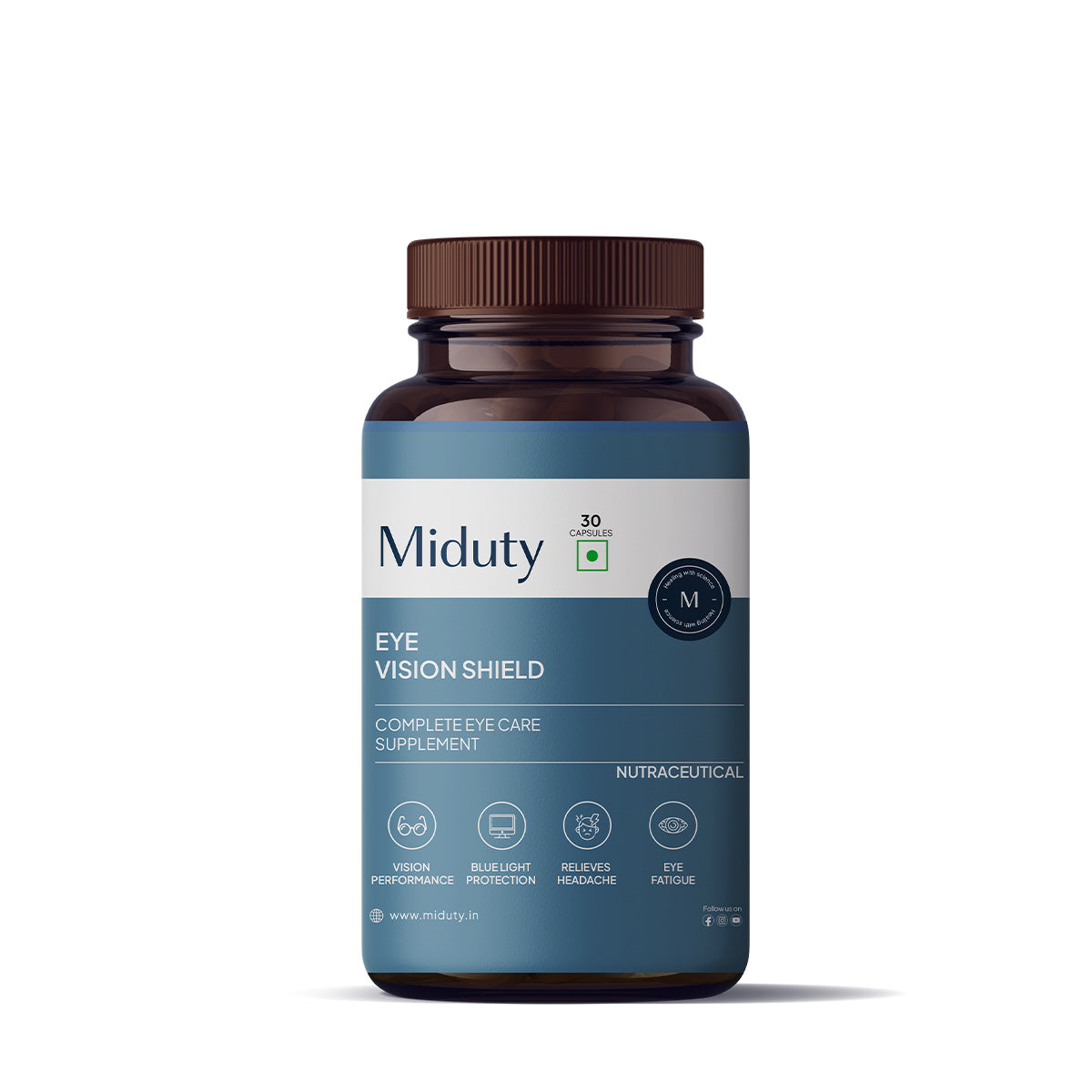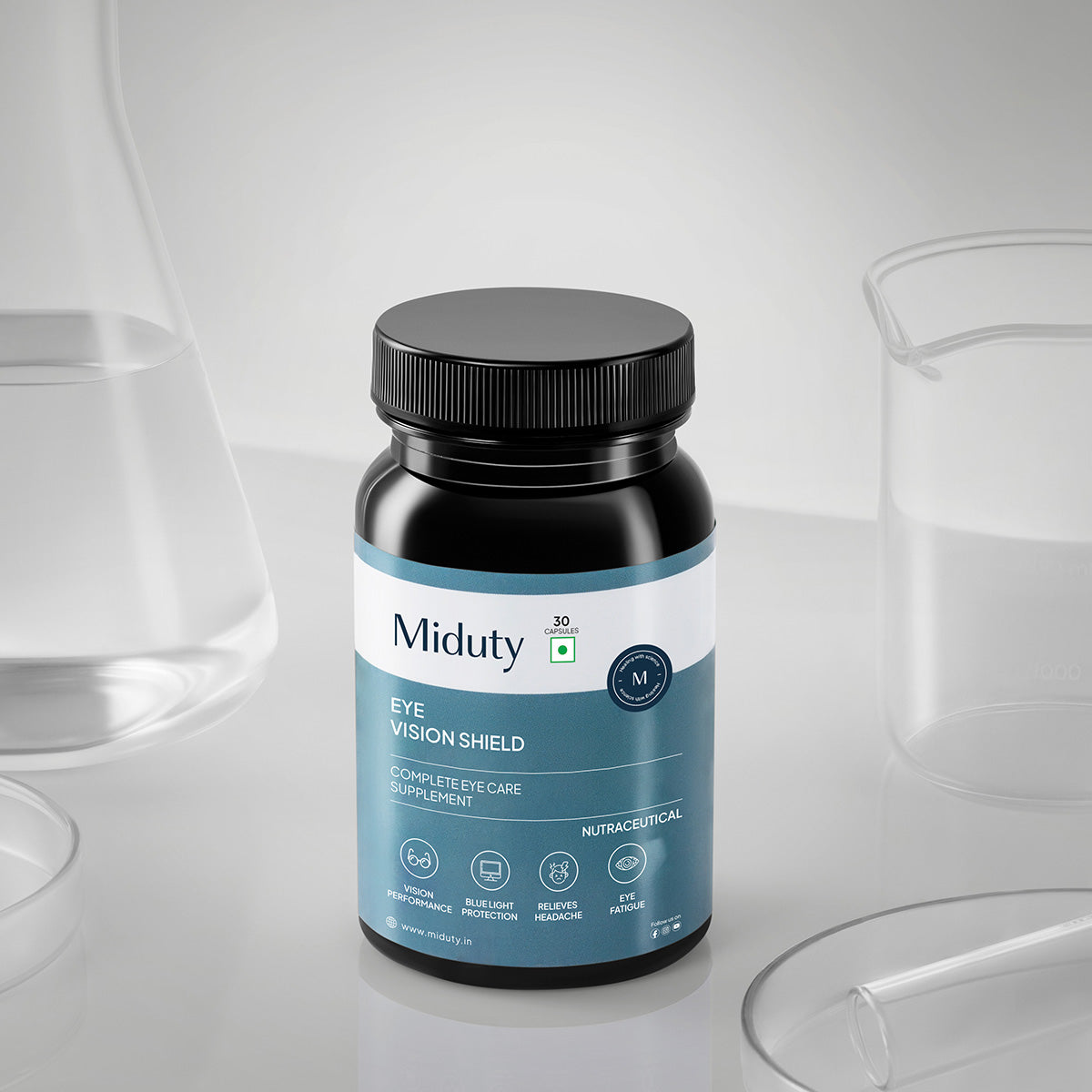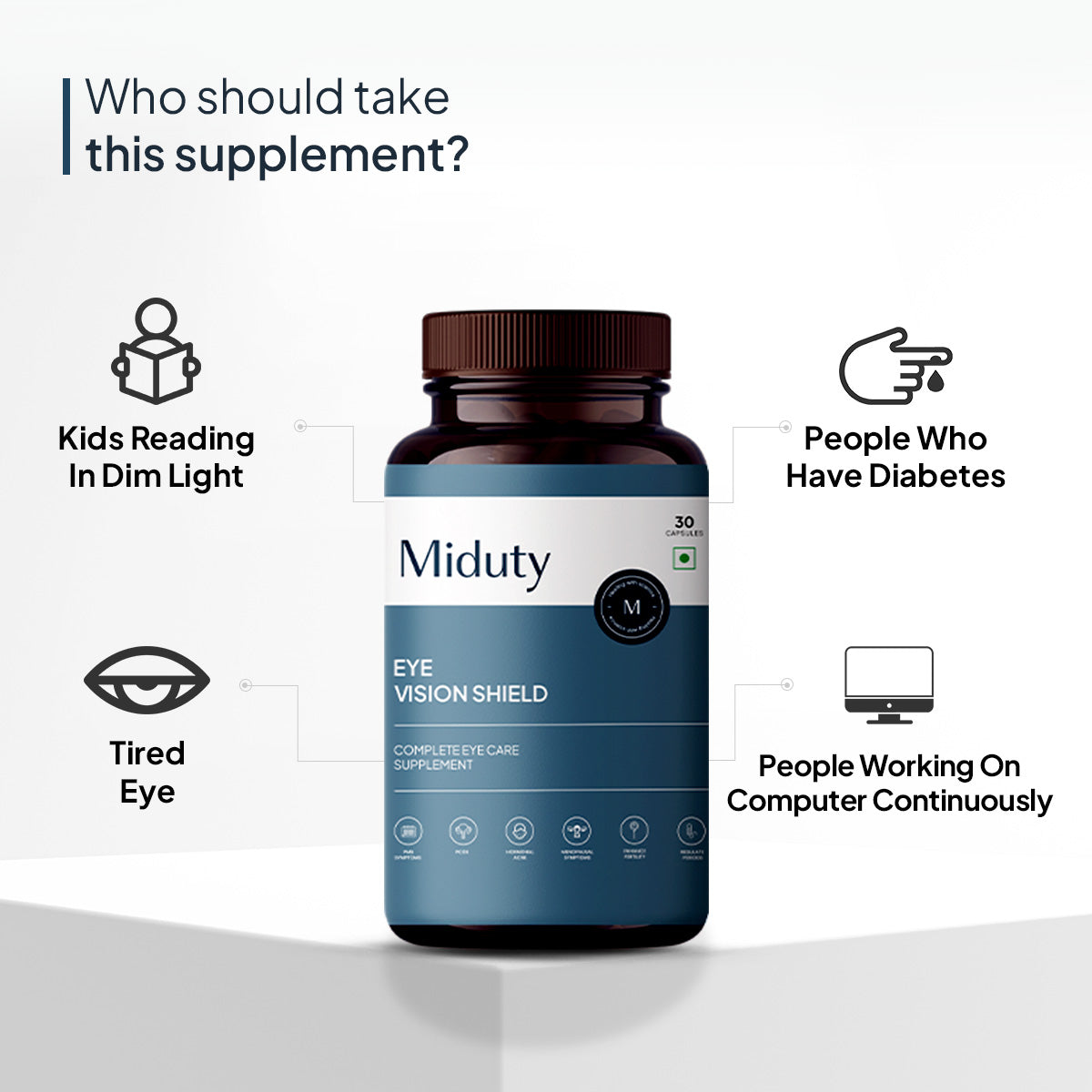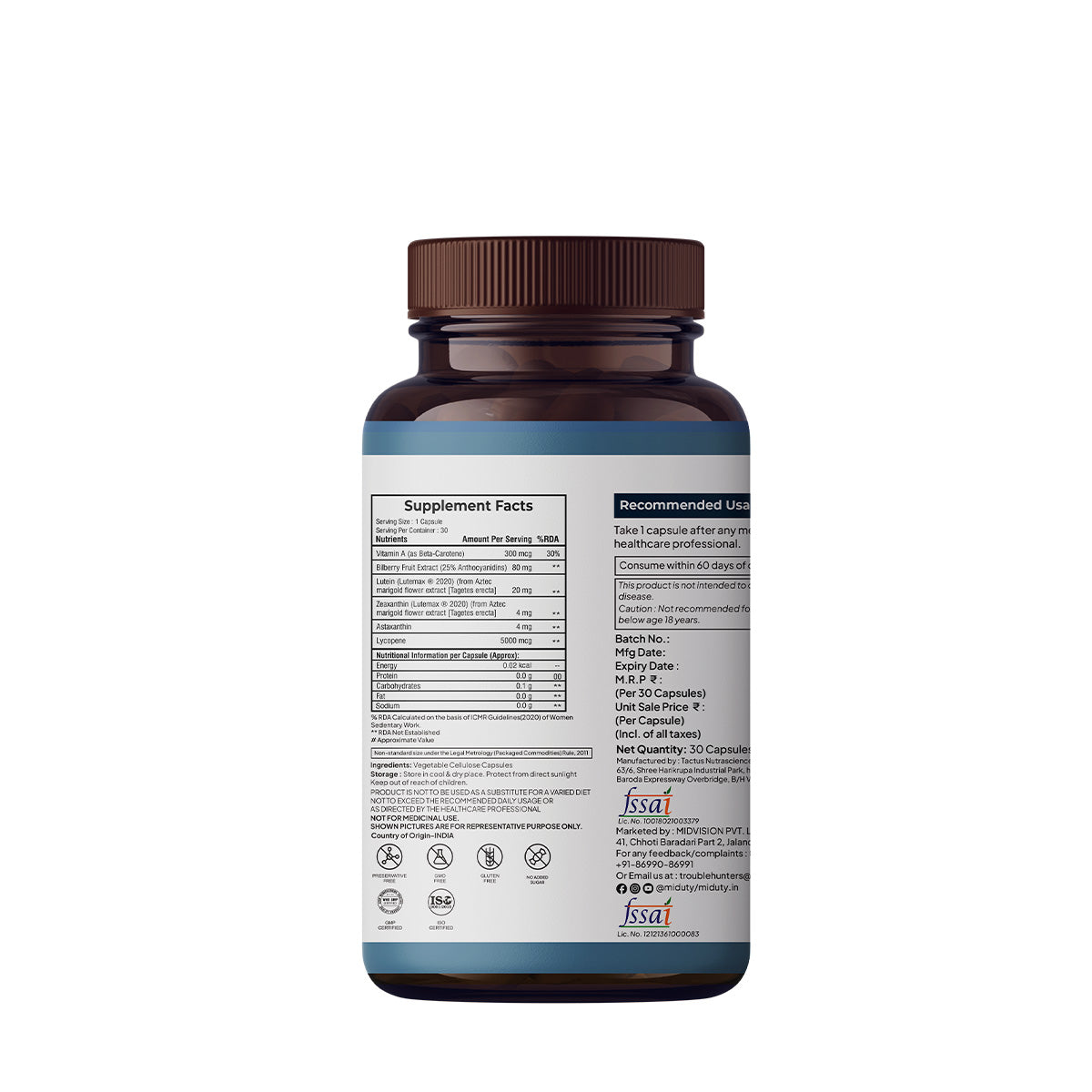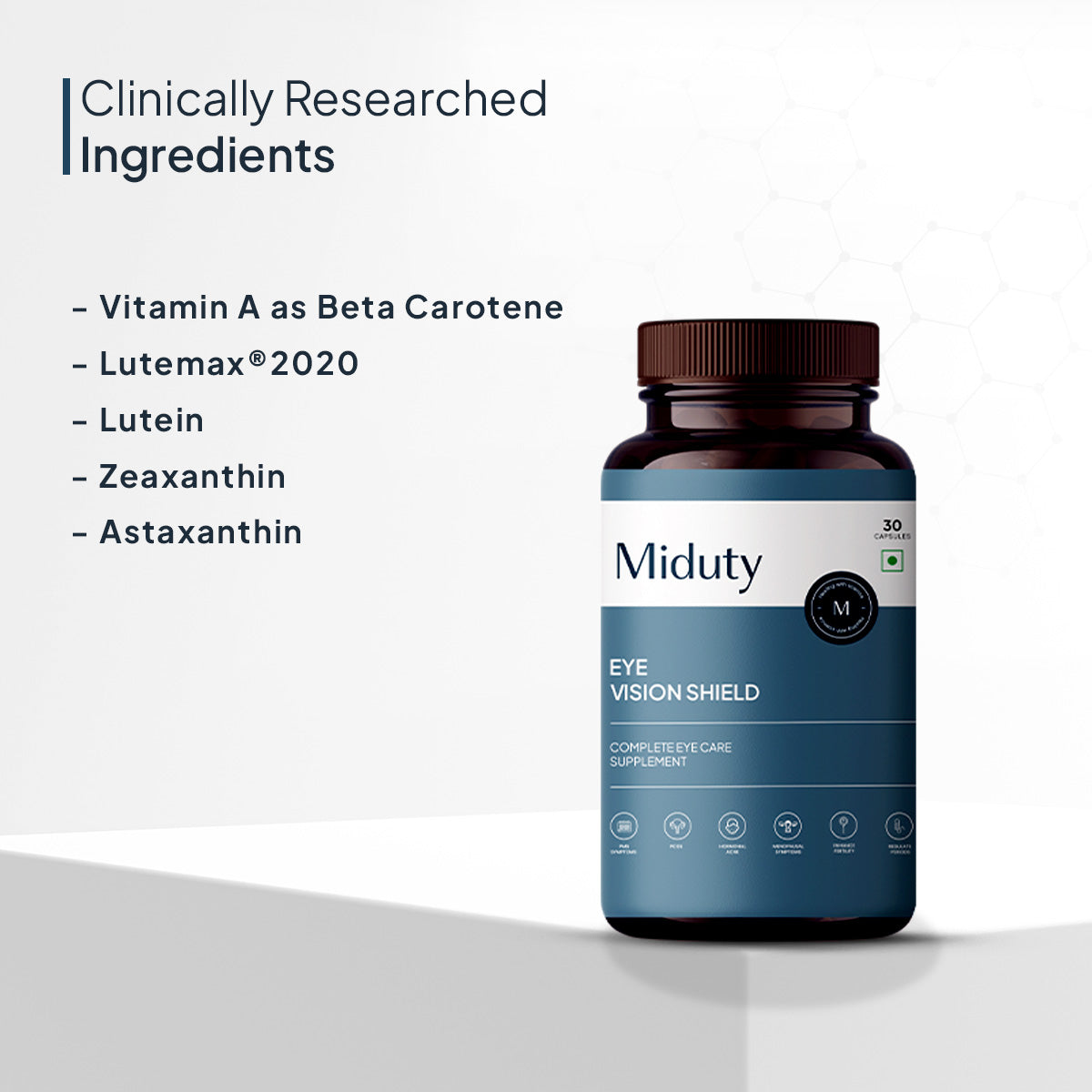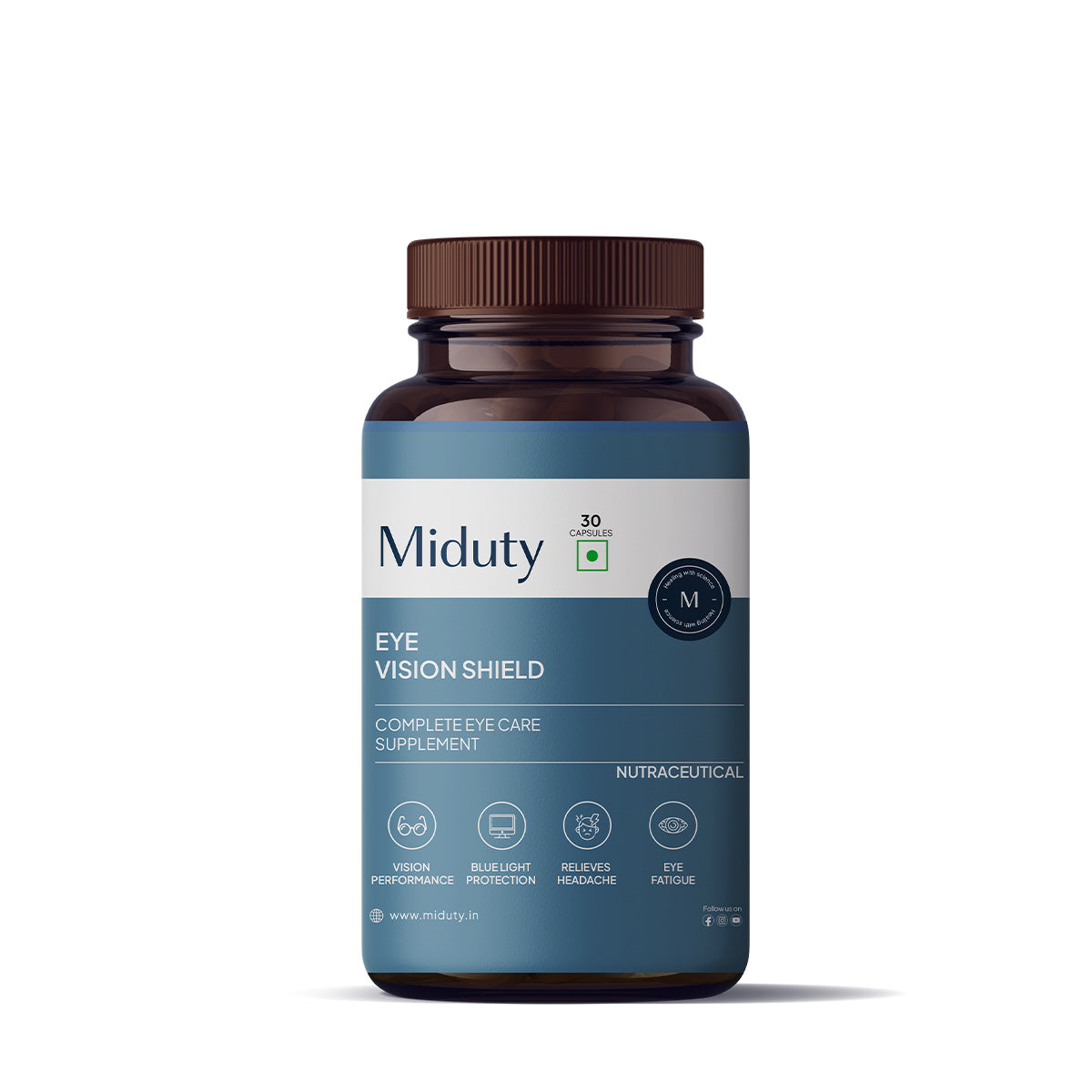 Eye Fatigue
Eye Health
Eye Vision shield
Sharp Vision
Eye Vision Shield
Fed up with dry and irritated eyes from staring at screens all day? 
Worried about your kid's watery eyes and headaches from too much phone use? Sick of eye soreness after binge-watching TV?
Well, It's High time! Treat your Eyes right with Miduty's Eye Vision Shield - an expert-formulated supplement that protects your eyes from the screen's blue light,
Made with Patented Lutemax, it improves vision and strengthens eye muscles. 
Description
Living in the digital age, screens are everywhere. Whether at work, at home or on the go, we're constantly glued to our PCs, TVs, or Mobiles.

Even kids, with online learning becoming the norm, spend most of their time in front of screens.
But too much screen time can strain our eyes, causing dryness and blurred vision. It weakens our eye muscles and results in eye fatigue.
Obviously! We can't time travel in the past to escape screens (sadly, no jokes here) but it's a serious problem, especially for young children who are losing their eyesight early due to excessive screen time.
At Miduty, we get it. That's why we created Eye Vision Shield—an eye supplement that will protect your eyes from the harmful blue light of the screens
With our patented Lutemax formula, it's easily absorbed, in the body and enhances overall eye health. 
Bilberry extracts present in it helps in preventing muscle degeneration. [1] Bilberry extract supplements were reported to help lessen the signs of eye fatigue brought on by video display terminal load in a prospective, randomly chosen, double-blind, placebo-controlled experiment. [2]
Aging Folks can also benefit from this amazing product as it will aid them in maintaining their eye vision
So Keep an eye out for Miduty's Eye Vision Shield—it's the vision protector you need!
How do I take them?
Dosage-

You can consume 1 capsule with water anytime in a day

For Kids-

Kids from the age of 6 can start taking this supplement.

Exception-

None
What's it for?
- Kids Reading In Dim Light
- People Working On Computer Continuously
- General Wellness
- Tired Eye
- People Who Have Diabetes
Why is Miduty's Eye Vision Shield Superior?
Miduty Eye Vision Shield is a revolutionary product that uses the patented Lutemax, offering superior bioavailability compared to other similar products on the market. 




It also includes Astaxanthin, an antioxidant that is 10 times more powerful than any other carotenoid and is rare to find in other eye supplements. In 46% of the trial participants, astaxanthin supplementation at a dose of 5 mg per day for four weeks helped lessen eye strain.

[3]




 Lutein and Zeaxanthin, present in it, are known to prevent the formation of cancerous cells that can harm vision. 

[4]




These two ingredients, combined with Astaxanthin, create a powerful trio that helps prevent dry and watery eyes, correct blurry vision, relieve eye fatigue, and decrease eye strain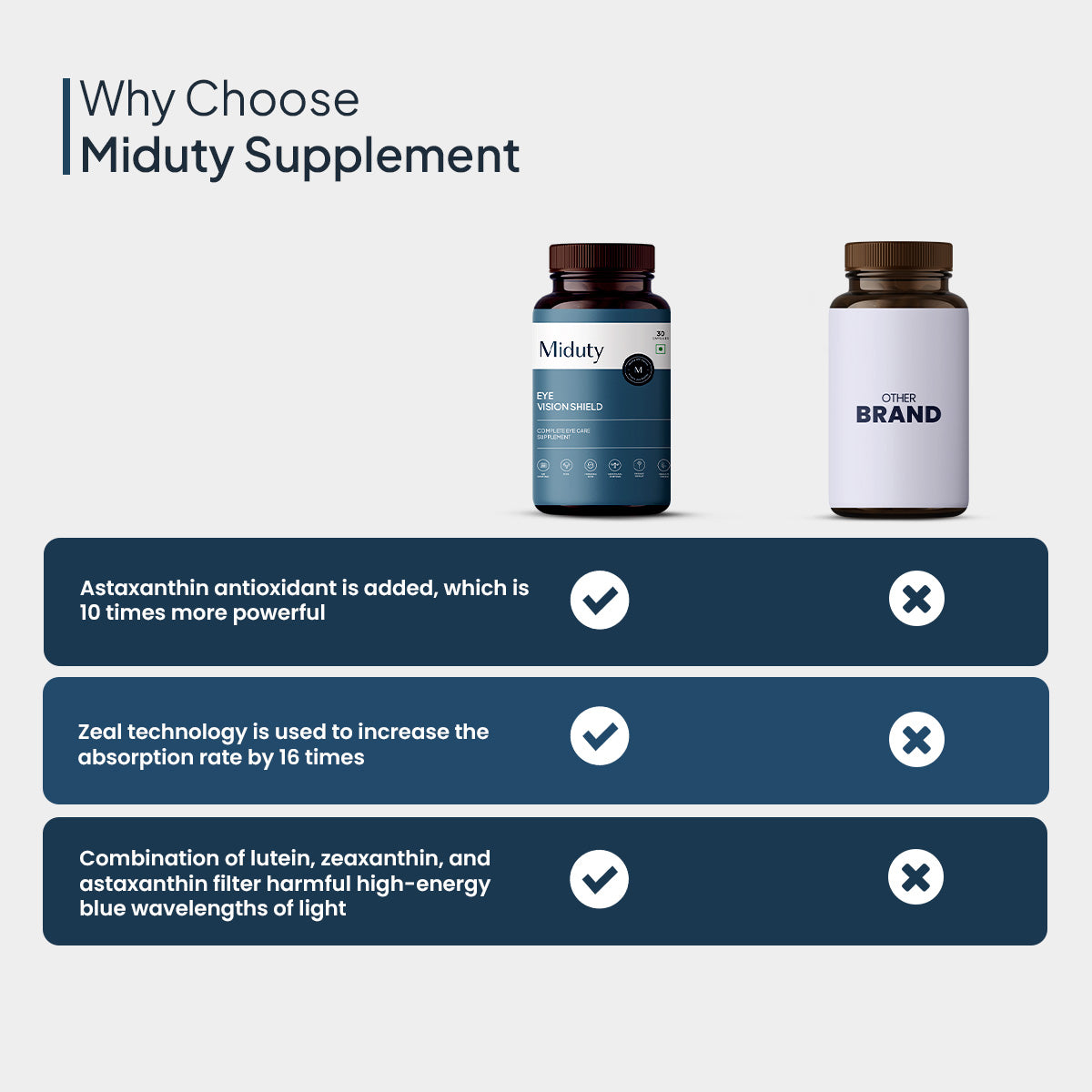 What's Inside? (Ingredients)
FAQs
Can I give my children these capsules?
If your child is able to swallow properly, then the answer is yes.
How long must I continue taking these pills?
If you are using a computer for more than 4 hours a day or a diabetic patient, studies at night time, you should be taking these capsules on and off, to slow down or prevent macular degeneration.
Can it reverse my eye number?
You can gradually wean off your spectacles by taking these pills along with the eye yoga and Brock thread exercises I presented in my video.
Is it safe to consume this product?
All human trials have conclusively shown that Lutemax®2020 is safe, and the FDA has approved it. So, consuming this Product is entirely safe.
Are Miduty and Palak notes the same brand?
Yes, the brand's Palak Notes and Miduty are the same.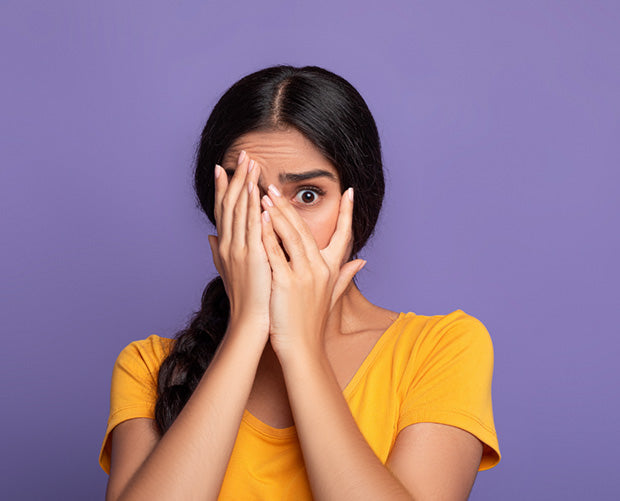 Unknown Facts
Eye fatigue

Eyestrain is a common problem that develops when your eyes become fatigued from prolonged use, such as long-distance driving or staring at screens of computers and other electronic devices. Eye strain can be troublesome.

Watery eyes

Your body produces extra tears to wash anything in your eye—a speck of dirt, dust, or an eyelash—out. Even tiny objects that are impossible to see, such as smoke vapors or chemicals in onions, might cause this reaction. Your eyes should cease watering once the issue has been eliminated.

Dry eyes are not normal

The inability to generate enough tears to keep the surface of the eyes lubricated and pleasant is the cause of this condition. Either there are not enough tears produced or there is an abnormally fast rate of tear evaporation, causing the eye to become dry.
PALAK NOTES IS NOW MIDUTY
New Era! Continued Dedication!
Pain that went untreated gave rise to the brand Palak Notes. Pre-COVID, we began to evolve, and over the past three years (and counting), we have dedicated our entire self to learning about the pain and health issues that society suffers. We had a modest beginning, but today we have a large family. 
So, in order to adapt to these changes over time, we have decided to create a new brand identity that reflects our team and potential customers. We are now known as MIDUTY. Our vision for the current era is presented and projected through this new identity.