Indian Veg Diet Chart for Weight Loss for Females (Gluten Free)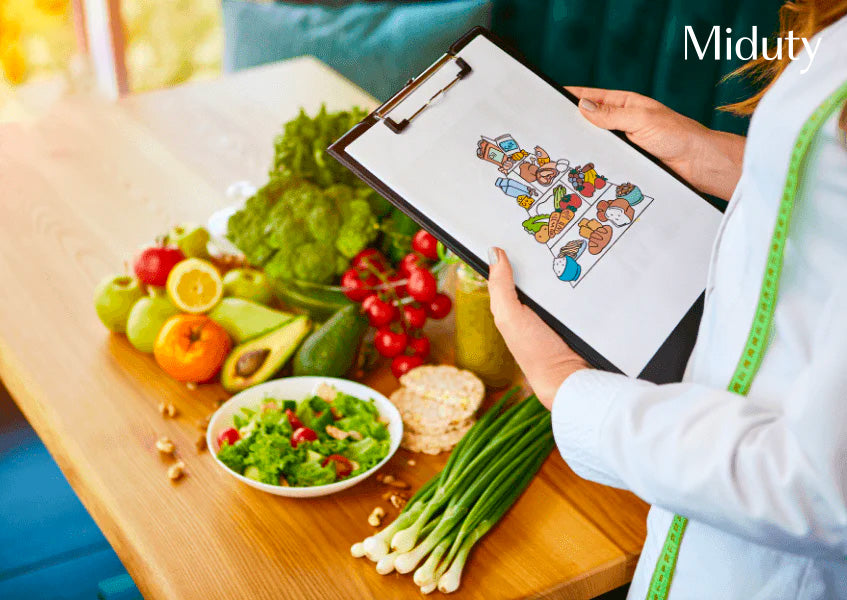 Women's bodies are different from men's. Our hormone balance tends to be very sensitive and so when we eat we need to make sure that we are not restricting our calories by too much. This just causes cortisol to flood our bodies causing inflammation and belly fat. 
What is more important is to make sure that we keep an eye on our macros (fat, protein, carbohydrates). At least 30% of your calories should come from fat. You also need a good amount of protein and very little carbs. 



Try out Miduty Apple Cider Vinegar.
Do this and you will see the weight come off. Your body will burn fat for energy and you will boost your metabolism. I have made a 3-day diet chart for weight loss for females in India. It is completely vegetarian and gluten-free with foods easily found in India. You will get a clear picture of how you are meant to eat to achieve that sexy figure you dream of. 
 If you want a personalized consultation and weight loss diet plan you can contact health experts at Miduty.   

You may struggle to find a diet chart for weight loss for females in Hindi, but you can follow my YouTube channel for everyday Exercise, Nutrition and Healthy Lifestyle tips for weight loss in Hindi.   
Veg Diet Chart For Weight Loss 
| | | | | | |
| --- | --- | --- | --- | --- | --- |
| Day |       Breakfast  |      Snack |                     Lunch |               Evening snack |         Dinner  |
| D1 | Cauliflower Poha + Dahi | Fruits with sesame Seeds sprinkled | Veg Tikki with Spinach Soup / Seasonal vegetable soup. | Butter Milk + Fruit or Salty Buttermilk  | Daal with brown rice |
| D2 | Smoothie (Almond Milk + Coconut Oil + Fruit  ) | Chai with homemade oats cookie  | Saute vegetable  | Green tea with Amaranth Ladoo | Channa salad  with Mushroom garlic soup |
| D3 | Amaranth Daliya in almond milk  |   Chai with Oats cookie   | Smoothie (Yogurt-Based): Almond milk+ Chia seeds + some fruit  | Gond Katira with watermelon or orange (honey on the top) + Foxnuts | Dal dosa with paneer and Vegetable filling   |
 
For recipes, check out my YouTube channel.   
Try out Miduty Apple Cider Vinegar.
Bonus Recipe
Cauliflower Poha
SERVINGS-2 

Ingredients 

3 cups of chopped uncooked cauliflower

3 tablespoons of peanuts and walnuts (walnuts must be soaked)

1 tablespoon of mustard seed

¼ teaspoon of red chili powder (optional)

Lemon juice extracted from one small lemon

Salt and/or pepper as per taste 

Method Of Preparation 

Slightly roast the peanuts and walnuts at a low heat. Take them out and keep them aside.

Randomly chop the heads of the cauliflower into small chunks.

Grind the cauliflower in a blender till they are fairly small.

Heat the pan over a medium to high flame or setting.

Add 2 tablespoons of coconut oil to the pan.

Add Mustard seeds and curry leaves.

Add onion and sauté it for 2 minutes.

Add the ground cauliflower to the pan.

Add all the spices (salt, pepper, and red chili powder) to the food in the pan.

Mix all the ingredients well and let them cook for at least 10 minutes.


Serve hot with lemon juice and chaat masala for great flavor.
The Golden Rules:


Portion Control: Keep an eye on portion sizes to avoid overeating.
Stay Hydrated: Drink plenty of water

at least 8-10 glasses of water

throughout the day.
Herbal Teas:

 

Opt for caffeine-free herbal teas for variety.
Snack Wisely:

 

Keep healthy, gluten-free snacks like nuts and seeds on hand.
Limit Processed Foods:

 

Avoid processed and packaged gluten-free foods high in sugar and unhealthy fats.
Regular Exercise: Combine your diet plan with a regular exercise routine.
Gluten-Free Choices: Stick to naturally gluten-free foods and gluten-free substitutes.

Remember that a successful weight loss journey is not just about following a diet chart but also about maintaining a healthy lifestyle. Regular exercise, quality sleep, and stress management are equally important.

In conclusion, with the right food choices and portion control, you can achieve your weight loss goals while following a gluten-free vegetarian diet.