2 Minute Healthy Breakfast: Indian Recipes (Gluten Free, Diary Free)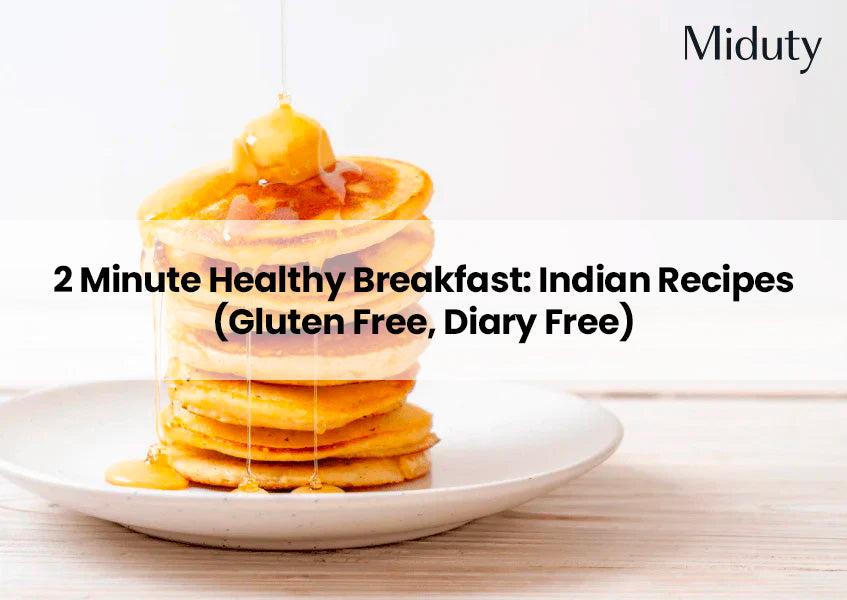 Mornings are a busy time, so try these quick Indian breakfast recipes so that you will have a healthy breakfast in a few minutes and one less thing to worry about.
You'll learn the do's and don'ts of breakfast so that you can always make healthy meals in a few minutes.
Is breakfast really necessary? Read on to find out. 
Breakfast can be a great start to the day and provide you with the energy needed to start your day, especially if you like to do your workouts in the morning, although, exercising in a fasted state (meaning you haven't eaten yet) is not always a bad thing either. 
What you eat in the morning sets the tone for the rest of the day. It is important that you eat the right things to provide you with energy and nutrients. 
It can be time-consuming to prepare a healthy breakfast, but it does not have to be. Your first meal of the day will be delicious, healthy, and ready in minutes with these easy Indian breakfast recipes. Yes, you read correctly. 
Buy Now Miduty Fit N Lean Protein Shake
When you search "healthy breakfast Indian", you might not find that many results or perhaps you think that you cannot make a healthy Indian breakfast. But this is not the case. Follow these tips and try these Indian breakfast recipes and you will see the weight come off quickly, and you will be able to maintain a healthy weight without any problems. But first, what makes a good breakfast? 
Keep the fat content high:

 

Fats are not the enemy.

 

Healthy fats

 

give your body energy, keep you fuller for longer, and encourage your body to burn fat. In fact, if you get hungry quickly after breakfast, you should add more fat and/or protein to your breakfast. Usually, it will be more fats that you need.
Include protein:

 

Along with fat, protein is important to keep you full.
Vegetables not fruit:

 

While you can include some berries, lemons, and limes, you should rather be focusing on adding veggies as they contain more nutrients than fruit and have lower sugar content. They will provide fibre and keep your blood sugar levels stable.
Avoid carbs:

 

Keep your carb intake low in the mornings. If you eat carbs, you are setting yourself up for rapid blood sugar spikes and drops which will cause cravings and leave you feeling hangry (hungry + angry).
Avoid sugary cereals:

 

They draw you in with the list of vitamins and minerals added to them but these nutrients are often in the wrong form meaning they do not get absorbed well or are more harmful over time than good. They are also full of carbs and highly processed. They are not real food.
Limit grains:

 

It is not that you can never eat grains, but they are often hard on the digestive system. They should only be eaten every once in a while, even

 

oats. You can use

 

gluten-free grains

 

like amaranth to make a delicious breakfast on those days when you want something different. See my Amaranth Dalia recipe below. 
Quick Indian Breakfast Recipes 
1. Cauliflower Poha
Servings-2 
Ingredients:
3 cups of chopped uncooked cauliflower
3 tablespoons of coconut oil
6-10 curry leaves
3 tablespoons of peanuts and walnuts (walnuts must be soaked)
Onion-1 small
1 tablespoon of mustard seed
¼ teaspoon of red chilli powder (optional)
Lemon juice extracted from one small lemon
Salt and/or pepper as per taste 
Method of preparation
Slightly roast the peanuts and walnuts at low heat. Take them out and keep them aside.
Randomly chop the heads of the cauliflower into small chunks.
Grind the cauliflower in a blender till they are fairly small.
Heat the pan over a medium to high flame or setting.
Add 2 tablespoons of coconut oil to the pan.
Add Mustard seeds and curry leaves.
Add onion and sauté it for 2 minutes.
Add the ground cauliflower to the pan.
Add all the spices (salt, pepper, and red chilli powder) to the food in the pan.
Mix all the ingredients well and let them cook for at least 10 minutes.
Serve hot with lemon juice and chaat masala for great flavour. 
2. Amaranth Dalia
Servings-1 
Ingredients
½ cup of amaranth
1 tablespoon of ghee or coconut oil
½ small cup of almond milk
1 teaspoon of ground cashew nuts
1 teaspoon of crushed almonds
5-6 raisins
½ teaspoon of stevia 
Method of Preparation
Take a medium-sized pan.
Add amaranth seeds to the pan.
Add 1 tablespoon of ghee and roast the seeds for a few minutes. The seeds will start spluttering and give you a fresh aroma.
Take out roasted seeds and put them in a bowl or container.
Then add almond milk to the pan and then add the amaranth seeds back in.
Allow it to cook for 5-8 minutes and then bring it to boil. Then allow this mixture to cook for another 5 minutes again on low flame or heat while stirring it continuously.
At the end add stevia to it and give the mixture a good stir
Garnish it with crushed almonds, cashew nuts, and raisins 
Buy Now Miduty Fit N Lean Protein Shake
3. Eggless Pancakes
Number of servings- 2 (serve 4 pancakes)
Ingredients
½ cup of almond flour
¼ cup of coconut flour
1 mashed banana
2 tablespoons of coconut oil
½ coconut milk
1 teaspoon of baking powder
½ teaspoon of cinnamon
Salt (one pinch)
2 tablespoons of ghee 
Egg substitute ingredients or add 3 eggs:
Chia seeds-1tsp
Flaxseed-2tsp
water-½ cup
Prepare the above mixture and set it aside for 10 minutes 
Method of preparation
Take a mixing bowl and mix all the flours (almond and coconut) and baking powder.
Add the rest of the dry ingredients.
Add the mashed banana.
Mix everything well and add a little water, coconut oil, and coconut milk to make the consistency a slightly runny.
Combine the spices (nutmeg and cinnamon) with the mixture well until the spices are evenly distributed throughout the batter.
Add the egg substitute to the mixture and stir well.
Take a skillet or Tawa.
Heat 2 tablespoons of ghee in it until it melts or starts to bubble.
Add ¼ of the batter in one go. You can make 2 pancakes of these sizes at a time.
Make sure that the pancakes do not fall apart while flipping.
Cook both the sides till slightly golden brown. 
Skip Breakfast Once a Week
This might seem strange after I have given you instructions regarding the perfect breakfast but skipping breakfast may actually be a good thing. A late breakfast or brunch prolongs the fast that we all do as we sleep simply because we are sleeping and not eating. Skipping breakfast entirely is an easy way to do intermittent fasting. 
Us women have a delicate hormonal balance to maintain, so fasting multiple times a week is not always such a good idea for us, but even once a week is very beneficial. If you would like to do this on more than one day, do not do it more than 3 or 4 times a week. Listen to your body. 
Intermittent fasting has the following benefits:
Improves sleep.
Helps to boost your

 

human growth hormone

 

which is known to prevent ageing and help weight maintenance as well as lowering the risk for diseases.
It can help with blood sugar balance.
Instead of making you hungrier, it actually has an appetite suppressing effect as the body starts to burn fat for energy which means you do not overeat in subsequent meals. 
You can also replace breakfast with a cup of coffee with a spoon of butter in it. This is known as bulletproof coffee. It will still supply your body with energy and nutrients which will continue to encourage your body to burn fat for energy. 
If you cannot consume dairy, add a spoon of coconut oil to your coffee. The taste may take a while to get used to, both with the coconut oil and butter, but it does not taste bad. 
Who should not fast:
Pregnant women
Breastfeeding women
Underweight individuals
Those who are sick
Those with an eating disorder
Those who struggle with low blood sugar or low blood pressure
Children
Those who have a heavy training session or race days ahead of them
Now you have the perfect guide on how to start your mornings and make delicious meals that not only you can eat, but your family too. Kids especially love the pancakes. Enjoy! 
Buy Now Miduty Fit N Lean Protein Shake
Summary:
Breakfast provides energy and nutrients to your body.
Breakfast should be high in fat and protein and low in carbs.
Avoid sugary cereals. Eat real food instead. Real food is food in its most natural form.
Try this cauliflower poha, amaranth dalia, and eggless pancakes to get you started.
Once a week (or up to 4 days if your body responds well) you can skip breakfast or replace breakfast with a cup of coffee with a spoon of butter in it.