Pure Liquid Castile Soap for Face Wash, Body Wash and Hand Wash I DIY Recipes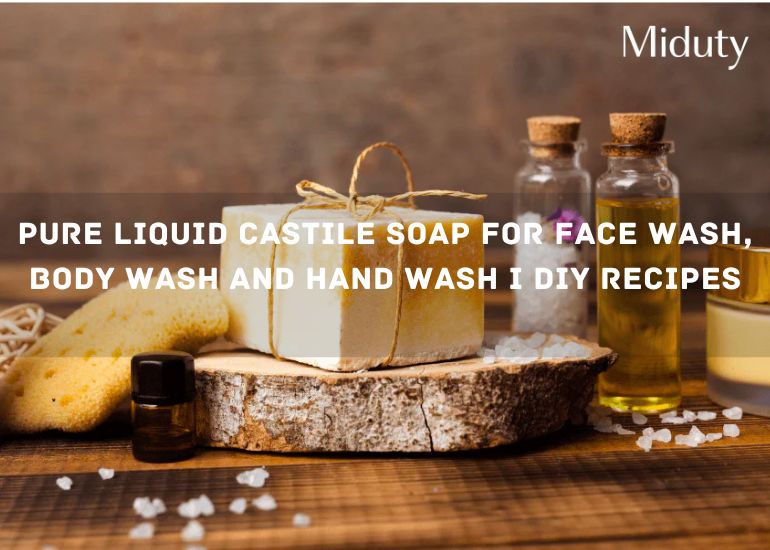 Most commercially produced personal care products contain harmful chemicals
You can make your own chemical-free products with one base ingredient
Read on to find out how to make liquid castile soap face wash 
What is all the hype about liquid Castile soap? There are a staggering number of chemicals that we are exposed to on a daily basis. According to the Environmental Watch Group (EWG), the average adult is exposed to 129 chemicals every day. Women, in fact, are exposed to 168 chemicals daily. Though children usually use less personal care products than adults they are also exposed. Many of these chemicals used in personal care products are endocrine disruptors. 
They affect the thyroid which among other things controls your weight, and they affect your reproductive hormones. In women, estrogen dominance is a major problem, and some of these chemicals reduce testosterone in men. Some chemicals are very irritating to the skin and instead of making your skin healthy and radiant, they do the exact opposite over time. 
The biggest organ in our bodies is our skin. Our skin absorbs the chemicals that are present in lotions, hand washes, and shampoos. Even the top makeup brands contain harmful heavy metals. These chemicals build up and affect our health.

Click here to learn about ways to reduce your exposure in the rest of your home.   
Why Castile Soap 
Castile soap is a natural soap made without any chemicals. It was first produced in Castile, Spain using olive oil. These days there are many variants. They have different oils, some are unscented and others are scented with essential oils. The best part is that Castile soap can be used for a variety of different things. It is also non-toxic. Castile soap can be used as body, hand, and face wash undiluted when used in small amounts, e.g, for your face, use only three drops.
Making your own products are great though because you can make them smell exactly the way you want them to. Just use some essential oils. Your own mixtures will also have benefits that suit your particular needs.   
Essential Oils 
Essential oils are a great natural way to add fragrance to your homemade personal care products. You can choose them by fragrance or by the benefit they provide. Different essential oils can help different skin types: 
Acne Prone Skin:
Tea tree
Basil
Lavender
Geranium
Patchouli
Clary sage 
Oily Skin:
Bergamont
Geranium
Jasmine
Juniper
Lemon
Lime
Cypress 
Dry Skin:
Cedarwood
Myrrh
Palmarosa
Hyssop
Neroli
Geranium
Patchouli
German Chamomile 
Combination Skin:
Lavender
Geranium
Rosemary
Palmarosa
Rose
Frankinsense
Neroli
Jasmine 
Aging Skin:
Ylang-ylang
Rose
Patchouli
Lavender
Sandalwood
Tangerine
Cypress
Pomegranate seed 
Antibacterial Essential Oils:
Lavender
Peppermint
Oregano
Tea tree
Cinnamon
Lemongrass
Patchouli
Bergamont 
It may seem strange for some of these oils to overlap, but essential oils often have multiple benefits. Some of these lower inflammation, some restore moisture, some remove excess oils, and some help the skin to keep its elasticity, and some even kill germs. There are many other essential oils that you can use. You can even combine them to create a fragrance that you love.    
Caution 
Some essential oils, particularly citrus oils are photo-toxic. This means that they can cause your skin to burn more easily in the sun. Stay out of the sun for 12 hours after using products that contain the following oils: 
Bergamont
Expressed lime
Expressed bitter orange
Expressed lemon
Expressed grapefruit
Fig leaf
Angelica root
Mandarine leaf 
In the case of the expressed essential oils, the distilled versions are less photo-toxic. F
Animals And Essential Oils 
Animals react differently to essential oils than humans do. If you have a pet that lives indoors, using essential oils can be harmful to them, especially cats. Dogs have different oils to cats that are toxic to them. If your pets stay outdoors, this may not be as much of a problem, but do not pet them after you have used essential oils or let them into the house on the days you clean using essential oils.   
OUR WEIGHT LOSS AND NUTRITION EXPERT PALAK IS NOW GIVING FREE HEALTH TIPS ON THE YOUTUBE. CLICK HERE TO SUBSCRIBE HER CHANNEL. 
DIY Castile Soap Face Wash 
Ingredients:
1 cup of distilled or boiled water 1/4 cup of Castile soap 5-15 drops of essential oil (optional) 
Method:
Put the water into a

 

bottle

 

or

 

soap dispenser
Add in the Castile soap and essential oil
Close the bottle and then swirl it around to mix
Use as you normally would, but you may need to shake it a little beforehand
This face wash can be used and stored for up to 3 months. 
Options: 
If you find that the consistency is too runny, you can add some salt, start with a half a teaspoon and mix it in, then see if the consistency is better.

 

Himalayan salt

 

is a great option. 
You can also add more or less water to get your desired consistency. 
Add a cup of sugar-free green tea instead of the water. Just brew it and let it cool down first. 
Add half a teaspoon of vitamin E oil, it is great for your face and helps to preserve the face wash. 
If you find it very drying, try adding half a teaspoon of almond oil or some jojoba oil. 
DIY Castile Soap Hand Wash 
1 Cup distilled or boiled water 2-4 Tbsp of Castile soap 1 Tsp of vitamin E oil 5-15 drops of essential oil (optional) 
Method:
Put the water into a soap dispenser
Add the Castile soap and oils
Close the bottle and then swirl it around to mix
Shake the bottle a little bit before using the hand wash
This hand wash can be used and stored for up to 3 months. 
Options:
You can use the same tricks as the face wash to thicken your hand wash or you can add more Castile soap.
For a more moisturizing hand wash, add half a teaspoon of olive, almond, sesame, or jojoba oil.
You can also substitute the water in this recipe for a tea.     
DIY Castile Soap Body Wash 
Ingredients:
1 Cup distilled or boiled water 4 Tbsp Castile soap 4 Tbsp raw unfiltered honey or manuka honey 1 Tsp oil 1 Tbsp olive oil 5-30 Drops of essential oiL 
Method:
Put the water into a bottle
Add the rest of the ingredients
Swirl or shake to mix it all together
Shake before use if it separates
This body wash can be used and stored for up to 3 months. 
Options:
Use 1/2 cup of coconut oil instead of water for an extra moisturizing wash.
You can use other oils instead of olive oil such as grapeseed, jojoba, sesame, sunflower, almond, castor or safflower oil.
You can leave out the water completely and just adjust the ingredients accordingly for the amount you want to make.
Use tea instead of water.
If you use a

 

foaming soap dispenser, you can even use this recipe as shaving cream. 
To Adapt this Body Wash Recipe for Babies:
1 Cup of distilled water or boiled water 1-2 Tbsp of baby unscented Castile soap 1 Tsp of olive oil (or coconut oil if you prefer) This will make a gentle body wash suitable for delicate skin.   
Bonus: DIY Castile Soap Shampoo 
It is best to make a smaller batch since this shampoo is only good for one month when stored at room temperature and to adjust it to suit your hair type can take some trial and error. But for the most part, your hair just needs to get used to the shampoo. Do not use this shampoo on dyed hair, it will make the color fade and wash out. 
Ingredients:
1/4 Cup of coconut milk (full fat/cream is best) 1/4 Cup of Castile soap 20-40 Drops of essential oil 
Method:
Combine all the ingredients in a bottle and swirl to mix.
Use about a teaspoon of shampoo depending on the length of your hair. You need very little. 
You may need to rinse your hair with one part apple cider vinegar to one part water to remove any residue.  is great for taming frizz and making your hair soft and smooth. Your hair will not smell like vinegar once it dries. It can be drying, so if there is no residue, only rinse your hair once or twice a month with apple cider vinegar. 
Options:
If your hair is dry, you can add half a teaspoon of olive oil or almond oil.
You can dilute the shampoo with some distilled water, up to half a cup.
If you want to use water, you can also infuse it with herbs if you want to. 
Herbs And Spices For You To Infuse Your Water With 
Herbs can be infused into water (by steeping them in hot water for 20-60 minutes) to provide various benefits: 
Calendula:

 

This herb is great for treating the scalp. It can be used for oily or dry hair and scalp and can even create warm highlights in your hair. 
Basil:

 

Basil makes your hair shiny and strengthens your hair. It can also help your hair to grow better. 
Ginger:

 

Ginger root improves the blood circulation in your scalp and helps your hair to grow. It can also help to get rid of dandruff. 
Green tea:

 

Green tea is rich in antioxidants that help to protect your hair from sun damage. It also reduces hair loss, strengthens your hair and moisturizes dry hair. 
Henna:

 

Henna makes your hair shiny and can give hair warm highlights.  
Rosemary:

 

Rosemary strengthens your hair and helps it to grow. It makes your hair more manageable and makes it shiny. It can also give dark highlights to hair. 
Chamomile:

 

Chamomile is soothing for the scalp and is great for light hair since it can give light highlights but it also makes dark hair shiny. It conditions the hair making it soft and strong. 
Lemon balm:

 

Lemon balm is great for oily hair. It helps to balance the oil production of the scalp and leave your scalp and hair refreshed.
Turmeric: Having active compound Curcumin, it helps in reducing redness, Swelling and irritation in the skin. Turmeric also helps reduce the appearance of fine lines, wrinkles and promote a youthful skin overall.
Bhringraj:

 

Bhringraj can help to prevent premature graying and helps with dandruff. It moisturizes your hair and improves growth while preventing hair loss. It also leaves your hair strong and shiny. 
Amla:

 

Amla is great for thinning hair. It promotes growth, increases scalp blood circulation, and it strengthens and nourishes the hair. 
Essential Oils Can Also Treat Dandruff: 
Tea tree
Lavender
Rosemary
Patchouli
Peppermint
Chamomile 
More Tips for Making Your Own Products 
Use organic virgin and/or cold-pressed oils:

 

Processing destroys the nutrients in oils so make sure that if you are adding oils that they are very minimally processed. 
Buy good quality essential oils:

 

Poorer quality essential oils are not always pure. Not all of the unpure essential oils are bad, but you need to make sure what is put into them. Pure organic oils will be best, you are guaranteed that you get what you paid for. 
Do not mix vinegar and Castile soap:

 

If you look online, there are many recipes, especially for the shampoos and cleaning products, that include vinegar. This just makes a mess that leaves a horrible residue that is hard to get rid of. Rather rinse your hair with vinegar, preferably apple cider vinegar, after you have washed your hair. 
If you use Castile oil undiluted:

 

Be very sure about how much you are meant to use. You can check out this

 

dilution cheat sheet

 

from Dr. Bronner website for amounts to use. 
If you have eczema, a common side effect of using chemicals, check out this recipe for homemade eczema cream to soothe the itch.   
Other Uses Of Castile Soap 
All-purpose cleaner:

 

You can use castile soap to wash the dishes, mop the floor, clean your counters, clean the sink, bath, and even the toilet. If it leaves a residue, because it does react with the minerals in the water, so depending on your water supply it may or may not leave a residue, just wipe the area down with vinegar.
Laundry soap:

 

Some people even use Castile soap to do the laundry by mixing it with washing soda, baking soda, and essential oils. I have seen many complaints about some recipes leaving residue on clothes or in the washing machine, so this option may not be for everyone especially since the Castile soap may react with the minerals in the water supply. 
Clear nasal congestion:

 

Put a teaspoon of Castile soap into hot water (just hot enough to steam for about 10 minutes), and add 10-20 drops of peppermint essential oil. You can also use eucalyptus essential oil or a combination of the two. Cover your head and the bowl with a towel and breath in the steam. Be careful as it can burn you if it is too hot. 
Wash your pets:

 

You can use the unscented baby Castile soap to wash your pets since their skin can be sensitive and some essential oils are toxic to animals, especially cats. Rather be safe and skip the essential oils, especially if your pets have sensitive skin. 
Get rid of pests on your plants:

 

Mix a teaspoon of Castile soap with 750 ml of water and spray your plants. It will deter insects and other pests. 
Click here for more information on where to buy Castile soap or how to make your own.   
Conclusion 
Castile soap can be used as the base for a wide variety of personal care products such as face wash, hand wash, and body wash.
You can use essential oils for fragrance and for various benefits.
Infuse herbs into the water used to dilute the Castile oil for extra benefits.
Oils like coconut oil, almond oil, olive oil, castor oil, sesame seed oil, and grapeseed oil can be added in to make your products more moisturizing.
Castile soap can even be used to clean your home, your pets, clear nasal congestion, and keep pests away from your plants.
Have you tried any DIY recipes for personal care products? Which have been your favorite?