How to Overcome Post - Covid Symptoms?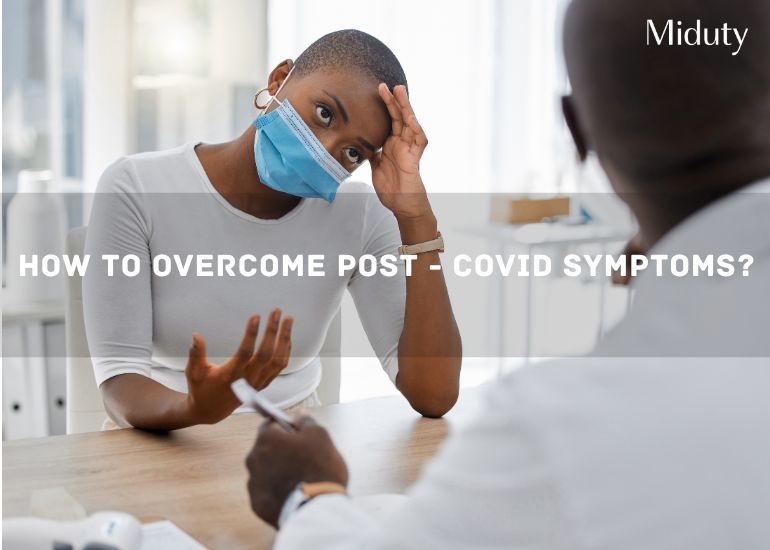 Despite how much we would like to bid COVID-19 goodbye, it appears that it may remain for at least a short time. It is still possible to catch the virus, specifically the new covid variants like omicron and delta that affect people over time, irrespective of the fact that the COVID vaccines lower your chances of getting seriously ill and being hospitalized. Although we managed to get vaccinated and save ourselves from this deadly virus, there are still a number of people who are continuously showing Covid-19 symptoms even after vaccination or recovery.  
Have you suffered from Covid-19 and recovered but still witnessing some Post-covid symptoms after recovery? Let's discuss what these symptoms are and how you can take care of yourself.    
What is Post- Covid Syndrome? 
Post- Covid Syndrome is a condition that usually appears three months after recovering from COVID-19, lasts at least two to six months, and cannot be explained by another diagnosis. 
What are some common symptoms of Post-Covid Syndrome?
Just as COVID-19 can cause various symptoms, so can post-COVID syndrome.  
The following are the most common symptoms that can stay:  
Fatigue 
Breathing difficulties 
Joint discomfort 
Chest ache 
Tingling in hands and feet
Brain fog, including difficulty concentrating and memory loss 
Blood clots cause problems in blood vessels, such as a blood clot that moves from deep leg veins to the lungs and prohibits lung blood flow
Taste and smell loss 
Sleep problems 
It is believed that these post-covid symptoms can last for more than 2- 6 months after recovering from Covid. Almost all Post COVID symptoms after recovery are identical to those of a regular COVID-19 illness.  
However, the consistency and severity of some of the issues may be prolonged and amplified.  
While COVID-19 has been linked to sore eyes and other vision problems, there are currently no issues associated with Post COVID eye problems or Post COVID sore eyes. 
For those of you who might be wondering, "Can vaccines prevent Post-covid syndrome?", vaccination is the most effective approach for fighting all types of COVID-19 infection. There is, however, no concrete proof that vaccinations can completely prevent Post COVID syndrome.  
Vaccines also reduce the intensity of the sickness, and the mortality rate among individuals who have been vaccinated is much lower than those who have not been vaccinated. 
Essential Steps to Combat Post - Covid Syndrome
     1. Get enough Vitamin D from the sun.
Covid is known to affect and weaken a person's immune system whereas vitamin D strengthens the immune system and reduces inflammation. [1] 
The best source of Vitamin D is sunlight, an active form of vitamin known for health-promoting activities such as calcium absorption, brain, and immune system function. 70% of the Indian population is deficient in Vitamin D [2] 
A low level of vitamin D has been associated with decreased lung capacity, which may affect your body's ability to fight breathing problems. [3] Therefore, it is essential for you to get enough Vitamin D to maintain a healthy body and mind.  
Some of the foods that contain Vitamin D are:
Mushrooms
Fish
Eggs
Veggies like broccoli, Kale, and Spinach 
Try to spend 15-20 minutes outside every day. Remember to take safety precautions. Wear a mask and keep social distance while you go outside.
     2. Make sure you have a proper sleep cycle.
 Many people suffer from brain fog while recovering from long Covid. You may find it hard to concentrate or remember things, your thinking may be slower than usual, or you may feel fuzzy or forgetful and have a lack of sleep. [4]  
The more you rest, the quicker you will heal. Sleeping and rising early may enhance your physical and mental wellness. It can boost your productivity because it makes you feel more energetic, happy, and alive. To develop an early sleeping habit, stop using gadgets and social media one hour before you intend to sleep.  
If you are finding trouble sleeping, you can opt for a GABA and Melatonin supplement which helps in promoting a night of good sleep.  
     3. Add Pre and Probiotics to Your Diet
Acid reflux, digestive issues, nausea, bloating, abdominal discomfort, and diarrhoea are all common post covid symptoms.  It is believed that a leaky gut could act as long-COVID symptoms that impact individuals for up to 3 months after recovery. [5]  
Natural probiotics in the form of fibre-rich foods, vegetables, and whole grains like oats, and millet can help maintain a healthy gut. Consuming homemade curd, overnight soaking cooked rice which makes them fermented, and other fermented foods can boost the colony of good bacteria in your gut. 
A healthy stomach provides proper vitamin B12 absorption, which is necessary for the development of RBCs (red blood cells), which helps in the transfer of oxygen to all key organs. Do you want to know more about the importance of vitamin B12? Read Here  
If you still have digestion problems, you can take a Leaky Gut supplement.  
     4. Consume Protein Rich Foods
During an infection, your body loses a lot of muscular mass, causing significant weariness, weakness, and even cramping. Apart from that, a protein deficiency could lead to skin, nail, and hair problems as well as difficulty in losing and gaining weight.  
Amino acids found in proteins like glutamine and arginine are important for boosting the immune system. To avoid this, make sure you consume a minimum of one gram of protein per kilogram of body weight every day.  
Add at least one of the following protein-rich sources to your diet at each meal (main and small).  
Certain seeds and nuts, such as almonds, sunflower seeds, flax seeds, pumpkin seeds, melon seeds, lentils, and legumes are high in protein and vitamin E. 
     5. Stay Hydrated 
Water makes it possible for the vitamins to be transported to all the parts of the body. Dehydration can make upper respiratory system problems worse. The body has to be hydrated in order to properly remove toxins from it and water plays an essential role in that process. [6]   
Drink at least 2-3 litres or 2-3 glasses every 15-30 minutes of water per day when you are recovering from post-covid symptoms.  
You can also drink other drinks like kadha, coconut water, soups, and vegetable juice.  
Kadha Recipe: 
Boil two cups of water for eight to ten minutes with one inch of fresh ginger, three to four fresh tulsi leaves, three to four whole black peppercorns, one small stick of cinnamon, one green cardamom, and more.  
To ease cough and congestion, squeeze the juice with half a lemon on top and drink a cup of this kadha twice per day.
      6. Taking a Zinc Supplement
 This mineral helps the human body fight against infection. The majority of those who lost their sense of taste and smell throughout covid treatment was found to be low on zinc. [7] Taking a Zinc supplement could boost your immunity and help to get rid of post covid symptoms. Add foods high in zinc to your regular diet, such as chickpeas, pumpkin seeds, sunflower seeds, nuts, and beans, among others. 
     7. Maintain Precautions 
To prevent reinfection, continue to maintain precautions. Try to travel only if it is urgent as travelling can put you in contact with other people. Always wash your hands with soap and water, or apply a hand sanitizer with at least 60% alcohol. 
     8. Exercise Everyday
I know exercising may not sound attractive to you guys. But it is crucial for a quick recovery as exercise increases the flow of blood and oxygen in your body. Apart from this, it also helps in detoxifying your body.  
Additionally, it may also stimulate the release of more 'feel-good hormones' from your brain, which may uplift you and help you recover from COVID. Just do as much exercise as you can.  
Exercise in your preferred ways while not pushing yourself too hard. Each day, 10 minutes will be enough. You can also join me on FitEagles where I take exercise and yoga sessions.  
     9. Curcumin
Turmeric contains a naturally occurring anti-inflammatory substance called curcumin. Therefore, we are taught to always add turmeric in our food items.  
To your surprise, the raw turmeric may not get absorbed in your body or may get deposited as a toxin.                                    
Therefore, it is advised to take a curcumin supplement for better absorption and no toxicity. Hence, supplement is the safest option to help you with symptoms like sore throat, fever, and cough and also maintain oxygen levels in your body.  
Other Remedies to Get Rid of Post Covid Symptoms   
Play a few games of memory. 
It is well known that COVID harms the brain and brain cells. Play some memory games like sudoku, crossword, jigsaw, etc. to fend against memory issues in the future. Additionally, it will keep you from getting bored or irritated as you pass the time. 
Monitor your Oxygen Levels 
Use your oximeter to keep track of the oxygen saturation level in your blood. There might be unnoticed lung damage present even if you have recovered from COVID. In that case, your oxygen saturation will fluctuate and fall below 90. A consultation with the doctor is needed in such cases. 
Look Out for Other Symptoms  
COVID can have long-term health consequences. As a result, you must remain vigilant. COVID can harm both the lungs and the heart. Consult a doctor as soon as you notice shortness of breath, tightness in the chest, or hot flashes. 
After recovering from COVID-19, your lung strength is typically decreased, thus it's important to practise breathing exercises that increase your lung capacity. 
References 
[1] https://www.ncbi.nlm.nih.gov/pmc/articles/PMC8474796/
[2] https://www.ncbi.nlm.nih.gov/pmc/articles/PMC3942730/
[3] https://pubmed.ncbi.nlm.nih.gov/21297070/
[4] https://www.ncbi.nlm.nih.gov/pmc/articles/PMC9258734/#:~:text=Patients%20with%20COVID%2D19%20have,during%20and%20after%20the%20infection.
[5] https://www.ncbi.nlm.nih.gov/pmc/articles/PMC9457065/
[6] https://www.nutritioncare.org/uploadedFiles/Documents/Guidelines_and_Clinical_Resources/COVID19/COVID19%20Patient%20Nutrition%20Paper.pdf