7 Tips Of Losing Weight At Home (Indian Females) + Healthy Indian Snacks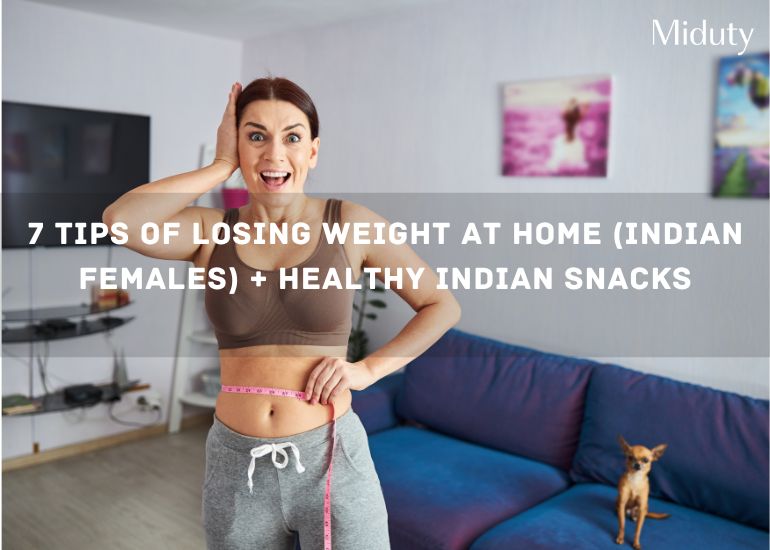 As women we are busy and time for ourselves is a luxury, so tips of losing weight at home can really help to save some time. There is no need to go to the gym.
From meals that provide all the nutrients that your body needs to finding ways to move more, you can easily lose weight at home.
Before we get onto the tips for weight loss at home, I want to let you know that I will soon be giving out a Paleo Keto and Low Carb Combo 21 day meal plan on my YouTube channel. So make sure you subscribe. 
EASY TIPS FOR WEIGHT LOSS AT HOME 
Walk on an empty stomach and delay breakfast at least once a week.
Put music on while you cook. You will dance as you cook and have lots of fun.
Actively play with kids. They will love it and so will your figure.
Use your kids as weights. Lifting and lowering your kids is fun for them and quite the workout for you.
Cleaning is also exercise. Sweep, vacuum, scrub and wipe your way to a sexy body. The more effort you put in, the more energy you expend and the more you tone your muscles.
If you watch TV, get up during the ads and do squats, push-ups, and jog on the spot. If not, do calf raises when you brush your teeth or squats while you brew your tea.
Get snacks ready on the weekend (we do not have to cook for ourselves, for women husband and kids are first then comes the home). You will keep small hunger pangs at bay with healthy snacks. 
HEALTHY SNACKS IDEAS
The snacks can be prepared in under 2 minutes of active prep and will help you lose weight. 
1. ROASTED FOX NUTS 
Lightly roast the fox nuts at a low heat in the oven.
You can serve them with tea. 
2. OVERNIGHT OATS 
Put a ¼ cup of rolled oats in a jar and add ½ a cup of almond milk.
You can add some seeds if like and store it in the fridge overnight.
Take it out when you are ready to eat it the next day and add some cinnamon and a bit of honey. You can even add a handful of berries or a few slices of apple. 
3. APPLE WITH PEANUT BUTTER 
If you eat apple alone you are going to be hungry again within minutes. Adding healthy fats does the magic.
Spread some peanut butter on them.
You can sprinkle some seeds on top as well for extra healthy fats and protein. 
4. GOOND KATIRA (TRAGACANTH GUM OR GOND KATIRA) PUDDING WITH FRUIT AND CHIA SEEDS 
Since you will be adding lots of seeds and almond flour with my diet plans, it is a must to add some snacks with a cooling effect in the body. Smoothies are a great way to do this. 
In a blender, add together your favorite veggies with a slice or two of the fruit of your choice, a tablespoon of soaked chia seeds and either some water, almond milk, or coconut milk.
Drink it as soon as possible as the nutrients deteriorate within a few hours after blending. 
Note: Be careful not to blend peach, apricot, apple, or pear stones/pips as these are poisonous when eaten in large quantities. 
5. OAT COOKIES 
Eat one with a cup of chai. 
6. AMARANTH LADOO 
Cook ½ cup of amaranth seeds and ½ of finely chopped dates together.
Once the amaranth is soft but there is still some water left add in a teaspoon of coconut oil and a pinch of powdered cardamom.
Once the water has cooked away, add in 10 powdered almonds, 8 chopped almonds. Let it cool and then roll the mixture into balls. Best served after being in the fridge for a few hours. Eat one or two a time as a snack. 
For more free expert weight loss and nutrition tips in Hindi, check out my YouTube channel.